What opportunities lie away from the UK for goalkeepers?
Since the birth of the Premier League and football's globalisation in the early 1990s, player movement has increased between nations and continents. Today, professional players have countless options when choosing their next move, whether it's a shift to Europe, a transfer to the lower leagues or Saudi Arabia.
Nevertheless, the trend among English goalkeepers is to stay domestically. Of the 116 different goalkeepers who have represented the Three Lions since Robert Baker in 1872, only two have been playing abroad when they earned an international call-up - Joe Hart (Torino) and Scott Carson (Bursaspor).
Does the lack of representation of English goalkeepers abroad represent a problem for the national team? Or do players have equal benefits by developing in the domestic leagues?
Early in Gareth Southgate's tenure as England's manager, he reflected on Joe Hart's experiences with Torino. Southgate explained that Hart became a more mature person and player during his one-year stint in Serie A, where the former England number one had to adapt without some of the luxuries he previously had at Man City.
Ultimately, Southgate used Hart's experience to summarise the positives of developing abroad, such as going outside the comfort zone, learning new languages and integrating into different cultures.
Southgate then encouraged more young players to look for opportunities abroad to increase playing time and broaden their horizons to bring more diversity to the national team.
But six years after Southgate used Hart as a symbol for English players to participate in overseas football, very few goalkeepers have replicated this path.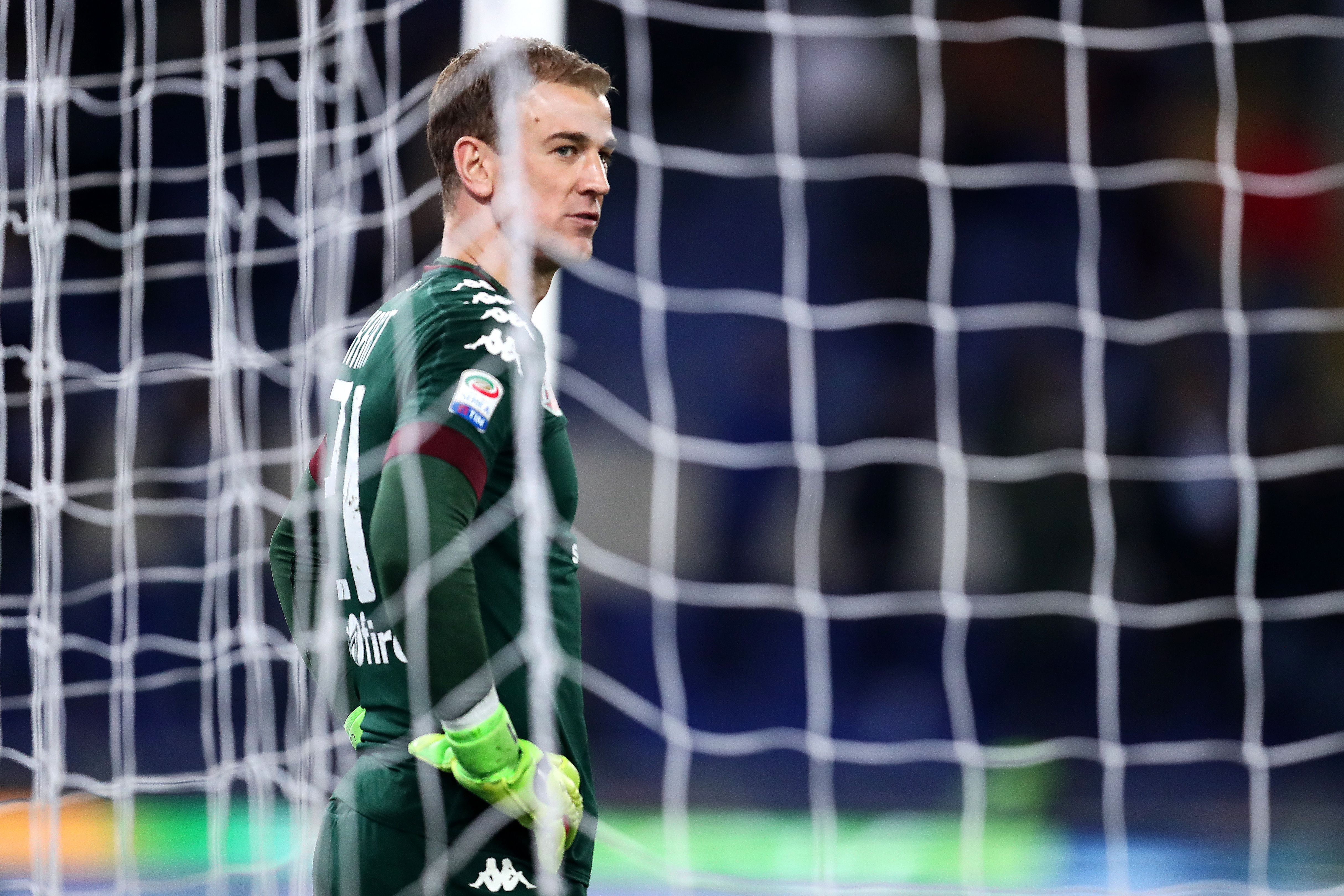 The trend could be changing. Some young goalkeepers who have played for the England youth teams, including Nathan Trott and Joe Bursik, have chosen to move to Denmark and Belgium respectively in search of first team minutes.
Before sustaining an ACL injury in the 2022/23 season, Bursik was a first-team regular for the England under-21 side. The 23-year-old helped the Young Lions reach the 2023 European Championship finals before missing out due to his injury.
After six years at Stoke City and following loans to English Football League clubs like Doncaster, Peterborough and Lincoln, Bursik decided to change environments and was signed by Scott Parker at Club Brugge in January 2023.
For an English goalkeeper with youth international experience, it was a move that went against the grain, with many budding goalkeepers generally staying in England and learning their trade in the Football League. But for Bursik, the opportunity has had several benefits.
"I would encourage players to come abroad", he began, speaking exclusively to Goalkeeper.com
"I think if you have the mentality where it's no different from playing at any other team, whether it be in England or anywhere else, if it's the right move for you and it's the right thing to do in terms of playing at a higher level and it's going to progress your career then I think it's a no-brainer really."
"You know, these are the sacrifices you have to make, especially at a young age. With younger goalkeepers breaking through more and more now, it gives you a chance to make that jump. I'm glad I've done it", he surmises.
Bursik is also keen to explain how playing abroad has been an important part of his self-development.
"I think it's also great experience for me personally, for my family, for my girlfriend who's living here with me. It's something we wouldn't have experienced otherwise. We're living in a beautiful place in Belgium, we're really lucky and those are the parts of football that people don't see that are also really important. I think they really need to be appreciated."
Reflecting on his development in Belgium, Bursik also explained that the footballing quality is similar to that in England, and he has seen personal growth in terms of technical skills and experience.
"I wouldn't say the quality of the leagues is very different, I'd say it's pretty similar, especially with the top teams in the Belgian league, like the Antwerps, the Anderlechts, those kind of teams and obviously ourselves (Club Brugge), so those sort of games are really good quality and a very good contest, but it's a very technical league.
"Even the smaller teams who maybe don't have the quality throughout the squad are very technical and there's always some good players who could definitely play in some of the higher leagues in England without a doubt, so in terms of that I don't think it's been too different.
"Training-wise with the lads here, as a goalkeeper, it's very focussed on playing out from the back, being good with your feet, and there's a big emphasis on that which is a part of my game I enjoy.
"I feel like I've taken to that pretty well and that's been good. I've also developed that and got better, and all the other aspects as a goalkeeper are a given, coming for crosses, making saves, you know they're things that will always be there no matter where you play but yes, there's a big emphasis on being good with your feet which is important."
In addition, Bursik has already had some experience with continental competitions since switching from Stoke to Brugges. With competition for goalkeeping spots fierce among the European clubs in the Premier League, gaining first-hand exposure to the Champions League and other European tournaments is out of reach for even some of the best English goalkeepers.
For instance, only Aaron Ramsdale will be playing in European competitions this season out of the three goalkeepers called up for the England squad in September 2023.
Bursik felt that the draw of European football with Club Brugge was important. It was also a motivator that pushed him to achieve more and break into the first team.
"I think playing in the European competitions was a big pull towards me joining Bruges. I thought it was a different thing, a different challenge, something I hadn't experienced before and had I had a chance to get in the team then maybe that would have been something I would have been able to partake in.
"When I first joined Bruges, after a month I think it was, we were in the Champions League last sixteen against Benfica and I was on the bench for both the home and away games which was an unbelievable experience and the quality of football at that level was top drawer as you can imagine."
"They want to challenge themselves in the best competitions and coming to Bruges gives me a chance to do that and it's definitely something I'm hoping for in the future without a doubt."
Conversely, where English goalkeepers play their football might be less important than how regularly they play.
Man City's highly-rated 20-year-old goalkeeper James Trafford has been a regular for the England under-21 squad and opted for a move to Premier League side Burnley for the 2023/24 campaign.
In the English Football League, several young goalkeepers are gaining senior experience. Brighton prospects Carl Rushworth and James Beadle are playing at Swansea and Oxford United, while 20-year-old Matthew Cox is getting regular game time at Bristol Rovers after he joined on loan from Brentford.
"For me personally I think going anywhere where you can play is the best thing", says Bursik.
"I went on my first loan when I was 17, to the seventh tier of English football. At the time I had a bit of an ego and I thought that I was better than that. I was telling the goalie coaches at Stoke at the time 'I want to be playing in League 2, I'm better than this, I want to push myself as high as I can go'.
"And that was the level I thought I should be playing at, League two, at that time, and ultimately that didn't happen and it's hard for a young keeper to get the trust, to get a move like that.
"So I went to non-league and played and then did a season in that league and then a league higher and then in the following season I managed to get moved to League One where I ultimately broke in and played 25 games for Accrington Stanley which was unbelievable, and got my league debut and whatnot, so that was great."
Ultimately, Bursik's experience has so far been a positive one in Bruges. It was a leap of faith that is serving him well with multiple benefits that will support him throughout his career.
Such experiences can build character and add resilience to a goalkeeper's armoury. In addition, exposure to an elite environment with top international players who are striving to succeed in continental competitions is invaluable.
The element of gaining playing time for any young goalkeeper is equally essential. These opportunities are readily available for budding goalkeepers lower down the English football pyramid and notching senior appearances breeds confidence and helps players to develop away from the limelight of the Premier League.
Yet the benefits of footballing diversity learned from spending time abroad could help the English national team and challenge the 'island mentality' referenced by recent England managers. Like Bursik, players can translate high-level club experiences and behaviours to the international stage to progress the 'rounding' of goalkeepers coming through the system to the national team.