The pinnacle of world goalkeeping is upon us. The history book opens, ready to be rewritten.
The 2022 World Cup Final is not exactly David vs Goliath. It's Goliath vs Goliath 2.0. A previous World Cup winner and member of the world's elite goalkeeper society of the last decade in Hugo Lloris faces a newer member of that dining club: Emiliano Martinez.
Should France lift the trophy for the second time in Qatar, it will also be the fifth time that Reusch gloves have touched the famous trophy on the hands of a champion since 1982. In fact, it's 20 years exactly since Marcos Reis - another Reusch ambassador of years gone past - won the tournament with Brazil.
But this time Lloris and Reusch face an opposing South American in Argentina's Martinez. An athletic, confident, hands-of-glue goalkeeper, the 30 year old's perseverance in the English game finally paid off after Neil Maupay clattered Arsenal's Bernd Leno at Brighton's Amex Stadium during the fanless football period of the first COVID-19 lockdown in summer 2020, giving him Arsenal's starting spot.
Since, Martinez has entered goalkeeping's very own 5 Hertford Street, After his performances at this World Cup, he now stakes an undoubtable claim to membership of goalkeeping's most exclusive, world-beating collective. With a list on the door that would be imprinted with the Oliver Kahns, Peter Schmeichels, Gianluigi Buffons, and Alissons of the goalkeeping world, Argentina's number one has - since becoming a Premier League number one - won the 2021 Copa America with Argentina, forged a friendship with Lionel Messi that bridges the attack-defence divide (Messi labelled 'Dibu' a 'Phenomenon') and been an integral part of this World Cup's Argentinian side.
In many ways, Hugo Lloris and Emi Martinez share a lot of similar traits. Both goalkeepers are extremely athletic, move around the goal at speed, and complement this with an impressive swing. Like Martinez, Lloris has traditionally been a feared 1v1 opponent. They have both been active in coming for crosses at the World Cup- as exemplified by Dr John Harrison in the latest episode of the Goalkeeper.com Podcast.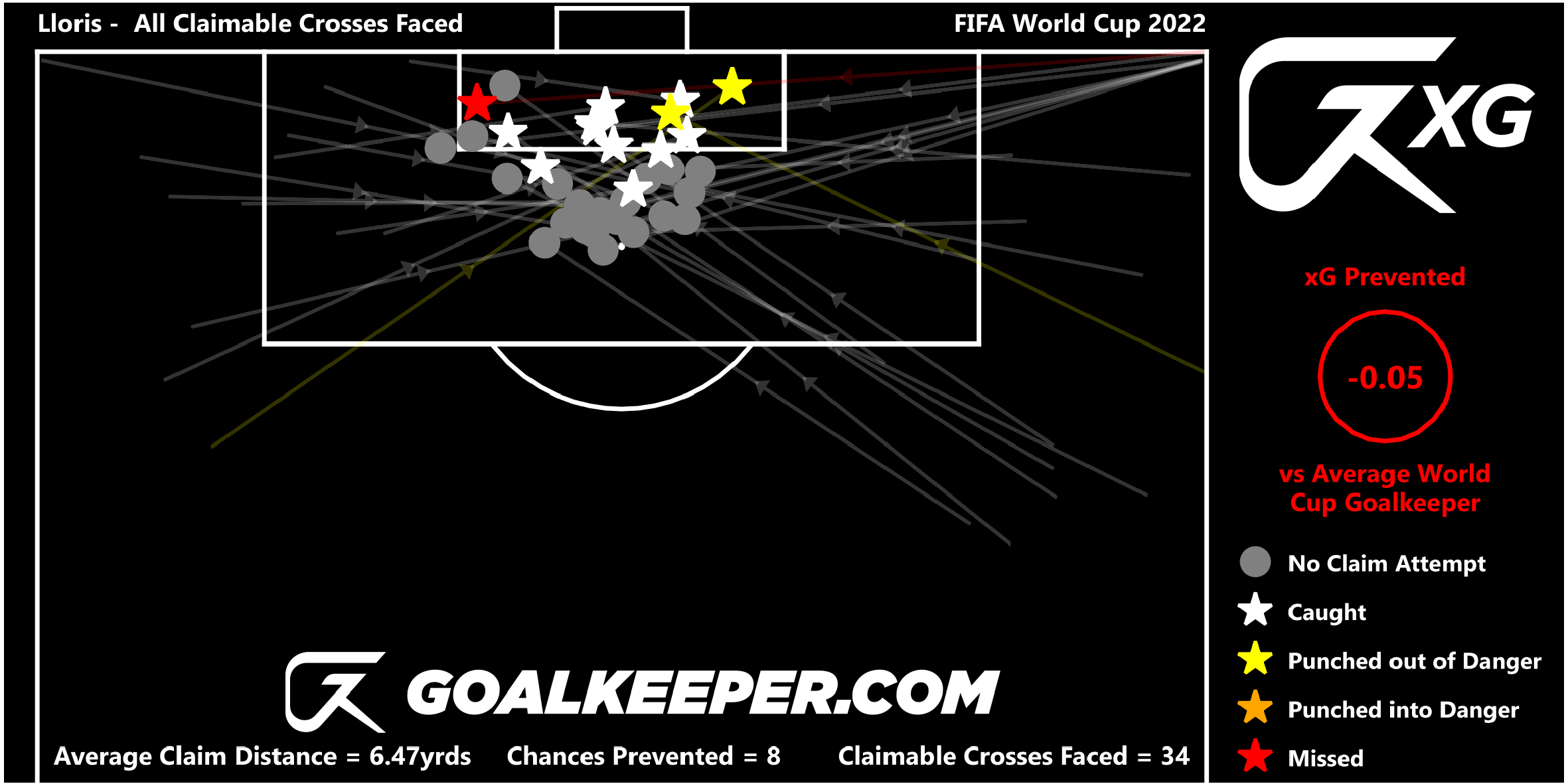 Although Goalkeeper-xG data shows Lloris to have been net-negative for France when it comes to crossing at the tournament compared to an average top-flight goalkeeper, we can see that - much like Martinez - the majority of his cross claim attempts at the very least have come on the edge of, or beyond, the six yard box. Lloris has faced less crosses than Martinez, but both post average claim distance (from the goal line) numbers beyond six yards.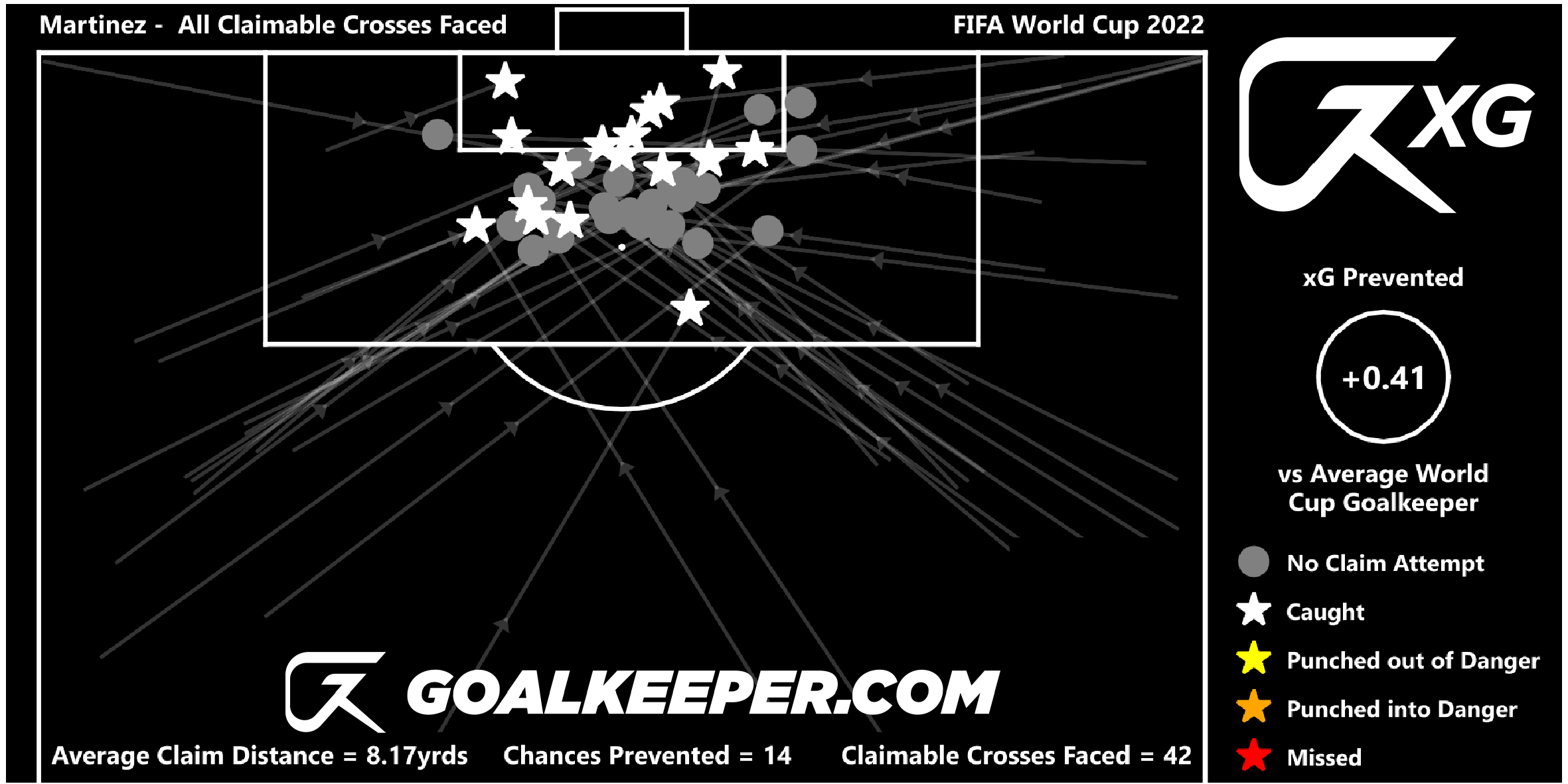 And, ultimately, Lloris and Martinez are both successful on the international stage. Lloris has reached three international finals - one at the EUROs and now two at the World Cup, with one winner's medal - and Martinez has reached two - a winner's medal at the Copa America, including a golden glove at that tournament, and now a World Cup final.
At this tournament so far, both goalkeepers have been net positives for their nations in terms of overall value in goals. They have performed above-average, and in certain games, such as Lloris' performance against England, literally saved France hypothetically match-losing goals. As Dr Harrison explains, in a 2-1 win Lloris was the difference between a 2-2 draw and France's victory. If Kane had scored his second penalty, he would alone have prevented a French loss in normal time at least.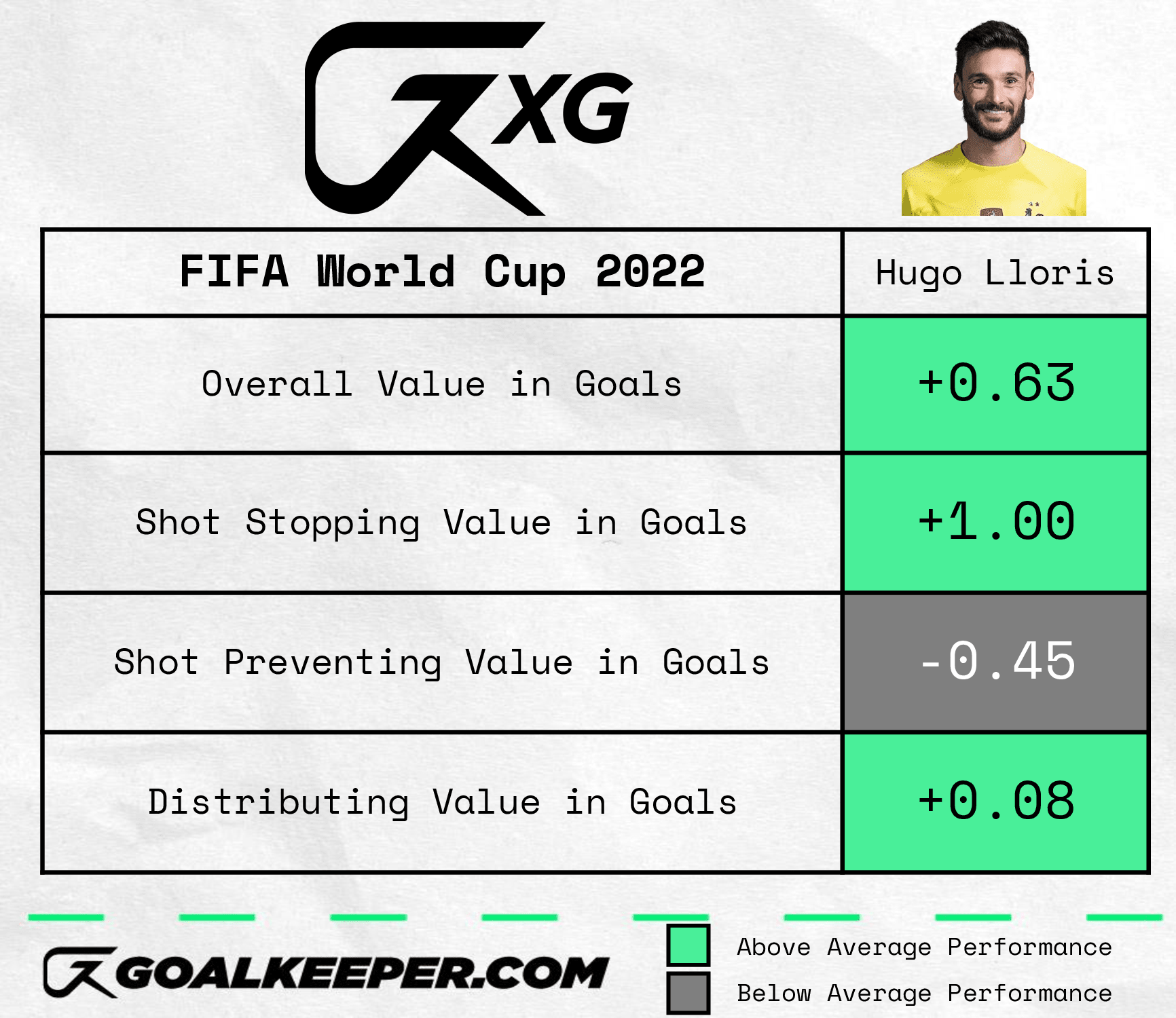 Ironically, despite their similarities, it has been in opposing areas of the game that Lloris and Martinez have excelled. Whereas Lloris, as expected, has been a strong shot-stopper, Martinez has brought vast benefit to Argentina in his shot-preventing, comprising crossing, handling, and sweeping actions. Martinez' distribution has been more or less average, whilst Lloris has been marginally above average.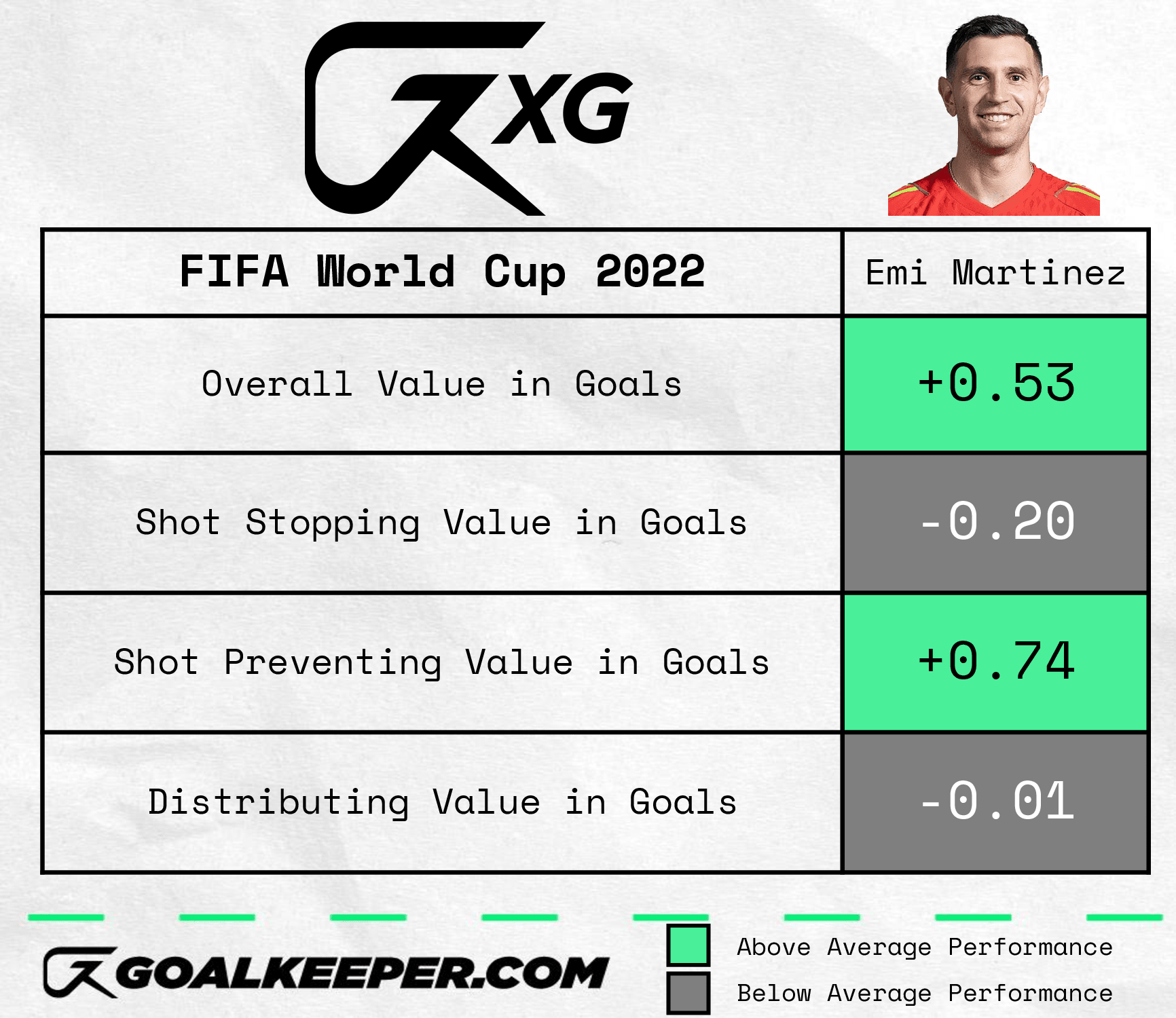 Yet Martinez' shot-stopping numbers can't just be taken at face value. His 1v1 performance has been sublime so far at the World Cup, saving Argentina +0.39 goals. Martinez' spread technique has become a staple of his game, with the virtually perfect timing, movement, and shape he displayed in a match-winning last minute 1v1 save against Australia in the Round of 16 epitomising this.
With 13 seconds left on the clock, he narrowed the angle, slowed, and spread with his chest open and forward to nullify Garang Kuol. Martinez' actions were enough to guarantee Lionel Messi a win in his 1000th professional game, but we shouldn't look upon Argentina's number one's performance at the World Cup as merely a contributing actor in Messi's final great show. Martinez himself has proven to be game changing, and deserves his own spotlight for this, rather than sharing space in the ensemble.
But no World Cup could be complete without moments of madness in goalkeeping analysis on the commentary gantry, and of course, in the press. Hugo Lloris was, now rather embarrassingly for the English media, widely deemed France's weak link in the run up to their quarter final tie against the Three Lions. Lloris' image has been one distorted by reaction to his Premier League mistakes. It is true that the Frenchman has made errors, and his season so far has been up and down, but Lloris has, season on season, made a hugely positive impact upon both Tottenham Hotspur, and more so, France.
More respect is needed upon his name; as ex-Liverpool, Wigan, and England goalkeeper Chris Kirkland commented on the Goalkeeper.com Podcast, "you don't stay in the Premier League, especially at a big big club, if you're not a very good goalkeeper. He [Lloris] is, and he proved it the other day [against England]. I think the English press were hoping he was going to give us a mistake…and it seriously backfired".
Kirkland neatly summarises the rise-against-the-narrative nature of France's captain. But, Lloris isn't alone in choice punditry aimed at him. Earlier in the tournament, ex-England goalkeeper Paul Robinson said that "He's [Martinez] not top level. There's a reason he was at Arsenal for so long, without playing. Arsenal have had some poor goalkeepers over the years. Martinez spent so much time as a no.2".
Well, it's probably safe to say that most of the goalkeeping world would disagree, for reasons already discussed in this piece. Martinez is getting just reward for years of patience, loan spells, and perfecting his craft up and down English football. From relegation battles at Rotherham (under none other than football league managerial legend, master of the old-school-of-hard-knocks, Neil Warnock) and Reading - the same team he made his infamous second Arsenal appearance against in their 7-5 then-Capital One Cup victory over in 2012 - to split time between North London, Oxford, Sheffield (the Wednesday variety), and Spain, Martinez experienced the lows, and seized the moments that have now brought him the highs.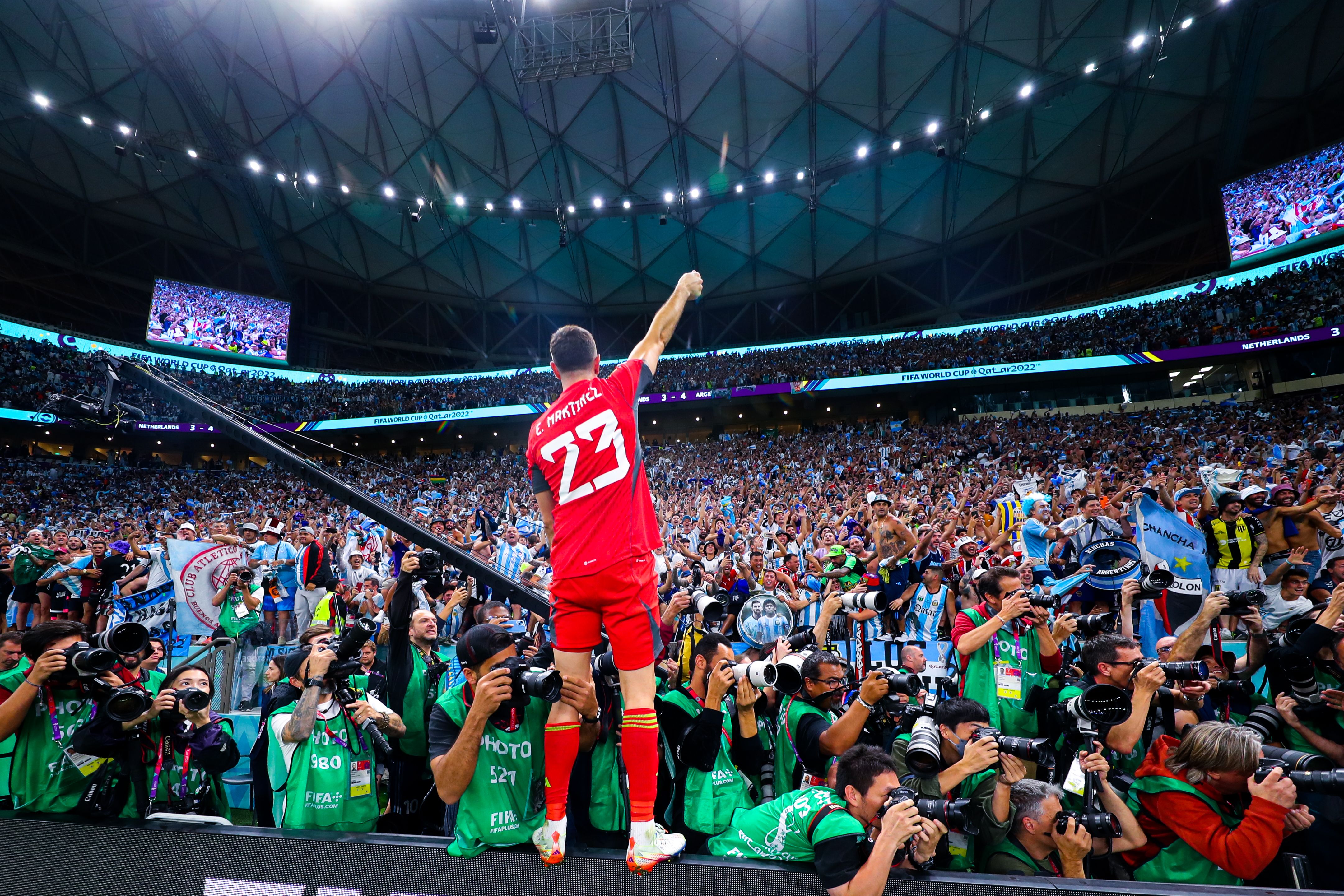 "It just goes to show, with hard work, commitment, and self-belief, you can achieve anything", continued Kirkland, this time in reference to his ex-teammate Martinez. If a World Cup final, an FA Cup victory, nearly three seasons as a Premier League number one, heaps of praise from Lionel Messi, a Copa America victory and Golden Glove, and potentially another Golden Glove awaiting him at the end of the tournament in Qatar doesn't make Emi Martinez a top class goalkeeper, then what ever will?
Whilst many of us may have wished to see one of Dominik Livakovic or Yassine Bounou in the final (both underdogs, who performed magnificently to the last in Qatar), we will be treated on Sunday to a goalkeeping spectacle between two of the World Cup's world class goalkeepers. Now 35, Lloris may not play at further international tournaments for France (although there is no proof of this as of yet) given Mike Maignan's rise in recent years.
Martinez, meanwhile, is seven years Lloris' junior, and is, in real terms, in the early stages of his international success. It's not so much master vs apprentice on Sunday, but perhaps a showing of the old and new boy on the block when it comes to success at the most elite level. Nonetheless, both goalkeepers will have an unfazed close eye on the trophy as they walk out of the tunnel on Sunday, to the clamour of the fans, the glint of the television cameras, the eyes and expectations of all viewing, and the weight of a nation resting on their shoulders.