From glove technology to scouting endorsees, we take a look inside the past, present, and future of one of goalkeeping's most iconic brands…
It's June 8th, 1996. Wembley Stadium. London. David Seaman walks out of the tunnel behind England captain Tony Adams under the early summer sun. Euro '96 would see England go agonisingly close to reaching the tournament's final, where they would have faced the Czech Republic.
Alas, penalty heartbreak ended the Three Lions' campaign against Germany in the semi-finals. Gareth Southgate's sixth spot kick was saved by Andreas Köpke - a Reusch goalkeeper himself - marking a heartbreaking end to the first major international tournament to be hosted on English soil since the 1966 World Cup. It would also be David Seaman's sole full European Championship as England's number one - playing every minute, saving two penalties and making into UEFA's Team of the Tournament.
On Seaman's hands as he walked out at Wembley was a pair of Reusch Pro-Arrow Duo Grip gloves. White, with a thick black arrow pointing upwards towards the fingertips, Reusch's flagship gloves were not only being worn by Seaman, but also by no less than 11 other starting goalkeepers at the Euro 96.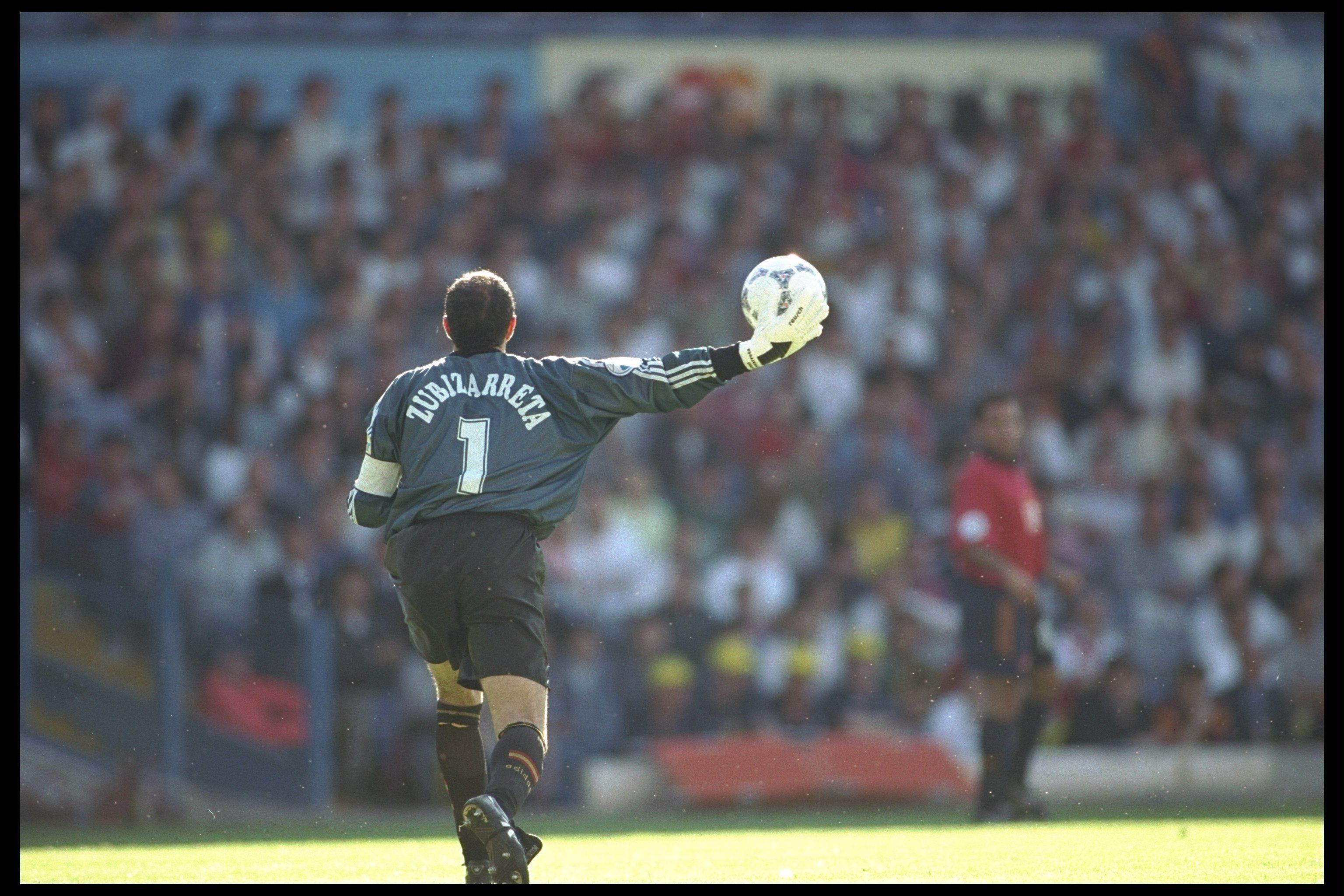 There were only sixteen teams at the tournament. 12 wore Reusch.
Seaman was one. Andreas Köpke was another. The German deputies, Oliver Kahn and Oliver Reck, completed the tournament winner's Reusch-wearing trio. Then there was Jim Leighton of Scotland, Andoni Zubizarreta of Spain, France's Bernard Lama, the Czech Republic's Petr Kouba, Borislav Mihaylov of Bulgaria, Portugal's Vitor Baia, Russia's Stanislav Cherchesov, Croatia's Tonci Gabric, and of course, Peter Schmeichel, Denmark's Great Dane.
Reusch were on top of the goalkeeping world, leading the way in goalkeeper glove production ahead of the likes of Uhlsport and Adidas. They made an impression upon goalkeepers young and old; even a young Jordan Pickford recalls his first pair of gloves being a brand new pair of Reusch.
From the attic of its founders Karl and Gebhard Reusch in 1934, to sponsoring German heavyweight Sepp Maier at the 1974 World Cup and well beyond, we go behind the brand with Reusch.
*
"Reusch was founded in the early 1930s by Karl Reusch. He started to produce leather street- and working gloves in a small attic. In 1972, Karl's son, Gebhard, joined the company. A passionate sportsman, he introduced the idea of entering the sports market by adapting the gloves the company had been making into sports gloves", Reusch tells Goalkeeper.com.
The company's website states that 'the first goalkeeper that had ever been sponsored by Reusch was Sepp Maier, at the 1974 World Cup in Germany'. The brand revealed that Maier hadn't just been a marketing ploy for Reusch, but rather a fundamental part of their growth.
"In close cooperation with Sepp Maier, we began to invent the next generation goalkeeper gloves. Alongside him, many ideas were tested. Gebhard Reusch always had been in contact with professional sportsmen, and his famous mantra was that getting in contact with them is quite easy", the brand explains.
"For him, all you had to do was just walk to them, ask them, or call them. Obviously this was a lot easier in the 1970s than it is now. The thing is, few people had the courage to actually go and ask – Gebhard had it, and did it.
"He drove to one of the training camps of Bayern Munich and asked Sepp Maier – who was playing a game of cards with his teammates - if he would be interested in developing goalkeeper gloves. He was indeed, and a long and successful cooperation started".
The 1974 World Cup was - self-proclaimed - one of the greatest tournaments of Maier's illustrious career. The German goalkeeper, in his brand new pair of Reusch gloves, was vital to West Germany's accelerated domination of both European and World Football in the seventies and early eighties. Amid the political turmoil of the era, West Germany had lifted the 1972 European Championships trophy beating the Soviet Union before compounding their success on home soil in 1974 against Netherlands in the World Cup Final.
The star-studded West German side would go on to lose against Czechoslovakia in the 1976 EURO final, before going onto win the tournament in 1980. The following six years would see two further World Cup final defeats, by which point Maier had retired.
Maier, nicknamed 'Die Katze von Anzing' has spoken of the 1974 World Cup semi-final against Poland, and the subsequent final, as the two best games of his career. Speaking to the German Football Association, Maier said that 'in the terrible conditions against Poland and in the Final in my home stadium in Munich – with all humility - I played brilliantly'.
Maier was by no means the first goalkeeper to wear a pair of gloves at a World Cup match. That honour is credited to Swede Anders Rydberg in 1934. However, the Reusch pair that Maier sported in 1974 were, hands down (no pun intended), far more advanced. Indeed, one of Reusch's main competitors, Uhlsport, had been producing goalkeeper gloves for both professionals and amateurs before 1974, but it was the introduction of specific latex foam that made Reusch stand out.
"When injured, Sepp Maier had to wear a bandage made out of latex material. When taking it off, part of the latex had glued itself to his skin, and so the idea of using latex as palm material for goalkeeper gloves was born", explained the company.
By 1982, the use of latex in goalkeeper gloves had become commonplace. At that year's World Cup, every goalkeeper used a latex palm glove and ever since, the material has been a staple of the goalkeeper's greatest tool. Before Reusch's innovation, companies had been experimenting with rubber and sponge on gloves, but neither worked to as great an effect as latex.
Latex is an interesting conversation point in the goalkeeping world, with the various types marketed around the goalkeeping world often being exactly the same, just under different names. Very few brands can claim to use genuinely 'exclusive' latexes, but Reusch is one of them.
The brand's latest range of gloves deploys one of the "10 totally different German-made Reusch exclusive latex foams", along with a whole host of other technologies. German-made latex is considered to be of premium quality amongst goalkeeper glove manufacturers, with the alternative generic brand latexes usually manufactured in countries including Pakistan. The origins of the latex goalkeeper glove are unique, and likely unknown to many, but Reusch never stopped innovating.
*
The company has been a market-leader in the goalkeeping technology space for decades. Following the 1974 World Cup, the likes of Sondico, Uhlsport and Adidas began mass producing specialist latex goalkeeper gloves. By the late 1980s, goalkeeper gloves were commonplace in the Premier League, and at major international tournaments the world's best had begun to adopt glove wearing too.
Reusch sponsored goalkeeping royalty throughout the 1990s. Peter Schmeichel was the company's iconic lead endorsee, winning the Champions League in 1999 with Manchester United in a pair of clean white Reusch gloves. About seven years previous, Schmeichel the Dane sported an iconic red and white pair - duly matching the brilliant EURO '92 multi-coloured diamond shirt with them.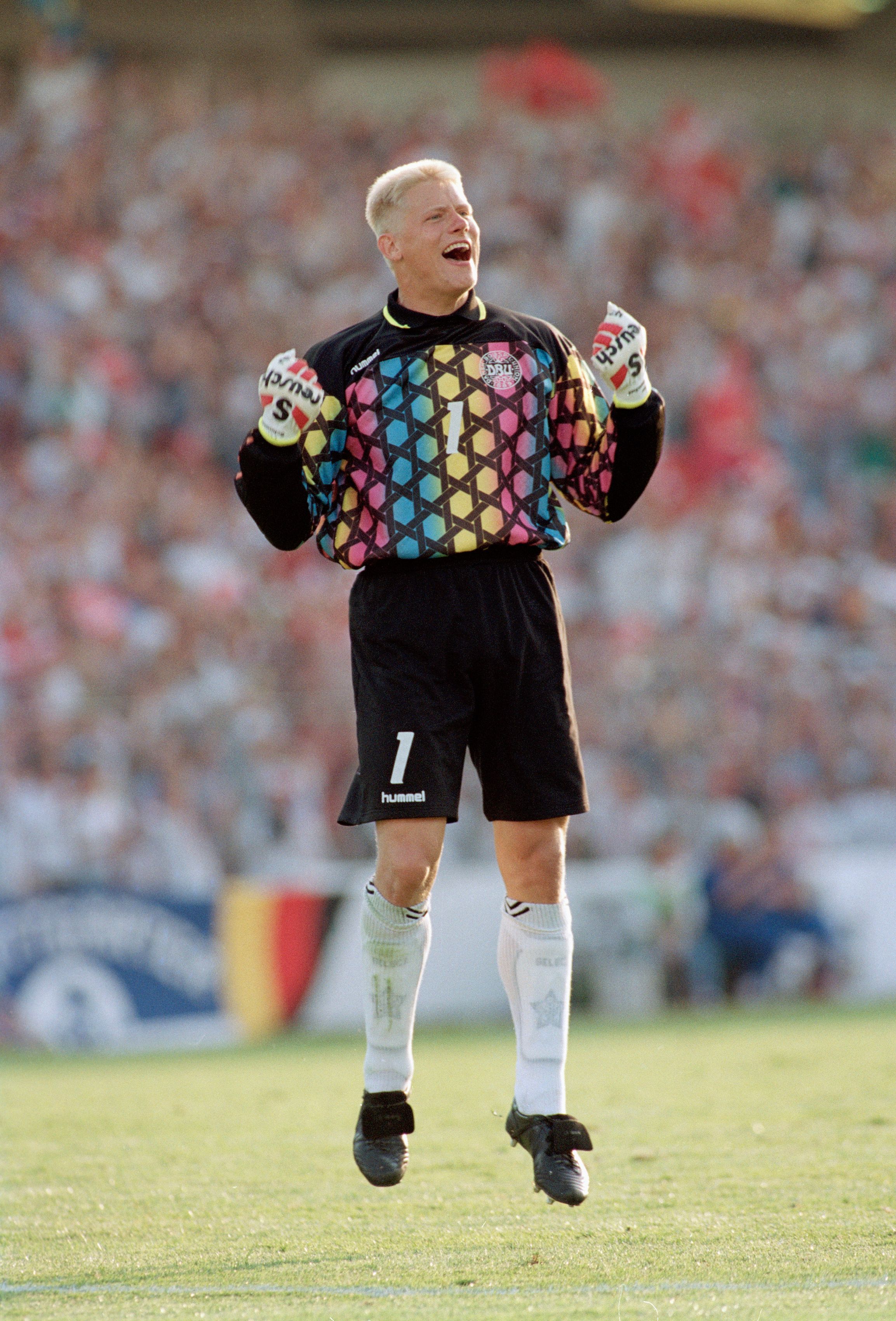 Alas, Schmeichel's 1999 Champions League victory would be the first - and last - time that a pair of Reusch gloves touched the famous trophy for 11 years. Julio Cesar and Inter Milan broke the deadlock when they beat Bayern Munich at the Santiago Bernabeu in Madrid, 2010. Eight years later, Hugo Lloris would become the first Reusch goalkeeper to lose a Champions League final wearing a black and yellow pair of Reusch Fit Control G3 Fusion.
The iconic Reusch arrow remained on the brand's flagship models as the new century dawned, with goalkeepers such as Claudio Taffarel and (then at Galatasaray) donning the now-ancient looking pairs in the early 2000s.
It's astonishing to see how far goalkeeper gloves have evolved in the last twenty years. The gloves that were marketed in the 2000 Reusch catalogue were arguably more akin to those Sepp Maier wore in 1974 than the Attrakt models the likes of Hugo Lloris and Unai Simon sport today. That's not to say the models of 2000 didn't advance - far from it - but the thinner, flat palm of the first Reusch pairs of the 21st Century were a world away from today's models.
The 2000 catalogue marketed Reusch's 'ortho-tec', which is today known as 'fingersave' or 'fingerspine' technology. This technology is still in use today (albeit by name only and naturally upgraded), with the company telling us that we have "two finger protection systems (Ortho-Tec and Finger Support)".
Ortho-tec is only one of the various innovations that the company has worked on in the last twenty years. With the demands of the modern goalkeeper ever changing, and a continually high-profile list of competitors producing a plethora of different models, Reusch technologies remain some of the most unique and genuinely 'new' in the business.
"We define ourselves as goalkeeper specialists, first and foremost", states the company, who also have extensive experience in manufacturing leading skiwear. "We understand there are special demands for all play levels, surfaces, weather conditions, individual tastes and styles. Therefore, we do not only offer various designs – but more importantly – various constructions in our gloves".
"From the more relaxed and protective fit of the Attrakt Goaliator Ortho-Tec to the second-skin fitting Pure Contact gloves, palm latex, cuts (we offer five different cuts: Evolution Negative Cut, Evolution Cut, Roll Finger, Expanse Cut, Slim Expanse Cut) and our finger protection systems, we aim to provide for all goalkeepers", the company claims.
"One of the main innovations of the new Attrakt collection is our Goaliator model that was developed together with Hugo Lloris. It features our premium 'Fusion' latex that combines three of our top latex foams to create all-weather grip and reliable durability. On the backhand of the glove, our new 'Freegel' punching zone was designed to provide maximum flexibility and at the same time the needed stability and support", they continue.
With the company's collaboration with Hugo Lloris mentioned, Reusch provided an insight into the world of athlete sponsorship.
"Over the years we have built a global network of contacts that are closely linked to the goalkeepers and player agencies that we work with. The contacts are of course important, but over the years we have realised that the service and the product itself are by far the most important assets to convince goalkeepers to join our brand", explains the company.
"Before signing a goalkeeper we try to find out together with them which glove would fit their needs and taste best. We tend to test a variety of different constructions/latexes/fits and then we provide the chosen model. Whereas in the past many professionals had their own special SMU (special make up) gloves with certain modifications, the vast majority of our endorsees now found their preferred gloves among our regular collection styles with no modifications".
Reusch currently sports Lloris, alongside Spanish national goalkeeper Unai Simon, Juventus' Wojciech Szczęsny, Samir Handanovic of Inter Milan, and Napoli's Alex Meret as their leading endorsees. Spurs' number two, Pierluigi Gollini, is also with the brand, as are FC Bordeaux's Benoit Costil and Schalke's Ralf Fährmann, amongst others. Reusch's endorsees span the highest tier of the European game and beyond, with goalkeepers as far as Japan and Mexico wearing the brand's pairs at the top level.
Despite this eminence, Reusch does not tend to create specialist gloves for their goalkeepers, as alluded to earlier in the article. Rather, they "instead try to apply the needs, tastes and feedback of our pro keepers on the development of our entire collection. In this way all our products benefit from the expertise and experience of our endorsees".
"We actively involve some of our most prominent goalkeepers (Hugo Lloris, Unai Simón, Wojciech Szczesny, Samir Handanovic, Alex Meret) and usually try to meet up in the development phase to get feedback on their current gloves and first impressions, and feedback, on new developments. The best way is of course to meet in person, which in the last months has become a bit more tricky due to the pandemic restrictions. Often, a chat via FaceTime or WhatsApp is enough! At the moment, Hugo is probably the goalkeeper that is the most actively involved in our glove development", the company explains.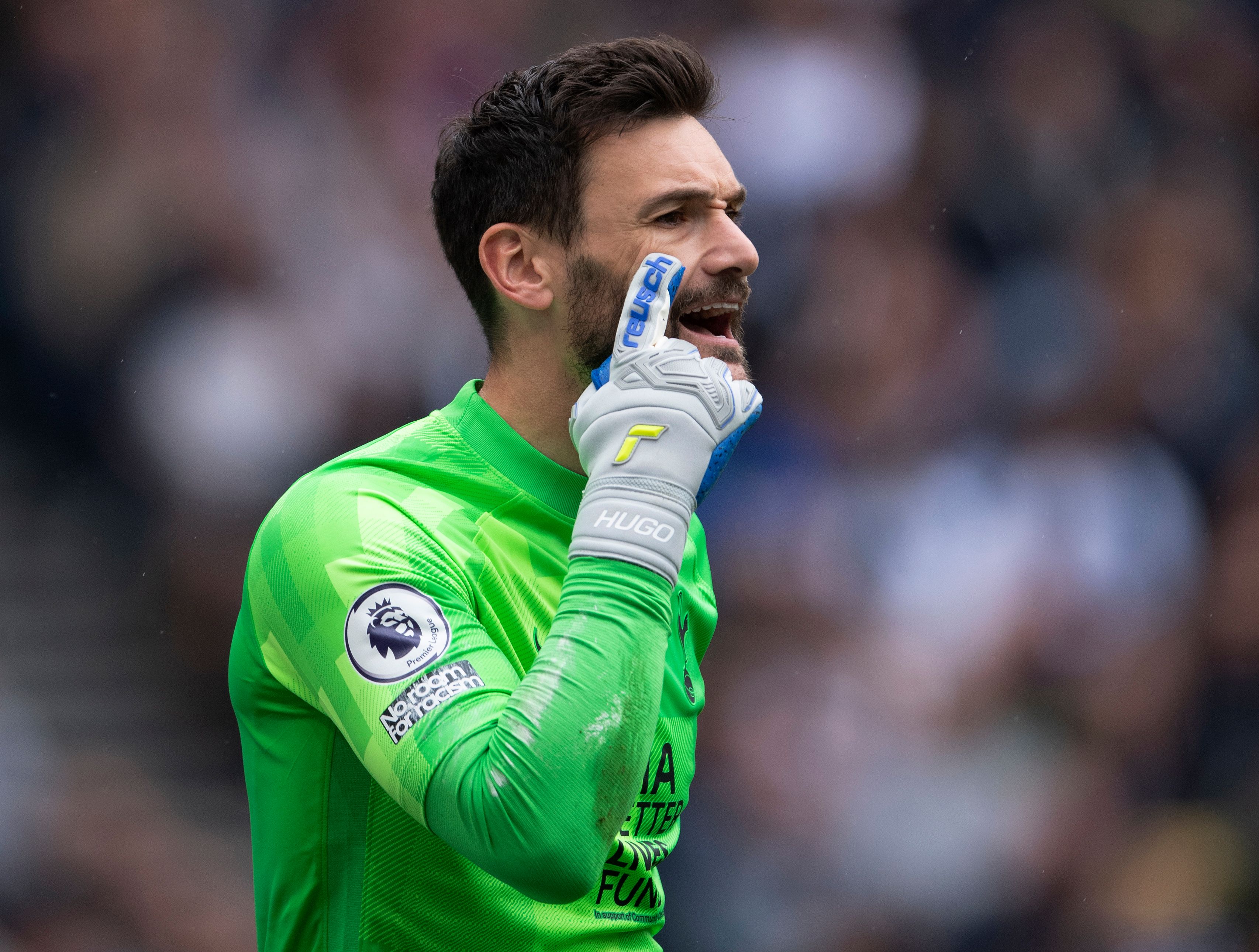 It's fair to say that, so far, the feedback that Reusch's goalkeepers give is valuable; the brand has got it right, judging by their market standing, more often than not.
*
Despite their prominence in the glove market, Reusch still consider themselves to be a 'small, family-run business' who seek to stay true to their traditional values. In this sense, it is true that Reusch - despite its eminence - can be considered a small business by business definition, with the company listed as employing no more than 50 people. However, on a corporate level, their ambitions for the future remain at the highest level.
The goalkeeping industry is one that has not yet ventured particularly far into sustainability. Latex is a natural material, but laced with chemicals and treatments to optimise it for sports performance is a whole other story. Furthermore, with the body material of the majority of gloves made up of unsustainable materials. For example, one of Reusch's latest 'Attrakt Freegel Fusion' models uses 33% Rubber, 30% Latex, 17% Polypropylene, 10% Polyamide, and 10% Polyester according to their website.
That being said, becoming more environmentally friendly is high on the brand's list of priorities.
"Our climate neutral programme includes both winter sports gloves and goalkeeper gloves; and the policy refers to the company as a whole", Reusch details. "We are striving to reduce emissions wherever we can, for instance by planning production and logistics far in advance to avoid excess airfreight – a real game changer in terms of emissions.
"However, it does not stop there. We continuously search for more sustainable materials and production processes, which admittedly is easier for a winter glove compared to goalkeeper gloves. We however made steps ahead in our goalkeeper apparel line, where on selected items we were able to replace regular polyester by 100% recycled polyester - say polyester made out of old, used plastic bottles.
"This way, we reduce the amount of unsustainably produced plastic on our planet. Right now we have projects ongoing to develop packaging concepts for our keeper gloves that use less plastic, but we admit it's no easy task. At the same time, we see that step by step we can improve, and we definitely want to, even if it takes a lot", they continue.
Reusch's past as a goalkeeping brand is eminent, and their future ambitions are admirable. As they further explained, "we never want to stop exploring new methods, new concepts, and new materials. We always stay connected with our goalkeepers and the market, and won't settle for things that are currently 'trending' for no practical reason.
"Of course, we are trying to reduce our company's impact on the environment. In contrast to other brands on the market, we are a family-owned, small business. This gives of course some limitations but as well the freedom to stay true to our visions and values".
The visions and values of Reusch have taken their self-professed 'small business' to the world's biggest stage over the last fifty years. A first-step rule on the stock market is that past success is never an indicator of future performance, but Reusch's notability in the goalkeeping market would take some catastrophe to pull down.
Indeed, Reusch also noted that their team is currently working on a range scheduled to be released in 2024, and will likely be highly anticipated by glove aficionados as their list of prominent endorsees grows.

Small they may be in official terms, but in the goalkeeper glove market, Reusch is one of the big boys.