Over the years, some goalkeepers have been prolific in both boxes…
The sight of a goalkeeper rushing up over the halfway line and into the opposition's penalty box as a match reaches its dying embers is something to behold.
The crowd holds their breath. The bench watches on in anticipation. The making of a memory that will last a lifetime for all involved could be on the cards.
But for some goalkeepers, a foray up into unknown territory has not been anything unique. Over the last few decades, there have been several goalkeepers - many hailing from Central and South America - who have become quite accustomed to hitting the back of the net.
Dead balls and set plays seem to be the means to the end of choice, with penalties and free kicks making up many of the goals that goalscoring goalkeepers have built their tallies with.
But who are these goalkeepers, who cause nuisance for the opposition in both boxes?
#10 - Misael Alfaro
Country: El Salvador
List of clubs: Alianza FC (x2 spells), CD Luis Angel Firpo, San Salvador FC, CD Aguila, AD Isidro Metapán (x2 spells), Atletico Balboa, Nejapa FC,
Number of career goals: 31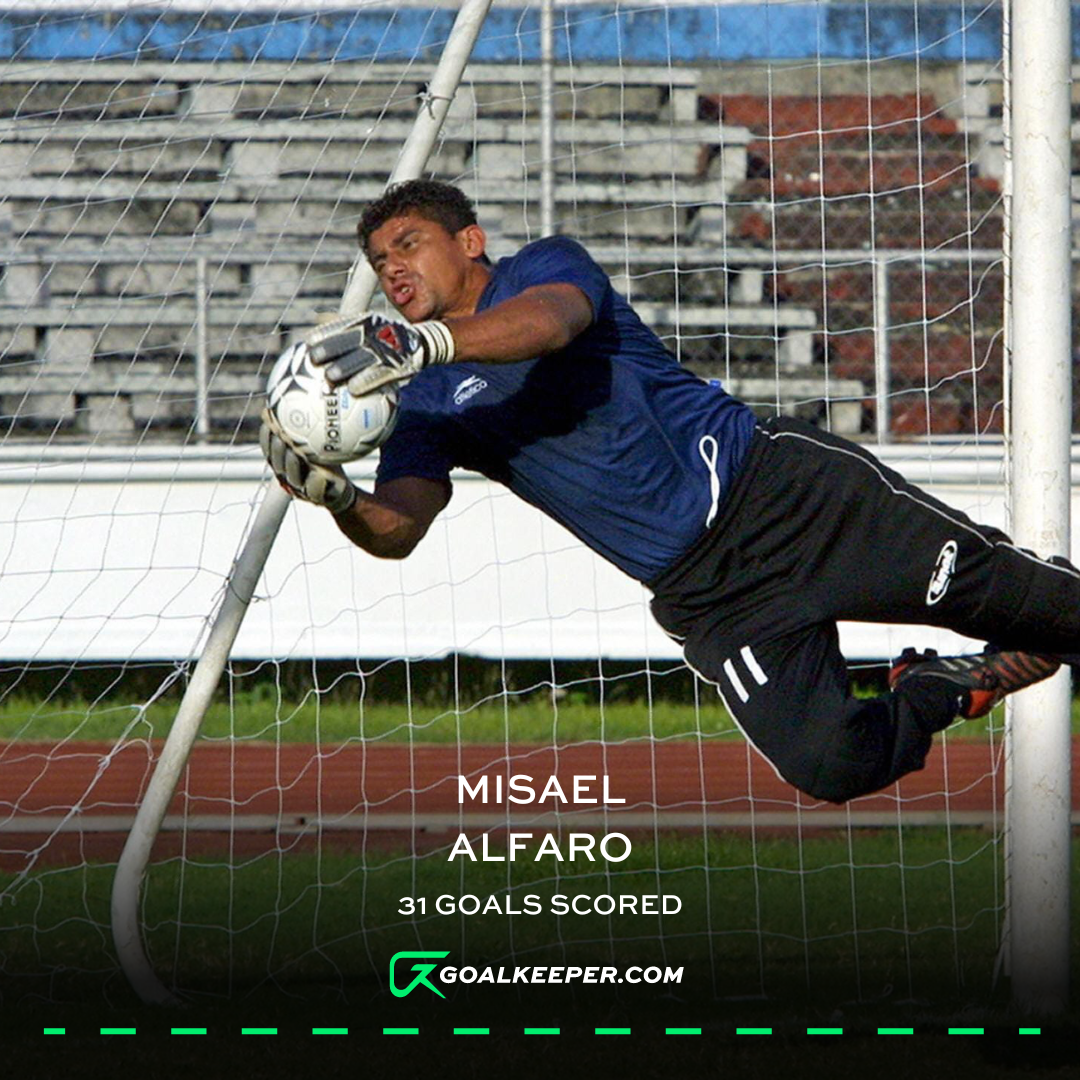 #9 - Hans-Jorg Butt
Country: Germany
List of clubs: VfB Oldenburg, Hamburger SV, Bayer Leverkusen, Benfica, Bayern Munich, Bayern Munich II.
Number of career goals: 33
Insight: The majority of Butt's goals came at in the Bundesliga (26), especially with Hamburger, scoring 19 in 133 appearances for them - the equivalent of a goal every seven games. As a youngster, he actually played up front - hence the proclivity to turn up in front of goal - for TSV Großenkneten. In a match away at Schalke 04 in 2004, Butt was scored on from the half way line whilst jogging back to goal after celebrating scoring a penalty.
The German also holds the record for the most goals scored by a goalkeeper in the Champions League, with three to his name in Europe's premier international tournament. He also holds the record for the highest number of penalty goals in a single professional league of Europe.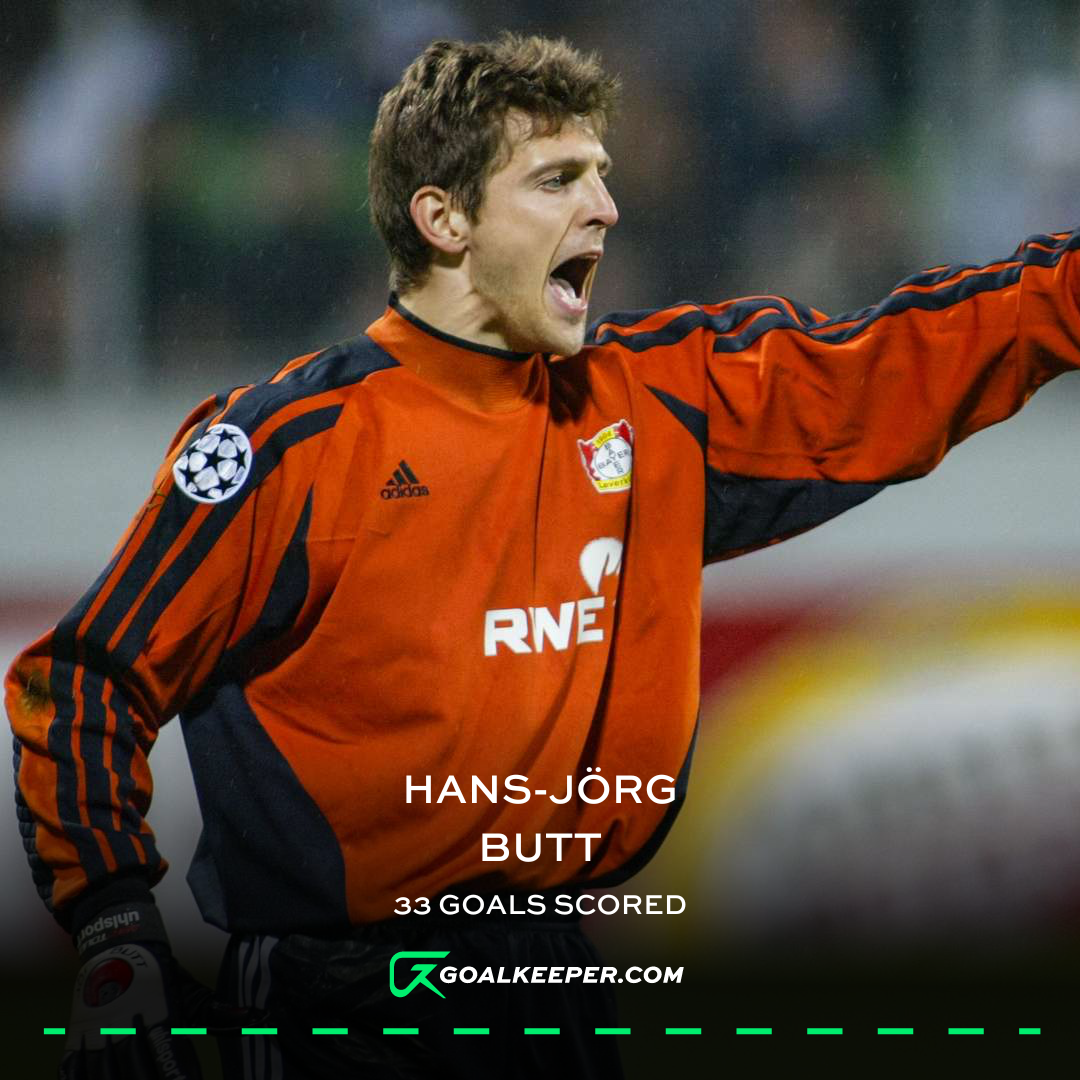 #8 - Fernando Patterson
Country: Costa Rica
List of clubs: Limonense, Turrialba, Municipal Puntarenas, Xelaju (x5 spells), Coban Imperial, Cartagines, Ramonense, San Carlos, Heredia Jaguares, Xinabajul, Coatepeque.
Number of career goals: 35
Insight: Patterson epitomised goalkeeping longevity, playing between 1989 and 2013. He was 43 when he retired.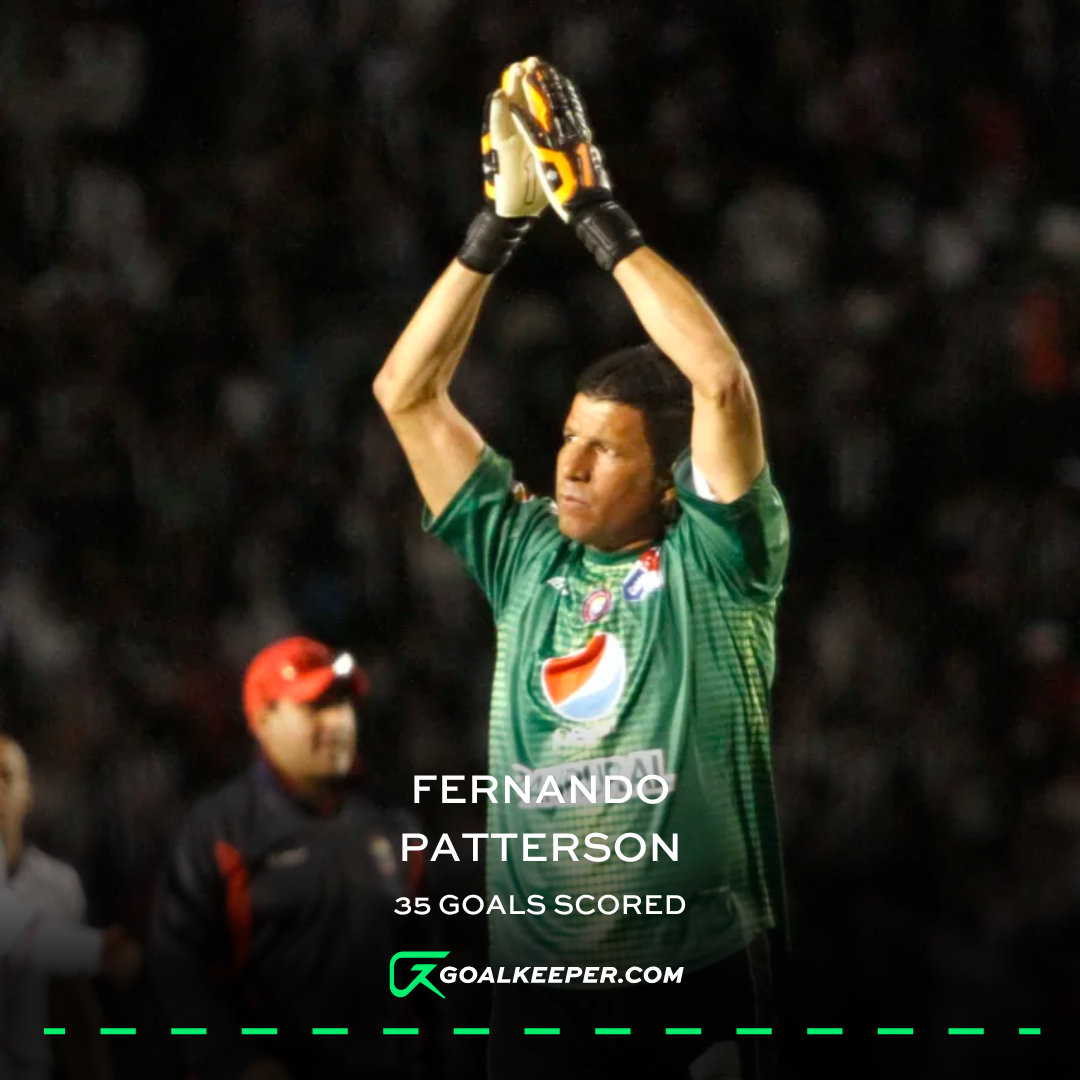 #7 - Márcio
Country: Brazil
List of clubs: Bahia, Fortaleza, Atletico Goianiense, Goias, Ipatinga, Goiania
Number of career goals: 40
Insight: Three of the teams Marcio played for were all located in the same city - Goiânia, capital city of the Brazilian state of Goiás.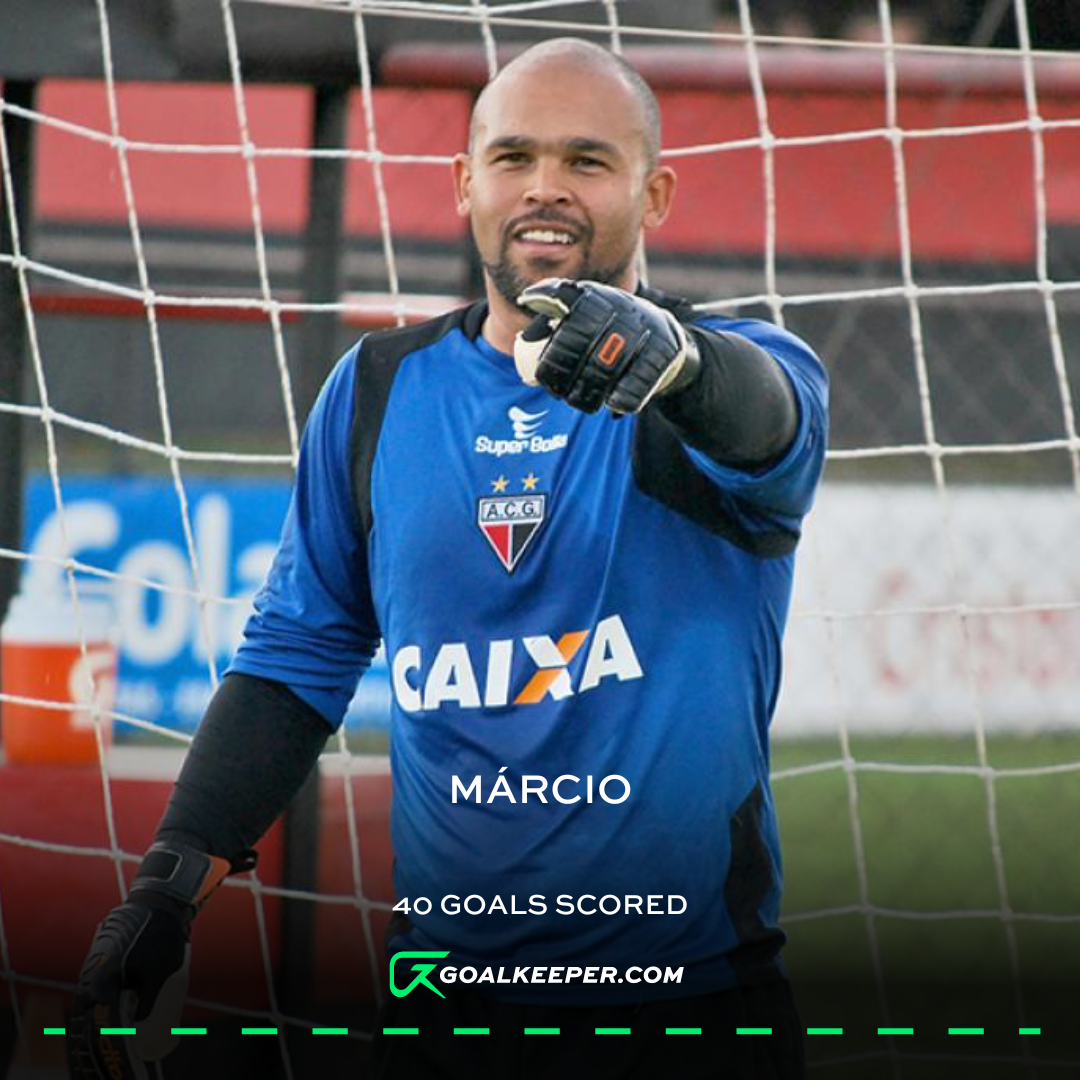 #6 - Dimitar Ivankov
Country: Bulgaria
List of clubs: Levski Sofia, Kayserispor, Bursaspor, Anorthosis Famagusta
Number of career goals: 42
Insight: Ivankov is the highest goalscoring goalkeeper of those goalkeepers to be nationals of European countries.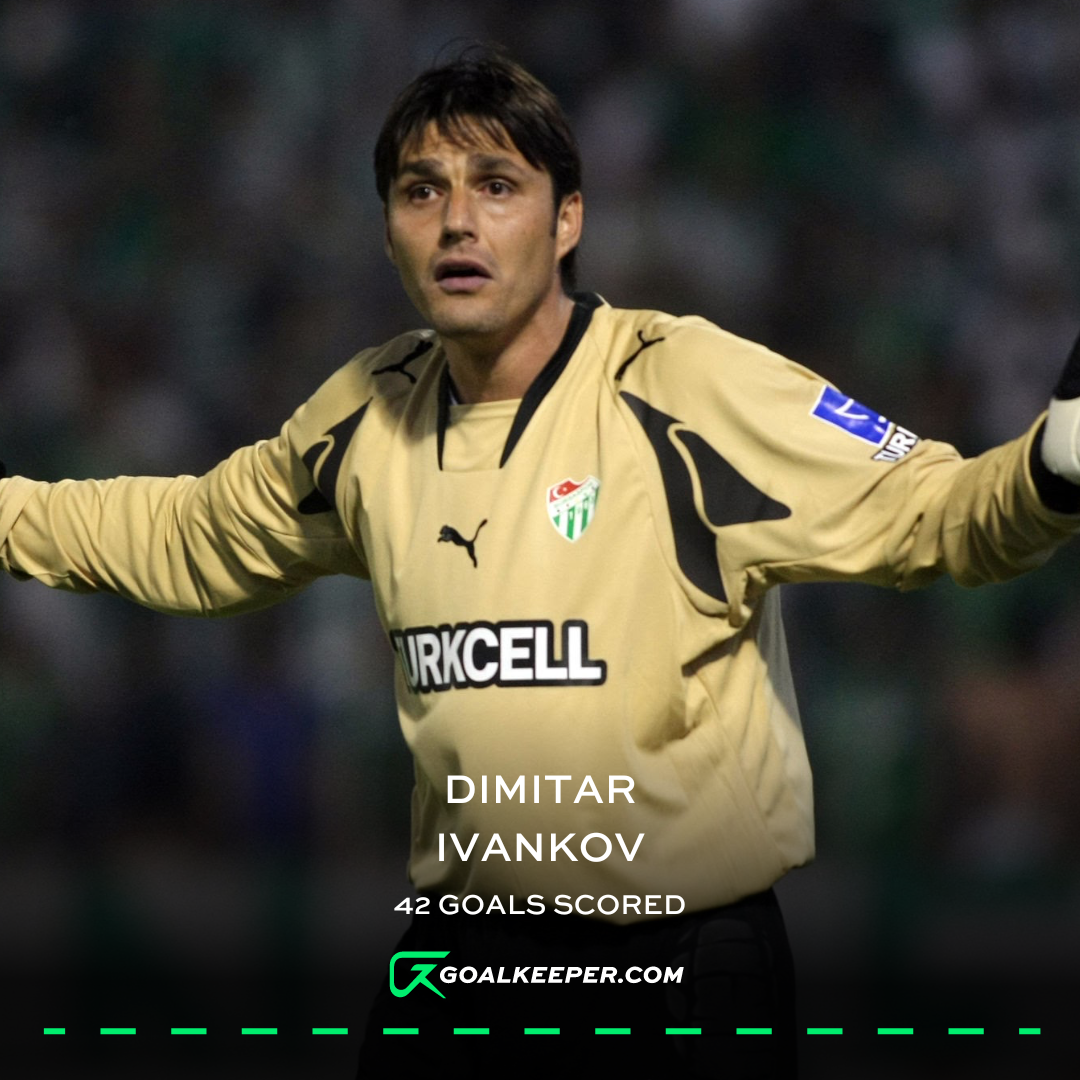 #5 - Rene Higuita
Country: Colombia
List of clubs: Millonarios, Atletico Nacional (x2 spells), Real Valladolid, Veracruz, Independiente Medellin, Real Cartegena, Atletico Junior, Deportivo Pereira (x2 spells), Aucas, Guaros FC, Deportivo Rionegro,
Number of career goals: 43
Insight: Higuita is credited with the invention of the scorpion kick, as demonstrated incredibly at Wembley while clearing a cross-shot from Jamie Redknapp during a friendly against England 6 September 1995. The maverick Colombian, however, has not been without scandal. He was imprisoned in 1993 after becoming embroiled in a kidnapping.
Reportedly acting as a go-between for the drug barons Pablo Escobar and Carlos Molina, he was largely responsible for securing the release of Molina's daughter by delivering the ransom money. In a documentary with ESPN, Higuita claimed that he was arrested for visiting Escobar during his time in prison, saying that all he was asked during questioning was solely about Pablo Escobar himself and no kidnapping.
All this led to him not being fit for the 1994 FIFA World Cup, in which Colombia finished bottom of Group A.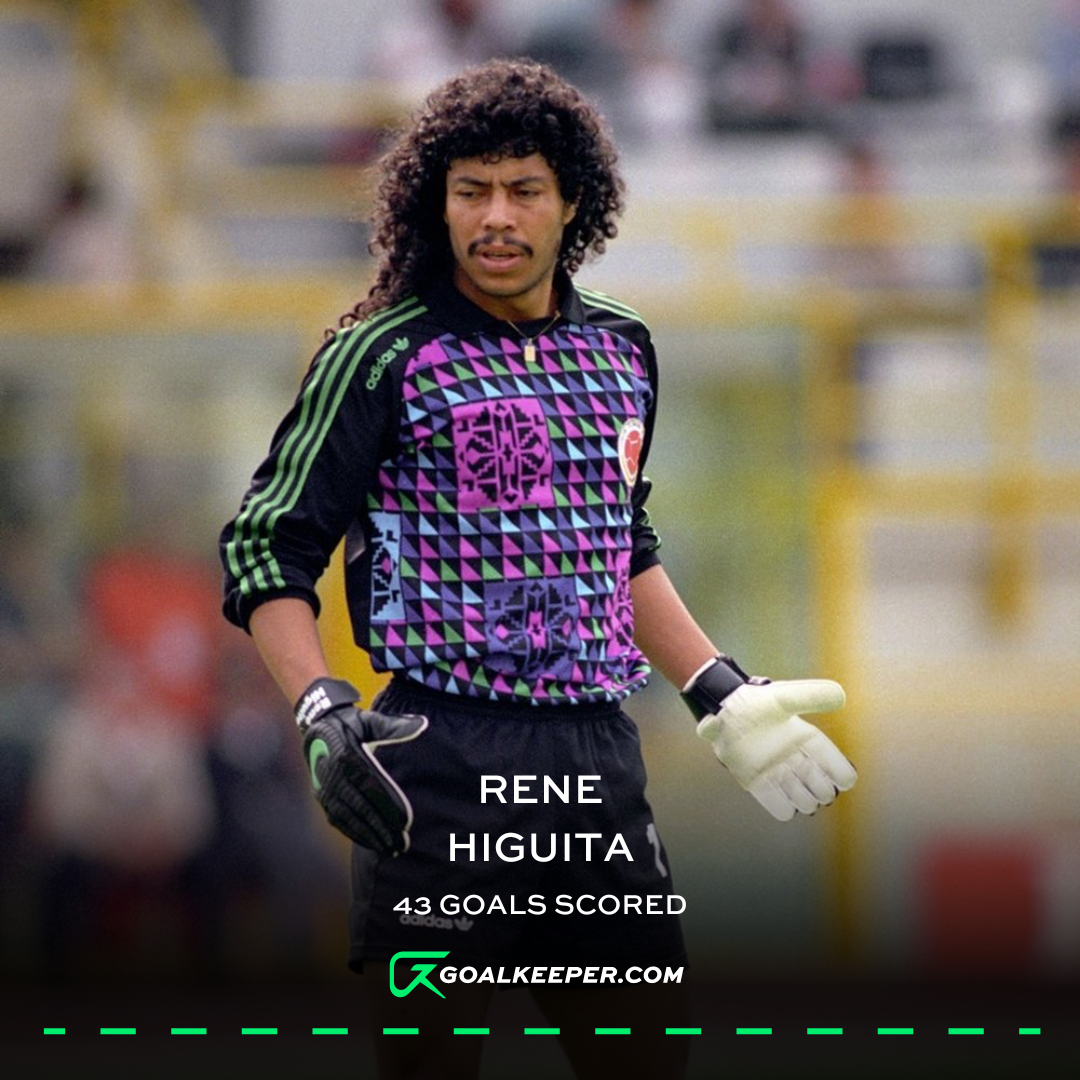 #4 - Johnny Vegas Fernandez
Country: Peru
List of clubs: Sport Boys, Union Huaral, Universidad San Martin, Melgar, Sporting Cristal, Sport Ancash, Cienciano, Alianza Atletico, Union Comercio (x2 spells), Pacifico, Defensor San Alejandro, Los Caimanes (x2 spells), La Bocana
Number of career goals: 45
Insight: Fernandez turned out for an incredible thirteen different clubs across the span of his career, over a twenty year spell from 1997 to 2017. He also managed three caps for the Peruvian national team.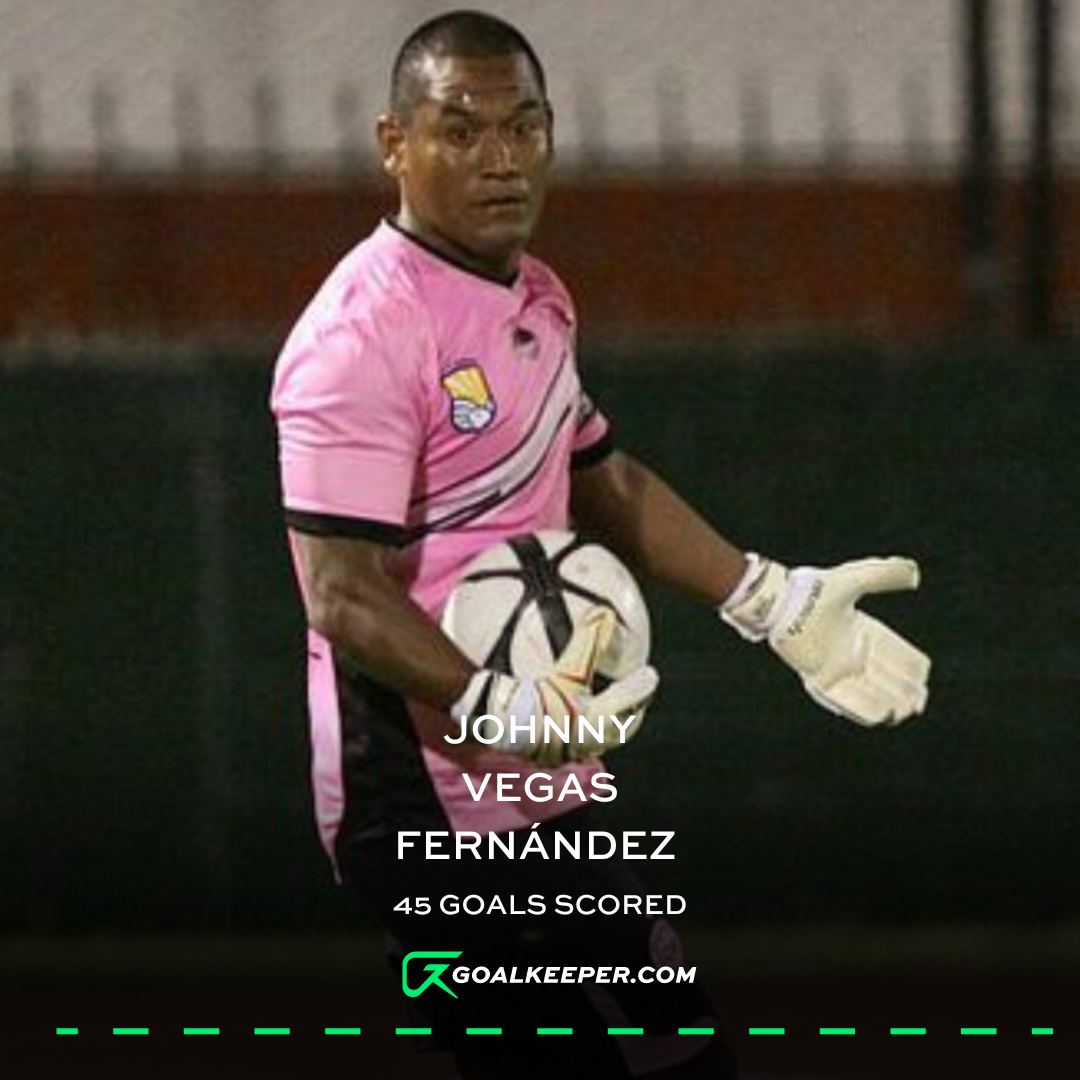 #3 - Jorge Campos
Country: Mexico
List of clubs: UNAM (x3 spells), Atlante (x2 spells), LA Galaxy, Cruz Azul, Chicago Fire, Tigres UNAL, Puebla
Number of career goals: 46
Insight: Who could forget Jorge Campos? Mexico's legendary goalkeeper may have been small in stature, but large in personality and eccentricity. Campos is perhaps best remembered for the colourful geometric patterns printed on his goalkeeper jerseys for both national and domestic clubs. His kits were often self designed, as he turned out for clubs across Central and North America.
A fantastic goalscoring return - the majority of which came for Liga MX side UNAM - added another string to the bow of a goalkeeper described as 'flamboyant' by some, and a little risky in his forward think approach by others. Gaining a whopping 129 caps for Mexico defined a remarkably memorable career.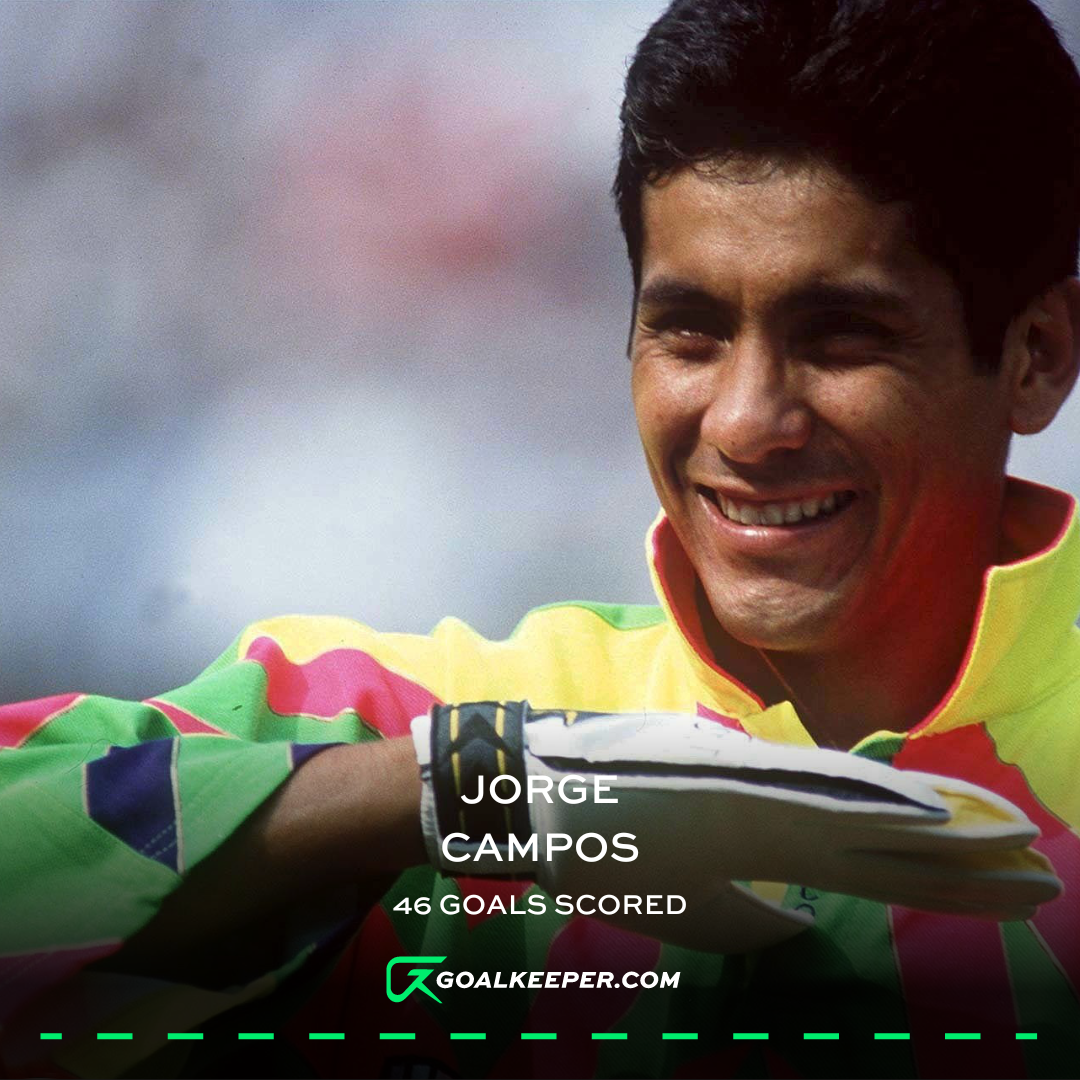 #2 - Jose Luis Chilavert
Country: Paraguay
List of clubs: Sportivo Luqueno, Guarani, San Lorenzo, Real Zaragoza, Vélez Sarsfield (x2 spells), Strasbourg, Penarol,
Number of career goals: 67
Insight: Chilavert is regarded as one of Paraguay's greatest-ever goalkeepers and he also caught the eye of the international crowd for his expressive style.
'El Buldog' spent much of his domestic career playing in South America and had a clear love for the continent, particularly Argentina, where he spent most of his career playing for Vélez Sarsfield.
The marauding goalkeeper also had a humble start to life. He grew up in an impoverished family, where he didn't have shoes for many of his formative years. But this didn't stop Chilavert from reaching the very top. In 1998, he captained his beloved Paraguay to the last 16 of the World Cup. He only conceded twice in four matches before his side was eliminated by hosts and eventual winners France after extra time.
He recently finished fifth in the Paraguayan presidential election after foraging into politics post-football.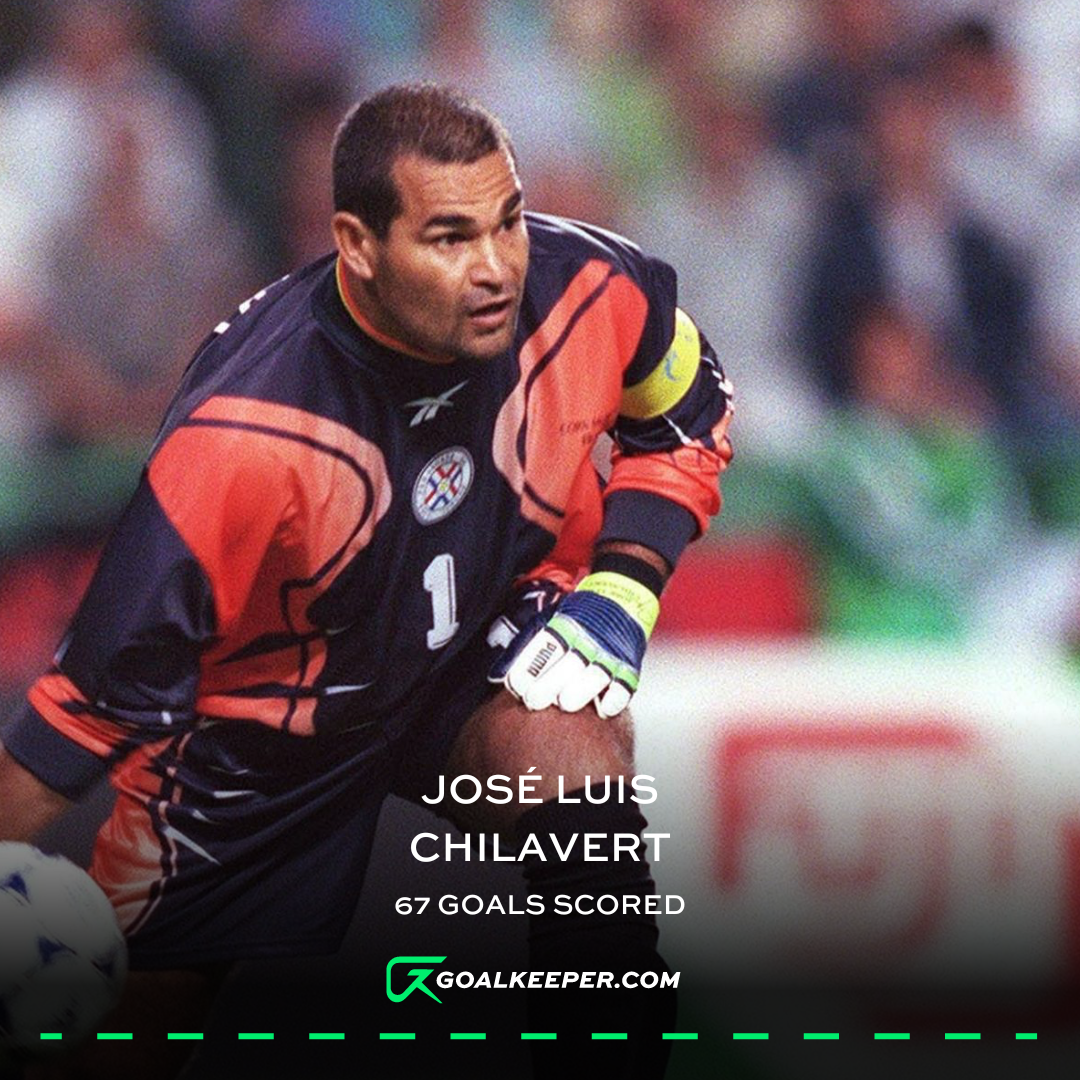 #1 - Rogerio Ceni
Country: Brazil
List of clubs: Sinop, Sao Paulo
Number of career goals: 131
Insight: Ceni is the undisputed leader in the goalscoring goalkeeper charts. Recognised as one of Brazil's greatest ever goalkeepers, Ceni played over 25 years during which he made an incredible 1249 professional appearances. Only 12 of these came away from Sao Paulo. Ceni epitomised everything brilliant about goalkeeping.
A ball playing, goalscoring, shot-stopping all-time legend, Ceni was also fiercely loyal to the club closest to his heart. In 2014, he had three records recognized by Guinness World Records: the most goals scored by a goalkeeper, most number of games played for the same club and most number of times as captain.
One of his greatest performances came in 2005, in the FIFA Club World Cup final against Liverpool. The Brazilian side beat the newly crowned Champions of Europe 1-0, with Ceni keeping a clean sheet.