A predecessor of Buffon at Parma Calcio, Ballotta made his last Serie A appearance aged 44 years, 38 days.
Italian goalkeepers seem to age like fine wine.
At least, that's the impression Gianluigi Buffon's imperious career has created.
There is a striking longevity in Italian goalkeepers. Buffon, Salvatore Sirigu, Gianluigi Donnarumma, Alex Meret. All goalkeepers - and only a handful amongst several other examples - who debuted at a senior professional level before the age of 20.
Rolling back the years, Dino Zoff was also 19 when he made his Serie A debut, and Gianpiero Combi had recently turned 20 before his first professional outing.
Yet it's not as if Italian goalkeepers start young and strong, and fall away within a decade. They simply keep going. Buffon is now 45, and will play into his 46th year if he sees out his deal until 2024 with Parma.
Sirigu is 36, in his prime, and the aforementioned Zoff played to 41. Walter Zenga was 39 upon retirement.
But it isn't Buffon, or Zoff, who can claim the record for being Serie A's oldest ever goalkeeper. Buffon's name would be on that medal, yes, if he'd stayed with Juventus for a few more seasons in Serie A rather than dropping to Serie B to rejoin Parma in 2021. And, in fairness, Buffon did equal and break a number of records in what could be one considered the most accomplished personal two year goalkeeping spell in world footballing history during his second spell with Juve.
One of these was breaking the record for being the oldest Serie A goalkeeper to save a penalty, when he kept out Domenico Berardi's penalty in a 3–1 away victory against Sassuolo at the age of 43 years, 103 days. A number of other Juventus records were also slashed by the eminent Italian goalkeeping Godfather between 2019 and 2021.
But this article isn't about Buffon, for all his goalkeeping virtues. It's about the man who Buffon didn't quite outlast in Serie A.
His name, Marco Ballotta.
*
Ballotta currently holds the record for being the oldest goalkeeper to play in both Serie A and the Champions League. In the case of the former, he was 44 years and 38 days old, and 43 years and 252 days in the case of the latter. Both appearances came for Lazio in the 2007/2008 season.
Over his 26 year professional career, Ballotta made a total of 542 appearances, with 177 of those coming after he turned 36 in 2000. By 2005 - then 41 - the Italian was still going strong, guarding Lazio's goalposts on a further 49 occasions until his retirement in 2008.
Well, we say retirement. Ballotta pertained to the maverick goalkeeper stereotype in his post-retirement footballing antics, briefly coming out of hibernation to play up front for eighth division side Calcara Samoggia in 2008. They say that variety is the spice of life and the Italian personified that in more than just positional diversity, with his name recorded in the squad list of ten different clubs between 1982 and 2008.
Born in the quaint commune of Casalecchio di Reno in northern Italy, Ballotta's local boyhood club was Bologna. The year of his birth (1964), Bologna won what was to be their last Serie A trophy to date. Ballotta's formative footballing years were spent with Bologna's academy, but he never made a professional appearance for the club. His first, in a career that would stretch far ahead of him, came aged 18 for another side in the region, the now dissolved A.S.D. Boca Pietri.
It was at his next club, Modena, where he would make the most appearances at a single club over his career. 188 outings later he joined Cesena, where he'd stay for no more than six months before a move to Parma Calcio in 1991. The same year that Ballotta was joining the first team set up at Parma, a certain Gianluigi Buffon was taking the first steps in his goalkeeping career with the same club, signing for their youth team that year.
Geographically, Ballotta had spent the first decade of his career close to home. Every club he played for between debuting at Boca, as they were known, and leaving Parma for Lombardy-based club Brescia in 1994 was situated on the E45 highway - with Parma and Cesena being of near equal distance of each other (Parma being around 12 kilometres closer to Casalecchio di Reno) from Casalecchio di Reno.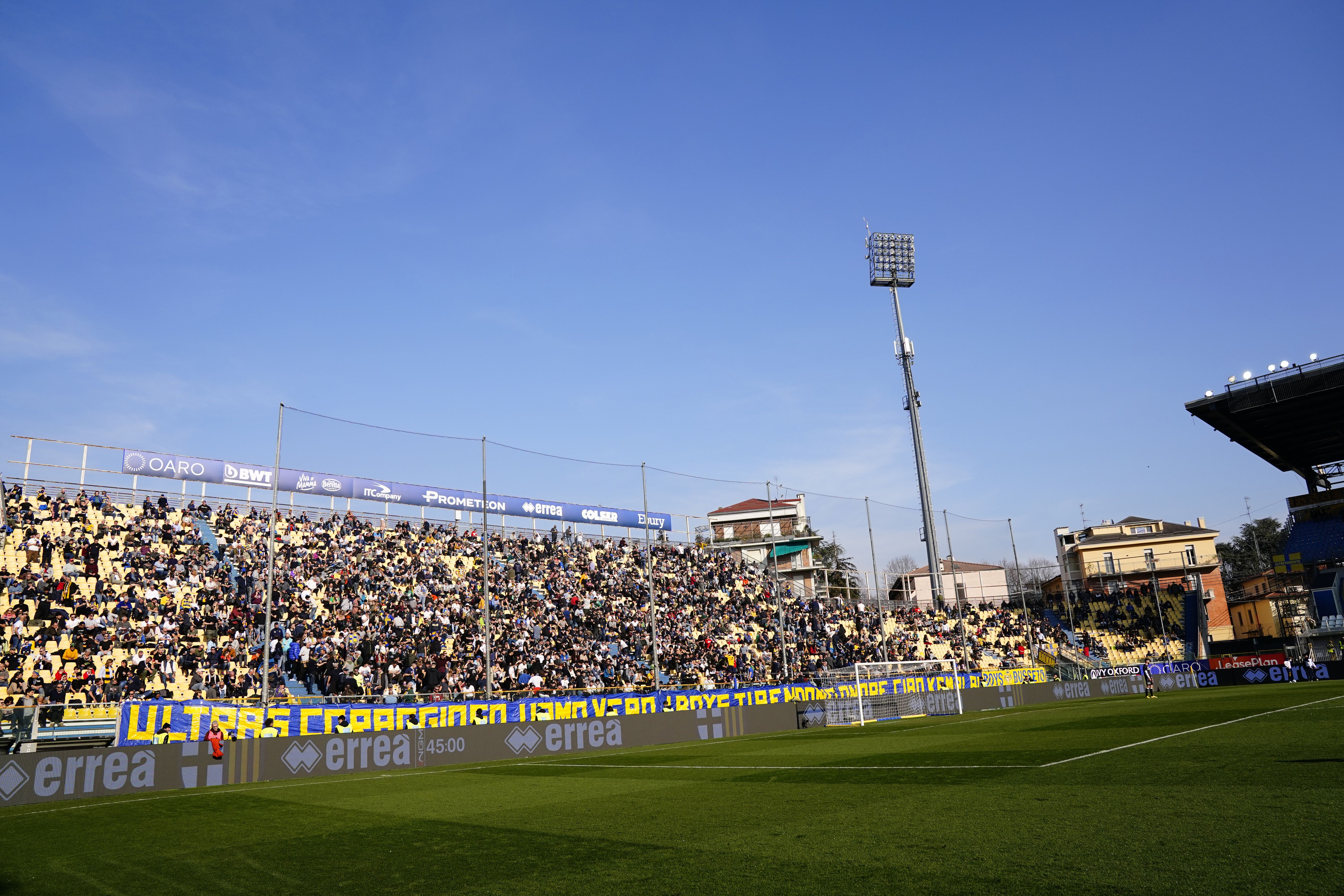 Ballotta only managed 33 appearances for Parma, but they were notable. The 1992/1993 season saw him in fine form as Parma powered their way to a third placed finish and the UEFA Cup Winners' Cup trophy, but it wasn't to last. Only three appearances in the following campaign saw Ballotta again on the search for another club; his new destination taking him out of his boyhood province of Emilia-Romagna and to Lombardy, where Brescia were awaiting his arrival.
Three yo-yo years followed with a relegation being the culmination of his 32 appearances with Le Rondinelle and an immediate promotion to Serie A with Reggiana in 1994/1995. They too went straight back down, and Ballotta was once again searching for a new club.
And then came Lazio, spell one of two. Between 1997 and the millennium, Ballotta played the role of the onlooker - and when he did feature in a more notable goalkeeping moment, it was as the side act. Angelo Peruzzi, Italy's starting goalkeeper at EURO '96, made the headlines when Lazio signed him from Juventus for a fee of between 33 and 35 billion Lire, with Ballotta included in the deal and moving the other way to Milan.
The furthest venture from home of Ballotta's career to date ended in a return to former club Modena, where he achieved promotion, initially on loan, to Serie A in 2002, before another promotion (thanks to a match fixing scandal that relegated Genoa to Serie C1) with Treviso. But it was back at Lazio, where he returned to for the 2005/06 season, that records began to break in his wake.
Peruzzi was still at the club, but due to injury to him and number two Matteo Sereni, Ballotta made eight starts during his second debut campaign for I Biancocelesti. By October, he'd beaten Dino Zoff's record for the oldest goalkeeper to play a top flight match in Italy, aged 41 years and 203 days - beating Zoff by 169 days.
The long-lasting goalkeeper maintained his place in the Lazio goal thanks to Peruzzi's increasingly frequent injury problems. He kept new signing Fernando Muslera out of the side for the majority of the 2007/2008 season and, in the process, continued to break his own record for being the oldest Serie A goalkeeper.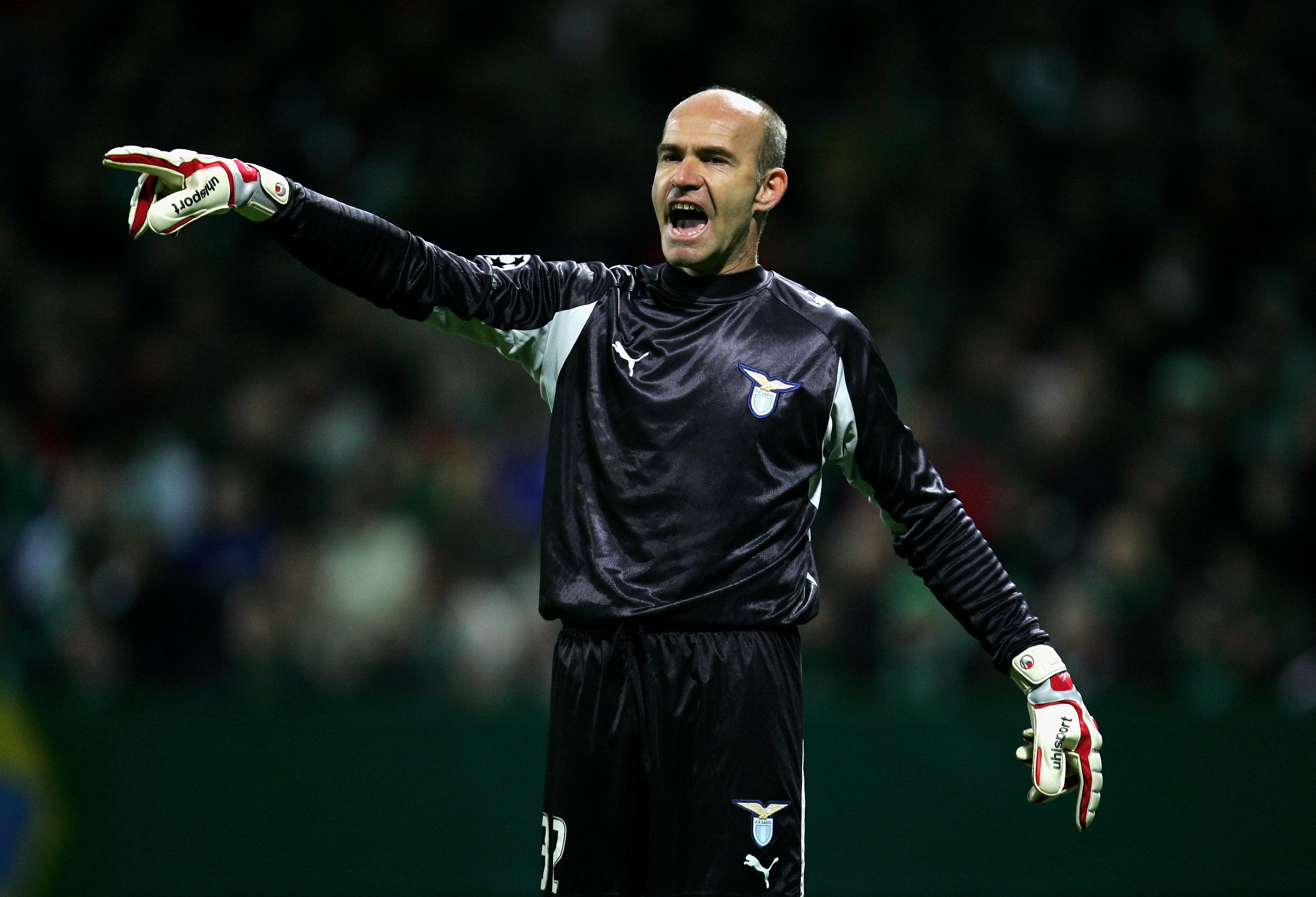 On September 18th, 2007, Ballotta became the oldest goalkeeper to play in the Champions League when he started against Olympiacos, beating the record of former Italian centre back Alessandro Costacurta. Ballotta was 43 years and 168 days old.
And the Italian's bow out from the professional game saw him break his own record for the final time. Lazio's tie away at Genoa in early May of 2008 resulted in 2-0 win for Ballotta's side, although was relatively inconsequential for their position in the league table. The club's penultimate game of the season was the one in which Ballotta set the record for being not just the oldest Serie A goalkeeper, but oldest Serie A player, of all time, at 44 years and 38 days.
Interestingly, Ballotta doesn't quite take the title of the oldest Italian footballer of all time. That honour belongs to fellow shot-stopper Andrea Pierobon, who broke the record playing for hometown club Cittadella of Serie B. The BBC ran an article on the goalkeeper, describing how 'there is no secret to his longevity in the game'.
'He eats well, sleeps well and goes easy on the alcohol. And he also credits a strange ritual for helping him sustain a career that spans four decades', noted the outlet when he broke the record in 2014.
Pierobon himself said "one thing I do before almost each game I play is to sleep with my gloves on the night table beside me. I'm very jealous of my gloves, because they are fundamental for my job, so the night before the game I look at them, put them on, even talk to them. This might seem stupid, but it gives me confidence. I talk to my gloves, I tell them to do their job properly".
Little information of real depth is available on Ballotta, or indeed how he sustained such a lengthy run at the top level. He ranks seventh in the oldest player of all time lists - one list Gianluigi Buffon does beat him in - but currently retains the record for being the oldest goalkeeper to have played in one of Europe's top five divisions. The closest runner up is John Burridge, who did outlast Ballotta, but whose final appearance came outside England's Premier League.
But the story doesn't quite end there. The cherry on top of Ballotta's long career was a return to the bench - aged 57 - in 2021 for local club Castelvetro in the Modena area of Italy. He didn't make it onto the pitch, but it marked what you'd presume to be the final chapter in a record breaking goalkeeping career.
Now 58 and a half, it seems like Ballotta's playing career has finally reached its end. Although, with Italian goalkeepers, it does seem that age really is just a number.