Retirement can be daunting. Three goalkeepers give their advice on transitioning out of full time football…
Even though goalkeepers generally retire at an older age compared to outfield players, retirement from a long-term playing career can be daunting.
Many professional and semi-professional goalkeepers commit most of their lives to securing a first-team position at a club, either as the number one or in a supporting role. Consequently, players commit hours to weekday practice, midweek and weekend match days and travel time.
Often, these commitments start at the youth level and continue until players reach their mid to late 30s, and, in some cases, like that of Gianluigi Buffon, goalkeepers even continue into the early 40s.
But even retirement at 40 would leave an ex-goalkeeper with another lifetime to spend on a different vocation or career.
Whilst footballers' salaries put them in a privileged financial position, the figures on professional contracts can also lead to lifestyles that suddenly become less sustainable after retirement. In addition, health issues, lack of formal qualifications, an absence of workplace experience and the inability to shake the identity of being a footballer are some of the obstacles facing ex-professional footballers, according to the global players trade union FIFPRO.
Many goalkeepers retire with plenty of working years ahead of them. As a result, preparing for life after hanging up the gloves can come with unique difficulties.
Yet things are not always as bleak. More routes, options and outlets opening up for players entering their twilight years and for those at the beginning of their goalkeeping journey.
"I realised that football wasn't going to last forever", says ex-Brentford and Watford goalkeeper Richard Lee, discussing his experience of retirement with Goalkeeper.com.
"I had a lot of injuries during my career and it got to the point where I couldn't train to the level that I wanted to train to in order to get back to my best and I found that quite disheartening. It didn't matter how hard I was training in the gym or how much I was doing, I just could never quite train to the intensity and I was nowhere near where I was at my best.
"At that point, I accepted I wasn't going to get to the heights again that I was once at, and so I'd rather go into something different, where I've got the potential to be very good at something different and that for me was probably the key driver", he explains.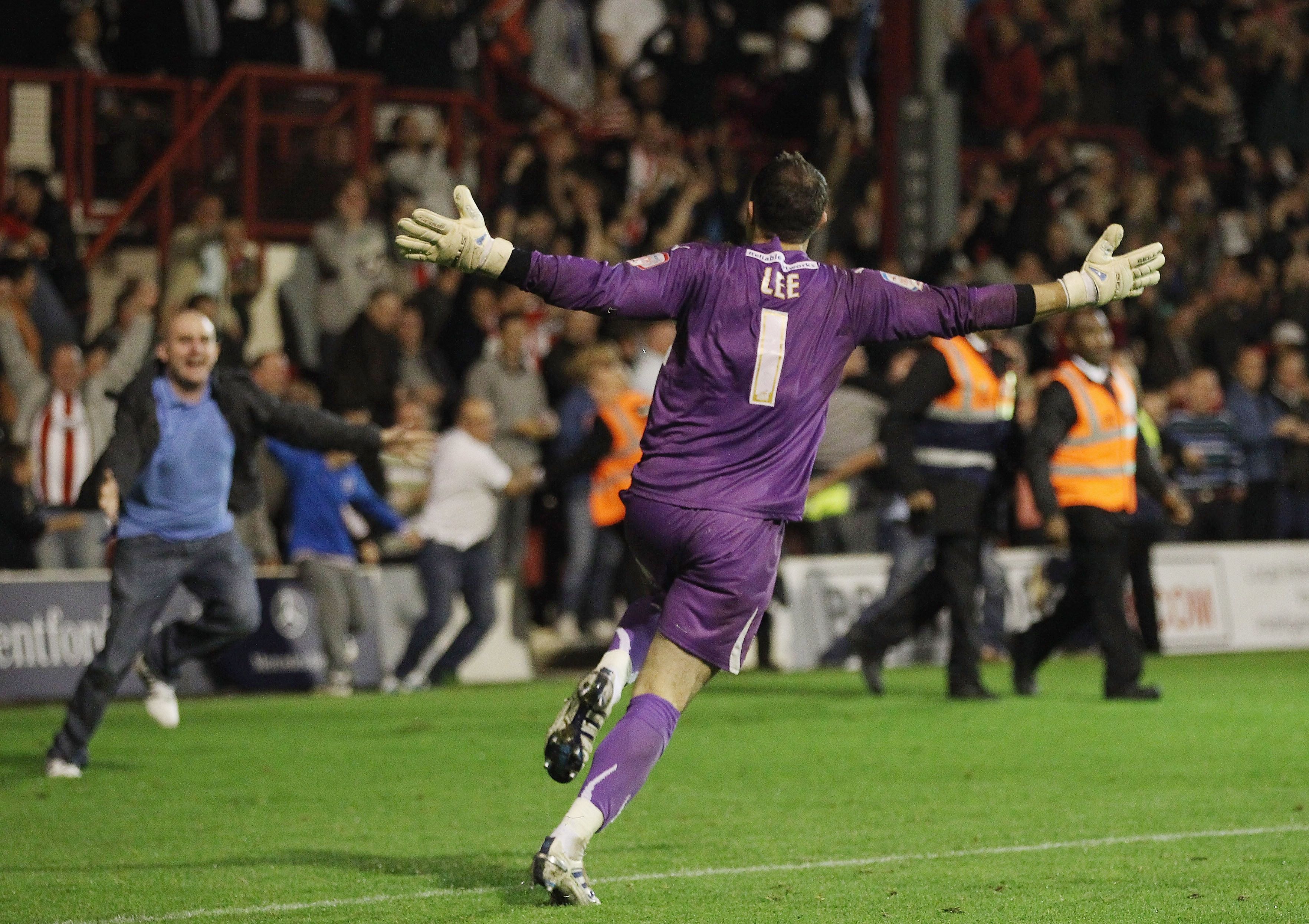 The life of a footballer can be quite insular, and preparing for later career challenges and next steps is often a struggle. A 2021 FIFPRO survey of active professional players found that 67% of professional players are unsure of their next career once their playing days come to an end, while the remaining 33% revealed they were 'confident' on their next path.
Daniel Jinadu is a goalkeeper who has experienced various levels of professional and semi-professional football. He began his goalkeeping trade in the professional academies at West Ham and Chelsea and went on to secure a professional contract with Football League side Barnsley. Last season, the 21-year-old played for Isthmian League Premier Division club Margate FC.
At a young age, Jinadu has a lot of experience with the rapid shifts and changes of a football career. Now, he is studying for a Psychology degree and has his own YouTube channel, which highlights the benefits of developing a life outside of football.
Reflecting on his journey so far, Jinadu believes release as a teenager from the academies at West Ham and Chelsea served as a humbling experience. It was also a moment that highlighted the fact that a professional football career is never certain.
"With my experience of going through release, that's when you realise that it's not as guaranteed as you thought growing up.
"At the age of 21, I see a lot of players dropping out of the game and not finding clubs so it's something that I think you've got to be thinking about whilst you're playing.
"From the people I've grown up playing with, they've found it difficult to adapt because other careers require you to have a certain level of qualifications, so a lot of the guys I know either go on to workmanship, on the building site or they still try and graft in football."
Gaining life experience and working in alternative settings outside of football can be an uncomfortable challenge for players who have grown up in a professional environment. However, such circumstances can be beneficial for players who have to adapt to a dual career as a footballer and a full-time worker in another profession.
Paul Walker has been involved in football since the age of nine, when he joined Northampton Town's Centre of Excellence and worked his way through the youth system. Eventually, Walker received a professional contract with Northampton and was on the fringes of the first team for two years.
Walker was eventually released at the age of 20 and moved to the Conference North level to play part-time. Following his release, Walker admitted that his mindset at the time was solely about remaining in the game and breaking back into the upper reaches of football once again after devoting so much of his formative years to a career in the game.
"At that time, I was playing part-time non-league, and didn't really focus on any other career opportunities at the time because my only thought was to get back into full time football."
However, reality soon set in that reaching the top level again could prove a more challenging task than Walker first expected.
Unwilling to rely on family for financial support, and determined to pursue his independence, Walker took a job working at an insurance company. He then spent evenings and weekends training and playing for AFC Sudbury.
It was an adaptation that Walker had never envisaged as a promising young goalkeeper at Northampton. Yet it was a learning curve that prepared him well for demands inside and outside of football.
"When I started working in insurance, all I had known was full-time football and non league football so the only people you mix with was football people, then I'm going into a big insurance company where I'm speaking to people and deal with complaints.
"That taught me more life skills where you have to deal with different people and work in a different team environment so you're not out on the pitch with your team but you're in the office dealing with different characters as well."
With a lifelong interest in coaching and football, Walker then started working in schools and developed a particular interest in goalkeeper coaching. Now he works as Head Goalkeeper Coach at Ipswich Town Women, but he feels the eye-opening experience working at the grassroots level in schools was an invaluable experience.
"A job came up working in schools which teaches you a lot about how to deal with different characters, different personalities, different age groups, small groups, large groups, you learn a lot from that experience."
Necessity to adapt outside of football can bring about positive change and a long-term resilience and passion in other areas. As Richard Lee explains, it can be difficult to separate a footballing identity with an identity away from football.
"When I was younger it was more of a rollercoaster, because if you were playing well and things were going well you felt on top of the world, and you'd kind of be out and about and people might recognise you. The opposite was true when things weren't going well, so you as a person were very much aligned with you as a footballer.
It was only when I got older that I was able to separate the two and not be the type that would lose a game and come home too frustrated or too angry or whatever else and just accept that you can only give your best, but certainly when I was younger to try and separate me as the footballer and me as the human being was very difficult. I know a lot of lads go through their whole career struggling to separate the two personalities, and it can be a real rollercoaster".
Lee was proactive in his search for security after retiring from professional football. Now one of the most respected goalkeeper-specific agents in the UK, he also went on to gain several qualifications to aid his transition out of the game.
"I did a couple of qualifications in neurolinguistic programming, I did a degree in media and journalism, and although I haven't directly gone into those lines of work, they have helped me with the next step. I think doing something that will help you grow as a person and that will certainly give you roots after football, without taking focus off football, finding something that you enjoy alongside it that will help you to continue to grow".
But players can also get support from various footballing organisations that offer targeted help for footballers preparing for the next steps after football.
Jinadu highlights several resources that can help players with further education and work experiences. Although, he believes that the onus is also on the players to find out more about life after retirement, not just on clubs and other outlets.
"I feel like there are enough resources if you look for them, there are so many companies like Elapse, Life After Professional Sports and the PFA who offer loads of support for courses you want to do on the side or anything else really and they can fund it.
"There are various things that can be supported but not all players might be aware of these."
In addition, Walker, who was forced to retire at the age of 28 following reconstructive facial surgery after sustaining a heavy blow whilst representing AFC Sudbury in 2020, advises all young players to start thinking about an alternative career path, or a non-playing role within football as soon as possible.
He feels that all players should be prepared for a change in profession, but he also acknowledges that there are psychological benefits to focussing on activities outside of football.
"I would encourage young people to have another focus alongside their football because it would help with their football as well, because if you're focussed on football all the time,24/7, it will drive you crazy.
"Every football career is going to come to an end and sometimes, it might be at 18, 23 or 29, you have to have something in the pipeline ready."
Although end-of-career challenges and the transition into retirement are well documented, many goalkeepers are becoming more proactive in preparing for future moves, whether it be in football or outside of the game.
Goalkeepers, in particular, retire from the game with unique perspectives and skills that can be useful in several professions. For instance, Kasper Schmeichel's recent appearance on Sky Sports as a pundit highlighted a gradual shift in mainstream broadcasting that seems to be embracing the goalkeeper's viewpoint as an analyst and commentator in a field that has generally been dominated by outfield players.
Moreover, the growing role of the goalkeeper coach and scout from the elite level to non-league is providing more specific career paths for goalkeepers.
But, the pros of preparing for a life beyond football through a completely different vocation or hobby outside of the game cannot be underestimated. In modern football, which is dominated by 24-hour coverage, minute stats and granular level analysis, the need to channel energy away from football couldn't be more necessary today.