Which goalkeepers started early and finished late?
The typical career span of a professional footballer sits between the ages of around 18 to 35. There are of course exceptions. Zlatan Ibrahimović, who has only recently announced his retirement, continued to defy odds and play into his early 40s for AC Milan.
Yet, for goalkeepers, playing to these ages is becoming something of a formality for the those at the top of the modern game. The goalkeeper position boasts the greatest age disparity of almost any position in team sports, with the most naturally gifted goalkeepers making their debuts as teenagers. In the case of goalkeepers like Gianluigi Buffon and Iker Casillas, they then go on to have 20 - 25+ year long careers.
Here, we look at the oldest and youngest goalkeepers of all time who made an appearance in a competitive match across each of Europe's top five leagues.
Premier League
Oldest: John Burridge (43 Years, 5 Months, 11 Days)
Affectionately known as 'Budgie', John Burridge played for a rather impressive 29 different clubs during his career, 18 of which were in the EFL. It would be at Manchester City (his 18th club) that he would break the record for the oldest player to protect the net in the Premier League. It's a record that has now stood for nearly 30 years.
A flurry of legendary goalkeepers such as Mark Schwarzer (42) and Brad Friedel (42) have pushed the record close in more recent years, with Willy Caballero being the only current (depending on when Southampton deem themselves 'officially' relegated from the Premier League) top flight goalkeeper in reaching distance (41).
Youngest: Neil Finn (17 Years, 0 Months, 3 Days)
Having only played in three reserve games at West Ham United, it required unusual circumstances for a then-17 year old Neil Finn to start in the New Year's Day fixture against Manchester City in 1996. Both first team goalkeepers Ludek Mikloško and Les Sealey were unable to play due to suspension and injury respectively.
The youngster commends his fellow goalkeepers for calming his nerves on the day, especially as he was the target of much chanted abuse from the stands. This is a record we do not see being broken any time soon.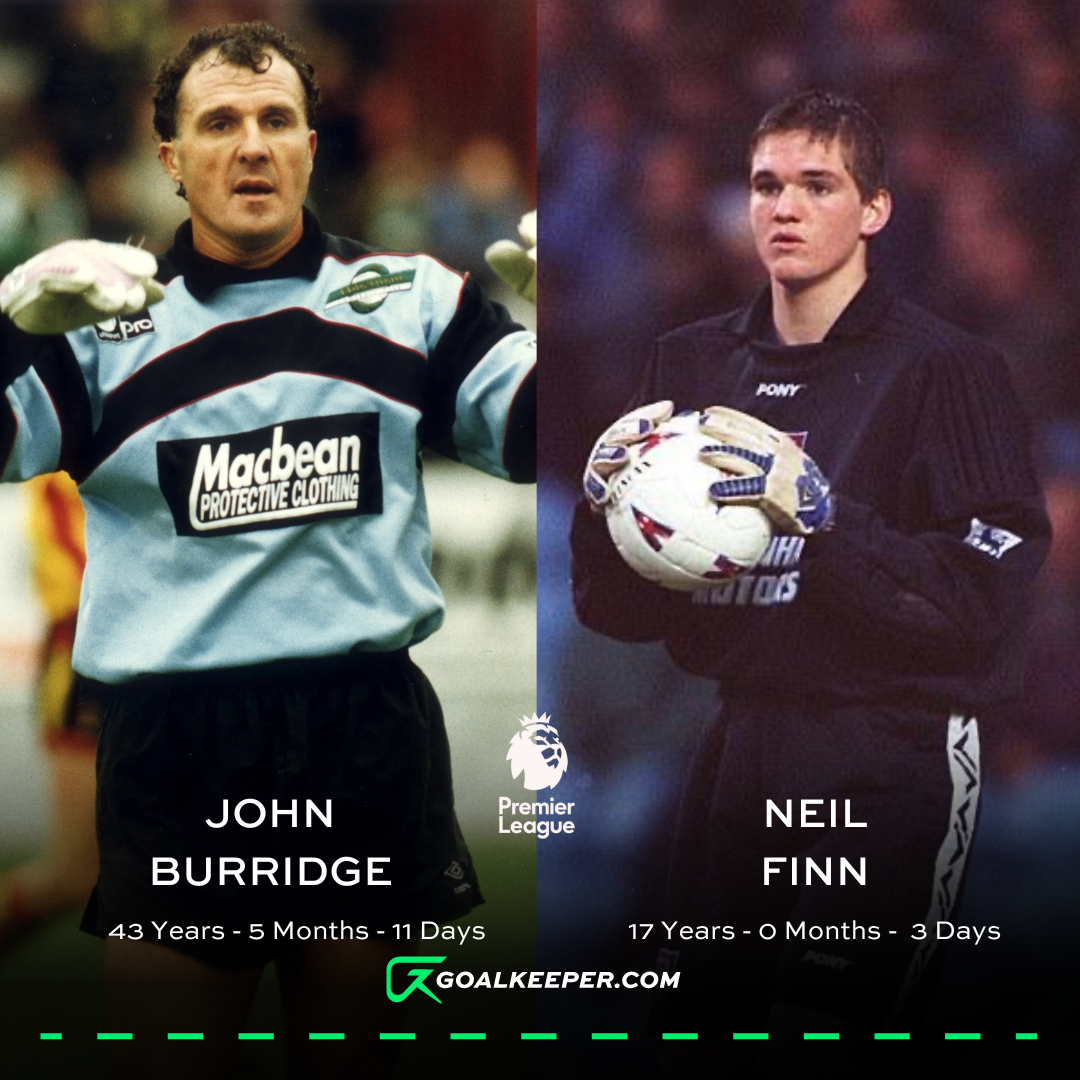 La Liga
Oldest: Ricardo (41 Years, 5 Months, 2 Days)
A much less established record can be found in La Liga. As recently as 2013 Ricardo became the oldest ever goalkeeper in La Liga history. He also becoming the second oldest player of all time in the league, behind only 48 year old Harry Lowe, an Englishman who played once for Sociedad in the 1930s.
Legendary winger Joaquin has since knocked him down to third. He had to come out of retirement to break the record, re-joining Osasuna as an emergency signing on a six month contract. He would break the record in a cameo farewell appearance off the bench against Los Blancos, leaving the game for good following the match.
Youngest: Rivero (17 Years, 6 Months, 25 Days)
Rivero leads an exclusive club of 17 year olds to play in goal in Spain's top flight. Eight different men have done so. He would make his debut for Bilbao during the midst of WW2 in March 1943, winning the Spanish title that same year. He would go on to play eight times for Bilbao and 21 times in La Liga in total.
In modern times, goalkeepers such as Ruben Blanco, Pepe Reina, Iker Casillas and most recently Álex Primo have all come within 9 months of the record.
Rivero sadly passed away in 2019, aged 94.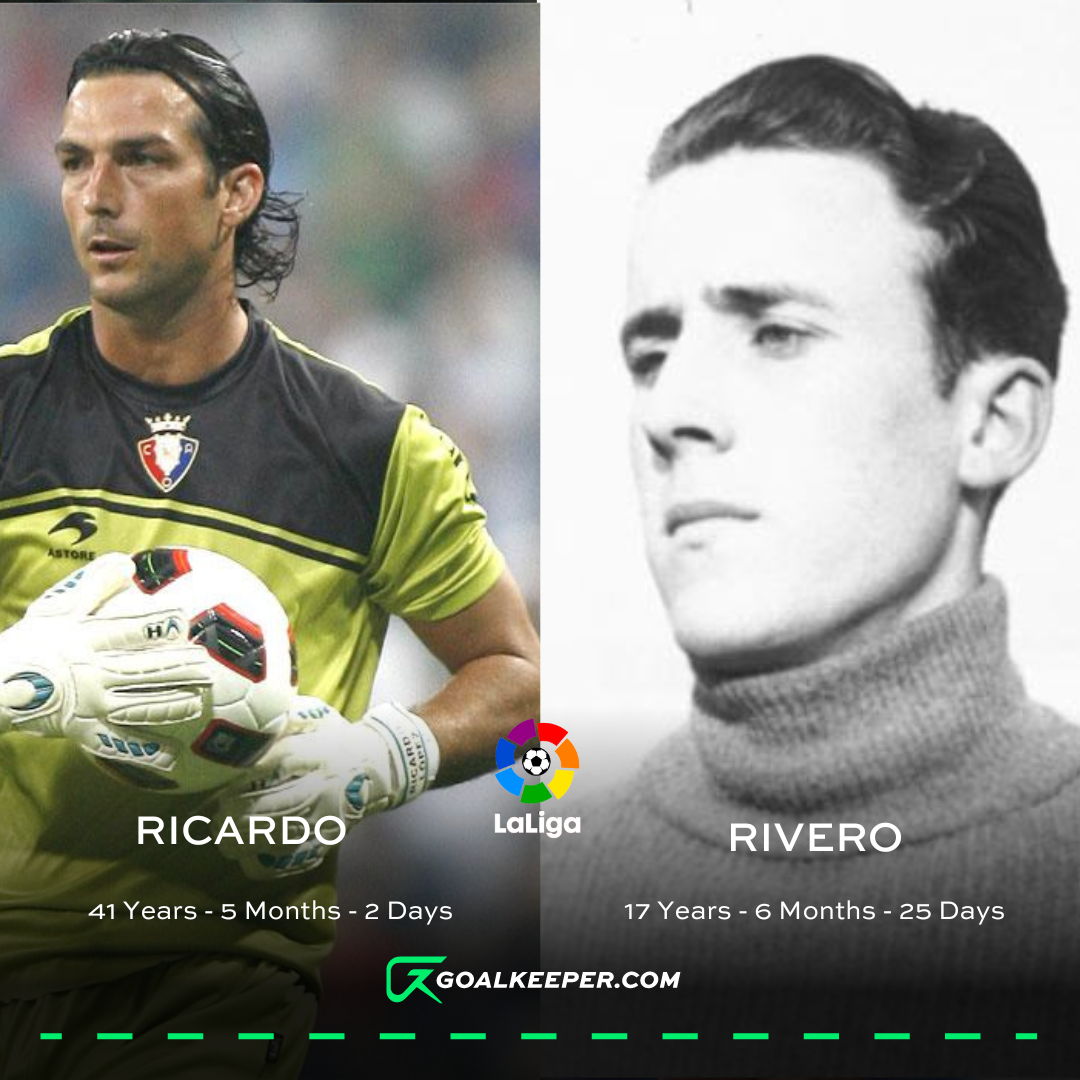 Bundesliga:
Oldest: Uli Stein (42 Years, 5 Months and 19 Days)
One of the longer careers on this list, Stein would play over 650 games in his time between the sticks over a 27 year period. At the peak of his powers in the 80s he would make six appearances for West Germany and go to the 1986 World Cup, a tournament they would loses to a Maradona-led Argentina. He exemplified the downside of being an eccentric goalkeeper at times, being sacked by two of his employers, Hamburger SV and Eintracht Frankfurt, for improper conduct.
Other veteran goalkeepers of the Bundesliga are Toni Schumacher (42) and Jens Lehmann (40).
Youngest: Jurgen Friedl (17 Years, 0 Months and 26 Days)
Little is known of Jurgen Friedl, as he had quite the opposite career to his counterpart above. He would only play in three Bundesliga games in his four seasons at Eintracht Frankfurt in the mid 1970s. He would be out of the professional game after leaving Frankfurt in 1979.
Other young Bundesliga goalkeepers include; Oliver Kahn (18), Marc André Ter Stegen (18) and Bernd Leno (19).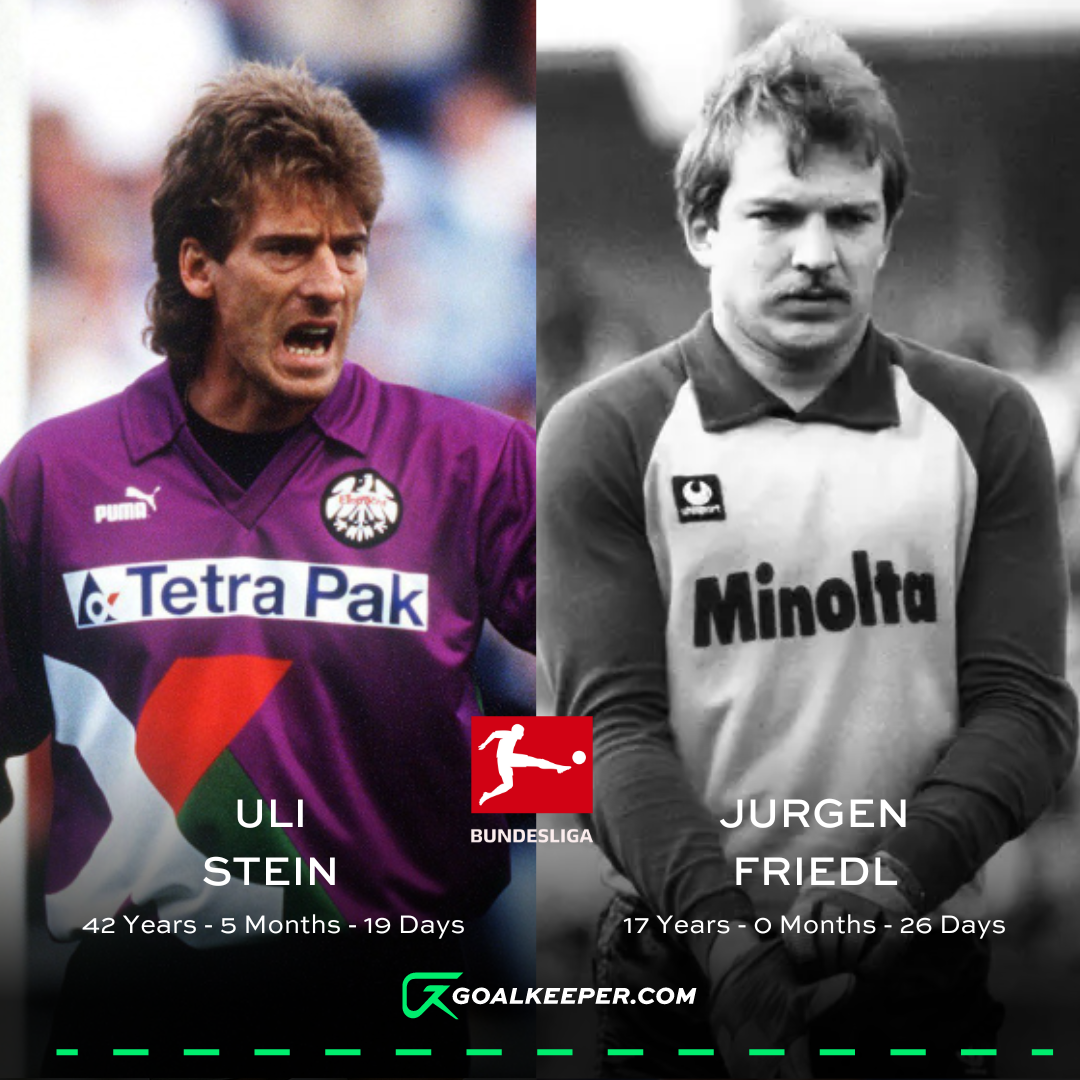 Ligue 1
Oldest: Gianluigi Buffon (41 Years, 3 Months and 26 Days)
The man many would expect to have the accolade for two leagues features here only takes the silverware in Ligue 1.
It is, of course, the eternal Gigi Buffon, astonishingly still playing at the age of 45 in the Serie B with Parma. In February 2023he announced he will be playing another year at Parma through his age 46 season. Though most of his success came in Italy, Buffon has still managed to cement his place in French footballing history. He achieved the feat against Reims in a 3-1 defeat on the final day of the 2018/19 season.
Other elder statesmen of Ligue 1 include; Flavio Roma (39), Gregory Coupet (38) and current player Steve Mandanda (38).

Youngest: Alban Lafont (16 Years, 10 Months and 5 Days)
Another current professional can be found representing the youth of French football. Alban Lafont, now 24 years old, has spent time across several Ligue 1 clubs and has already made a pretty incredible 236 appearances in the competition so far. In his debut campaign he kept eight clean sheets in 24 games to help steer Toulouse to Ligue 1 safety!
Other young Ligue 1 goalkeepers include; Sébastian Frey (17), Stefan Bajic (17) and Hugo Lloris (19).


Serie A
Oldest: Marco Ballotta (44 Years, 1 Months and 8 Days)
One of the most surprising inclusions to readers may be Marco Ballotta, who is somewhat unknown to those who didn't follow Italian football in the late 1990s and early 2000s. He amassed over 600 appearances in a 26 year career that was unconventional to say the least.
He would play some of his best football in his 40s at Lazio and go on to break Dino Zoff's long standing record as the oldest goalkeeper in Serie A history in October 2005. He would add to this record for another three years, eventually hanging the gloves up in 2008.
Other older goalkeepers include; the aforementioned Dino Zoff (41), Gianluigi Buffon (43), Federico Marchetti (40) and Pepe Reina (39).
Youngest: Gianluca Pacchiarotti (16 Years, 6 Months and 8 Days)
Nope, it's not Gianluigi Donnarumma.
Last but not least is Gianluca Pacchiarotti, who, when he replaced Carlo Pirri in the 80th minute of a loss to Perugia in March 1980, became the youngest debutant goalkeeper in Serie A history.
It was to be his one and only appearance in the top flight of Italian football. He would spend much of his career in the second and third tier at clubs such as Casertana and Termoli. Another 'accolade' of Pacchiarotti's, if it can be called that, include conceding Diego Maradona's first ever Napoli goal in a 1984 Coppa Italia match.
He would go on to play until aged 40 in the semi-professional leagues and has since coached goalkeepers for the past 20 years. Other young goalkeepers include; Gianluigi Donnarumma (16), Simone Scuffet (17), Gianluigi Buffon (17) and Mattia Perin (18).