An exclusive interview with the Dons' number one and goalkeeper coach…
AFC Wimbledon have a unique set of supporters, who have had to do more than most to ensure their club is in safe hands. Yet, despite the turbulent times the club has been through, including relegation last season, Dons fans can relax in one area: their goalkeeping department.
Between number one Nik Tzanev and goalkeeper coach Ashley Bayes (or Bayzo as he's widely known), Wimbledon are in safe hands on and off the pitch.
The Dons are one of football's best comeback stories. Their history is no secret; a relocation to Milton Keynes in 2002 led to a split between the Wimbledon of past and present. When the FA allowed the relocation, despite extensive protest from Wimbledon's fanbase, the club was reborn. A fairytale rise back up the English football pyramid saw the Dons back in the football league within ten years of the new club's foundation, before promotion to League One was secured at Wembley in the summer of 2016.
As a fan-owned club (the Dons Trust own 75% of the shares in Wimbledon's holding company. AFCW PLC), the fans' significance isn't lost on either Tzanev or Bayes.
"I've bought into the history of it," Bayzo tells Goalkeeper.com. "Being with the club for 10 years, I always say to the goalkeepers: you've got to endear yourself to the fans. At the same time, they're a very giving crowd. They will get behind you, they will back you. They will support you as long as you give them everything you've got."
Tzanev adds: "Moving back to Plough Lane was a massive achievement for the club and being a part of that, being here at that time, was something I want to remember for the rest of my life and the rest of my career. Being able to play for a club that was from the ground up is a huge honour. Playing in front of those fans - if it wasn't for them, there would be no club."
But life could have looked very different for 26-year-old Tzanev, who moved to England from New Zealand as a child. "I only really played basketball as a sport. I was fairly good at a young age," he explains. "Sometimes you do think 'What would I have been doing if I stayed in New Zealand?' I think that's probably a career path I would have taken; playing basketball and then making some type of living around it."
While it wasn't long until football took over when Tzanev began playing Sunday League, the basketball grounding did come in useful, as he explains: "Coming over here, I think the basketball side of stuff sort of helped me as a goalkeeper because I was quite coordinated with my hands."
It's no surprise that the multi-sport approach helped Tzanev. Some of the Premier League goalkeeping greats - especially those hailing from Australia and the United States - have often commented on the use of skills developed playing basketball, American or Aussie Rules football, baseball, and more alongside association football when they were younger.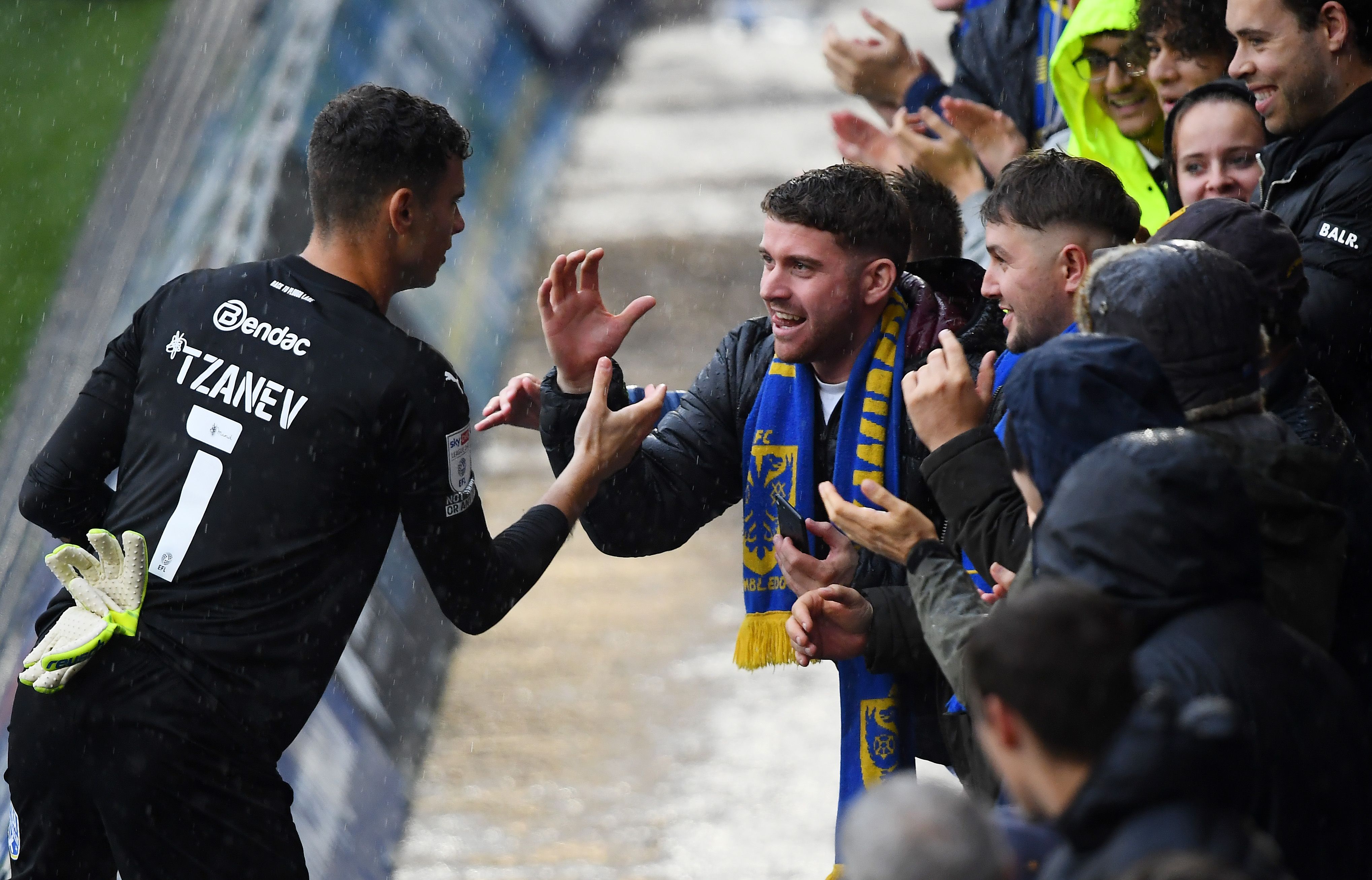 It was soon time for him to start looking to play at a higher level. The first stop was Chelsea's development centre. "It was a good 40 goalkeepers I'd say between six or seven age groups, and it was really good just to see what the standard was. That gave me a taste of what it would be like to be in a professional academy".
Then there were spells with Hampton and Richmond Borough and Crystal Palace before Tzanev joined Brentford, where they "very much focused on playing football."
"I think that helped my development a lot because, obviously, to get to that next level you have to be able to play [with your feet]."
However, the goalkeeper departed upon the expiration of his one-year professional contract, doing so the same time Brentford were shutting down their academy. While he wasn't directly impacted by that closure, the sense of uncertainty was just as prominent for a youngster who was going on various unsuccessful trials.
"It's always a doubt in your head, whether you're good enough going to all these clubs and for whatever reason it's not working out," he admits. "For me personally, it was a good build of my character because having that situation where you're not being accepted or not getting signed at a team does knock you back."
That's where the Dons came in. "I went into Wimbledon just to train because it was around the corner from me, got training with Bayzo, and loved every second of it from when I started. Then, they signed me around February [2017] time to the end of the season, and got a year's professional after that. I just kicked on from there."
There is clearly a strong relationship between Tzanev and his goalkeeping coach. "I've got to thank Bayzo a lot for that because without him being there and without him taking me on even to let me train, I don't think it would have worked out at Wimbledon", he admits.
Bayzo recalls: "It was at the time where we were in the middle of selling Joe Bursik. So, Nik was training with us and I liked the look of him straight away. I've loved every minute of it, developing him and making him our number one."
Wimbledon's track record of developing young goalkeeping talent is an area in which the club stands out. Bursik was one, and Tzanev another. Add young England international Matthew Cox - who signed for Premier League side Brentford in 2021 and was, according to the Athletic, due to make his senior debut for the Bees against Manchester United in December of that year until the game was called off due to COVID cases in each camp - as well as Arsenal's Aaron Ramsdale (who spent the second half of the 2018-19 season on loan with Wimbledon) into the mix, and the track record in the last few years alone becomes even more impressive.
Crystal Palace's Joe Whitworth and Cambridge United's Will Mannion also developed at points under Bayzo's tutelage at Wimbledon - both of whom have featured in England youth squads. 15 year old Spike Brits is also highly rated by the South London side, attracting national attention from the England set up.
Tzanev actually made his senior international debut before his Wimbledon one, representing New Zealand in a 1-0 Intercontinental Cup win against Chinese Taipei in 2018. Reminiscing about that experience, he recalls that "we were in India, on a tour in Mumbai. That was a real eye opener away from football just to see how fortunate and grateful we should be; the level of poverty we saw in some areas whilst on tour was shocking. Being able to make my appearance there is a memorable moment for me."
So far, that is the 26-year-old's only appearance for his nation, although Tzanev was called up to the squad for a pair of friendlies in 2021 and has aspirations of having a further impact. "The whole international thing is massive for me, because I'm born there, and I grew up there," he says. "The more I can play for New Zealand, help them progress and get more recognition as a footballing nation, that's something I want to do for sure. That would be one of my main goals."
Loans have also played an integral role in Tzanev's development, with Potters Bar Town being the first of those. Bayzo recalls: "In the most respectful way, sending him to Potters Bar isn't an 'attractive' place to go in footballing terms. But I deliberately did it, so he goes to learn not just from the playing, but from the environment. The pitch might not be great, but you know what, I went to watch him quite a few times there and I could see he was enjoying playing."
Tzanev then made his Dons debut on the opening day of the 2019/20 season with loanee Nathan Trott injured. "I think it was a relief being able to play at that standard and competing well," he recalls. "It gave me a glimpse of what it's like playing week in week out and that made me even more hungry to continue playing."
Tzanev underwent another loan spell before he could break into the Dons' first team as a regular, and Bayzo says Tzanev's time with then-Conference side Sutton United "really made him. He became a man, I felt." Looking back, the goalkeeper adds: "Playing in front of 5,000 or 6,000 sometimes was a huge benefit for my character, building that resilience going to away games, getting abuse hurled at you on the weekends. That was an experience that prepared me to take that next step to Wimbledon."
He has taken that next step in his stride convincingly, having already made over 100 appearances in a Wimbledon shirt. "I have to pinch myself sometimes because it all started when I first came over from New Zealand," Tzanev says. "I have to thank my parents a lot as well, taking me to training week in, week out, and all. I don't think parents get enough praise for their kids' development. So, from that point on, if you said I'd play that many games, I think it's a great achievement and hopefully there are many more to come."
While insisting "there's a list" of big moments from the goalkeeper's time between the Dons' sticks, Bayzo says Tzanev's biggest was an emphatic penalty save in an empty Plough Lane against Northampton Town during lockdown. "That really kept us up, for me. It was a big three points that we needed to keep us up in League One."
Th penalty save played into Tzanev building quite the reputation for saving from the spot, and he explained "it's a lot of mind games, but we do our research before matches and we see if there's anything we can pick out that would give us an advantage. Having that also helps a lot but then sometimes it's just about going off instinct. There's loads of stuff you can look at but, at the end of the day, it's a bit of a 50/50 if you go the right way."
Those odds are going in Tzanev's and Wimbledon's favour at the moment. A day after speaking to Goalkeeper.com, Tzanev flew to his left to palm away Myles Hippolyte's spot kick, maintaining his clean sheet as Johnnie Jackson's side secured a 1-0 victory against Stockport County to aid their promotion hopes.
In addition to the penalty saves, Bayzo praises how much Tzanev's physical profile has helped his game, noting that "he's fantastic at taking crosses. He's got a great stature, he's got a great profile. Big lad, 6'3, quick, dynamic, athletic, and he can make match-winning saves."
That sort of quality puts Tzanev on an outstanding list of goalkeepers who have developed with Bayzo since he became Wimbledon's first full-time goalkeeping coach, whether on loan or coming through the youth ranks.
Nathan Broome is another young goalkeeper Bayzo is excited about and has been a Young Lion before joining the Dons. "But for Nik's form and how Nik is, he'd probably be playing," the goalkeeping coach says. "He's a good young goalkeeper and I spoke to him about Nik's journey; we want to do the same with him. It's just getting him out playing games."
Showing how, despite still being 26, Tzanev is able to impact others, Bayzo continues: "Nik is very good with the young goalkeepers. For those like Spike, it's great for him to see that young goalkeepers get an opportunity at Wimbledon."
The likes of Aberdeen's Kelle Roos, Millwall's George Long, West Ham United's Trott, and Luton Town's James Shea have also spent time with Wimbledon since 2015/16. It's an impressive track record of good quality Football League goalkeepers for a club that only made it back to the professional arena in 2011.
"It's testament to Bayzo and his work with all the goalkeepers," Tzanev says of that track record. "It's unbelievable what he's done with the amount of goalkeepers he's managed to get out and develop. I think now is a great time to be at Wimbledon for me and just keep training, keep playing, and see where it takes us."
And the secret on the coaching side?
"You do your homework, you go and watch games, you go and see these young goalkeepers," Bayzo says. "We give them a platform to come and express themselves at a very young age in a first-team environment. I try and make it so that when they come in, they're good goalkeepers, but when they go, I want them to be excellent goalkeepers."
There's also one main value Bayzo instils. "Master the basics, that's all I ever say to them," he states. "If you can master the basics, everything else takes care of itself. It's my job to sort of drip feed them that, but I always say master the basics."

Speaking about Tzanev specifically, he says "I don't ever want to lose Nik as a Wimbledon goalkeeper" but insists "the sky's the limit". Tzanev isn't setting personal goals, saying: "I just like to take it week in week out, day by day, and play to the best of my ability."
Instead, there is one main focus on his mind. "This season it is promotion," the goalkeeper says defiantly. "Everyone knows that at the club. The main goal for Wimbledon is to get back to League One."
With 11 clean sheets and counting this term, Tzanev is ensuring Wimbledon remain in safe hands as they continue that push. There was a brilliant atmosphere at Plough Lane following the win against Stockport, with Tzanev getting his fair share of congratulations from Bayzo. If Jackson's side manages to go back up at the first time of asking, the celebrations will only get bigger, and it's likely Tzanev will be one of the first on the Champagne list at the end of season awards.