van Gaal's goalkeeper selection was a surprise to some. How did it play out between the sticks in Qatar for the Oranje?
International football is a very different ball game from club football. The selection of players and call ups are regularly a point of debate for fans, pundits and media personnel. Managers use a variety of logic to call up or select players, ranging from club form, international form, the manager's trust in the player, the tactical needs of the squad, and other parameters that can be hard to pin down. It's difficult to always predict which players get the nod. And when the manager in question is Louis van Gaal, it's near impossible.
Since taking over the Netherlands national team in August 2021 for his third spell with the Oranje, there had been multiple selection calls from the Dutchman that surprised media and fans. But none were as intriguing as the goalkeeper merry-go-round that the Netherlands has witnessed over the past year in the build up to the World Cup 2022.
van Gaal's final selection wasn't expected by most fans and outlets, and his decision to start Andries Noppert in the first World Cup group game was a surprise. In typical van Gaal style, however, van Gaal's decision seemed to be paying off, with Noppert having started all five the games the Netherlands played at the tournament, keeping his place on merit with some good performances.
So what thinking could have been lying behind van Gaal's goalkeeper choices since taking over? We chronicle the journey from dropping a seasoned veteran to giving an extraordinary World Cup Finals debut to the 6'8" goalkeeper from Heerenveen.
*
It should be noted that even before van Gaal took over, the Netherlands were going through a turbulent period in the goalkeeping department. Since Edwin Van der Sar, the Oranje have leaned on Jasper Cillessen, more or less, as their number one. However, multiple managers have experimented and given minutes to others. van Gaal's preferred shot-stopper varied between Maarten Stekelenburg and Jasper Cillessen during his second Netherlands stint from 2012 to 2014, and he famously used Tim Krul as a penalty expert at World Cup 2014.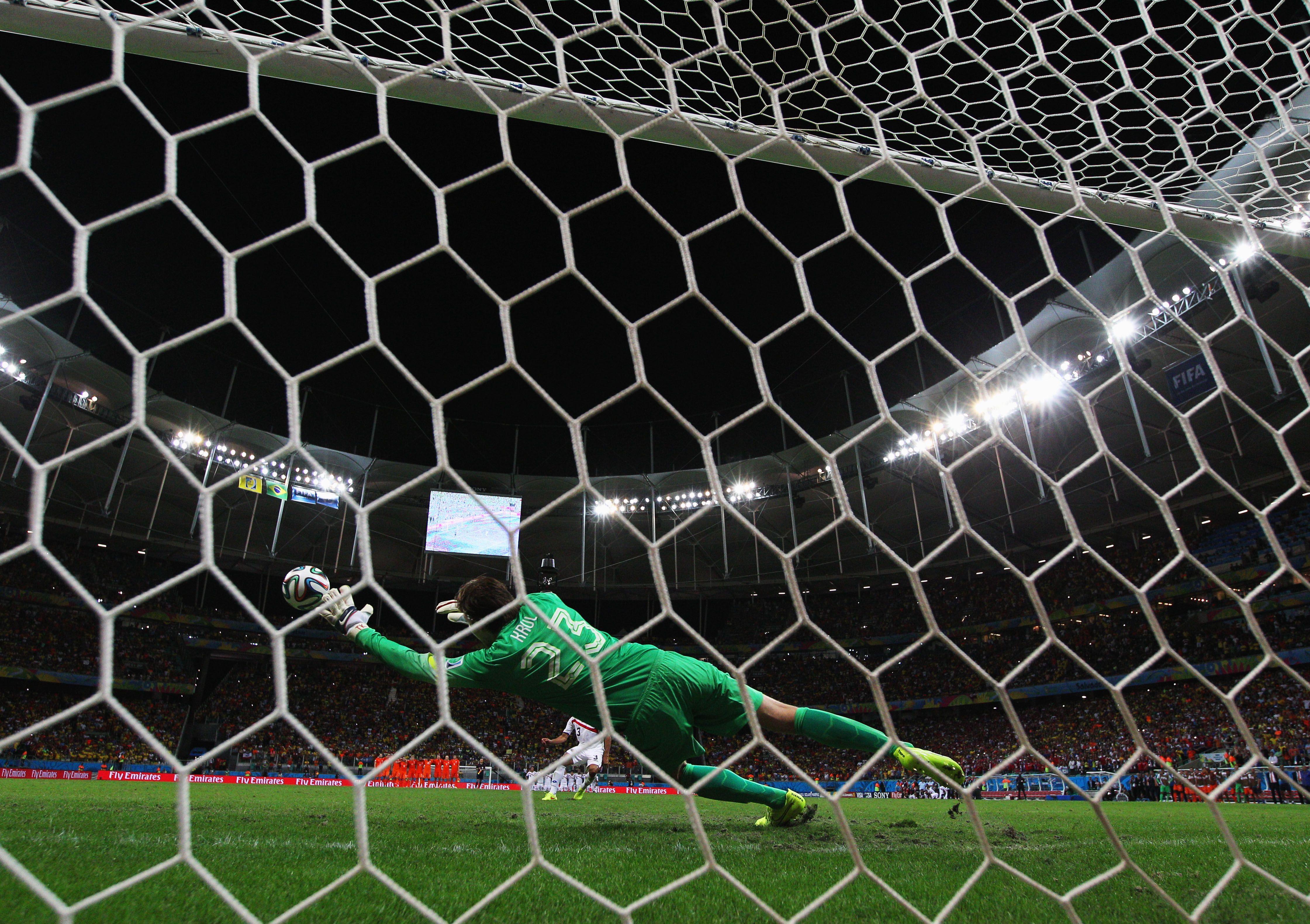 Post that spell, Ronald Koeman favoured Cillessen, while Frank De Boer reinstated Stekelenburg. So when van Gaal took over in August 2021, it was widely expected that the enigmatic coach would pick between the two goalkeepers he had used before and who were the most recent starters for the two previous managers.
van Gaal called up and started then-23-year-old Justin Bijlow for the qualification games for World Cup 2022, with van Gaal's first six games in his third stint all featuring Bijlow. The Feyenoord goalkeeper was, and still remains, a very talented young goalkeeper who can be considered a solid all-rounder capable of both shot prevention and shot-stopping.
While Bijlow's time to shine was widely predicted, it was a bold step of van Gaal to supplant the two established veterans for the high potential wonderkid. In hindsight, it seems like a logical choice given how both Stekelenburg and Cillessen were struggling for consistent domestic game time and not as well-rounded as the young Bijlow. Nonetheless, it was still a show of confidence in the Dutch youngster.
The Flekken-Cillessen rotation
Bijlow's form was good in the Qualification games as Oranje won four out of the six games he started in. But in the sixth game, Bijlow made two mistakes that resulted in the Netherlands blowing a 2-0 lead to end with a 2-2 draw against Montenegro. The youngster then suffered a groin injury that kept him out of the final qualifier, which soon followed an unfortunate foot injury that kept him out of action for a few months until May 2022.
This led van Gaal into a period of uncertainty as he experimented between his once-trusted galkeeper, Cillessen, and Freiburg's in-form Mark Flekken. The pair alternated with each other over two friendlies and four Nations League games. Both goalkeepers failed to impress van Gaal, with Cillessen's form turbulent and Flekken unable to inspire either.
Questions were raised over Flekken's shot-stopping, and Bijlow's return from injury also made the situation more complicated. The Feyenoord youngster was in poor form for his club, resulting in Van Gaal leaving him out for the final round of games before the World Cup Finals. The Netherlands' goalkeeping department was in an uncertain situation.
International debuts for Pasveer and Noppert
In limbo, van Gaal turned to Remko Pasveer. The 39-year-old was in resurgence at club level, and got an opportunity for Ajax in the second half of 21/22 and kept his place with good performances, starting the 22/23 season as first choice as well. van Gaal decided to gamble on the good club form of the veteran and started him for two games. Pasveer's distribution and sweeping was strong, which aligned with van Gaal's early preference to play out from the back, but it was his shot-stopping that stood out.
The three goalkeeping choices for the final 23-man World Cup squad were Remko Pasveer, Justin Bijlow and Andries Noppert. Flekken and Cillessen seemingly hadn't impressed van Gaal enough to make the final cut. And, while Pasveer and Bijlow had done enough to merit their call ups, it was the surprise inclusion of Heerenveen's Noppert that caught the eye of media and fans. To make matters more interesting, Noppert's international debut came in the Netherlands' first World Cup group game against Senegal. He would go on to start all of his nation's World Cup game, and ended the tournament - despite the Netherlands' exit - with no red face. It seems, in retrospect, that Noppert is now the Netherlands undisputed number one.
*
So why does van Gaal seem to trust Noppert so much? We have a few clues to go on. Firstly, we have van Gaal's own justification in a press conference before the opening World Cup game against Senegal. "Because he stops the ball. He's a 'keeper, so you have to stop the ball," the enigmatic Dutch manager replied, when asked why Noppert was selected.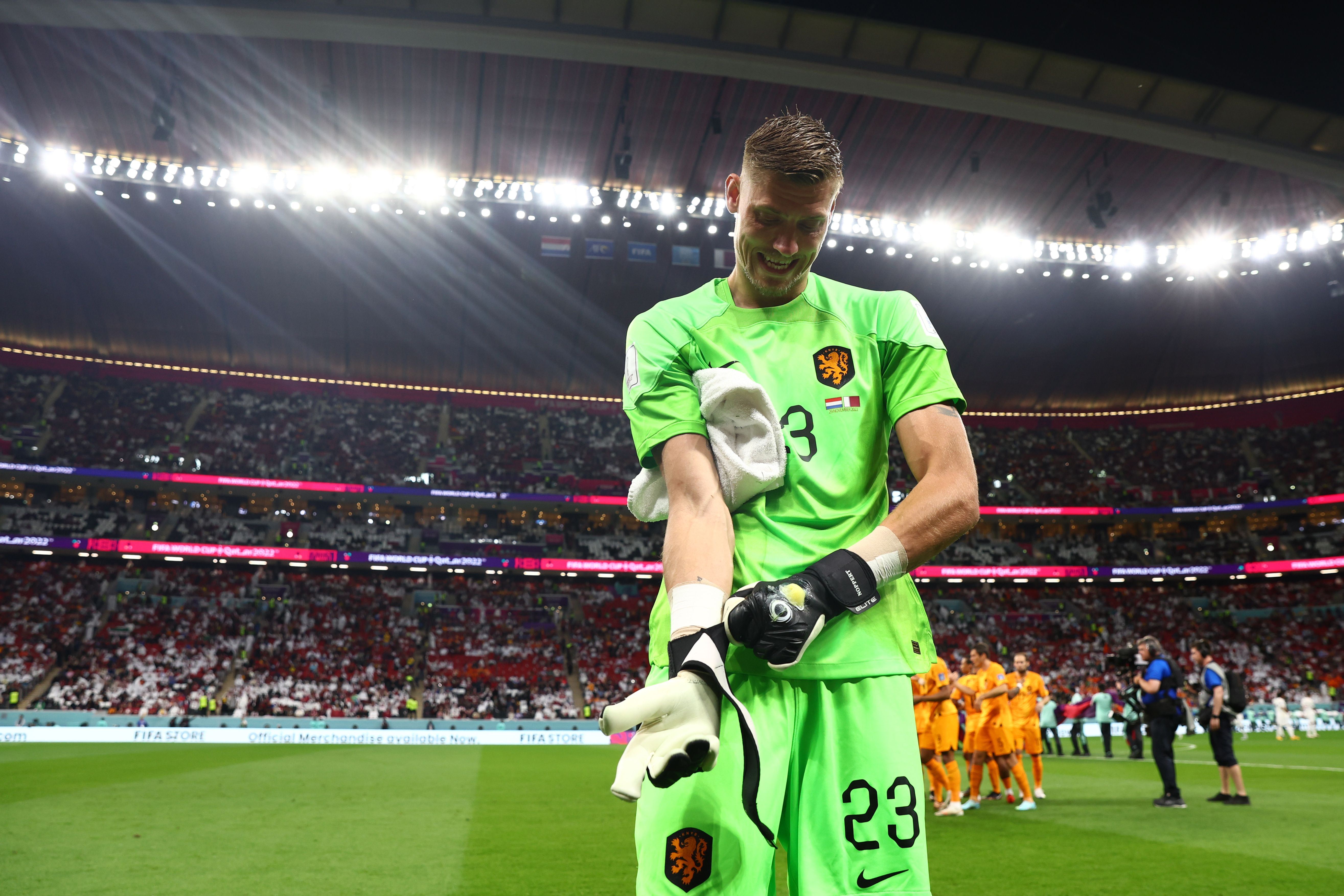 van Gaal's traditional interpretation of the role of a goalkeeper will be refreshingly welcome to some, and a backwards step to others. Nonetheless, Noppert's story to date has been unusual. The giant Dutch stopper has made barely 50 professional domestic appearances in a career spanning nine years.
A bright spell at Italian side Foggia in the country's Serie B was his most successful spell in a barren near-decade playing second and third fiddle in and around the Netherlands. Only a few years ago, Noppert and his family reportedly seriously considered a career switch to the police force to bring longer-term financial security, and a stable career path.
But, with the Netherlands' goalkeeper department in turmoil and a break with Heerenveen in the Eredivisie (14 solid Dutch top flight appearances this season to date), the 28 year old broke into van Gaal's plans - and found out about his inclusion in the final 26-man squad when he saw the squad release on Dutch television.
Part of the reason that Noppert got the nod in Qatar was down to his self-professed tranquillity under pressure. The Netherlands' boss described his goalkeeper as being 'unimpressed' with the World Cup (translated - perhaps better interpreted as 'unfazed'), and Noppert himself noted that 'I am not nervous because every game is a final and every game I want to catch the balls – I'm a human and can make mistakes, and I'm not afraid or scared about this' in conversation with the Guardian.
As previously mentioned, Noppert is a good shot-stopper. Standing tall at 6ft8in, he is a giant between the posts and boasts strong shot-stopping performances at club level relative to the five options Van Gaal experimented with over the past year. Goalkeeper-xG data confirms his general shot-stopping finished above average at this year's World Cup.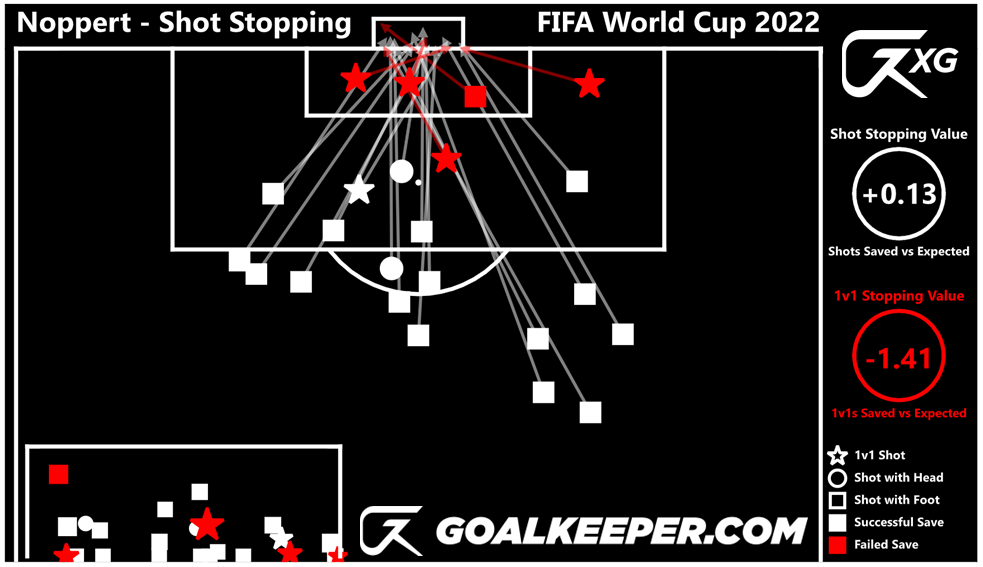 xG data also shows that Noppert did not necessarily add to the Dutch side in terms of his distribution, but was neither suboptimal; rather, average. But van Gaal's tactics at the World Cup didn't really followed heavy Total Football norms like some would have expected. Against the USA, they kept a possession metric of just 42% and their average possession in the first four of their five World Cup games was just 53%. Roughly, a dozen teams, among the 32 at the World Cup, have played a higher line than the Dutch.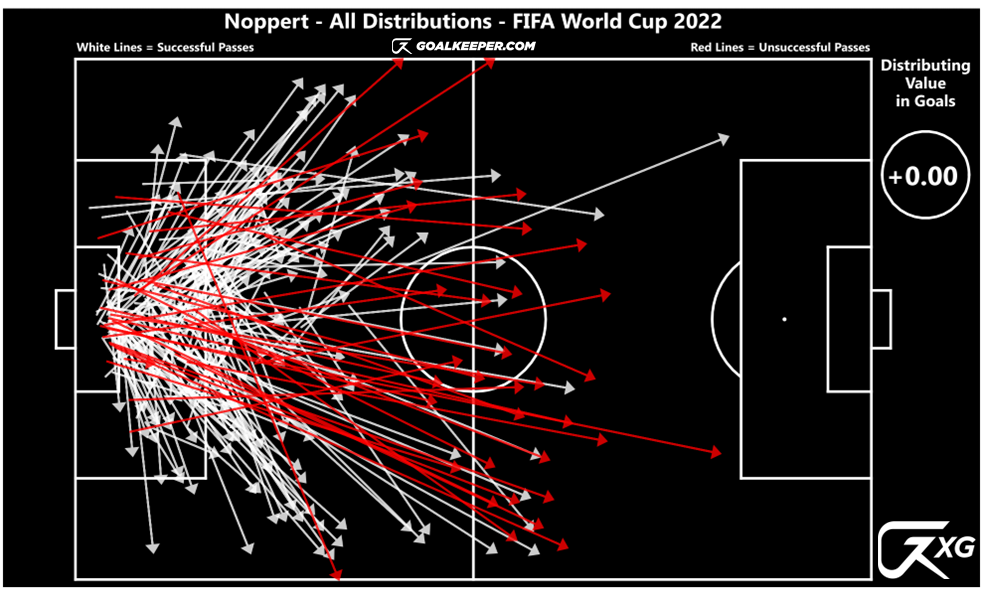 Van Gaal's distribution and sweeping needs from his goalkeeper at this World Cup have, therefore, been relatively minimal. It seems like the Netherlands' current tactics require a reliable shot-stopper more than a sweeper 'keeper. Nonetheless, Goalkeeper-xG's numbers maintain that Noppert had a positive effect on the team when needing to sweep, posting a +0.17 sweeping outcome overall, preventing four chances occurring due to sweeps. Likewise, Noppert's huge frame contributed to the prevention of seven chances in a strong statistical cross claiming performance (+0.43).
It is true that the above data shows Noppert's 1v1 performance to be less positive, which contributed to a marginally negative overall goals performance, but - as Dr John Harrison notes - two of the 1v1s that beat Noppert were cleared off the line by defenders.
Noppert gained van Gaal's trust, but following van Gaal's retirement, it will be interesting to see if he prevails as number one. How the goalkeeping situation evolves in the coming years for the Netherlands could be one of the most interesting departmental evolutions of the current international football era.