Some of the world's best goalkeepers have benefitted from playing multiple sports to a high standard.
From world-renown names to regional heroes, goalkeepers past and present have drawn on a plethora of different sports to improve their performance, and often excelled in them before or after life in professional football.
The only goalkeeper to win the Ballon d'Or, former Soviet Union player Lev Yashin played bandy and ice hockey for his country. Former Chelsea and Czech Republic goalkeeper Petr Cech also swapped football for ice hockey post-retirement and now plays professionally for Chelmsford Chieftains.
A host of goalkeepers also had dual careers in football and professional cricket. Andy Goram represented Scotland 43 times in goal at the international level, but he also represented his nation four times on the cricket pitch.
More recently, Joe Hart played youth cricket alongside Moeen Ali at Worcestershire before opting for a football career, while former England internationals Nigel Martyn and Paul Robinson also swapped the gloves for the bat post-retirement.

The history of multi-sport goalkeepers is a common phenomenon. With multiple transferable skills related to physiology and psychology, it is unsurprising that several high-profile goalkeepers have backgrounds in several sports.
*
Ultimately, the physical goalkeeping fundamentals apply to lots of team sports. Fine and gross motor skills such as diving, catching, throwing, kicking, positioning, and hand-eye coordination are the foundations for goalkeepers.
The comparisons go much deeper when considering the fundamental technical principles of goalkeeping in multiple sports. Tomaz Lasic, a former international water polo goalkeeper for Australia, was inspired to research the finer details of cross-sport goalkeeping in his book, The Love of Goalkeeping.
Lasic became engrossed in the subject when his son started playing football. Immediately, he noticed the striking similarities between goalkeeping on the football pitch and in the water polo pool.
"There were incredible similarities. Similarities from geometry to reaction to focus to the fact that the goalkeeper needs to be the most stable member of the team, the most competent, the bravest, the best communicator, the best vision, you name it.
"We were actually doing the same thing. I brought up many water polo goalkeepers and I thought, this is exactly the same.
"From the outside, handball, water polo, hockey, ice hockey and football goalkeepers look really different, but they really have more similarities than differences. So many skills, from your technical and physical attributes to some of the mental skills."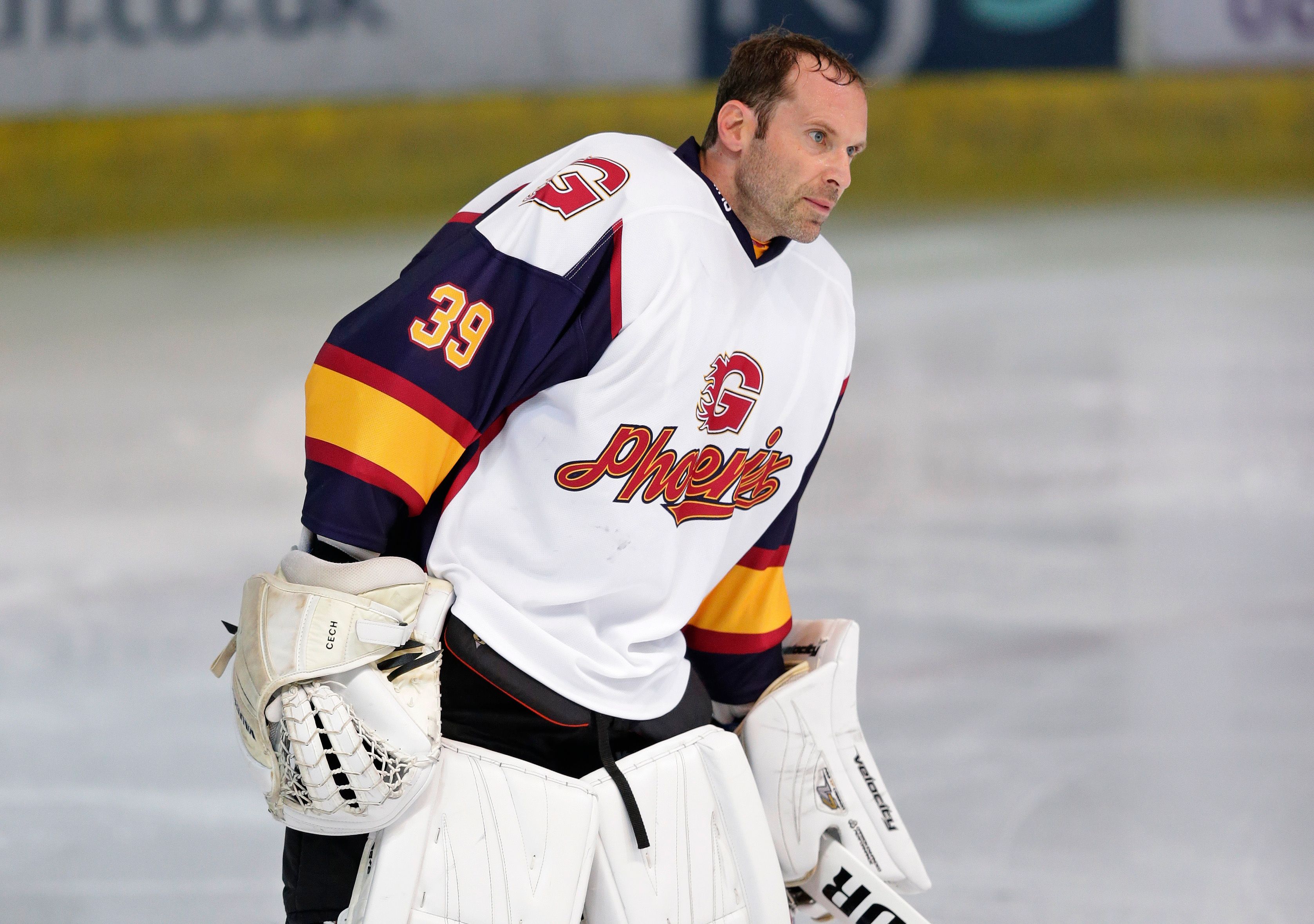 Some players have maintained professional careers in different sports and applied similar technical principles when playing each to a high standard.
Chris Marples played in the English Football League for Chesterfield, Stockport, York, and Scunthorpe. But he was also a talented cricketer and played wicketkeeper for Derbyshire during the 1980s and '90s.
Reflecting on his experiences as a professional in both realms, Marples said some technical moves were different between goalkeeping and wicket-keeping. But he feels the overarching aim for any goalkeeper is consistent across all sports.
"If they can play one, they can play another one at a reasonably high standard.
"As a wicketkeeper, you tend to dive a little different compared to your goalkeeper so the goalkeeper will dive more on your side, whereas in wicketkeeping you dive more on your belly.
"There were different things really, like catching the ball and diving for the ball were different types of dives. But the same principle applied, which is stopping it."
The crossover in technical approaches is evident in elite football. Manchester United icon Peter Schmeichel became synonymous in the Premier League for his starfish technique - closing down the space with outstretched arms and legs to narrow the shooting angle for opposition players.
Despite the seemingly unorthodox aesthetics of the starfish on a football pitch, the move is something Schmeichel learnt whilst playing handball growing up in Denmark.

Lasic explained that handball coaches teach this technique from a young age. For Schmeichel, it would have been a natural shot-stopping method, which he carried into Premier League football.
"Some sports have reaction training or closing the space. For example, I have a good friend who's a handball master coach. He coaches the women's national team in Slovenia. He told me that everyone is going on about Schmeichel doing the star and all that, but his goalkeepers do that from the age of nine."
*
Beyond physical aspects of goalkeeping, the psychological element is even more similar for multi-sport goalkeepers.
Yet the goalkeeper often has many psychological overlaps with other lone warriors in team sports. Lasic highlights the goalkeeper's responsibility as a particularly unique facet, due to the taxing demands of the role. As a result, psychological principles can be applied to goalkeepers and goalkeeper coaching between sports, perhaps more so when compared to outfield players.
"Because of the responsibility of the position, it's wise to invest in the edge with the goalkeepers. So if you have a player who you want to be the most advanced in the team, ahead of time and efficient, then who is the player with the greatest responsibility in your football team? It's your goalkeeper.
"It's almost a duty of ours to keep expanding and looking for new ways to improve rather than say we are goalkeepers and that's it.
"Goalkeeping is a game of peaks and troughs. You will never switch off as goalkeeper during a game. If you do that, you end up on YouTube. Because whatever the sport, it can happen in a minute and it will last a lifetime of embarrassment more than any other position."
Marples also believes the mental approach of goalkeepers varies depending on the sport being played, particularly in terms of concentration.
He explained that fielding for multiple days and long hours whilst playing county cricket came with different psychological demands when compared to football goalkeeping.
"I found it hard when I first started playing three-day cricket in the first team, I found it hard to concentrate because when I was younger, you would concentrate for 40 overs and you could be in the match for a day and a half and you'd have to try and stay switched on.
"Whereas in football, you could 'switch off', I suppose, but not very often. Even if the ball is in the other team's 18-yard box, you've got to think about your positional sense and look to take a position for when the ball comes."
*
Goalkeepers who play multiple sports, particularly in their formative years, can learn lifelong skills that can be transferred to football goalkeeping or other team sports.
However, despite the clear benefits, especially for young developing players, committing to multiple sports for exploration, enjoyment, and technical development could be less frequent in the future.
Marples, who now works for the South Yorkshire cricket setup via Yorkshire Cricket Club, feels the growing demands on young players to commit to one sport at youth level could lead to fewer players coming up from multi-sports backgrounds.
"There was no real thoughts on which I wanted to do more, it was a matter of I'm just going to do both as long as I can. That's no longer the way now.
"Now I have boys at 11 years old telling me that football doesn't allow them to play cricket at regional level or county level and they're pulling them out so early, which is a shame. The chances of playing both are very remote and I don't think it will happen again as they will have to pick one early.
"I would love to see the benefits from football clubs, who are having kids in from nine, ten or 11. I think you should encourage people to do all sports. They should be given that option of doing all sports for as long as possible."
As the professionalisation of youth football and goalkeeper continues to advance, is it unlikely there will be another Lev Yashin, Andy Goram, Chris Marples, or Petr Cech again?