Elfvendal may only be 35, but age is no barrier for one of Europe's most exciting young goalkeeper coaches…
'I never realised that to become a jockey, you had to have been a horse first'.
Those were the words of Arrigo Sacchi upon taking charge of AC Milan in 1987.
The closest the Italian had come to the top level of European football before taking over at Milan had been studying the glorious Real Madrid team of the 1950s, who took five European Cups back to the Spanish capital between 1956 and 1960.
Even at a young age, Sacchi had viewed football through a different lens. The game was a form of art, and Sacchi was intent on learning about the brush strokes that created it.
The legendary Netherlands sides of the 1970s proved another formative influence on Sacchi's coaching career. By the time he took the reins in Milan, Sacchi had been trying and testing a plethora of innovative footballing methods throughout Italy's lower leagues and youth teams.
By the time his first spell with Rossoneri had ended, Sacchi had guided a club who'd gone trophyless in the previous 20 years to nine major domestic and international honours. He proved that an elite level coach didn't need elite level experience. Without it, they were just as good - if not better - practitioners of the beautiful game.
The year that Sacchi had taken charge of AC Milan, a boy called Maths Elfvendal had been born in Härnösand, Sweden. Whilst Sacchi's squad was filled with stalwarts of the game such Frank Rijkaard, Ruud Gullit and Marco van Basten, and Franco Baresi, the footballing alumni of Härnösand could not be further from the star-studded starting lineups that Sacchi was able to field.
But in around 33 years time, Maths Elfvendal would be following in Sacchi's footsteps, joining Parma Calcio in Serie B - the team that Sacchi joined AC Milan from, and finished his managerial career with in January 2001.
The sentiment behind Sacchi's famous words definitely applies to the former Parma Calcio and Sweden National Team's goalkeeper coach.
At 35, the Elfvendal has reached coaching heights that few his age could dream of. Leading his country's goalkeepers at both the 2018 World Cup, and EURO 2020(1), Elfvendal has become accustomed to some of football's biggest stages, albeit in the wings (or more accurately, on the touchline).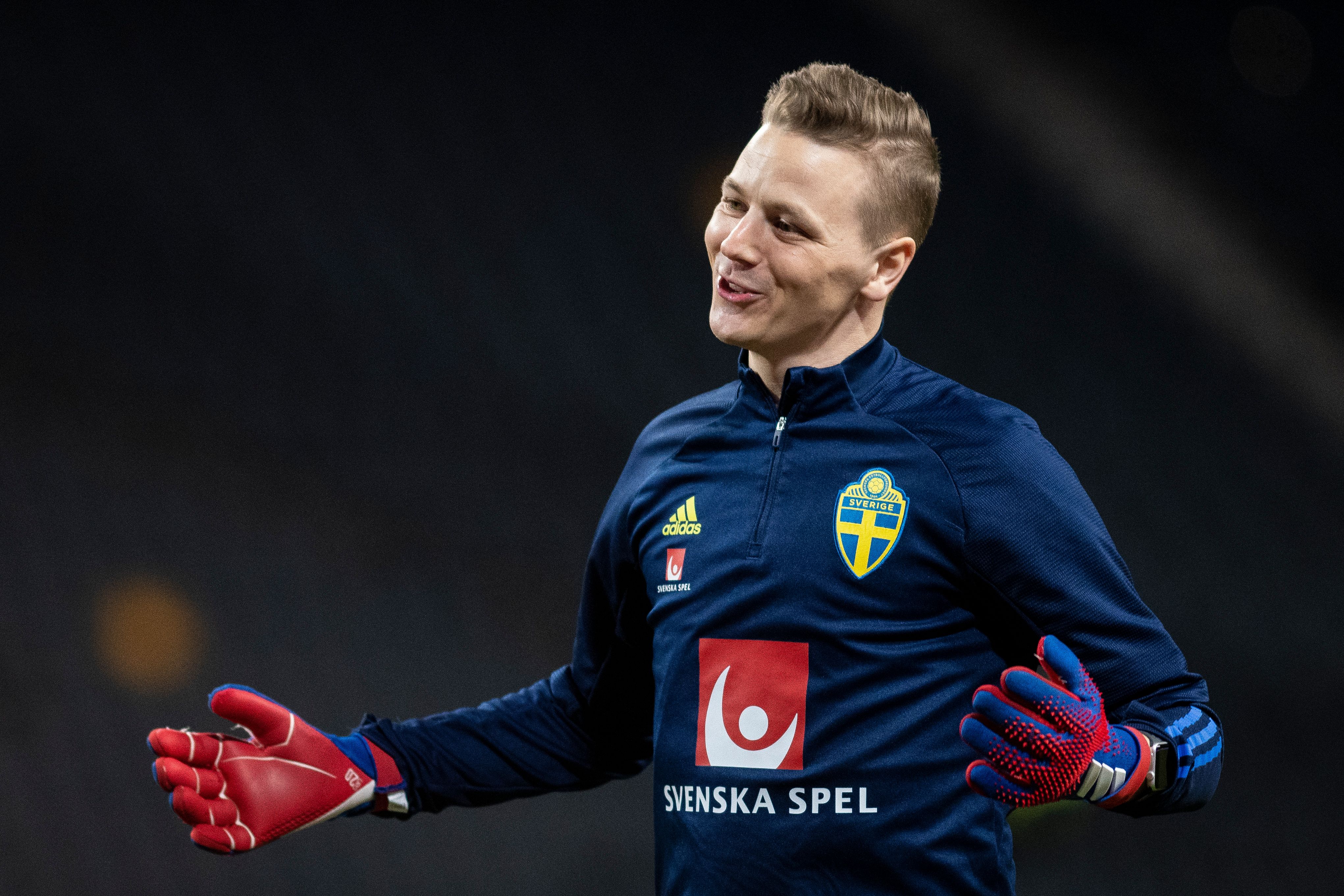 And that's not even to mention working with the legendary Gianluigi Buffon day in, day out until he left Parma in the summer of 2022.
"I grew up playing a lot of different sports. I didn't choose football when I was 15 or 16. Instead of going to a regular senior school, I went to an alpine skiing gymnasium instead. When I came back to my home city, I started to play football as a goalkeeper again. But, a few years later, alpine skiing caught up with me. I tried to take it to the next level, and it led to my sixth knee surgery", explains Elfvendal, talking exclusively to Goalkeeper.com.
"The doctor asked me if I wanted to be able to walk without pain when I was 28. Obviously, that forced my decision to give it up".
It may have been going down northern Europe's impressive ski slopes that Elfvendal relished as a youngster, but parting ways with alpine skiing led him back to football - a career in which, so far, he's only gone one way: up.
Goalkeeper coaching may seem a radical diversion from the sporting path Elfvendal was on. However, football's most misunderstood position runs in his family.
"My father was a goalkeeper coach in Sweden's top division and also with Sweden's U21 National Team. He helped open up the belief that I could pursue a career in football. I began to wonder, 'how can I become the best version of myself as a coach? What can I affect? How can I promote myself? How can I build a network? Do I need to start to learn more languages?'. I needed to identify what the concrete things were that I could do instead of just dreaming", he explains.
It took Elfvendal only six years to ascend from his first professional coaching role (with Umeå FC in Sweden's third division) to becoming his country's most senior goalkeeper coach. It has been a rise that many coaches could only - as he alludes to - dream of.
Yet, it isn't just in his supra-footballing interests that Elfvendal's journey has been unique. The modern coaching pathway across professional world football is heavily reliant on the achievement of the coveted UEFA B, UEFA A and UEFA PRO coaching badges - the latter a non-position specific qualification. Whilst these qualifications are the statements that begin to open doors, coach education is by no means limited to textbook curriculum. The Swede holds a degree from Umea University, Sweden, and spent some time pre-football teaching Social Studies and Religious Studies part time at a local high school.
"The two paths interact in a good way", Elfvendal believes.
"Even with general university studies - for example, economics, law, medicine - you will learn how to value information. You begin to understand the significance of pedagogy. For me, I like to follow a third path, too. That's the information I get from interacting with other goalkeepers and coaches every day.
"Having a degree behind me makes me feel secure and helps me trust in myself. I know I can draw from different types of learning and different principles. I use all the understanding I have to help me be efficient in my coaching. University studies, but definitely also my UEFA licences, work well together.
"Tutoring on some of the courses has also been a big learning experience. To teach others, you really need to know everything about what you're teaching. And when you're speaking about it, you get questions. It's answering them that tests and deepens the knowledge I have".
*
"The idea of self-development is a big part of my philosophy", explains Elfvendal.
Looking at the long-term picture is something that football can lack, especially when it comes to goalkeeping development. The nature of life between the sticks means that mistakes are punished much faster than those of, say, a midfielder.
Even at youth level, goalkeepers are wrongly expected to be near-enough finished products at the age of 16 or 17. Shot-stoppers become defined by their capabilities at these ages - and often their physical profiles - due to the relentless nature of the academy environment and the demand for talent, well, on-demand.
For a coach who works with Gianluigi Buffon day in, day out, it's perhaps unsurprising to hear Elfvendal discuss his belief in a long-term strategy for developing a goalkeeper.
"I can be happy even when a goalkeeper concedes a goal. I can ask for more when they make a save but there's something they could have done better. Similarly, you can concede when you do everything right, so we need to think about the long term perspective.
"I have seven principles of play. I break the position down into these seven categories, and all of my goalkeepers work along these lines. I remember putting together one big presentation on goalkeeping generally a while ago, and when it reached over 200 pages, I was like "this is way too complex!
"With these seven principles, we can speak about them simply as a group. These principles frame the essential knowledge and practices. If a goalkeeper wants to know more and more and more, then I'm happy to show them", he explains further.
'But, of course, I do strongly believe that data plays an important role in understanding the game. It can help you narrow down your scouting, and then from there you can work with the individual side of a goalkeeper further".
Perhaps it's fair to say that the best goalkeeper coaches are those who view the position from a studious angle, to a degree. The art vs science debate in goalkeeping can be polarising, with cutting edge data pushing the position towards becoming a quantitative entity. However, as Elfvendal alludes to, there is a strong sense of individuality in goalkeeping - despite the importance of numbers in goalkeeping practice.
As we continue our conversation, there's one question that has to be asked. It may appear difficult to demand the best of a goalkeeper, as Elfvendal does in his practices, when the best is standing right before you.
'How do you teach somebody who already knows everything'?', was the next question for the Swedish coach.
Elfvendal laughs. "You've put a lot of your own thoughts into that question!"
"The thing is, no one knows everything. Gigi has definitely been one of the best goalkeepers the last two centuries at the top of the European game. The thing is, he's totally open minded. He loves to discuss goalkeeping, and, in fact, we've been working together to refine a few techniques in his game this year", he explains.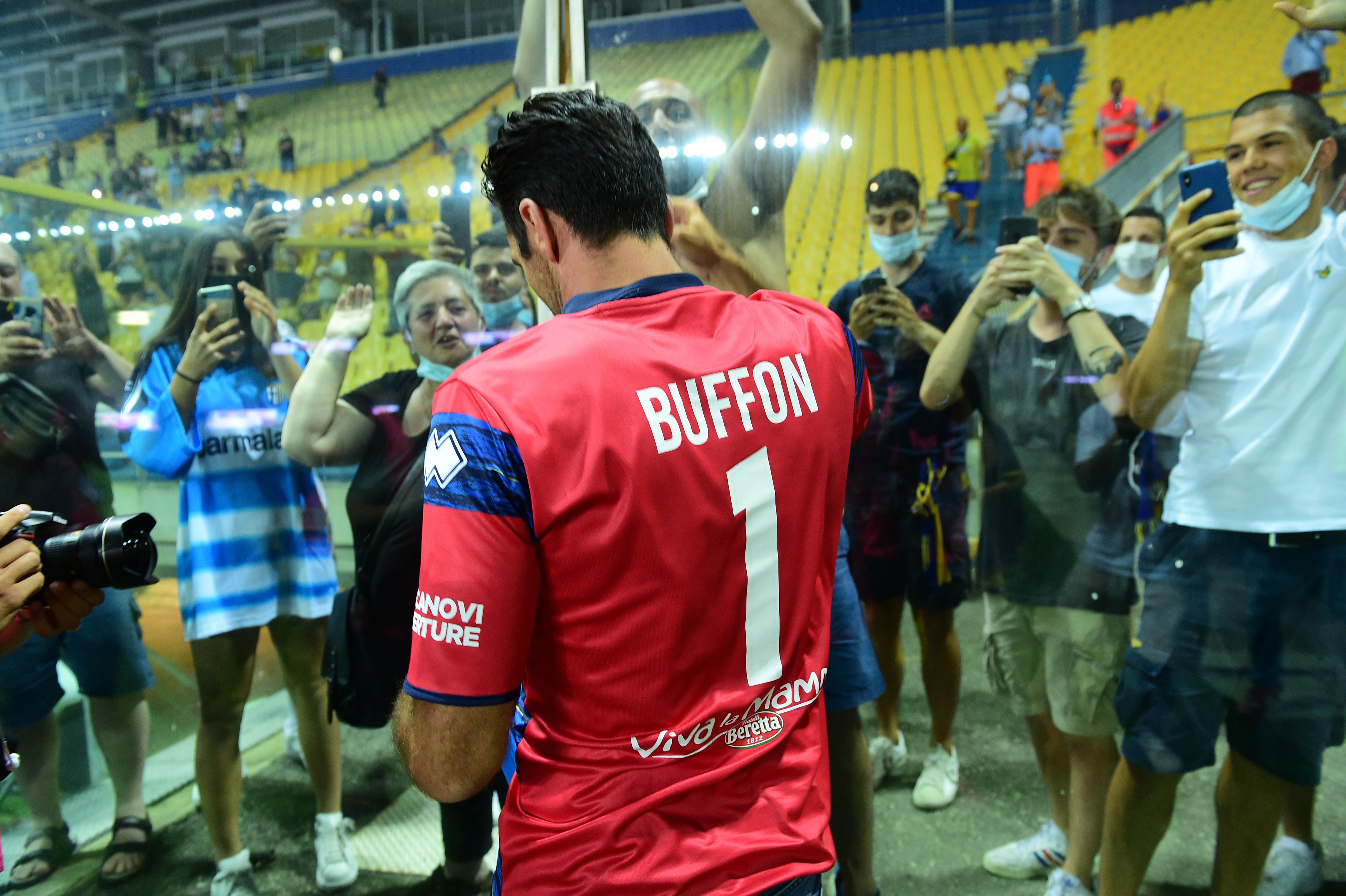 "Gigi loves football. He loves it more than anything, I believe, and he's so happy every training session. He's very funny on and off the pitch, too. He wants to learn more things - it's too complex to know everything. In the conversations with him I've learned, of course. a lot of things that I would not have learned in any other way because I wasn't a professional goalkeeper".
At 35, Elfvendal is nine years younger than his side's first choice goalkeeper, 43-year-old Gianluigi Buffon.
To put that in perspective, Elfvendal was eight years old when Buffon made his senior debut.
Seventeen years later, Parma's goalkeeping coach is designing and executing sessions for Buffon himself. Alongside goalkeeper coach Michele de Bernadin, the pair work with Buffon himself, Simone Colombi and Martin Turk on a daily basis.

"In our first meeting, I told him, we have the same job; to make sure you can perform at your best. Naturally this includes me having to perform at my best, too. What are your thoughts on how to achieve this from your perspective?
"Of course, it's not like, okay, I'm teaching him, bam. We progress together. I tell the other goalkeepers the same: I'm here to help you. You're responsible for your development and I'm the helper. I have this knowledge that I can help you develop with. At the beginning, I gathered the goalkeepers together and repeated what I said to Gigi - that all four of us have the exact same job: to prepare goalkeepers to play".
Having a presence like Gianluigi Buffon in your training sessions everyday adds an incredible dynamic that many goalkeepers could only ever dream of experiencing.
"If Buffon is giving advice to our goalkeepers, you don't interrupt. I don't interrupt! With his experience and his knowledge, the advice is always the best for the other goalkeepers from a playing perspective.
"Gigi is incredibly respectful, and so loyal to the club. I know he's never doing this for himself, but for the good of the goalkeepers at the club. As a man, he's warm hearted. When we bring up a new goalkeeper from the academy, he's always the first one to greet them, giving them a hug before training and making them feel good. I've seen few people do it the way he does", describes the 35-year-old coach.
*
Leading your nation's goalkeepers at a World Cup and EUROs within three years of each other is a privilege that only the very best coaches in the world get to enjoy. Maths Elfvendal is one of them.
"At these tournaments, you have maybe two weeks before the first game. A 'worst case scenario' is when we have one training session and the day before a game. The thing about international football is that the clubs own the players, not the nations. So, we have to be careful about how we work with them.
"In international camps, we aim to put the goalkeepers in lots and lots of game related scenarios. There's a lot of positive reinforcement to help them prepare mentally, so they can approach the game with the optimal level of confidence we can give them in that short space of time.
"And this is the fun part again: to work in a group and to find the perfect balance of atmosphere. From a human level, the goalkeepers prepare and respond in different ways. How's the first choice goalkeeper responding to this? Does the second choice need more attention? Because he doesn't get so much attention in the game itself? These are the very human questions we have to ask, and I enjoy it", explains the Swede.
Yet, away from the world stage, working with the world's best, and his own meteoric rise through goalkeeper coaching, Elfvendal's view for the future of grassroots goalkeeping in his native Sweden mirrors his own story, to an extent.
"I really think it's a great time for Sweden to put more emphasis into goalkeeper development. We have a new generation of young goalkeeper coaches who really want to become their best versions. Through this, I really hope that we can create better environments for the Swedish goalkeepers that grow up in Sweden", he concludes.
In July 2022, Maths left Parma and joined StatsBomb as their new Head of Goalkeeping and Set Pieces, continuing to work with the Swedish National Team as their First Team goalkeeper coach. "I'm looking forward to the new role, and seeing what new data and perspectives we can bring into the game", he commented. "It's great to be a part of a modern way to develop goalkeepers and goalkeeping. The future is bright for data within goalkeeping, and I think we can go on and achieve a lot using this".
Maths Elfvendal is a name to watch. A new breed of goalkeeping coach, the 35-year-old is bringing a youthful, fresh, but no less educated approach to goalkeeping; the very best of it, in fact. Now moving into the data analysis space with StatsBomb, Elfvendal is breaking boundaries in coaching, not only by age but also in journey. If a boy from a small town in Sweden can come this far, this quickly, then the question to ask is: what's stopping the next coach?