Host of the Yours, Mine, Away! Podcast Mark Howard is this time asked the questions, discussing a longevous career from his early days at Arsenal to being part of Wrexham's unique project.
'You've just come back a goalkeeper'.
Those are the words that Wrexham goalkeeper Mark Howard remembers his father saying when he was seven years old, after coming back from an Uhlsport training camp in Keele.
Now 36, the Englishman – born and raised in South London – has had a long career in professional football. Since debuting for Falkirk in 2006, Howard has been involved in over 700 games, starting around 400 of them, for clubs in England, Scotland, and Wales. Most of it has played out far away from his childhood home in Croydon, but he feels he has a few more years in the tank yet.
To date he's made first team appearances for eleven teams and in recent seasons he's been tasked with joining clubs mid-season to steady the ship. His calm demeanour and vast experience has allowed him to achieve this and more. The 2021-22 season saw him win the Player of the Season, Player's Player and Fans' Player of the Year at Carlisle United, with other highlights including promotions and cup semi-finals at Wembley.
Nonetheless, there could still be some additions to the story. With Howard part of the 'Wrexham project', headed by Hollywood stars Ryan Reynolds and Rob McElhenney) behind the scenes (sort of) and former boss Phil Parkinson at the helm pitchside, since the summer of 2022, one of the most unique chapters of a longevous career to date is still being written.
"Unless you've ever played in goal, no one actually knows what's going through your head," he explains, speaking exclusively to Goalkeeper.com.
"You can make the world's best save and it could be the luckiest thing in the world, but no one would ever know it. You could also make the worst howler in the world, and everybody will go 'that's terrible', but you could just be trying to do the right things and your timing could be half a second out. That's why we have this big common link that goalkeepers hate other commentators and outfielders telling us we should have done better!"
His experience, and an arm-round-the-shoulder approach, has made him a key part of the dressing room wherever he's played. Howard has always been eager to share advice and he's turned this approach of wanting to help and teach into a successful podcasting sideline, as well as bringing a well-respected and measured demeanour to the Wrexham dressing room.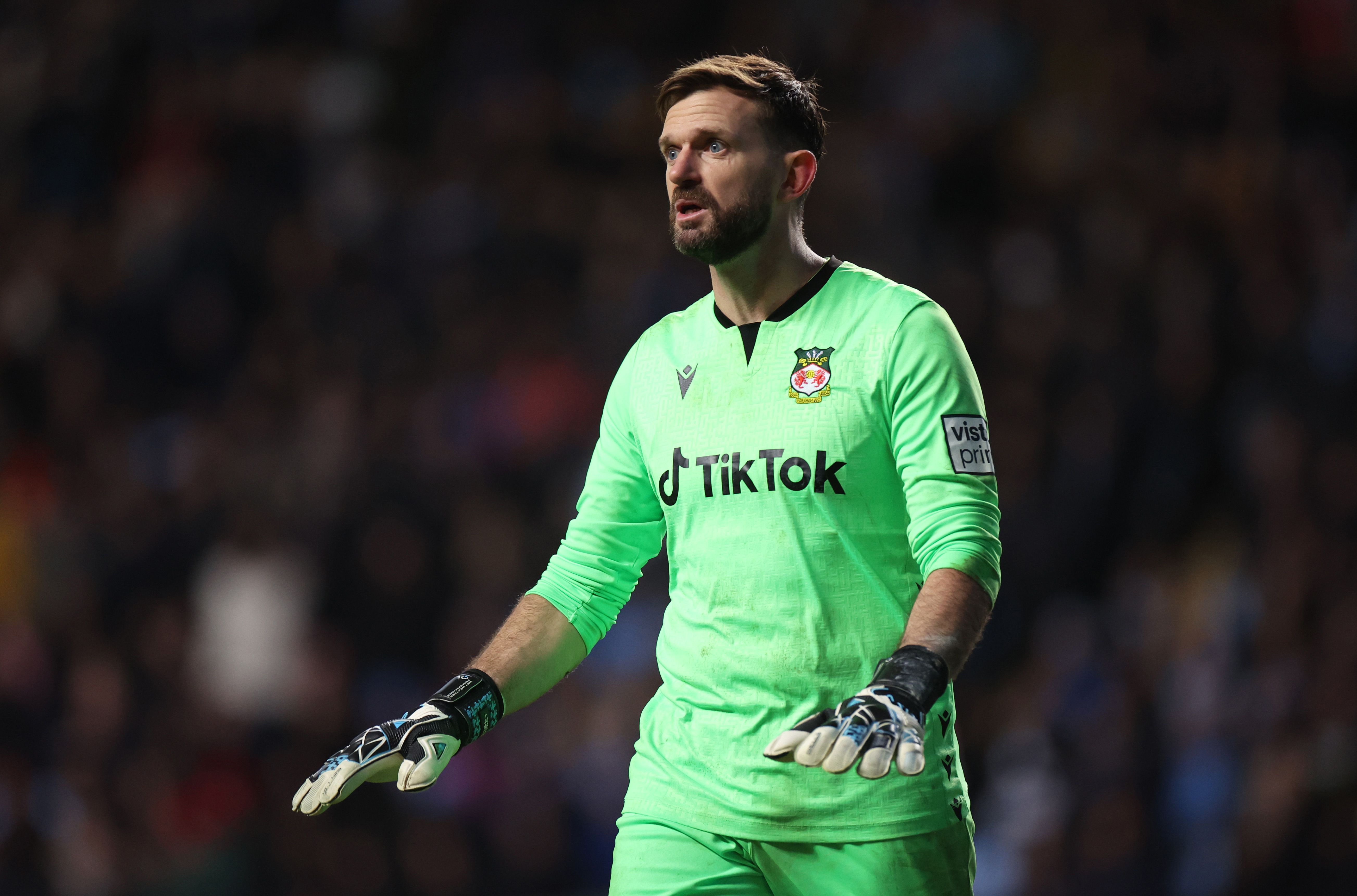 "I'm not a ranter or a raver," he explains. "I'm more of a personal coach. I like to get around people, I love the dressing room. I love to go and individually coach and ask them if they can do this, this might help or just [give] little pointers."
He continues: "I would rather pull people afterwards and say 'look this is what I think you should do. Can you do this next time, this will benefit us all, this will benefit me, the team, and you. That's just the way that I go about my business".
Growing up a Tottenham Hotspur fan, Howard signed for Arsenal but before making an appearance he moved to Cardiff via a loan spell at Scottish side Falkirk. His first real taste of professional football came in Scotland, at a time when he'd never lived away from home and had to put himself on a crash course of cookery and laundry; a plunge in the deep end of the school of life, with the small task of performing in the Scottish Premier League on the side.
"I stayed in a hotel for a couple of days," he recalls. "They found me an apartment to rent. [It was] a strange feeling. But I knew straightaway that winning mattered. It was not just my career that was at stake. It was other people in the team, it was the fans, it was the staff around the ground. I really bought into it."
Howard got his chance late in the season and kept a clean sheet: "I got Man of the Match, so as a debut goes it couldn't have been much better."
Just as a goalkeeper has to be ready to adjust at a moment's notice during a match, Howard has often had to deal with adjustments off the pitch. Over a ten year period he played for St. Mirren, Aberdeen, Blackpool, Sheffield United, and Bolton Wanderers, having to adapt to various managers and environments. But moving clubs goes beyond what fans see on the pitch. It's a commitment for a family.
"It's something you get used to," he says. "Me and my partner, Lucie, we know what this lifestyle is like. What this career is like. You have to roll with it. People think that you can just pick up and move to wherever you want and choose your clubs. Realistically, it is nothing like that at all.
"We live in Preston, but I commuted for a year to Scunthorpe and back nearly every day. Last year I did Carlisle and back every day. I'm doing Wrexham and back every day this year. My kids are happy here, so I'm not going to ruin that for them."
Adaptability on a personal level is just one challenge. The challenges facing each club he's played at have posed different sets of hurdles. "Every club has got its own pressure," he explains. "At Bolton we had financial implications and were trying to get out of League One. At Sheffield United we were getting 28,000 [fans] at home. It was hard for them to be a League One club, respectfully. There were loads of pressures around that.
"Wrexham is slightly different. There is a massive fanfare around it. But the owners are amazing. The interaction that they have with all the players, all the staff, [shows] that they've really bought into it. It's not just a publicity stunt; they've got a really strong interest in the club and the town doing well. There's huge worldwide pressure on us to get promoted and get over that line."
Playing in the National League has added yet another dynamic Howard has had to adapt to: "Every game is so different. The styles of football are so different. The stadiums are so different. Even down to the balls in this league. The ball's heavy, it holds water. That's just part and parcel of football and being a goalkeeper and learning to adapt to these sorts of things."
Howard has spent time working on his coaching badges while deciding what to do after his playing career ends. Having looked at Business Management and Director of Football courses, he settled on undertaking a Journalism and Media course part time and has been working on it for two years.
"I'll hopefully finish it well and get a good grade," says the 36 year old. His academic pursuits have been put into practice in recent times. "I started writing down notes [about what he could do in the media space], and coming up with different ideas, scripts, and guest lists. I was lucky enough to meet some great people, and the ideas just grew legs and started running away. It goes hand in hand with my studies. I want to be able to tell my story and get other people to tell their stories. No one's journeys are the same."
The outlet for these ideas is Howard's podcast, Yours, Mine, Away!. Its inaugural episode, featuring Arsenal's Aaron Ramsdale, launched on the 10th October, 2022, and has since continued to grow with an impressive guest list both published and lined up.
"I want to educate people," he says. "One of the things that I got frustrated at when I was doing my coaching badges was that I was reaching such a small number. I was only helping, say, three to ten kids. The podcast is a great vessel for me. I can educate, I can help, I can give advice. I can get other people to tell their story of how they made it. It might help one person and I think that anything like that is beneficial. If I can personally help people or get other people to listen to something that will help them I think it's just an amazing tool to have."
The goalkeeper's mindset is something that lends itself to the avenues Howard has explored, and his own enterprising self-drive. "We're used to working on our own," he says. "Although we're in a team environment, we're used to going down to the other end of the pitch with just one goalie coach and a couple of other goalkeepers for 60 minutes. You'll find every goalkeeper likes to go in the gym on their own.
"We physically only work for probably ten minutes of a game on and off, and it's so sporadic so we're used to mentally just keeping ourselves in tune. You'll find a lot of goalkeepers' headspaces are quite strong.
"I think we then carry that on later on in life. And we're a little bit more used, no disrespect to the outfielders, to taking on individual responsibilities. So that goes hand in hand with running businesses and taking more courses and putting ourselves out there because we have worked in that way."
Yours, Mine Away!, has already hosted an impressive array of names from the world of goalkeeping but also branched out into talking to other influencers in the sports space, such as YouTube stars Thogden, and Theo Baker (each with over 1 million subscribers) and Spencer Owen, who has transferred his online success to the on-pitch arena, founding non-league side Hashtag United.
"I think that their brains are wired so differently," says Howard. "[Spencer's] idea has come from bringing a few friends together, they're all influencers, they were all in that digital realm, and he's turning this into an absolute beast. Thogden's the same. I remember him coming to watch when I was at Bolton at the time, sitting in the stands vlogging these games, and everyone thought he was a bit crazy. But he was one of the first to ever do it.
"The way that their brains work to create, like I'm trying to do through the podcast, is to open that space up to people that have never had it before. I think people like Spencer, like Thogden, Theo Baker as well, what they're doing in their own way and their own platforms is just commendable, because they've got this vision of what they want. They're the ones setting that trend.
"The way of thinking and the way that sports is now portrayed is changing. I'm trying to adapt and learn from them, and that's one of the reasons I've had them in. And the other reason is purely that I'm a massive fan of theirs. I love what they've done."
This is all contributing to Howard's plan for life after football. "I'm absolutely loving it," he says. "I can't wait to start doing some more YouTube based stuff and doing some filming." But that's down the line. Howard still has many on-field challenges to come. The most immediate of these is to help Wrexham back into the Football League.
"[Our] results, in a great atmosphere and a really good work environment mean it's a pleasure to be involved," he says. "Along with Notts County, the two of us have just stormed the league and it's kind of unfair that both of us don't go up. But ultimately, only one of us can this season. You want to be part of something that's a bit special. And that's what it is at Wrexham."
The high-profile owners and having film crews in the dressing room all make for a somewhat unusual professional environment, but Howard doesn't doubt their intentions.
"The owners interact with the players and the management staff after every game," he says. "You never know when you're going to have a phone call or text, but if you've had a good game they'll straightaway send you a message saying, 'What a great game that was, great three points'. Obviously with the documentary, we've got a film crew that follows us behind the scenes. There's some great people that work in the film crew, so the lads are open with them. Although it's a bit awkward at times and you do have to filter what you say – especially what goes on in the dressing room – we fully trust what they do as well."
For Howard, it's just another adjustment and he continues working as he's worked for many years now: "I might be a bit different from others in terms of my routine. Everyone has their own niche way of doing things. I never go out and look at a pitch before a game. I know I'm going to wear a stud regardless. I know if it's raining or not before I even go into the stadium. I know what gloves I'm wearing. I'm a creature of habit. I like routine.
"I actually prefer the bigger games with more fans, I feel like I get more of a puff in my chest when I walk out. The more high profile the game, the more that you actually get out of me. Sometimes it's harder when there are less fans because you can hear everything and if things go wrong, you can actually hear that one person that boos you instead of the whole fan base where it's just white noise."
As Wrexham's success continues, the crowds will only get bigger and Mark Howard's experience will only become more valuable for his teammates and the wider goalkeeping world. As he says, "Only a goalkeeper knows what a goalkeeper is going through."
Wrexham face Notts County at the Racecourse Ground on Easter Monday (10th April) at 3pm BST, live on BT Sport in the UK and for international viewers on National League TV. The winner will go top of the league with 103 points, with three games to go in the run in to the end of the season following Monday's fixture.