The League Two winners' man between the sticks discusses his pathway, personal development, promotion, and pushing on.
It's been a special campaign for Leyton Orient and their goalkeeper, Lawrence Vigouroux. The Os won their first league title since 1970, an achievement made even more special by their previous ownership debacle, fall from the Football League and the fact that promotion completed what the late Justin Edinburgh had started before his tragic death.
At the centre of it all was Vigouroux, whose 24 clean sheets is a club-record for a league campaign. He topped it off with a third consecutive Player of the Season award and a place in the League Two Team of the Season, alongside teammates Omar Beckles and Idris El Mizouni. Campaigns like that don't just happen, and the 29-year-old has learnt from lots of different people and cultures to reach this point.
Having spent time in Brentford's academy, Vigouroux went Tottenham Hotspur in 2012. "We already had Heurelho Gomes, Brad Friedel, and Carlo Cudicini. They were all really good goalkeepers, then Hugo Lloris came," he begins, speaking exclusively to Goalkeeper.com.
"It was something that I had never seen before, someone so springy, someone so quick off their line. He used to play really high and all the through balls, he'd be clearing them and sometimes he'd get caught but it wouldn't change the way he played.
"That, for me, was quite eye-opening because I wanted to be that kind of goalkeeper, where I was really on the front foot, read the game as best I could and be more proactive. So, he was a real big one for me to learn from, because was, and still is, a world class goalkeeper."
Then, at Liverpool, Vigouroux took inspiration from Simon Mignolet, who he describes as "an outstanding shot-stopper", adding: "It was good to see players like that in their environment, watching what they do, watching the things they eat, the things that they do in the gym, to see how they maintain that elite level."
But the time comes for every goalkeeper to step into the limelight themselves, and enact on the professional stage what they've been meticulously developing since their youth. Vigouroux's time came in the form of a loan spell at Swindon Town. His debut was one to remember as he saved a penalty with his team 1-0 down, utilising a handy water bottle which was providing instruction as to the likelihood of where the penalty would be placed. He says: "I dived to my right, saved the penalty and we ended up winning 4-1. I was buzzing, that was one of the biggest moments for me."
Vigouroux's bottle was soon solely for drinking from, as "people would actually start looking at my water bottles at corners", but his penalty-saving success has continued. This term, the stopper has opted to "go on instinct". The denial of Anthony Driscoll-Glennon's spot kick in a 2-2 draw against Grimsby Town is one effort that sticks out in the memory.
"I don't really do much in-depth research anymore," he admits. "It's a presence, I think - look at Emi Martinez in the World Cup. Just having that presence where you think 'he's hard to beat', I think I've developed that in my game in the last few years."
He soon moved permanently to the County Ground and had to start learning again, doing so the hard way at times under current Orient boss Richie Wellens, which eventually resulted in his departure.
"I always will love Swindon," he says. "As a young lad trying to make a way in the game, they gave me an opportunity to play week in week out. I kind of took the mick a little bit in terms of my lifestyle and I thought I would play every week. When Richie came into Swindon, he was honest with me, he said my lifestyle wasn't right, I didn't live the right way, my attitude wasn't good enough."
There have been no such issues at Brisbane Road, since the pair linked back up upon Wellens' appointment as Leyton Orient boss in March 2022.
"Richie came in here, we had a chat and I said to him that I'm a different man now," Vigouroux states. "Our relationship has grown to a place where I can speak to him about anything and I see him as a really good manager, an unbelievable coach, but also as someone that I have a lot of respect for and really enjoy working under. I think he'll have a great career and he'll go and work as high as he wants because the way he sets teams up to win games, it's something that's not League Two level, it's much higher."
Joining up with national team camps has has also provided eye-opening experiences for the Orient goalkeeper on and off the pitch. Vigouroux qualifies to play for Chile through his dad, who he jokes "was terrible" in goal, but adds: "He loves watching any kind of football, so he influenced me in wanting to play football. From a young age, in my estate, he'd always take me out to kick a ball around. He was a really big factor in me wanting to play football and learning how to kick a ball with the right technique because I'd always be outside playing. I owe a lot of my career to him because he's been amazing for me."
In late 2018 and early 2019, Vigouroux was called up to the Chilean national team squad and discovered a "completely different style of goalkeeping".
"The goalkeeper training is very springy, it's more saving the ball no matter what, instead of the actual technique of catching a ball", he explains. "There was a lot of work with bands, jumping up, and catching. It was quite eye-opening when I went out there, seeing the way they train, seeing the way they worked.
"The importance of good distribution that they focus on was a reason why I really prided myself on distribution; to keep up with those goalkeepers was initially really difficult, in terms of passing the ball. It was really good to learn from goalkeepers that play week in week out in South America, from big clubs, in big stadiums. To see their mentality and how they treated training was really important for me."
He admits that it was difficult to adapt at first. "I was coming from Swindon," he says. "We're taught here to catch everything, and there they're taught to catch as well but if it's a really strong shot just get it away from goal, parry it wide."
Although, he once again took this as an opportunity and points to Colo-Colo goalkeeper Brayan Cortes as somebody he's taken inspiration from. "If you were to watch a training session of me here and him over there, it would be completely different," Vigouroux says.
"You wouldn't believe that we play the same position and that we play the same sport, because there it's more plyometric, jumping, diving, rolling under, top hand saves. Here it's more robust, still top corner saves, but really high repetitions. Whereas over there, they'll do four really quick reps which was like 'wow, this is a blow.' He's a top goalkeeper. He's showing that now at one of the biggest teams in Chile, Colo-Colo, and I'm really happy because he's a good friend of mine."
Vigouroux also spent time playing club football in Chile with Everton de Vina del Mar in 2019, in another big experience for the now-29-year-old despite him not getting onto the pitch. "To actually immerse yourself in the culture was something that was really important to me and to my dad as well. I went there, and learnt the language fluently. It was difficult not playing, but I came in the middle of the season - the goalkeeper, Cristian Campestrini, was doing really well and I just didn't really get an opportunity to play. I understood that, it made me grow as a man, made me mature."
He was also in the country at a time when protests were breaking out due to rising public transport fares. "I was quite scared at the time, ringing my dad over here every day, it was difficult with the time difference. And I didn't know what was going on, hearing shots outside my house, people throwing fireworks, it was mad.
"Coming from England where you don't really see stuff like that happen, it was quite surreal. But I understood, the country needed to change and it has now, so I'm really happy because the people stood up for what they believed in and they got what they wanted out of it."
All of those experiences have played a part in forming the man and goalkeeper that has stood between the sticks for Leyton Orient since 2020. "I tried to take as much as I could from everywhere I've been, bits of people's games and tried to implement it in my game. I feel like it's worked" he says.
"I try to be as unique as I can because you want to be special as a goalkeeper, especially when we're in the position that we are. We're the last line of defence and people call us crazy and weird. It's really good that I've been able to pick up different experiences, different cultures of football and try and implement them all in my game."
Even so, he admits having doubts at the beginning of the season: "I'm 29 now and I had not even been in the Play-Offs. You start to question yourself, where you think maybe you are a good goalkeeper, but only a for teams that are generally mid-table or that don't always aspire for promotion."
These doubts were all dispelled as the Os earnt their return to League One for the first time since 2015.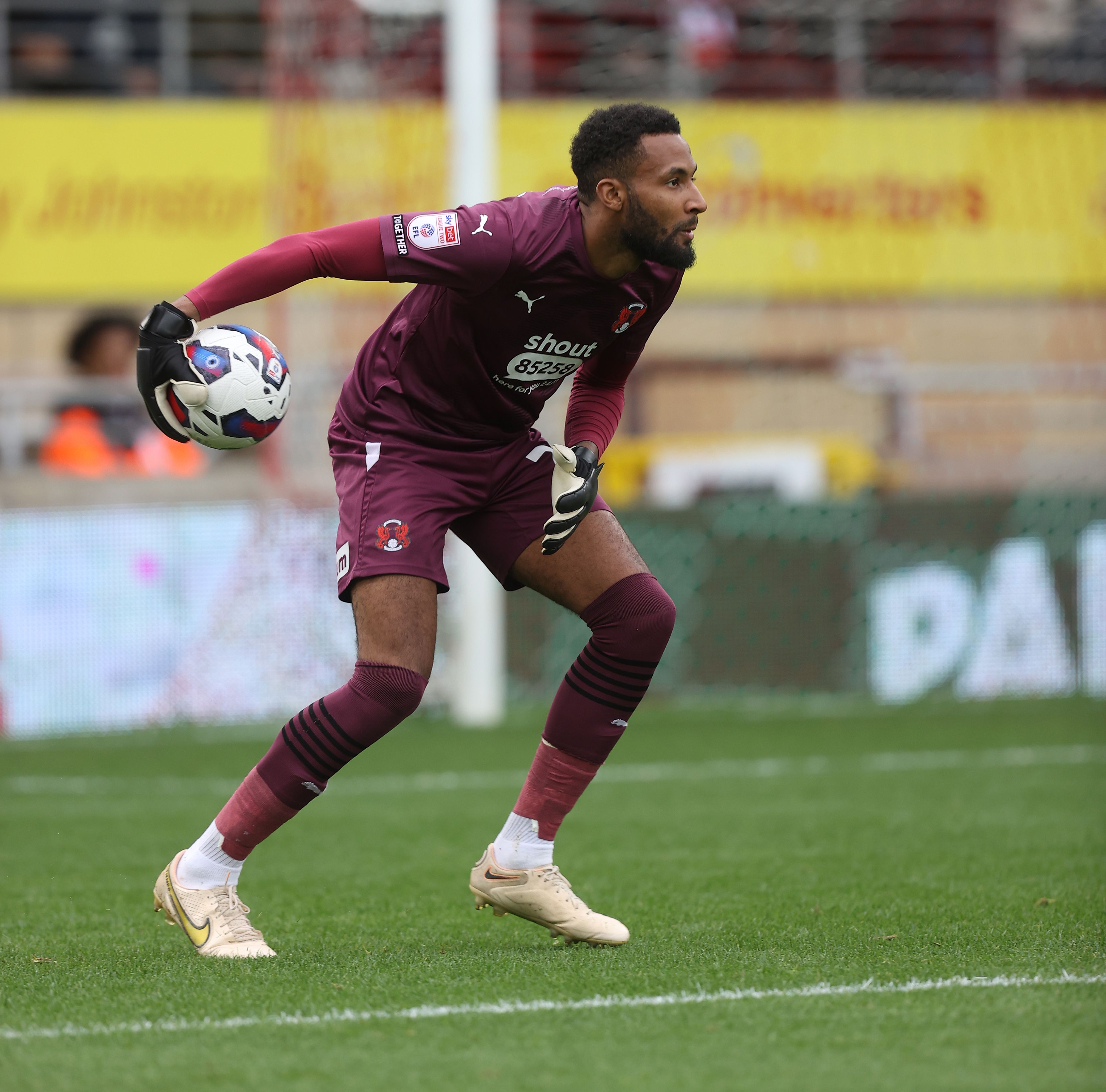 "It meant so much to us as a club, the players, the staff, the owners, everyone, even the chef is an Orient fan. He comes to away games, we spot him, and we bring him on the pitch. It's a really good club and I'm really happy to be part of it. I'm so happy that this season we've been able to deliver some joy to people's lives."
There is also plenty of reason for Vigouroux to look forward, as he maintains hope of being called up by Chile again and making a first national team appearance. "The manager that called me up, he left and he was really honest with me. He said, 'you need to play at a higher level otherwise I can't call you up anymore'," the goalkeeper admits.
"It's been difficult because it was an unbelievable experience going out there with them and I really enjoyed every day. Now, I watch every game with my dad. I obviously have dreams of going back and playing, so hopefully that will happen in the near future. But I just want to work hard at club level with Orient and see where that takes me because I'm in a really good place here."
He'll also be playing in the third tier for the first time since 2017, doing so as a completely different person and goalkeeper. "I was a little boy when I was last in League One. I was at that age where consistency was something that was really hard for me," he says. "I feel like now I'm going into League One as a man, more mature, more professional. I work hard off the pitch, and work hard on it as well."
It's also a bonus for the goalkeeper that he's doing it for Orient. As he puts it: "I'm really proud to be a part of this club, and I'm so happy that the club actually took an opportunity to find me when they did because otherwise, I don't know what I'd be doing, probably working with my old man. I owe a lot to this club."
After this season, there will likely be plenty of people at Brisbane Road feeling they owe a lot to Vigouroux too.