Despite some lazy attempts to cast doubts over his performance, Goalkeeper xG data shows Karius put in a solid shift against Manchester United.
A lot was made of Newcastle's goalkeeping situation heading into the league cup final between Manchester United and Newcastle United on Sunday.
With first choice goalkeeper Nick Pope suspended, second choice Martin Dubravka cup tied, and third choice Karl Darlow on loan at Championship Hull City, Loris Karius was thrust into the first team after not playing a competitive professional football match in two years.
As expected, the majority of the media attention before the game surrounding the goalkeeper was speculatively negative, highlighting how the German's last major cup final went and pondering whether a repeat performance would occur.
While Newcastle United didn't break their 54 year streak without a trophy, as they fell to a rejuvenated Manchester United 2-0, the headlines would not be about Karius. Unlike the Real Madrid Liverpool champions league final of 2018, Karius made no obvious errors and in fact pulled off a couple of fine saves during the game.
Our shot stopping model at Goalkeeper xG finds that given the quality of the 10 shots on target that Karius faced an average Premier League goalkeeper would have been expected to make 7.78 saves. Karius' eight save performance is therefore in line with what one would expect for an above average Premier League shot stopper.
The most difficult save Karius made on Sunday was his late 1v1 save vs Bruno Fernandes which would beat a Premier League goalkeeper approximately 41% of the time. Karius made the save due to his exceptional reading of the situation and tidy spread shape.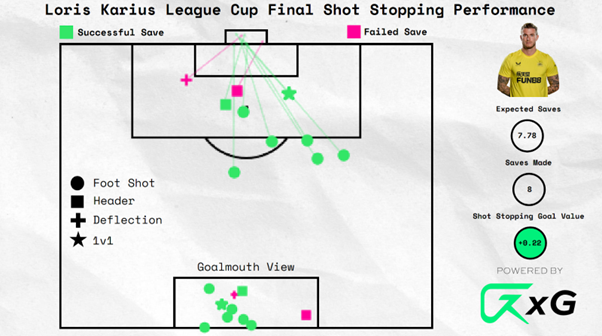 As soon as Bruno cut inside and beat his man Karius was already on his way out of goal ready to engage and spread. Thus, as Bruno struck the ball Karius was on top of him, giving him very little to aim at. The final crucial detail of the save was the fact that Karius managed to keep his body somewhat square to the ball. This kept his coverage of the goalmouth large and meant that Bruno's effort deflected off his body and away for a corner.
This was not Karius' only tidy intervention of the game. In the dying minutes of the first half Weghorst struck a powerful effort from outside the box towards the upper left corner of Karius' goal.
Our shot stopping model at Goalkeeper xG finds that this effort would beat a Premier League goalkeeper 29% of the time, but it didn't beat Karius on this occasion. Karius expertly moved his feet and threw up a strong left hand to make a tidy top hand save.
Again, his decision making and technical execution was spot on. The use of the top hand in this situation allowed Karius to maximise the force he imparted onto the ball by utilising the momentum his body already had through his dive. This made the save look far easier than it was, and if Karius had gone with his bottom hand he would have potentially struggled to generate enough force to push the ball away from danger, potentially conceding.
Five of the saves Karius made were all found to have expected save probabilities of over 99% meaning that due to their distance, angle, trajectory, and velocity (among other things), they would be expected to be saved basically every time by a Premier League level goalkeeper. So while Karius did make eight saves in the game, the majority of them were routine, yet again highlighting how raw save numbers should be taken with a pinch of salt when analysing goalkeeping performances.
Regarding the goals Karius conceded, the Casimiro header was a shot that our model found was almost impossible to stop due to its velocity and trajectory. Therefore, no blame can be assigned to Karius for this goal as historical data finds it would beat a Premier League goalkeeper over 95% of the time.
The Rashford deflected goal is more interesting. Our model at Goalkeeper xG finds this shot is expected to beat a Premier League goalkeeper 41% of the time. This means that while it was not an obvious error, it was saveable. Karius' timing and weight distribution were the major areas the German could change if he could replay the situation.
Karius' initial set position was very tidy and upright but as Rashford struck the ball he quickly shifted his body weight downwards and sunk into his heels meaning that when the ball was deflected upwards he could not adjust in time and a shot that would have headed right into his palms flicked the top of his fingertips and ended up in the back of the net. Ideally, he would have kept on his toes and kept his body weight higher for longer which would have given him a far better chance of palming the ball away from danger.
The Goalkeeper xG model takes into account the deflection on Rashford's shot. Nonetheless, you can see how Karius has moved in line with the expected low shot pre-deflection.
It should be noted that Karius' 1v1 save and his top hand save vs Weghorst did outweigh his inability to keep out Rashford's deflected effort (hence Karius made eight saves from 7.88 expected saves). He did well to keep the scoreline down to 2-0.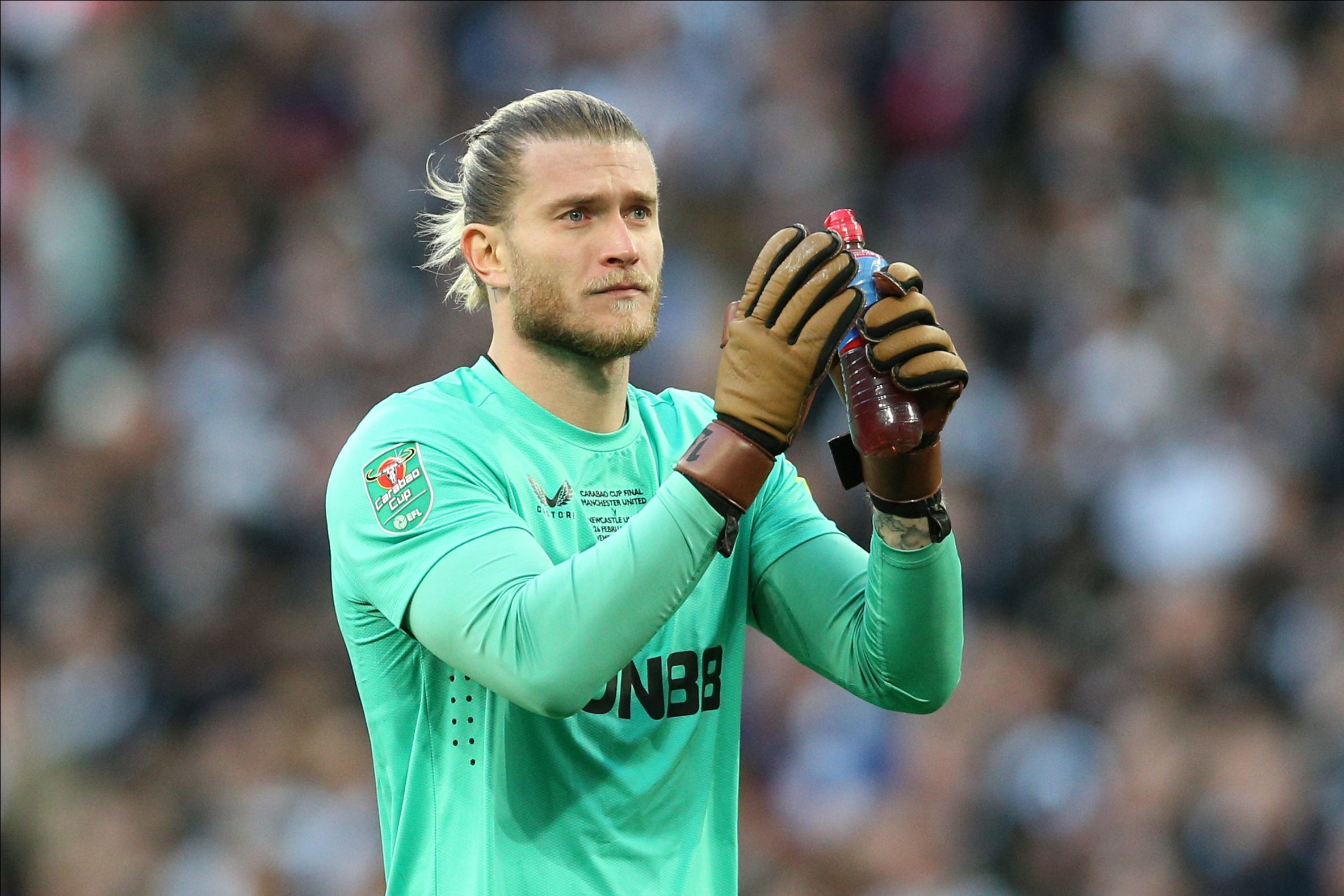 It wasn't just Karius' shot stopping that was solid on Sunday. His overall performance, taking into account every action he performed on the pitch, found Karius was worth 0.12 goals to Newcastle United vs if they had had an average Premier League goalkeeper between the sticks. All areas of his game other than cross claiming were at an above average level. His distribution was particularly tidy, with 13 of his 22 passes finding a teammate in open space and the other eight of his passes hitting an area where one of his teammate's could duel for the ball.
Given all the extra baggage surrounding the game, Karius did extremely well to put in a solid Premier League level performance. Karius showed he could definitely still perform at the highest level which hopefully reminds other clubs, both in England and around Europe, about what the German can offer. Only time will tell, but hopefully we'll get to see more of Karius in competitive action in the future.
No player's career should ever be defined by one match.