From Hemel Hempstead to Hollywood, LA Galaxy's number one discusses his search for starting minutes on the other side of the world…
It's 2pm in Palm Springs.
The Californian sun beats down upon a pristinely kept golf course. In the background sits an expanse of bare desert at the foot of the San Jacinto Mountains. It may be mid-February, but LA Galaxy's number one Jonathan Bond is seated comfortably in a short-sleeved white polo shirt emblazoned with the club's crest.
Bond's new life in the States is a world away from his hometown. Born in Hemel Hempstead and raised in Watford, his search for starting minutes since leaving the Hornets in 2015 has ultimately taken him to the other, sunnier side of the world - around 5,400 miles, to be more precise. Talking exclusively to Goalkeeper.com from Galaxy's pre-season training camp, off the back of a stellar debut season in the MLS, Bond's relaxed and chatty demeanour immediately portrays a man happy with his new life in the USA.
"It was a big decision - moving across the world and leaving my family behind - but at the same time it wasn't a complete unknown", says Bond.
"My mum's from Seattle, so I actually have an American passport. It's not completely new to me coming out here, so I kind of knew what I was walking into, so to speak. I didn't know too much about LA Galaxy as a club, bar general knowledge, nor California very well, but so far I'm very happy with my decision".
The Englishman's decision to move to the States came in search of starting minutes in between the sticks. After leaving boyhood club Watford in 2015, Bond joined EFL Championship side Reading. However, the move had its difficulties, and sporadic minutes followed bar a solid season on loan at Peterborough United in the 2017/18 season.
With 58 league appearances to his name between leaving his Watford, and then leaving the English game entirely on a free transfer to Galaxy in 2021, consistent starting football had been hard to come by for Bond. 37 of those league appearances came on loan at Peterborough, with 14 at Reading, seven at Gillingham and only cup appearances at West Bromwich Albion.
With regular game time becoming an increasingly distant memory as the weeks wore on, and Bond dropping behind Sam Johnstone and David Button in the pecking order at the Hawthorns, time was calling on his spell with the Baggies. Keen to get back into the starting routine and in demand as the global January transfer window opened, the opportunity to join Galaxy was too good to turn down.
"I moved agencies to one with strong links to the US. It was always something in the back of my mind - I had this US passport, which meant that I wouldn't be an international player in the MLS. So, it's something my agent and I were aware of. We put out feelers and quickly realised there was quite a bit of interest. We had discussions with some really good clubs.
"LA Galaxy came calling, and when it comes to the idea of playing in America, they're probably at the top of everyone's list! It was good timing, and it all came together".
LA Galaxy's reputation has, in the past, been shaped as much by the international influences as it has by its own glamorous, celebrity-tinted location and history. The home of Hollywood A-Listers such as Denzel Washington, George Clooney and Jennifer Aniston, alongside singers such as Katy Perry and Taylor Swift, Los Angeles has been a magnet for those in the public eye for decades.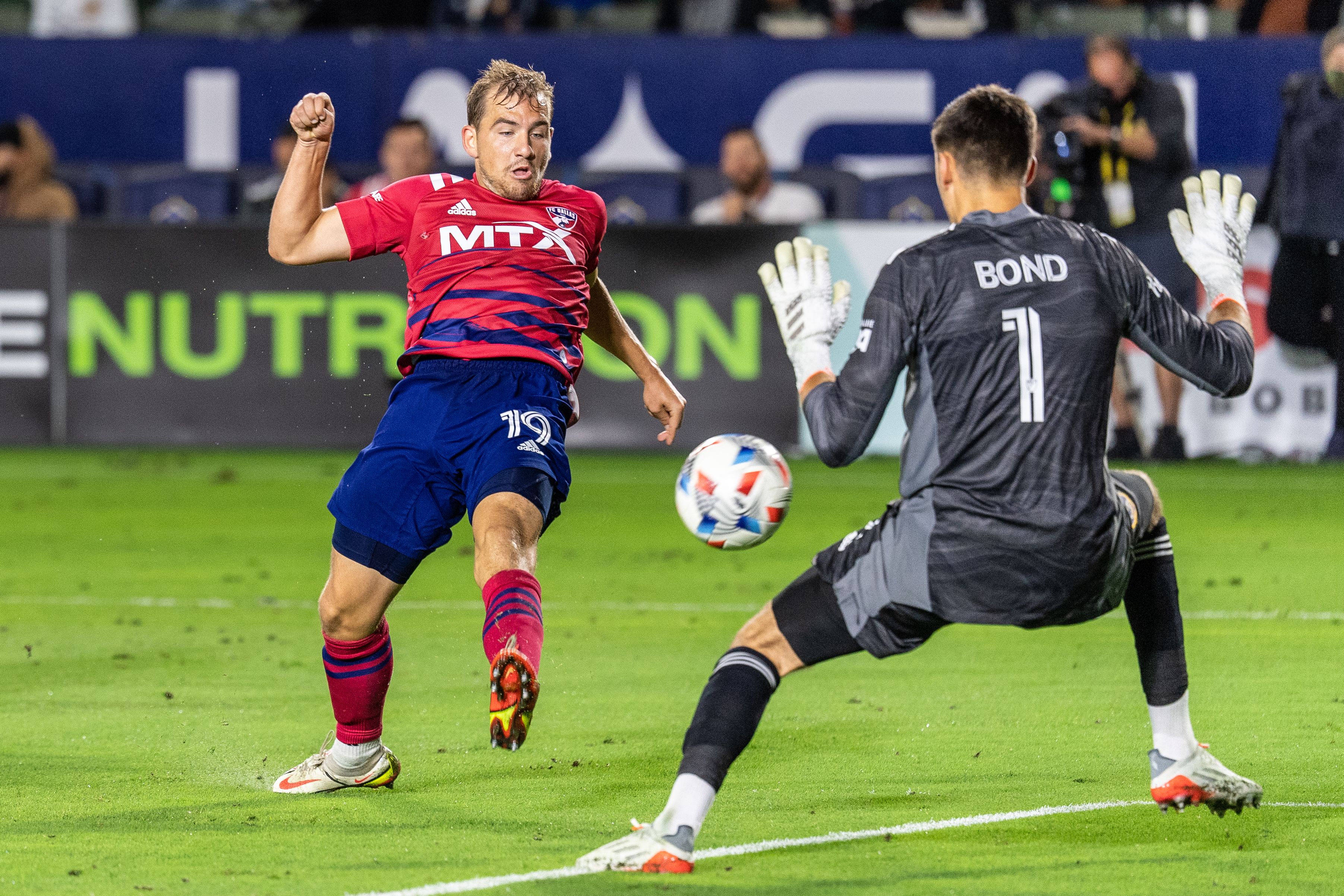 When it comes to football, the names on the back of Galaxy shirts have been no less impressive. Beginning with David Beckham bringing glitz, glam, and the 'Beckham effect' to the East coast, and onto the likes of Steven Gerrard and Ashley Cole, the English star-influence on the club has been prominent.
Yet, for Jonathan Bond, joining Galaxy was a football-driven pursuit, underpinned by a love for playing the game and unaffected by the aura of LA.
"I haven't really felt that 'English pressure', to be honest. Beckham obviously brought all the attention in the world to LA Galaxy at the time, but that was a long time ago now. Once the likes of Cole, Beckham and Gerrard left, after a while the effect wears off and the club is now becoming a stronger brand on its own.
"From the first game I played at home with our fans, I felt very welcome. I got a lot of warmth from them around the stadium. It was home straight away for me", the 28-year-old describes.
Coming to work with Bond a month after his arrival at LA Galaxy was club - and MLS - legend Kevin Hartman. Hartman, 47, became Galaxy's first team goalkeeping coach in February 2021 and brought with him a wealth of MLS goalkeeping experience. Currently holding the record for the longest on-field streak of any player in the league's history at 37,260 minutes, Hartman's guidance over the Galaxy goalkeepers' union has aided Bond's own development and seamless adjustment to football in the States.
Interestingly, Bond himself equalled the MLS record of the most saves in a single game (12) after only a few months of working with Hartman - the very goalkeeper who set the record in August 2003.
"He's a club legend, and an MLS legend. He's played countless numbers of games, and won big trophies with the club. To have his support - someone like that backing you - helps massively. I've total respect for him as a coach.
"I enjoy working with him, first and foremost. We create an environment very much based around growth. He's clear that you can't let ego get in the way of improving, and we have healthy conversations as a result of that. The environment breeds improvement and progress. So, yeah, I've fully enjoyed working with him last year, and of course once again this season.
"On a personal level, I was happy with my debut season. But, that's tinged with the fact that we didn't do as well as what we wanted as a team, which is always difficult at a club like Galaxy, because you're expected to win things! I found a really consistent rhythm, and the manager has been great for me. He plays the way that suits me, and this gives me autonomy and a lot of responsibility.
"We play high line, so I'm always active and always connected to the team. As a result of that, I've felt like I've flourished", says Bond, proudly.
*
'Flourished' is definitely a verb that accurately describes the way Bond broke into the Watford first team during the 2011/12 and 2012/2013 season, filling in for Scott Loach and then the injury prone Manuel Almunia. His debut for the Hornets came on January 2nd 2012, with sporadic appearances following over the course of the rest of that 11/12 season and the next.
The following January, Bond started at the Etihad in Watford's FA Cup 3rd Round fixture against Manchester City. In a game in which the combined height of Bond and his City goalkeeping counterpart, Costel Pantilimon, surpassed 13 feet, the then-19-year-old was powerless as City ran out 3-0 winners. His best save of the match arguably came from a low Mario Balotelli shot before fellow teen Marcos Lopes slotted home City's third from the rebound. Nevertheless, it was an occasion to remember for Bond whose career was very much on an upward trajectory.
Between February and April, Watford's deputy number one made six consecutive starts as the Hornets powered their way to the Play-Offs. Promotion alluded Watford that time round, but Bond had put himself in the shop-window after consecutively solid performances - especially promising given the hard-knock nature of the Championship and the promotion pressure on Watford.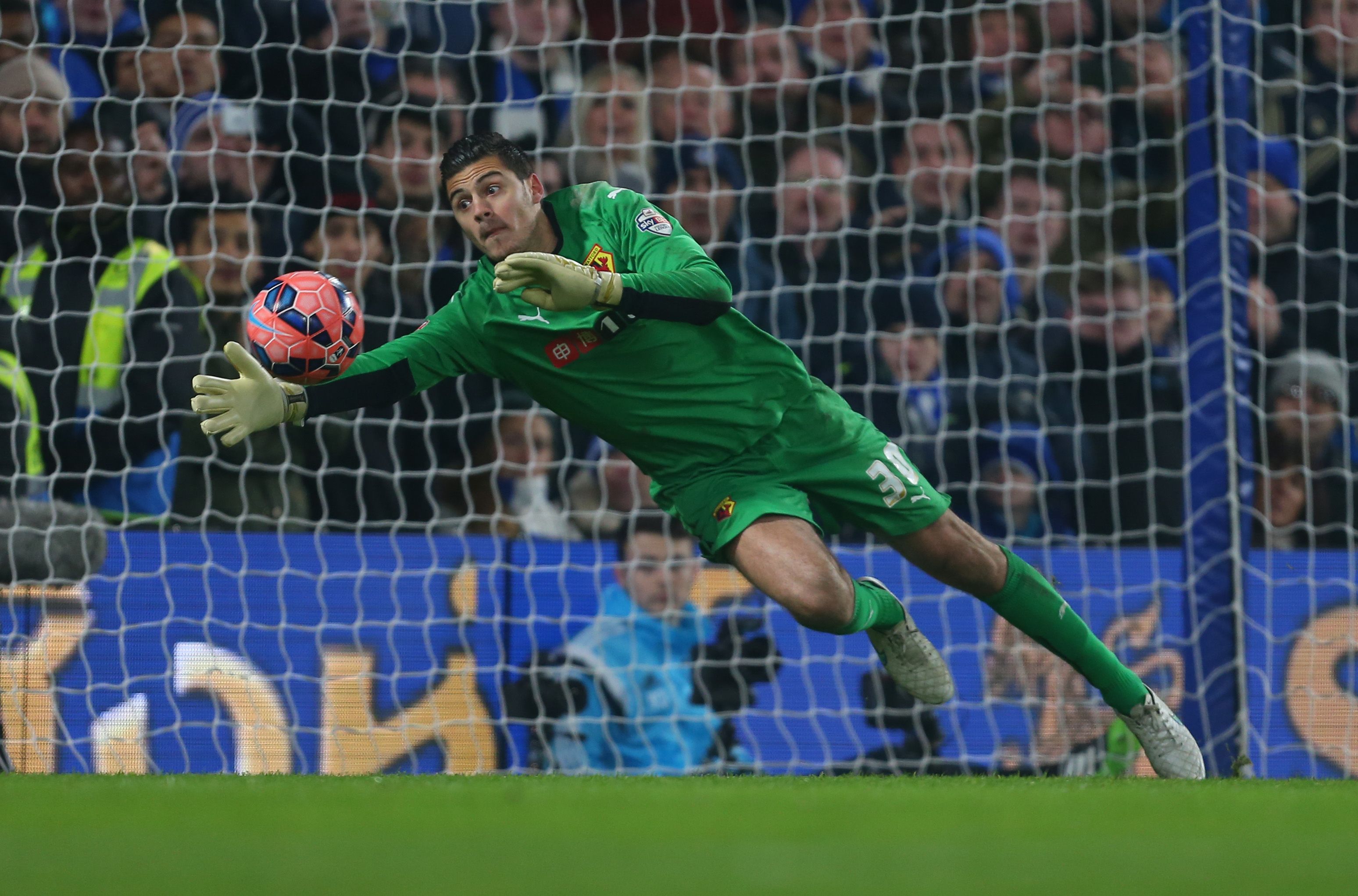 An apparent horror injury - in fact something of a myth which Bond is quick to dispel - against Leeds United on the final day of the Championship season marked the end of his debut season. Coming to gather a long ball over the top of the home side's defence chased by Leeds' Ikechi Anya and Watford's Dominic Poleon, Bond collided sharply with Poleon. Stretchered off the pitch in a neck brace and oxygen mask and subsequently taken to hospital, Bond's injury seemed serious.
"I was actually only out for a week!", he laughs.
"The injury thankfully wasn't actually a very significant moment in my career. That game was for Watford, as we actually missed out on automatic promotion, losing 2-1. That was the bigger problem that day!"
Bond's would solidify the senior experience on his CV over the next two seasons, making 13 more league appearances as Watford won promotion to the Premier League two years on from his injury against Leeds. Yet, faced with losing out on the number one spot in favour of Heurelho Gomes, who joined in the summer of 2014, the Englishman faced a crossroads in his career.
A plunge in the cold pool of goalkeeping reality was to come.
*
"I took a bit of a leap of faith to join Reading, but I didn't have a good time there. I had enjoyed continuous backing at Watford, was in the England set up, and everything was going great. There was interest from elsewhere.
"I just didn't feel I had the environment that I needed at that time at Reading. As a young goalkeeper, I very much needed to play whilst developing. There was no one to aid any kind of development there. It was just a 'go out and do it' attitude.
"At Watford, whenever I came in, I always did quite well. However, they never really wanted me to go out on loan. Whilst some other goalkeepers my age were getting 40 or so games in League One at the time, I was involved with England and I was at the top end of the Championship playing in big promotion games on TV. There's benefits to both situations, but the point is, they are very different situations.
"When the time came to make the move to Reading, I'd never actually played a full season before. At the start of my first season there, we were getting results but I had almost nothing to do. I remember finding that quite difficult, funnily enough. We kept some clean sheets and were doing well, but I began to get nervous - something that I don't tend to feel, and definitely don't show. At Reading, it wasn't like that.
The Royals had rocketed up the Championship table under Steve Clarke at the start of the 2015/16 season. Heavy activity in the transfer market had seen Reading's squad entirely revamped over the summer, losing stalwart number one Adam Federici to Bournemouth in pre-season and Alex McCarthy to QPR the previous summer.
Clarke had appointed Dave Beasant as goalkeeping coach in Berkshire, replacing another valued member of the Reading goalkeeping staff, Sal Bibbo. Bibbo had presided over the development of the likes of Marcus Hahnemann, Adam Federici, Ben Hamer, and Alex McCarthy whilst in charge of the First Team goalkeepers.
However, come late autumn, things had taken a turn for the worse in RG2. Clarke had spoken to Fulham over their managerial position, recently vacated by Kit Symons. He had severed a relationship with Royals fans, and despite the club remaining within a win of the Play-Offs after a 1-0 home defeat by QPR on December 3rd, Clarke was sacked.
"We came under a little bit more pressure and things weren't going our way. I still wasn't having a lot to do, but then one shot would come and it would go in. It wasn't anything I necessarily should have saved, but then questions begin to get asked, statistics begin to turn, and you don't need to hear that", explains the Englishman..
Bond's number two also happened to be none other than ex-Premier League stalwart Ali Al-Habsi.
"Whenever Ali made a save or had a good game, he really connected with the fans and definitely got them on his side. Every time I played, I was then under a bit more pressure. Generally speaking, the fans don't like both goalkeeper! I had all this going on inside the mind of a 21 year old who didn't have that many games behind him. I definitely had my physical problems during that season as well. I wasn't playing freely.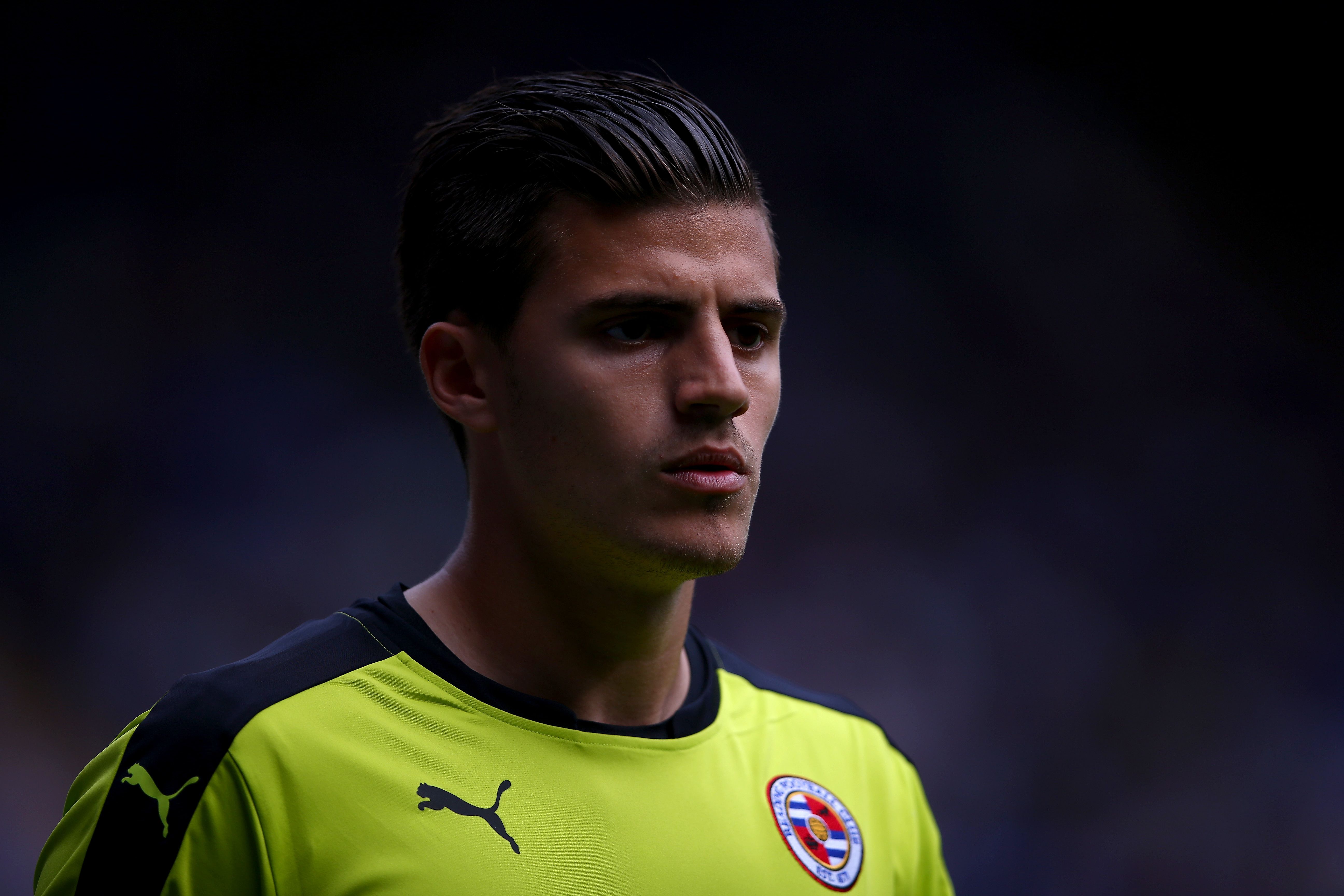 "I remember having a really good preseason, ready to come back to really have a go in the second season. My first day back, Jaap Stam [Reading's new manager for the 2016/17 season] basically told me I was free to leave. That was my time at Reading", Bond concludes.
The Englishman's summarising view of his time in Berkshire is profound.
"That can be the harsh reality of football. I'm not the first and I won't be the last player to say that I felt that way about a period in my career.
Between Bond's turbulent spell contracted to the Royals and his move to LA Galaxy was an eye-opening spell at West Bromwich Albion - for all the right reasons. Bond joined the Baggies upon their relegation from the Premier League in 2018. A new-look goalkeeping department was being created at the Hawthorns with Bond deputising to new number one, Sam Johnstone.
Becoming 'the number two' was a revealing experience, and allowed Bond to revel in a different goalkeeping dynamic.
"Being the number two is a different role, naturally. I was never confrontational and never tried to cause any problems in training. What I did do was make sure my level of training performance was very high. I was always putting pressure on Sam [Johnstone] but not in a negative way.
"Every now and again, you'll chat with the manager about 'how close am I?' or 'what else do I need to do?'. I never made Sam feel uncomfortable within his day to day training. I let him do his thing, and I did mine. You've got to really live in the present as the number two, so when your game comes around, you're ready. However, you've got to be fair to the number one two, and create a good training environment".
*
"When I look back now in terms of football in England, everything is very short term. It's a 'we need results immediately'", Bond explains as we come to the end of our conversation.
"As a result of that, the managers don't get as much time to implement their philosophy, and in turn young players don't get given as many opportunities. There's a lot more pressure on the young players when they do come in. When you come to the MLS, there's a lot more long term thinking because of the way the league is structured, for example".
In North America's major league, there's no relegation. Everything is geared towards achieving something positive, rather than avoiding something negative. The quality of football in the MLS - and the nature of 'soccer' generally - can be looked down upon unfairly outside the USA. But, for Jonathan Bond, it's clear to see that (to be very, very cliché), he's living the 'American dream' - in a football sense, at least.
"I'd definitely encourage a lot of young players from just Europe to come out here and play. I've seen MLS loans now become more and more popular. It's a good environment. For players in general, I would definitely encourage them to come out here. For goalkeepers, even more, for sure".
Whilst the Bond normally associated with Hollywood has recently taken a hiatus from the spotlight, LA Galaxy's number one is still very much playing the starring role. Having started in all of Galaxy's 11 games at the time of writing, it's clear to see that fortunes have turned brighter on the other side of the Atlantic for Jonathan Bond.
As we finish our conversation, he has one final piece of advice for shot-stoppers considering a move to the MLS.
"Out here, boy do they love a goalkeeper!".