Our 1-20 of Premier League goalkeepers from last season by Goalkeeper xG data…
It's what you've all been waiting for: the full Premier League goalkeeper rankings from the 2022/23 season by Dr John Harrison and Goalkeeper xG.
The goalkeepers are ranked by 'Overall Goalkeeper Value', or 'OGV'. This is defined as how many goals a goalkeeper has been worth to their team, against the mathematically 'average' Premier League goalkeeper.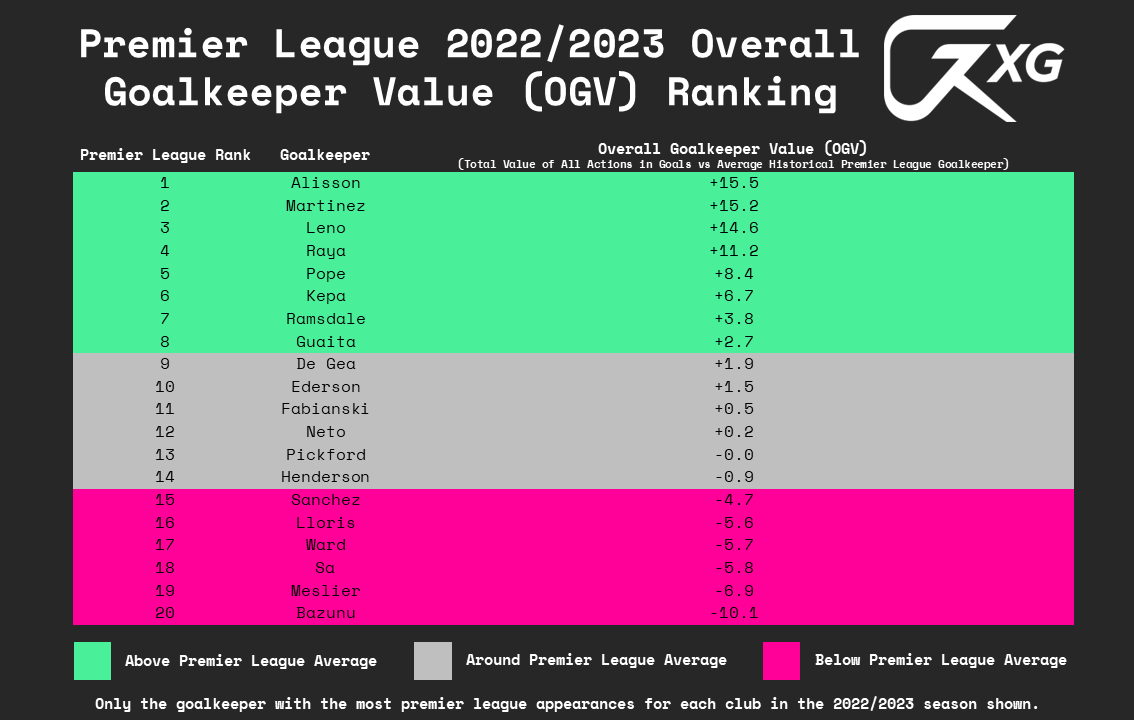 Key takeaways include:
Alisson Becker was the goalkeeper worth the most goals to his side over the course of the 2022/23 season.




Gavin Bazunu had the most significant negative contribution to his side over the course of the 2022/23 season.




David De Gea was a net positive for Manchester United and performed just above average.




Nick Pope was the highest ranking goalkeeper of the Champions League qualifying teams.




All three relegated goalkeepers performed significantly below average last season.




Emiliano Martinez and David Raya both placed five spots higher than their sides' league table finishes.




Robert Sanchez and Ederson were the lowest ranked goalkeepers compared to their sides' finishes (nine places)



If you want to work with Dr Harrison and Goalkeeper xG, email [email protected].