Egypt's number two went David-vs-Goliath in the 2021 AFCON final when Sadio Mane began his run up from the penalty spot…
Forget Mohammed Salah. Forget Sadio Mane. Forget Riyad Mahrez. The 2021 Africa Cup of Nations belonged to Mohammed Abou Gabal, Egypt's maverick goalkeeper better known as 'Gabaski'.
The tournament, scheduled to be played in 2021 but postponed until early 2022 due to the COVID-19 pandemic, was always going to be a strange one. It was initially meant to be hosted by Côte d'Ivoire, but instead took place in Cameroon. The nation on Africa's east coast was due to host AFCON 2019, but was stripped of the honour due to a lack of proper infrastructure in the run up to the tournament.
Given the tournament's delay, Côte d'Ivoire were awarded the 2023 tournament with Cameroon - by early 2022 in a place to host a major tournament - ultimately hosting AFCON as they should have done three years earlier. The question of who would host the tournament had been settled but it didn't stop Africa's footballing spectacle from throwing a few curveballs.
Nobody could have predicted that the star of the tournament would be Egypt's second choice goalkeeper, Gabaski, especially after spending the entire group stage warming the bench. With Egypt manager Carlos Queiroz preferring Al-Ahly goalkeeper Mohammed El Shenawy, Gabaski would have been forgiven for settling comfortably into the number two role.
Egypt had, by any metric, a rather boring group stage. It was expected that they and Nigeria would progress from Group E which also contained the relative minnows of Guinea-Bissau and Sudan; the only real question being who would finish first, and who would finish second.
Fans didn't have to wait long for an answer as the two faced off in their opening game of the tournament. It was a fairly drab affair in which the Nigeria team constantly positioned a player between whoever had the ball and Mohammed Salah, to ensure Egypt's main man had minimal impact in the match. Despite mimicking Jose Mourinho's famous 'park the bus' philosophy to great effect, the tactic worked. Through a Kelechi Iheanacho goal, Nigeria walked away with a 1-0 win.
Egypt looked thoroughly unimpressive against Nigeria, and perhaps it served as a wake up call for the Pharaohs, who had to raise their game in their next two group matches. They did just that, dispatching Guinea-Bissau and Sudan both 1-0. Although Egypt had progressed through to knockout rounds, they had failed to leave any lasting impression, with the nature of the defeat to Nigeria casting them as Mohammed Salah's one-man-team.
*
As runners up, they would face group E winners Côte D'Ivoire in the next round. More than likely a fixture Egypt would have preferred to avoid due to Côte D'Ivoire's well-balanced squad, facing continental heavyweights would go on to become a theme of Egypt's run at the tournament. In fact, of the perceived footballing big boys, the only ones the Pharaohs did not come up against were Algeria and Ghana, who were both dumped out in the group stage.
This would be the match in which Gabaski would make his impact, but he would have to wait just a little longer before he could make his mark. The regulation 90 minutes was a masterclass from both sides - to speak metaphorically, it was true 'caviar football'.
Yet, the only thing the game didn't have was a goal. Both sides' defences were staunch, and it was difficult to see a winner coming. In honesty, other than Ivorian midfielder Ibrahim Sangare who was the real creative spark, the match was filtering out as a stalemate from a goalscoring point of view. Sangares's role was to keep coming up with creative attacks for the Egyptian defence to thwart, and those in the Pharaoh's defence played up to the moniker of statues.
Then, with just minutes left of the match and extra-time looming, Egypt number one El Shenawy went down injured. It was clear his day, and his tournament, were over. The broadcast cameras swivelled round to the Egyptian bench where both Gabaski and his young counterpart Mohammed Sobhi both began to warm up semi-competitively.
Both seemingly trying to show Carlos Queiroz that they could get changed and ready faster, the substitution ended up taking far longer than perhaps it needed to. But, having waited patiently in the wings, it was Gabaski who was thrust into centre stage. Onto the pitch he went to see out the 90 minutes and guide Egypt's defence through extra time.
The nuance and tactical bravado of the previous 90 minutes seemed to fly out of the window in extra time, with both sides throwing everything they could at each other to avoid the lottery of the penalty shootout. But both defences, and goalkeepers, refused to be beaten.
Gabaski himself pulled off the save of the round when Sangare, likely tired of trying to pull strings for his team mates, unleashed a shot towards goal from 30 yards out that was destined for the top corner. Gabaski, though, had other ideas. He dived with all his might, parrying away for a corner. Like a talented actor in Africa's latest blockbuster, the Egyptian goalkeeper immediately turned into a military general, commanding his defence for the upcoming corner. That was the moment that it became clear that he was going to be the match winner.
Somewhat inevitably, no goal would be scored in open play. The game went to penalties. It seemed to be a case of when, not if, Gabaski would make himself the hero. A simple comparison of the body language of the two goalkeepers was telling. Côte d'Ivoire's Badra Ali Sangare looked almost as though he had lost faith mid-dive on multiple occasions, whereas Gabaski was steadfast and committed.
Eventually Gabaski's moment came, when Eric Bailly, who had been excellent all game, stepped up to the spot, put the ball down, and did his best Bruno Fernandes impression. Gabaski was having none of it. He dived low, but clawed the ball away with an almost magnetic force guiding his hand to the ball. All that remained to do was for the waiting Egyptian penalty takers to dispatch their spot kicks; they did just that, and Egypt went through.
*
The quarter finals. Morocco. Egypt's old enemy. The biggest rivalry in north Africa. This time round Gabaski got the nod to start, and he didn't disappoint. This was the game where he confirmed what he had shown glimpses of last time out; that he was going to be Egypt's galvanising force. It was clear from the way his teammates embraced him after each and every save that the passion he brought to the matches transcended him, and permeated the squad.
Aside from guessing the wrong way for an early penalty, Gabaski was flawless. He didn't have a great deal to do for much of the game, Egypt were the more dominant side, but when called upon he did his job spectacularly. The highlight of his performance was a contender for the save of the tournament, after he forced a point blank header onto the bar and away while leaping like a trout.
While he kept Morocco out for the most part, Gabaski was able to, on this occasion, allow someone else to be the match winner. As he does fairly regularly, Mohammed Salah put in the type of talismanic performance that reminds everyone in world football why he is currently considered one of the world's great players, scoring one and assisting another in the dying moments of the match, to send Egypt into the Semi-Finals.
Next up for Egypt came the tournament hosts, Cameroon. Perhaps due to the toll taken on them by the long and arduous road to get this far, neither side in this match covered themselves in glory in front of goal. Cameroon were perhaps the more guilty of spurning chances, with occasional lapses in control at the vital moments proving costly.
This didn't mean Gabaski had nothing to do, though. For 120 minutes he demonstrated excellent positioning, always being in the right place to make a save look simple. Even when Cameroon went close, it was clear more often than not that he had it covered.
Ultimately, both teams' goalmouth floundering, along with leading displays from each team's goalkeepers, meant another penalty shootout was on the cards. This time Gabaski would go one better than he did against Côte D'ivoire, saving two out of the four penalties he faced. The last was blasted wide, and the game was settled in Egypt's favour. They were heading to the final.
The final would be against Senegal. It was billed by most outlets as Salah vs Sadio Mane - the 'Liverpool clash in Africa'. On paper, Egypt shouldn't have had much of a chance. Senegal had one of the strongest starting elevens, man-for-man, that AFCON has ever seen. Egypt's squad, aside from Salah and a few other notable exceptions, were all relatively unknown, playing in their own national division.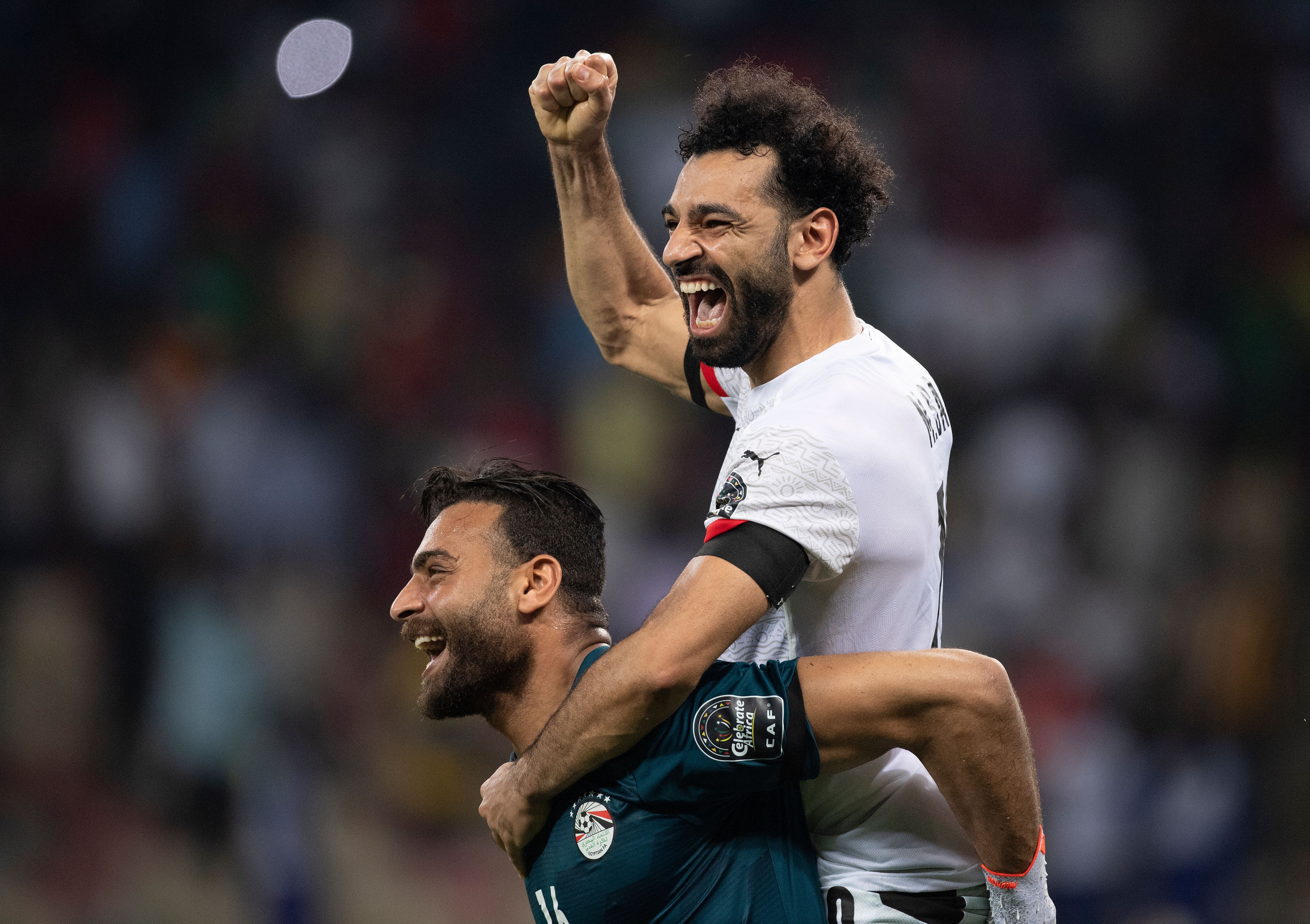 It is therefore perhaps fitting that Gabaski, who himself has never played club football outside of Egypt, would step up and produce his goalkeeping magnum opus. He simply refused to be beaten for another 120 minutes. He made saves he had no right to. One would be forgiven for forgetting which side had the Champions League winning goalkeeper on the basis of Gabaski's performance.
Edouard Mendy has risen to the top of his game with Chelsea as the Blues have regained their faltering stock on the football pitch under Thomas Tuchel, but Gabaski proved that David and Goliath perhaps aren't so different.
However, that isn't the full story. The full story is defined by two Sadio Mane penalties.
The first came in the first half, after Saliou Ciss was chopped down by Egypt's Mohammed Abdulmonem. There was a great deal of frivolous appealing and VAR checking to be done before it was taken, the standard for the modern game.
The decision was always going to stand.
During this interlude, Mo Salah took the initiative to tell his goalkeeper exactly where his Liverpool teammate Mane liked to put his penalties. Not that he needed telling of course - Gabaski had notes of all the penalty takers' preferences taped onto his water bottle, as is customary in knockout football. Mane clearly understood what this discourse was about, and could be seen pointing to Gabaski's left and saying "I'm gonna put it there".
He was lying. Gabaski went right and made the save. His captain's advice proved invaluable.
*
Fast forward about 100 minutes. The game has gone to penalties. Gabaski is a large part of the reason it didn't end in the regulation 90 minutes, or after extra time. But there he stands, in a familiar situation, on his goal line, with the ball 12 yards away, and Sadio Mane stood behind it.
Egypt have already missed one. This would be the kick to win it. It's always more difficult for a goalkeeper the second time you face the same penalty taker. Do you stick to what worked the first time? Or do you anticipate a change? Gabaski stuck with what worked. He dived to his right. He got his decision right. However, Mane had learned from his mistake. His shot was unsavable. And Senegal had won.
Whilst Gabaski's tournament ended bittersweetly, one of the defining images of the tournament pictured Gabaski in tears as he stepped up to receive his Man of the Match award. Still reeling from the defeat, Egypt's number two had encapsulated the beauty of tournaments such as AFCON. They put the world's best toe-to-toe with patriots who live and breathe football - their football, their identity - such as Gabaski.
Despite Egypt falling at the last hurdle, Gabaski's performances have reportedly earned him a move to Saudi Arabian side Al-Nassr, due to go through this summer. Gabaski had done all he could. And, in a funny way, he got his reward.