There have been several memorable goalkeeper outings in El Clásico. From fishy defeats to broken records, we chronicle some of the fixture's most notable goalkeeper moments…
#5 - A punchy debut for Pepe Reina
Replacing Richard Dutruel against Celta Vigo at half time in the 2000/2001 season, Pepe Reina became one of the youngest players to ever debut for the Barcelona. Holding the number one spot over the New Year, Reina, in March 2001, found himself walking out at the Santiago Bernabéu in perhaps one of the strangest El Clásico debuts of all time.
It wasn't the score nor Reina's own performance that made the fixture memorable, however. Real Madrid and Barcelona played out a 2-2 draw in front of some 74,000 spectators, a few thousand of whom had travelled from Catalonia. It was after Ronaldo's 70th minute equaliser, and completely unbeknownst to Reina, naturally pumping with adrenaline, that one Real Madrid fan managed to punch the Barcelona goalkeeper three times whilst he was collecting the ball for a goal kick.
Mistaking the enraged Madrileño for Real's legendary playmaker Raul trying to get the ball out of his hands, the Barcelona goalkeeper clung tighter, inadvertently giving the supporter adequate time to strike two more blows.
Reina made 16 more appearances for Barcelona in the 2001/2002 season. The return of Louis Van Gaal, coupled with a poor spell of form, saw him told he was free to leave upon the signing of Robert Enke.
#4 - Marc-Andre Ter Stegen sets save record at the Bernabeu
Replacing Victor Valdes was no easy task for Barcelona. Claudio Bravo initially took the jersey when the Spaniard left the Nou Camp in 2015, before Marc-Andre Ter Stegen stepped into the starting role when Bravo left for Manchester City.
Ter Stegen has come into his own as one of the world's best goalkeepers in the past half decade, although perhaps flies under the radar. His sweeping ability and reflexes have defined him as one of the eminent modern goalkeepers, and his mark upon both La Liga and Barcelona has been notable, to say the least.
It only took two El Clásico fixtures for the German to break a Barcelona record. His twelve saves against Real Madrid in the second derby match of the 2016/17 season - his first campaign as the Catalonian side's undisputed number one - was record-breaking at the time.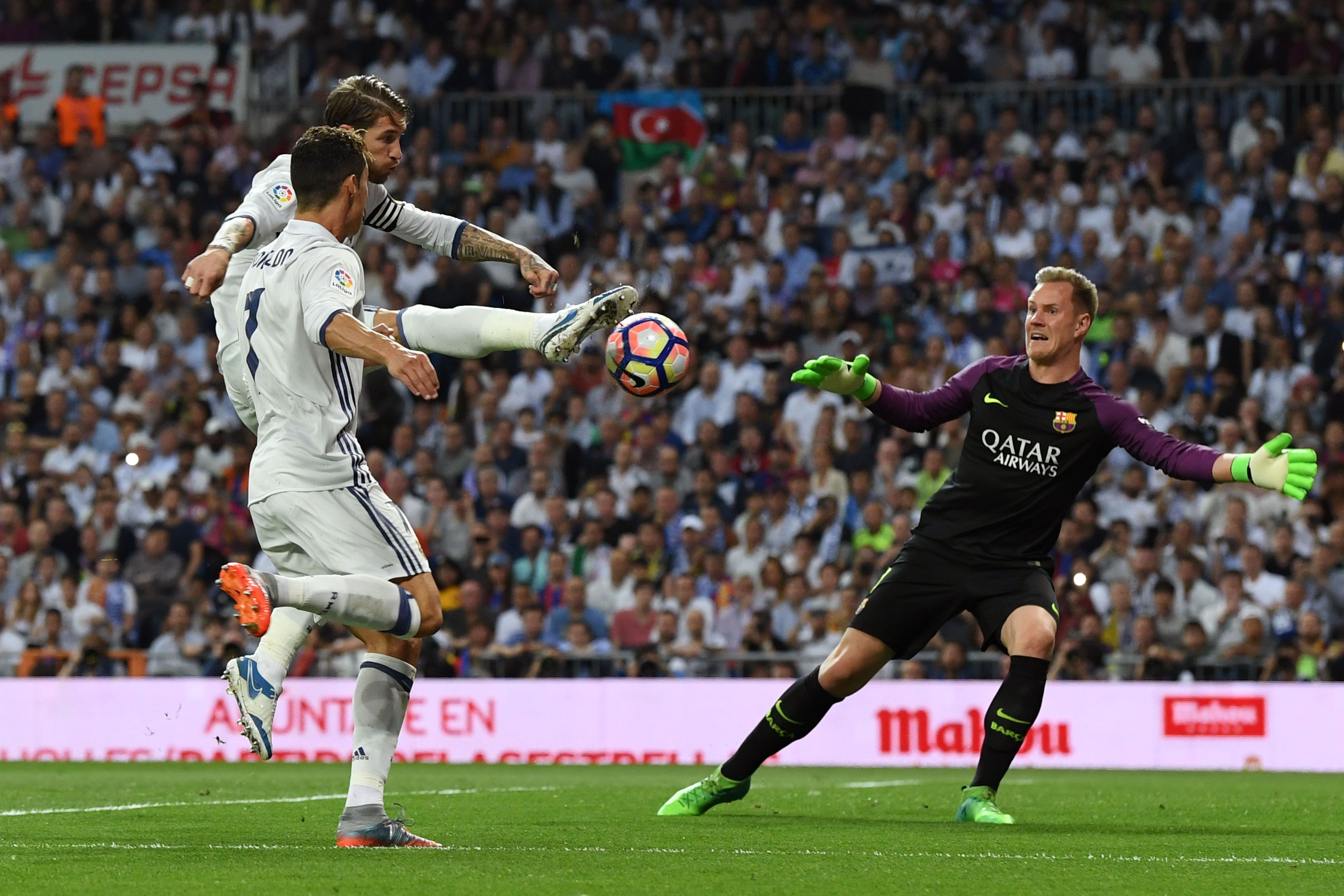 The dozen saves he made were, at the time, the greatest number in a league or a Champions League game by a Barça goalkeeper since the 2003/04 season. One particular stop from Karim Benzema - a smart reaction save from close range - as well as longer distanced efforts from Luka Modric and Toni Kroos were only a selection of the twelve stops that the German pulled off in Barça's 3-2 away win.
Keylor Navas was also in fine form for the home side that afternoon, saving well from a Gerard Pique flick header in the second half, as well as denying Luis Suarez at the far post from close range, sprawling to parry the Uruguayan's volleyed effort amongst others.
#3 - A loud goalkeeper voice leads to an 11-1 defeat
1943 saw the strangest El Clásico match in history.
Following Barcelona's 3-0 win at Les Corts in the first leg of the newly named Copa Del Generalísimo (after self-proclaimed 'Generalísimo' Francisco Franco, a title connoting the highest military rank possible to hold) Semi-Final, Barcelona arrived in the capital on June 13th. The first leg had been played in an intensely hostile atmosphere, with Real players booed and hissed at every time they received the ball.
From a historical perspective, it's important to look into the significance of the '43 Semi-Final.
For Madrid – in football and government – a defeat to Barcelona would simply be too much of a humiliation, physically and symbolically. As historian Joan Barau explains, 'the game was to be much more than a sporting duel. It was all about teaching Barcelona a lesson and humiliating a club like no other that represented a way of thinking differently'. In fact, Barcelona had won the competition a year earlier making the prospect of defeat even more embarrassing.
At the time of the 1943 Semi-Final, Spain was still ravished following the Civil War and undeniably split along political lines. But what has this got to do with goalkeepers?
Before the second leg of the game, one of Real Madrid's own ex-goalkeepers, Eduardo Teus, had written a rather inflammatory piece for newspaper Marca. It had pilled pressure on Real Madrid to react, riled their fans to do likewise, and unsurprisingly angered most, if not all, Barcelona fans. El Clásico goalkeeping had already played an unsuspecting part in the trouble.
The scoreline at the end of the second leg read Real Madrid 11-1 Barcelona. Reports of threats made by Franco's security forces to Barcelona officials and players were never substantiated, but it was clear that Barcelona simply didn't see the point in trying. For what reason we don't know for sure, but it's important to remember that at such a time, there were things far more valuable than a football trophy.
One of the most memorable points of the tie was Barcelona goalkeeper Lluis Miró intentionally handing Real Madrid's attack the ball, allowing them to score. They decided not to take the chance for reasons unknown. But by that point in the game, Barcelona and Catalonia had been humiliated sufficiently to Franco's liking. Any venture towards his goal line saw Miró struck by coins and bottles, one of which allegedly nearly killed him. To this day, the 1943 Copa Del Generalísimo Semi-Final between Real Madrid and Barcelona remains the murkiest sporting reminder of dark, dark times for Spain.
#2 - Valdes epitomises Guardiola's commitment to playing out
Victor Valdes' reputation is one that has been amplified by his role in one of the greatest footballing sides the world has ever seen: that of Pep Guardiola at the Nou Camp in the first half (and a bit) of the 21st century.
Valdes was undoubtedly crucial to Guardiola's tika-taka playing style, even if his efforts often went unrecognised. Of course, it's harsh to pick on one error that the Spaniard made in his plethora of El Clásico outings. But, his wayward pass, unintentionally finding then-Real Madrid winger Angel Di Maria is an interesting case study in Guardiola-ball.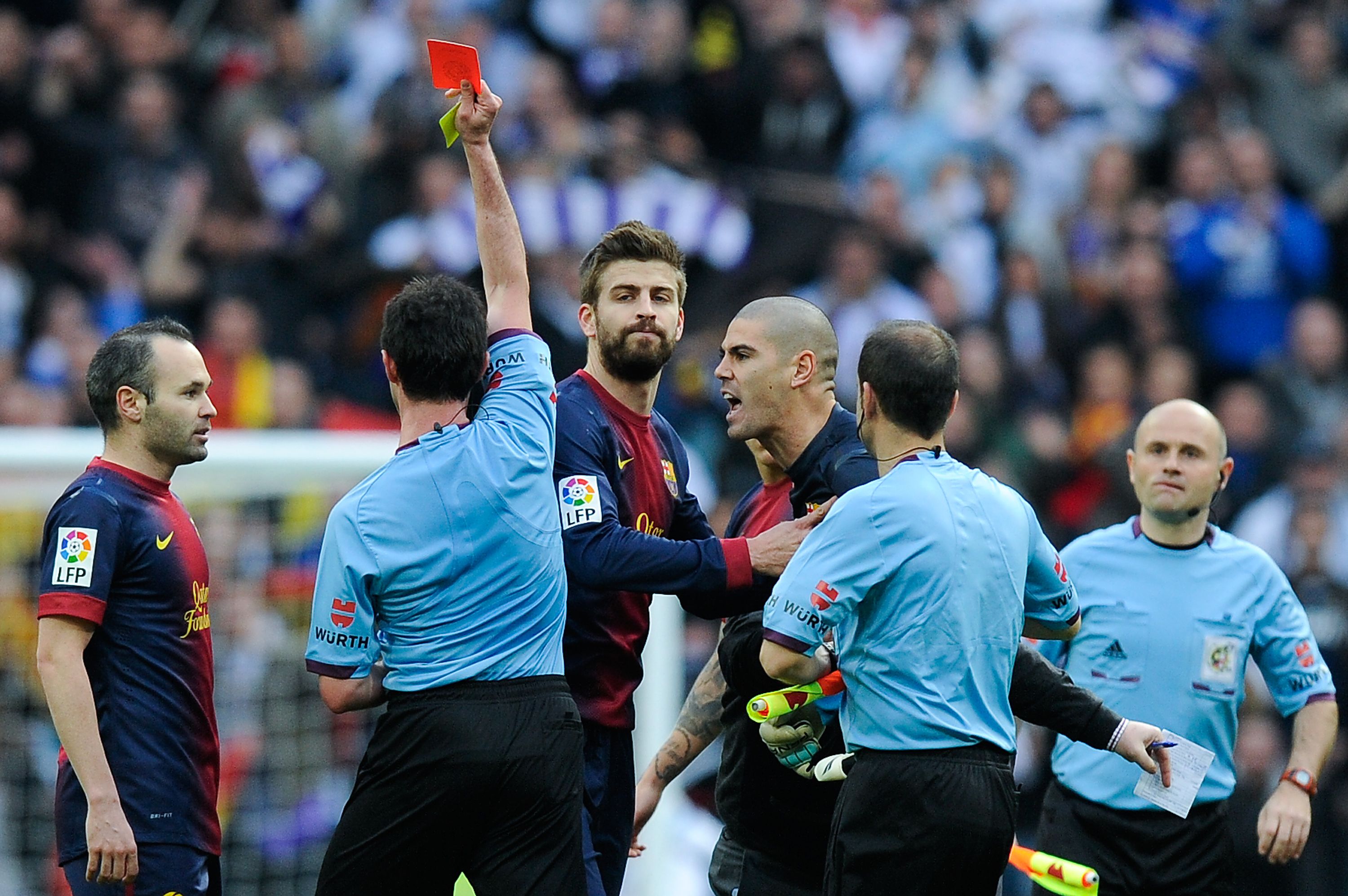 Valdes' loyalty to his club, his manager, and their philosophy could not be questioned. Guardiola's loyalty to his goalkeeper was reciprocal. His reaction to Valdes' error at the Bernabeu in the December of 2011 epitomised the celebrated Spanish boss' commitment to his playing style. The Guardian ran an article in the wake of the game, describing how, upon receiving the next back pass after the error, Valdes 'controlled it and picked out his pass, of course…'.
They continued, quoting Guardiola: 'The perfect image of this game was that after the goal Víctor Valdés continued playing the ball. Real Madrid steam-roller you. Most goalkeepers would boot it. But Víctor kept playing the ball. I prefer us to lose the ball like that but give continuity to our play."
For midfielder Xavi, Valdes "had shown commitment to our approach. The key was not forgetting our philosophy. We don't know how to play any other way – and Victor was brave."
The error proved inconsequential as Barcelona ran out 3-1 winners, although Real Madrid would take that season's La Liga trophy. It wasn't the only eventful moment for Valdes in an El Clásico fixture, however. As pictured above, he was sent off after the final whistle and handed a four match ban for verbally abusing the referee in March 2013.
#1 - The most remembered save in Spanish football
'Spain's most important footballer during the thirties, and one of the greatest in history. Ricardo Zamora Martínez had all the virtues imaginable in a goalkeeper', is the way that Real Madrid open their tribute to 'The Divine One' (El Divino) on their website. Holy he may have appeared, Zamora is remembered for quite literally defying gravity with his infamous reflexes on numerous occasions. Notes to be also a little mad, one of Zamora's greatest traits was his larger-than-life personality, unwavering mentality, and 'nerves of steel' on and off the pitch.
Zamora is enshrined in Spanish footballing history. Allegedly persuaded by Barcelona's founding father, Joan Gamper, to pursue the hobby that left his mother furious (with ripped t-shirts and cut knees commonplace in the household), Zamora began to ply his trade with their neighbours RCD Espanyol aged 16 (1916). A debut at that age against a star-studded Real Madrid side led by Santiago Bernabéu himself propelled Zamora – still very much a child – onto the national stage. By 1919, Zamora had joined Gamper's historic set up at Barcelona, and began to flourish as the maverick goalkeeper he became famous for being.
Zamora's goalkeeping career and the volatile political climate of the early 20th century intertwined more than the goalkeeper may have liked.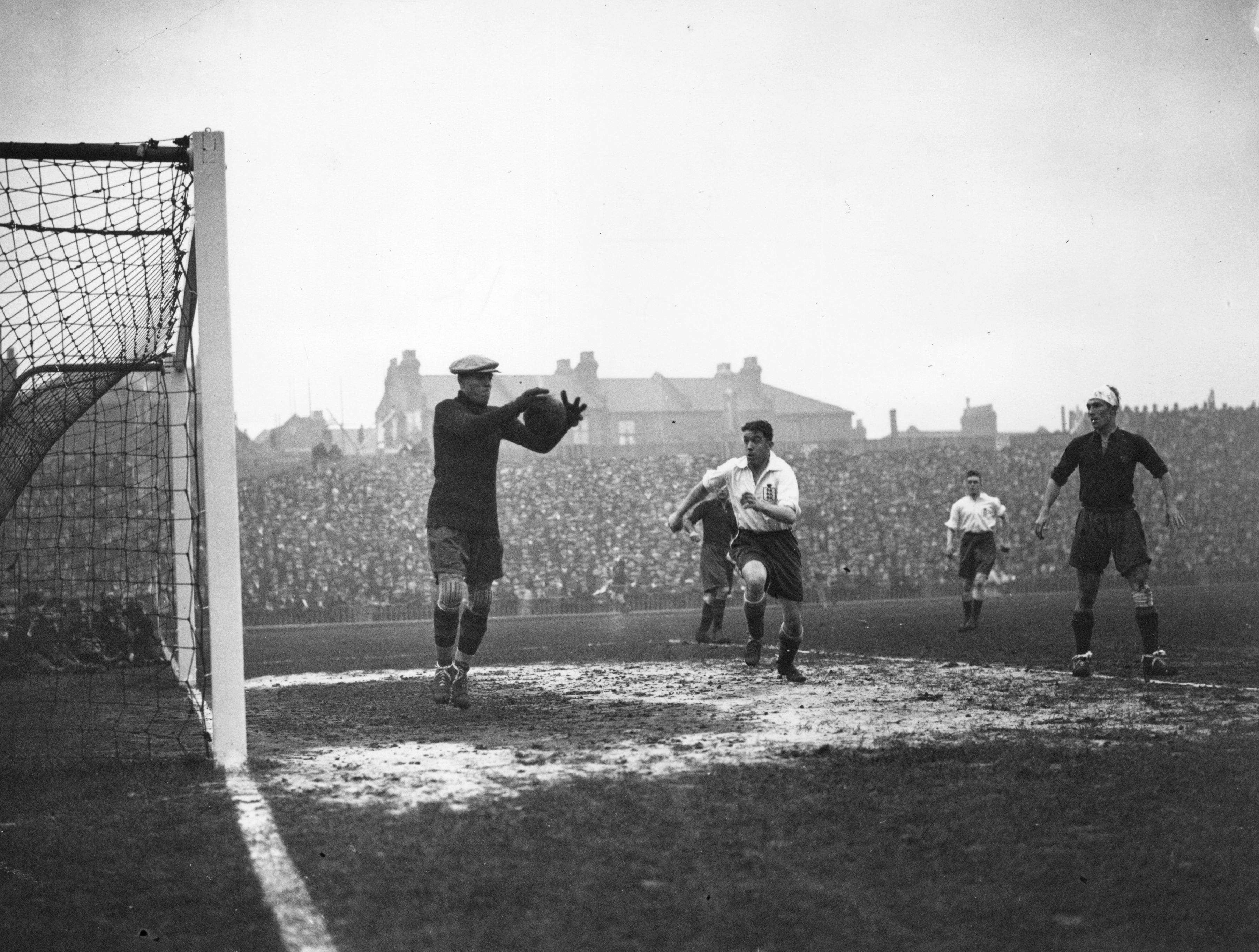 Starting for the first time for Barcelona, wearing his trademark cloth cap and turtle neck sweater at the Carrer Industria stadium against an Allied powers international XI, Zamora first became a part of something bigger than football. It wasn't the first time that the goalkeeper would be associated with war – just over ten years later, Zamora would find himself a Republican political prisoner. His career crossed the Barcelona/Madrid barrier in terms of both football and politics; in 1936, now playing for Real, Zamora put in perhaps the most iconic performance of his career in the last El Clásico before Spain descended into bloodshed and authoritarianism. Some claim the save that Zamora made from Josep Escola on the dusty surface of Valencia's Mestalla Stadium 'is the most remembered save in Spanish football'.
Between his spell at Barcelona and his heroic El Clásico save in '36, Zamora was reputed for more than just his goalkeeping antics. Known to be 'adventurous', so to speak, off the field, stories of Zamora frequenting Barcelona's nightclubs with teammate Josep Samitier were well documented. Madness and Zamora went hand in hand; the Spaniard played an entire match with a broken sternum against England in 1929, punched an opponent at the 1920 Olympics, seeing him sent off and, post-game, arrested for smuggling Havana cigars across the Belgian border. The same cigars and bottles of Cognac were equally enjoyable pastimes for Zamora; he allegedly smoked three packets of the former every day.
Ricardo Zamora experienced the Madrid/Barcelona divide both on and off the football pitch. A regular starter for the Catalan XI throughout the 20s, Zamora was awarded the Order of the Republic medal by the then-President of the Second Spanish Republic (1931-1939), Niceto Alcalá-Zamora. However, he signed for Real Madrid in 1930, and his exploits in the capital saw him frequently accused of rejecting Catalan nationalism.
Upon the commencement of the Spanish Civil War, he was arrested and imprisoned by the Republican government.