David De Gea leaves Manchester United with a curious legacy, but all things considered, we have to stand and applaud, writes Sam Hudspith.
At times, it seemed as if David De Gea would remain at Old Trafford forever.
Despite the full force of the transfer rumour mill, a fax machine-enforced failed move to Real Madrid, and the number of times United have been linked with European goalkeepers, De Gea's seemingly infallible position as United's number one was never actually toppled.
That was until the 8th July, 2023. The day that David De Gea finally left Manchester United.
When De Gea and the club simultaneously announced that his time at Old Trafford had come to an end, some fans felt relieved. A selection felt outright joy. Others understood that the Spaniard had given over a decade of great service to a club who had, for years, never fully recovered from Sir Alex Ferguson's departure as manager in 2013.
Incidentally, De Gea was the final Ferguson-era player to leave United. In the end, Manchester United's stalwart number one for 12 years only actually spent about 16% of his time at the club under the management of Sir Alex. The renowned ex-United boss even skipped a League Cup tie at Scunthorpe in 2010 to go on a scouting trip to watch De Gea. It was one of only three matches he ever missed in the dugout - the other two were for the birth of his son, Mark, and his sister-in-law's funeral.
Even before arriving at Old Trafford, De Gea, by virtue of his performances at Atletico Madrid, had managed to make a dent in the monolith that Ferguson had presided over for some 26 years.
Ferguson was a steadfast and headstrong manager. He boycotted any BBC interviews for seven years following the broadcaster's portrayal of his son, Jason, in poor light. It took quite something to split the boss from his predominant focus: winning games with Manchester United. But De Gea had diverted the attention of one of the greatest managers of all time from the Mancunian footballing empire he sat at the head of until 2013.
De Gea's first season at the Theatre of Dreams was turbulent, but it took only two years to achieve his first and only Premier League title. Yet, he will leave those goalposts with no further Premier League successes to his name. Cup victories that followed in subsequent seasons were often papering over major cracks in a club that had fallen from its once virtually unchallenged mantle. They were glimmers of positivity in longer periods of mediocrity.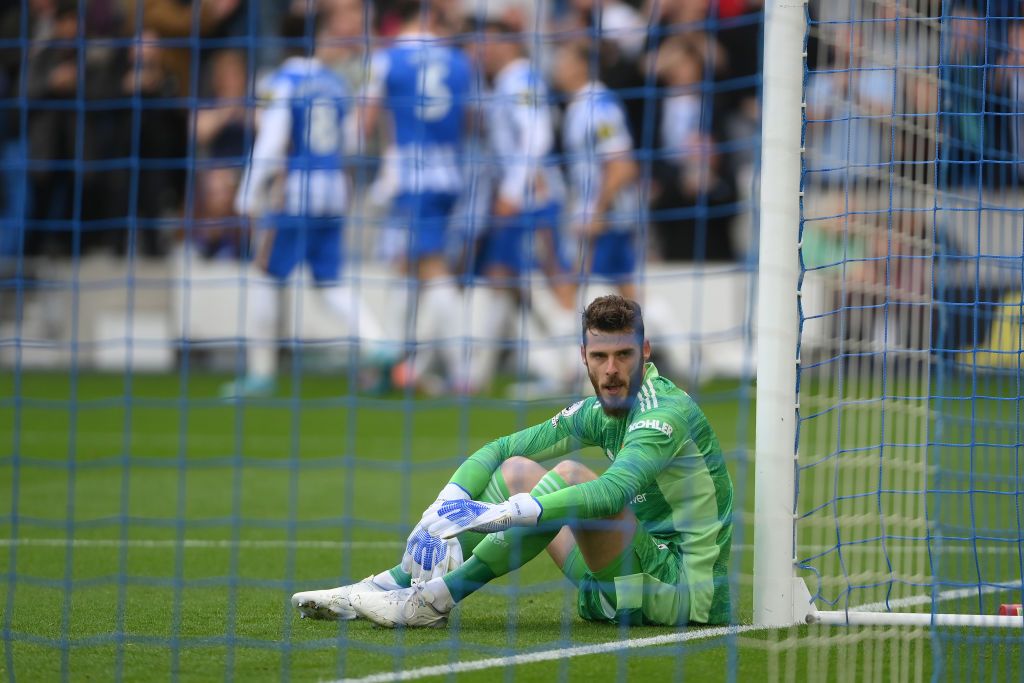 This season's EFL Cup victory may be the first trophy of a new era in the club's history, but it would be the last piece of team silverware De Gea up picked up in a Manchester United jersey. The 2-0 victory against Newcastle at Wembley marked 190 clean sheets in a United shirt, beating Peter Schmeichel's longstanding record.
Only three months later, his performance in the Red Devils' FA Cup Final defeat against Manchester City was reported to have hardened Erik Ten Hag's fluctuating opinion on the future of his now-ex number one. It was one of a few late-season straws which had broken the camel's back.
However, let's not forget that the Spaniard deservedly won several personal accolades. He was named United's player of the year on a joint-record four occasions, won two Premier League Golden Glove awards, and made it into five PFA Team of the Seasons. In 2018, he was named in the FIFPro World 11, alongside Cristiano Ronaldo, Lionel Messi, and Kylian Mbappe. Of course, De Gea was no stranger to being referenced in the same bracket as stars old and new, but they had one thing he didn't: consistent success at club level.
Messi and Ronaldo were undoubtedly heroes at Barcelona and Real Madrid, as were the back four of Dani Alves, Raphael Varane, Sergio Ramos, and Marcelo in front of De Gea in the FIFPro XI. But their heroism was set upon a backdrop of continuous stardom and success. They were crucial cogs in well oiled machines, not firefighters at a footballing factory whose expensive products were rolling off the conveyor belt and into oblivion all too often.
De Gea, so often, was the man at the top of the ladder, heading first into the fumes.
The fact is that De Gea departs Old Trafford with a complicated legacy. It would be unfair to say his time with the Red Devils has been marked by team failure, but in the majority, it definitely hasn't been marked by overarching success. The Spaniard's reign between the Old Trafford goalposts has, for the most part, been one of dampening the flames on behalf of an underperforming team.
The number of press conferences and post-match interviews in which he faced the cameras as the playing squad's spokesperson only increased in times of turbulence. Sometimes, it was his own errors that he held his hands up for. Other times, it was to answer for the shortcomings of the team. In neither case did De Gea ever disassociate himself from the blame. He never threw anybody under the bus, but was often the scapegoat.
'De Gea is tall, has good feet, comes with authority and is agile... has everything to be one of the greatest goalkeepers in the next ten years', said Edwin van der Sar in 2010 when the Spaniard was at Atletico. In the same interview, van der Sar had commented on how he saw a resemblance between himself and a young De Gea. The irony is that despite being of a different goalkeeping era, van der Sar had the key trait that deserted De Gea and ultimately led to his downfall at United: ball playing ability.
De Gea was theoretically signed for the future. For a post-Ferguson era. But in some ways, De Gea was almost a tactical regression on van der Sar, and wasn't a signing suited for the changing nature of the English game.

Perhaps it was because he had been raised in the tika-taka heaven of Spain that some assumed he'd automatically be a 'new type' of goalkeeper. He certainly wasn't of the 'traditional' English shot-stopping mould when he joined United, and this shone through in his debut season at the club. Then-goalkeeper coach Eric Steele admitted at the time that "you bring a boy into the Premier League at 20, it's not easy. He's learning in the toughest environment in the world".
The origin of the 'sweeper 'keeper' is usually incorrectly placed at the feet of Manuel Neuer (early examples of the sweeper date back to the 1960s and 1970s, and not all abroad), but van der Sar was one of the pioneers in the Premier League. Manuel Neuer recognised himself that he 'wasn't the main protagonist' when it came to pushing the proactive style of play to the mainstream. One of van der Sar's key virtues was his ability to play behind a high line, and willingness to come and dominate his box when crosses came in - exactly the attributes that De Gea didn't quite possess, and ultimately ended his time at Manchester United.
De Gea's physical profile was similar to van der Sar's, but the Spaniard was nearly fourteen years his junior when he joined the Red Devils. Van der Sar had already been exposed to the rough and tumble of English football with Fulham, standing at 6' 6, and fairly slender. Peter Schmeichel had a different, stockier body type, though was about three inches shorter than van der Sar.
Ferguson hadn't always got it right with goalkeepers, and in a way, he hadn't truly invested in a goalkeeper for the future when signing De Gea. The Spaniard was perhaps one of the last quality products on a line being phased out. United had captured a goalkeeper who fitted the 2000s; who had fitted everything Ferguson had known about football's modern era to date. In 2011, Erik Ten Hag had not yet experienced life in the managerial hot seat. What he would demand over a decade later was, of course, impossible to know. Nonetheless, De Gea's acquisition by United marked something of a the beginning of the end of a certain type of goalkeeper in the Premier League. His permanence at United was a push against the tide as the 2010s went on.
After van der Sar opted to join Juventus in 1999, United went through a plethora of different number ones until the club finally got their man in van der Sar in 2005. De Gea's reign between the sticks at Old Trafford was only two years shorter than Schmeichel and van der Sar's combined, and he brought a great deal of solidity to a club in transition in this regard. But despite his longevity, the Spaniard's name was more often than not spinning around the rumour mill in virtually every transfer window since he joined United.
And there's a reason for that. David De Gea's quality as a shot-stopper is of a supreme standard. He is one of the strongest there have been in the Premier League since 2011. His standout performances over the years have been based upon sheer impenetrability. Those that come to mind include a stellar display against at home to Everton in 2014/15, away at Southampton in 2015/16, a brilliant 14-save display against Arsenal at the Emirates in 2017/18, and a world-beating outing away at Tottenham Hotspur under the Wembley arch in 2018/19 when he kept eleven shots out.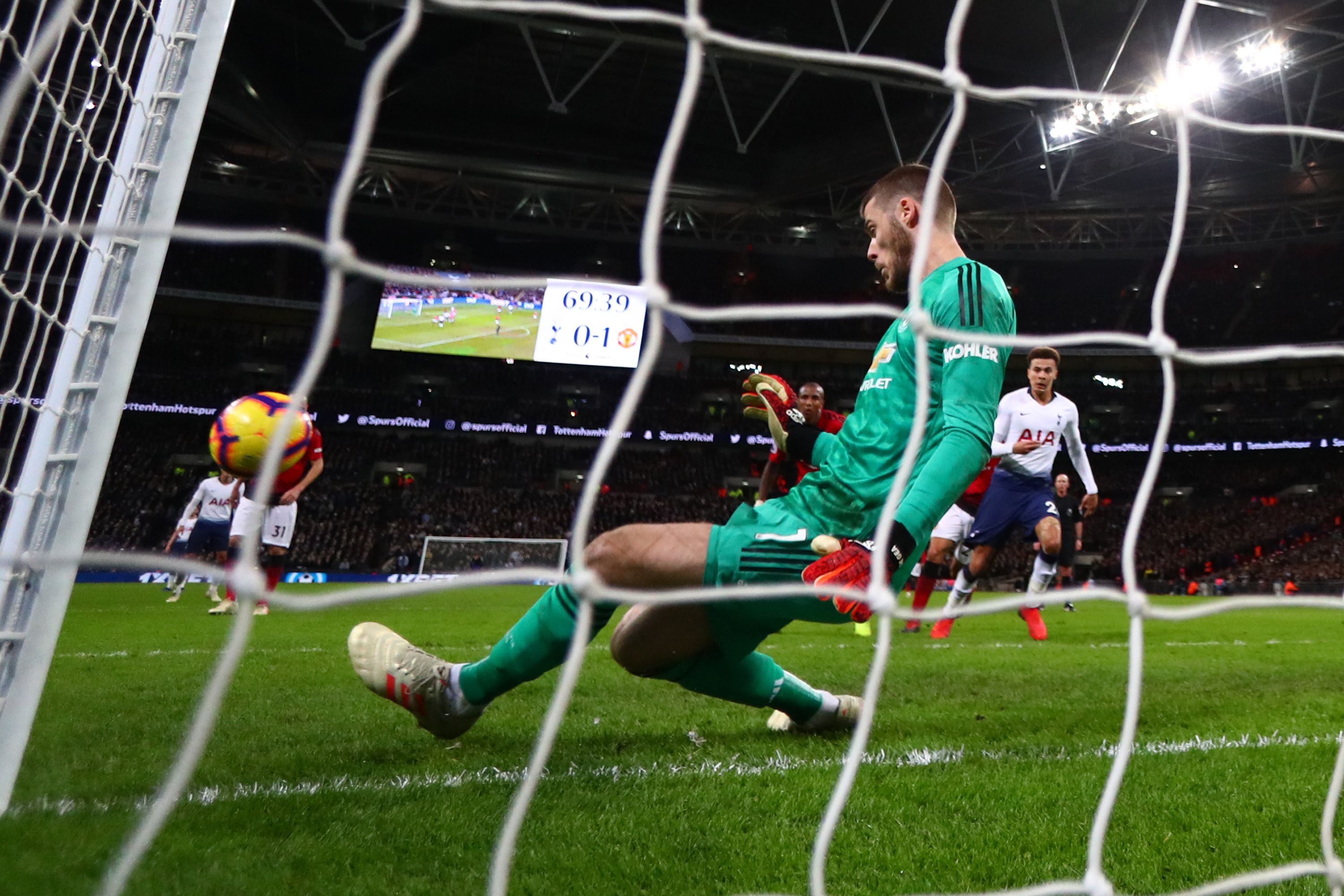 After Arsenal, Jose Mourinho referred to him as the 'world's best'. The phrase was also Ole Gunnar Solskjær's go-to defence after errors began to creep into De Gea's game more frequently in the 2019/20 season. When fans began to clamour for Dean Henderson's inclusion in the side, Solskjær said 'Dean has had a fantastic couple of years at Sheffield United and I think eventually he will end up as England No 1 and Man United No 1. But he's got the best goalkeeper in the world in David de Gea [ahead of him] and for me David is still developing, still getting better'.
De Gea finished the 2022/23 season with a positive overall value in goals, despite opinion shifting amongst fans and staff at United that the Spaniard's time at the club was nearing its end. Erik Ten Hag reportedly wanted to keep De Gea at the club, but even his rhetoric changed within a matter of weeks following a weak end to the season between the sticks.
Asked in May if De Gea will be at United next season, Ten Hag, speaking to The Times, said 'yes, but I will not say he'll always be my No.1 because in a club like Man United there must be competition in all positions. You can't do it with 11 players. It is impossible. You need double positions'. This wasn't quite the position Ten Hag seemed to be set on even just a month earlier.
Manchester United claimed a contract was not formally offered, though other outlets reported that Ten Hag refused to sign off a proposed extension. Financial reasons were cited for the failure to agree terms amidst the Red Devils' precarious financial situation, but it is understood both parties had been exploring options for a while.
Ten Hag has been decisive, and has finally brought an end to one of the longest 'will he, won't he?' transfer sagas in Premier League history. In reality, United have been linked with a goalkeeper (or goalkeepers), every transfer window for nearly a decade. In earlier years, this was forced by De Gea's near-move to Real Madrid in the summer window of 2015. Now that's a deadline day story. Since, rumours have centred around United's longing to build a new goalkeeping future. It seems as if Dean Henderson won't be at the centre of that after all, with Andre Onana likely to replace De Gea as United's number one.
But, through it all, De Gea's character can't really be questioned. In public, and on the pitch, he was the utmost professional. The last defender, but also often the last defender of his team and his club when facing the press. Bruno Fernandes' emotional message on Instagram epitomised the respect he had from his teammates. The goalkeeping community flooded his timeline with support. Through all the derision and criticism - and more often than not, outright abuse - David De Gea always carried himself well.
Aside from finally giving Roy Keane what he wanted for so long, De Gea's departure marks the end of a goalkeeping era in the Premier League as much as one at United. The severing of ties between the club and their stalwart number one represents something of a final nail in the coffin for the popularity of the outright 'shot-stopper' at Europe's biggest clubs. Thibaut Courtois took some time to do so, but managed to adapt to ball playing demands at Real Madrid. He did what De Gea couldn't, and after a difficult start in the Spanish capital, his reputation skyrocketed. How that could have been De Gea instead.
De Gea leaves Manchester United with a club record 190 clean sheets to his name, and 545 appearances. The Spaniard's final walk down the Old Trafford tunnel was unremarkable; most expected it not to be his last. Schmeichel and van der Sar's final Manchester United appearances came in Champions League finals. De Gea's came in a home fixture against Fulham. A penalty save from Aleksandr Mitrovic marked the occasion. Funny, that. Penalties were never really De Gea's thing.
David De Gea may leave with a complicated legacy, but from a goalkeeping perspective, there's only one thing to say.
Bravo, David. It's been some ride.