Dr. John Harrison digs into the data to find out just how David De Gea performed on Sunday vs Liverpool…
When the numbers on the scoreboard amount to unpleasant reading, eyes are quick to turn to the losing goalkeeper.
David De Gea was in that unfortunate position after Manchester United's 7-0 defeat to Liverpool at Anfield on March 5th.
The last few months have seen Manchester United pick up a trophy and storm into a commanding position in the Premier League top four race. This meant that the pressure was all on a stuttering Liverpool side heading into the northwest derby game on Sunday.
Liverpool's record breaking victory blew everyone away, leaving fingers pointing and a search for blame. Amongst fans and pundits alike, onlookers demanded answers. Just what happened in that mad second half period that saw United concede six goals?
Roy Keane was quoted after the game as saying "I wonder if De Gea will get a presentation tonight after letting in seven goals in? If you are an international goalkeeper and you let in seven goals, that last goal was school boy stuff." But was this justified? Did De Gea actually play poorly or were Liverpool's finishes simply unstoppable?
The answer, as always, is not black and white, but more nuanced. Our shot stopping model at Goalkeeper xG finds that, given the quality of the shots faced, an average Premier League goalkeeper would be expected to have made 4.5 saves in the game vs Liverpool.
At a basic level, given De Gea only made two saves, he did underperform. However, an important takeaway here is that even an average Premier League shot stopping performance would have still resulted in Manchester United conceding at least four goals, and maybe five! While De Gea will undoubtedly be disappointed over a few of the goals he conceded, he simply cannot be blamed for the heavy manner of the defeat.
The two saves De Gea made were both very straightforward, with an average Premier League goalkeeper being expected to save them over 99% of the time.
The area of his performance which De Gea will be most disappointed with will be the 1v1s he faced. Due to the tight angle they were conceded from, and the nature of the finishes, a Premier League goalkeeper would be expected to make 1.41 saves from those two shots. De Gea didn't manage to make one.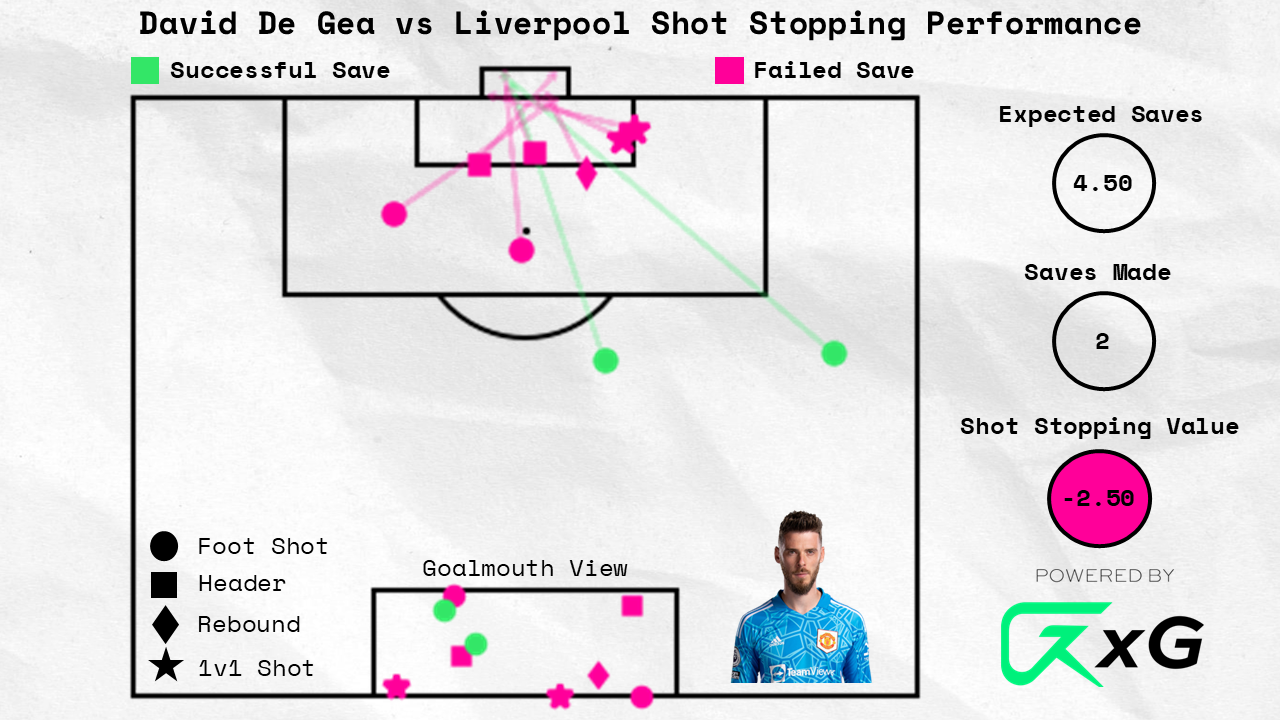 The Spaniard did well to get out to Cody Gakpo and Roberto Firmino on both occasions and execute the block, which is the statistically optimum technique for wide-angled, close range 1v1s, but his timing and shape let him down. Ideally, he would have kept his body more square to the ball and dropped into shape quicker, likely meaning he could have got an arm to the Gakpo finish, and prevented the Firmino shot to creep between his legs.
De Gea should not be disappointed with his role in the two headed goals, nor Mohamed Salah and Gakpo's first goals. These were all excellent finishes and our model at Goalkeeper xG finds that none of these goals had an expected save probability above 25%. In fact, the two headed goals would only be expected to be saved less than 10% of the time. It must be reiterated that sometimes a goal is just a great finish and there is not much a goalkeeper can do. Yes, a goalkeeper should always strive to give the striker the hardest possible finish and save as many shots as possible, but sometimes you have to hold your hands up and accept that goals will happen.
It should be noted that Goalkeeper xG's model does not solely look at shot stopping. It analyses every single action the goalkeeper makes or could make, and assesses the probability of a goal occurring before and after the action. Using this all-encompassing model, we can investigate whether the quality of the chances Manchester United conceded were in any way linked to poor shot prevention from De Gea.
De Gea scored -2.92 goals overall due to a slightly subpar cross claiming and sweeping performance, but clearly the major contribution to his negative score was his shot stopping. The quality of the chances that Manchester United gave up were more down to the outfield defensive unit than De Gea himself.
De Gea did not produce a vintage performance on Sunday, but it would be lazy to try and solely blame him for the size of the defeat. Yes, Manchester United conceded seven goals from nine goal bound efforts, but the quality of Liverpool's finishing meant that even if De Gea had excelled in terms of shot stopping, Manchester United would have still likely lost by two or three goals.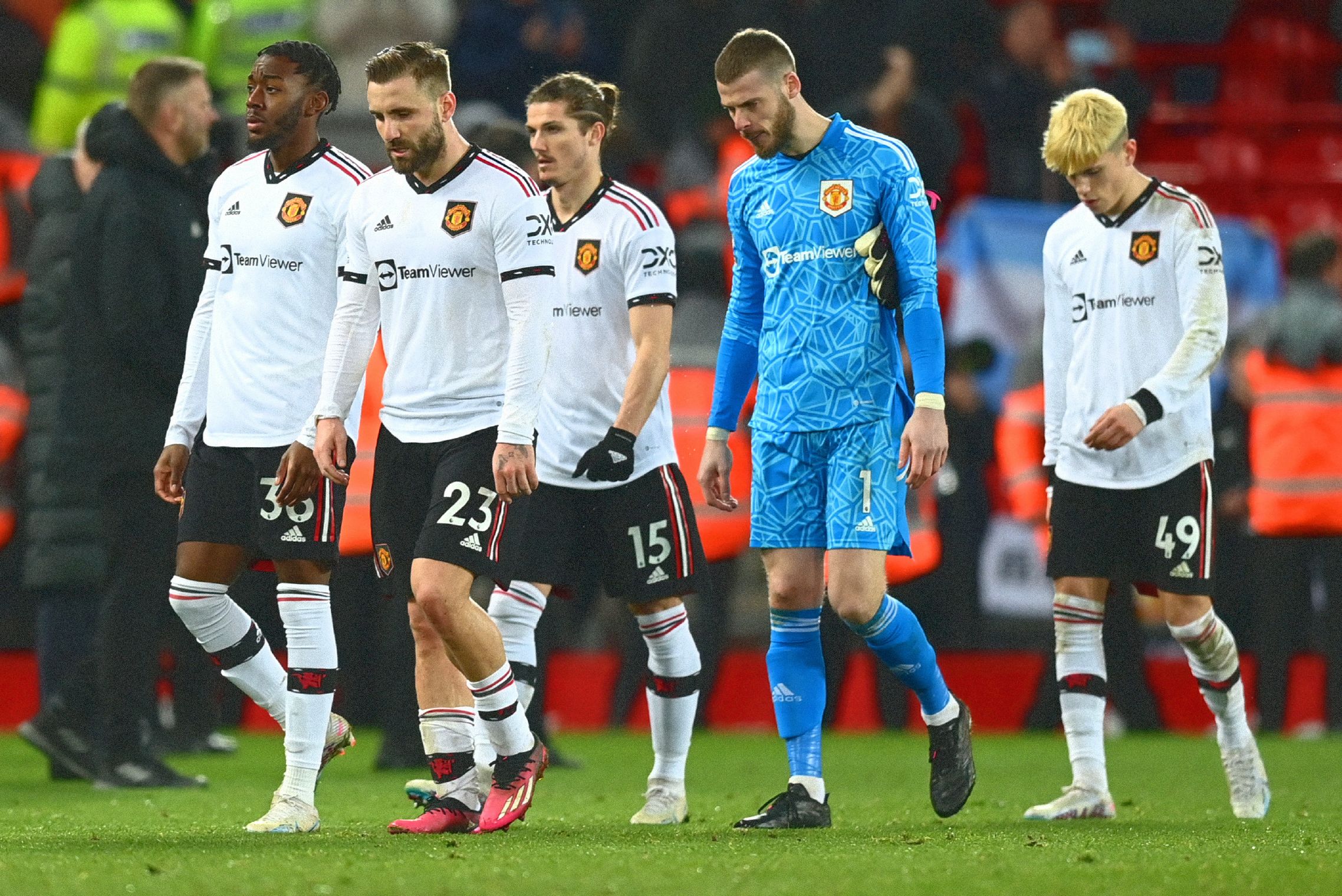 When sides suffer heavy defeats, it is easy to point fingers at the goalkeeper. Yet, often it is simply down to a combination of A), defenders allowing the opposition many high quality chances and B), attackers finishing with exceptional quality.
Of course, in a big defeat, no one player is beyond reproach. Hypothetically, a goalkeeper can be to blame for a heavy defeat. But they are never solely to blame. Overarching narratives that place the onus on one single goalkeeper are not helpful, not accurate, and more often then not, simply not true.