RWLK may not yet be a household name, but they're steadily making their mark around Europe…
Ronald Waterreus has lived and breathed goalkeeping on and off the pitch.
Best known to fans of PSV, and later Scottish side Rangers, Waterreus made over 400 professional appearances between the early 1990s and late 2000s. His time in his native Netherlands was marked by a consistent run as PSV's first choice goalkeeper, before a move to Manchester City in 2004 actually resulted in a more fruitful transfer to Scotland, joining Rangers the next summer.
His 49 appearances for Rangers spanned their historic Champions League run of the 2005/06 season, before a move back to the Netherlands and then to the MLS saw a fulfilling career draw to a close in 2007. But Waterreus' involvement in goalkeeping didn't come to an end there.
"The main reason I founded RWLK was due to a dissatisfaction with the gloves and sponsors I had during my playing days", he explains, talking to Goalkeeper.com "The gloves represent who I am, and what we stand for as a brand: reliable, trustworthy and created with passion".
Wearing a selection of different gloves over his playing career, Waterreus' brand's range is fairly varied. RWLK currently offers seven different glove models spanning several different cuts, latexes and materials. Alongside regular negative, hybrid and flat palm cuts, the brand also sports an innovative 'overlap' stitch on their Metro range, currently the most premium glove available at RWLK.
The overlap stitch - a positive stitch on wrapped fingertips - is only one example of RWLK's originality. The 'Pro-line' cut and the 'One Touch' cut, available on the Clyde, Picasso, and Pro-Line gloves, are also fairly unique. The former is a slimmer positive hybrid cut with added elements that combine a roll finger style into the cut, whilst the latter is based upon a flat cut with added roll finger on the fingertips.
Their 'Original', 'Clyde' and 'Metro' gloves also come in different latex varieties. With the range available for public purchase "identical with very few exceptions" to the gloves that RWLK's professional endorsees wear, all gloves are manufactured in Germany. RWLK also added that the brand is developing new extensions to these models, due to launch in October.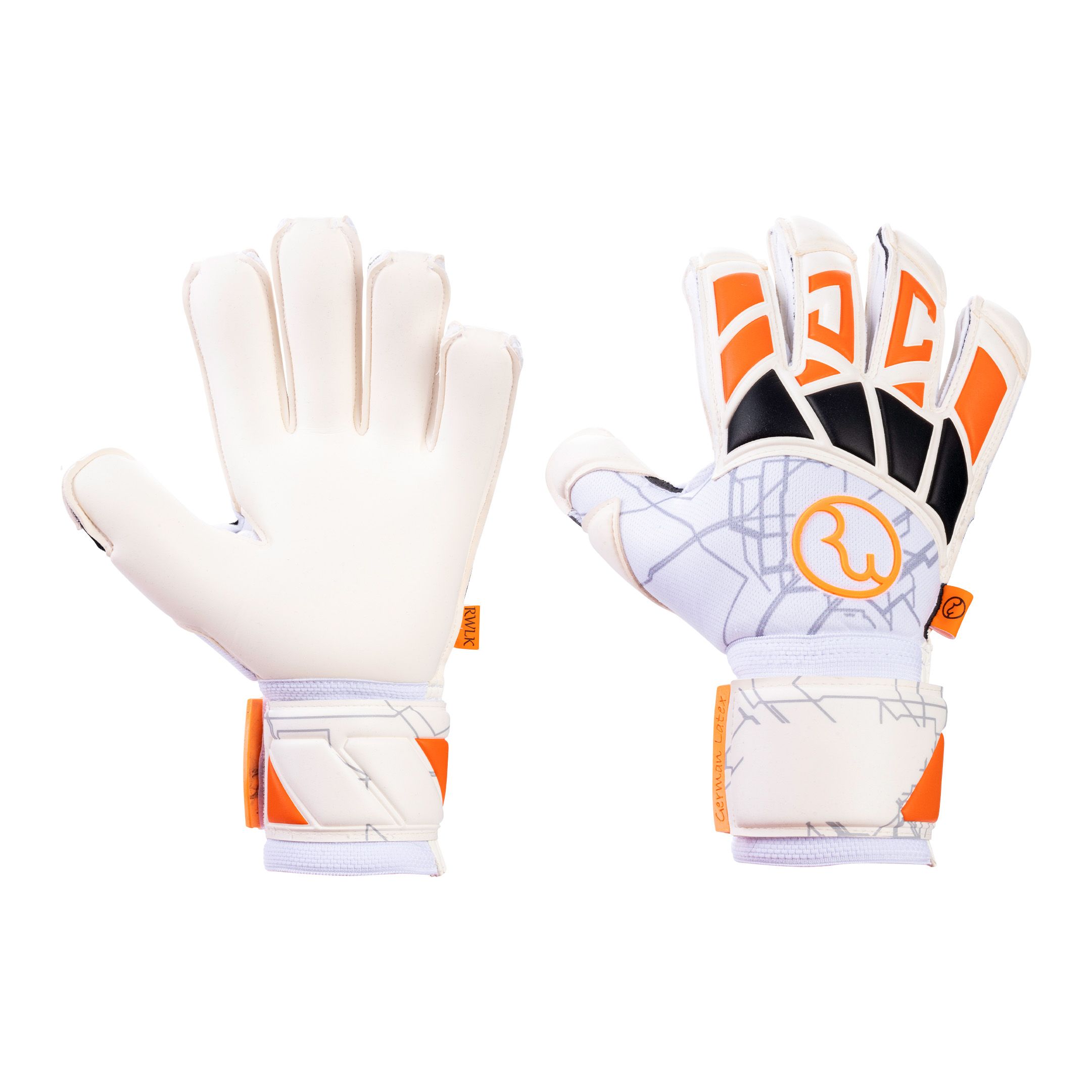 As Waterreus points out, "there is no substitute for real passion with regards to goalkeeping gloves (Fingerspitzengefuhl) [like there is in Germany]" and that "the relationship goes back to my playing days".
Latex is a sticky point in goalkeeping circles (pardon the pun). There are very few truly original latexes out there, with most brands remarketing similar template latexes in their products - including some recognisable brands. Patented latexes are few and far between, meaning real innovation in the latex market is rare. Waterreus' RWLK, however, is one of the companies doing right by latex.
"We chose to bring back the Titanium grip as it is more durable on turf, providing better grip. Some of our goalkeepers use them on real turf in matches", he explains. The Titanium Ti22Plus1 is a 3.5mm foam latex, allowing for slightly more hand-to-ball contact and flexibility than the 4mm foam latex on the brand's Picasso model (although the 4mm latex offers better protection from impact), but less than the Pro soft latex (3mm) used on the Metro Comfort model.
Currently, RWLK is partnered with distributor ACM Products, and unlike many brands, customers cannot purchase directly from their website. In the UK, RWLK gloves are sold on Pro-Direct Soccer, JustKeepers, Black Cat Keepers and GK Sharing, but in Europe, the brand prioritises in-person retail. With a showroom in the Netherlands and stocked in several high street retailers in the country, RWLK stays true to Waterreus' belief that "gloves are more than anything else a product you need to feel before buying. We trust our professional retailers to give the consumer the best experience possible".
RWLK are still a growing brand, but as they expand, their endorsee list simultaneously grows. Jasper Cillessen is arguably the most prominent name the brand boasts, with the Dutchman plying his trade as Valencia's number one in La Liga after time at Ajax and Barcelona, before returning to the Netherlands to join NEC in August 2022. He currently wears the Metro Overlap model, with Spezia Calcio's Jeroen Zoet another endorsee.
As Waterreus pointed out, one of the first goalkeepers to ever wear RWLK, Hobie Verhulst, is still with the brand to this day. He currently plays for AZ, with spells at FC Volendam and Go Ahead Eagles before that.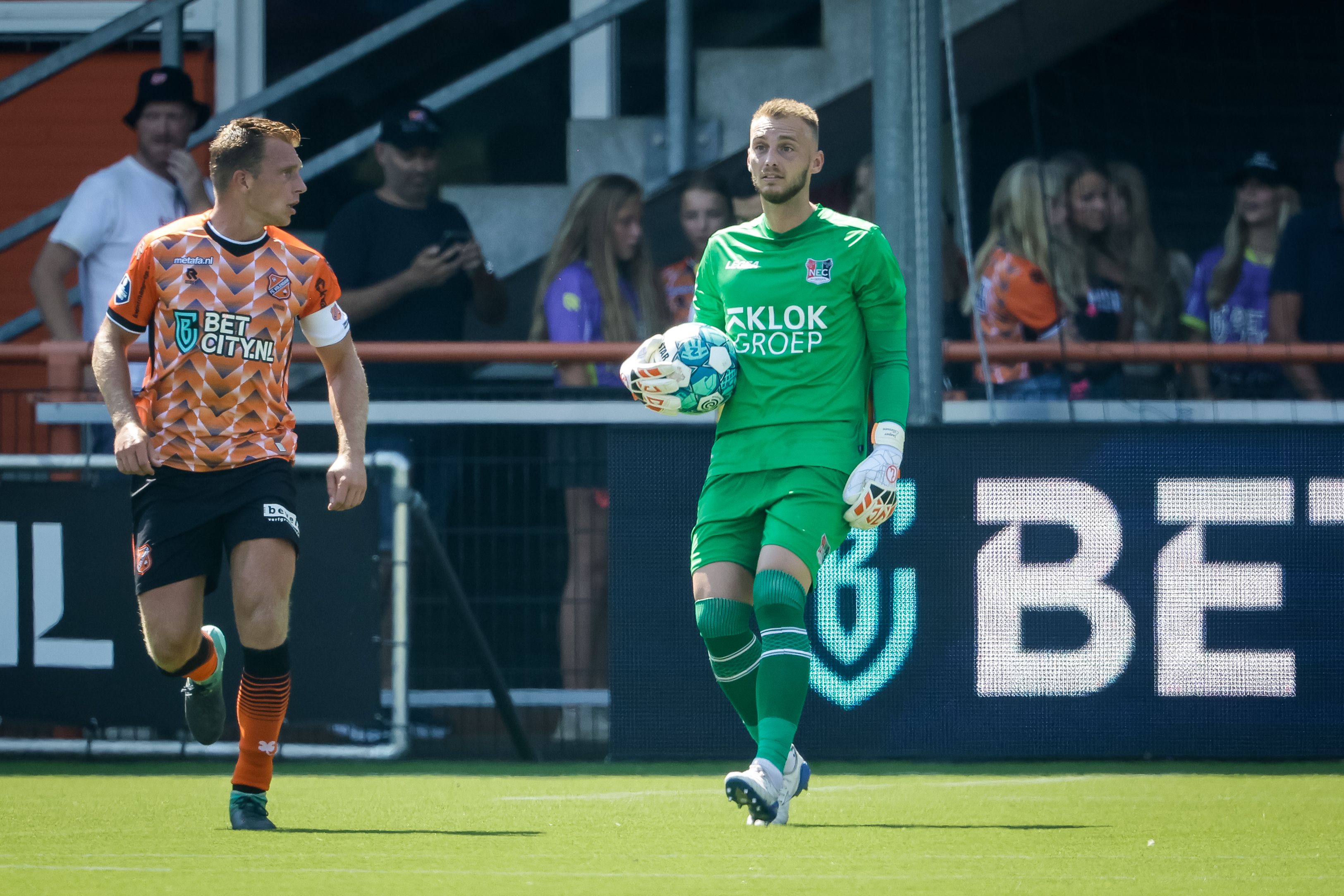 "As a former goalkeeper, it's quite easy to have access to top goalkeepers. We try to focus on the goalkeepers wishes more than anything else. We do invite them to tell us what they want and even visit the manufacturer together with them to make them a part of our products", explains Waterreus.
"But, we do not really 'scout' goalkeepers. We look for guys that believe in our philosophy and want to join us on our journey. We want to give them access to the best possible gloves to accomplish their goals", he continues.
So, what does the future look like for a promising brand such as RWLK?
"We are still a small brand but obviously look to grow. We do realise that competing with the big boys takes time and effort. One thing we will keep doing though is manufacture gloves in the philosophy of our founder: tested and trusted by pro's available to everyone", says Ronald.
With consumers increasingly turning towards environmentally friendly products, it's likely the conversation will emerge in goalkeeping circles soon - at Goalkeeper.com, it already has. Questions surrounding the sustainability of latex production and glove manufacturing need to be answered, and brands need to begin working together towards this.
"In all fairness, we leave that[environmental regulation] to the manufacturer for now but since our products are engineered in Germany, their restrictions (TUV) are very strict. Coming up with more environmentally friendly packaging material would be a great step for the future", Waterreus adds.
With the market becoming ever more saturated, it's always refreshing to see honesty in goalkeeping. RWLK seems to be on the right track, and we're looking forward to seeing their journey continue.