Mikel Arteta made the headlines when he admitted that he's considered making a goalkeeper substitution on multiple occasions…
David Raya's start at Goodison Park this past weekend saw the Spaniard make his league debut for Arsenal.
Signed in the summer on an initial loan from Brentford with a view to purchase the goalkeeper for a reported £27 million, Raya hadn't come to Arsenal to sit on the bench. Boss Mikel Arteta was been clear that he viewed competition in the goalkeeper position as beneficial. For Aaron Ramsdale, his number one security vanished in a flash.
Much was made of Raya's signing, with Peter Schmeichel remarking that having two number ones at a club is a recipe for disaster. It seems, however, as if both of Arsenal's full international shot-stoppers are going to have to get comfortable with sharing the limelight.
Goalkeeper xG data, as featured on Sky Sports, illustrated that Raya had positively impacted Brentford last season to a greater degree than Ramsdale had impacted Arsenal (a +11.23 Overall Value in Goals for Raya compared to +3.84 for Ramsdale). Nonetheless, Ramsdale had done just that; positively impacted Arsenal and therefore contributed to their best season to date under Mikel Arteta. Raya may have outperformed him in statistical terms, but relatively speaking, Ramsdale didn't warrant dropping.
Much of the focus on the Gunners' 1-0 win away at Everton was on Raya, who kept a clean sheet on his debut for the red half of London. Yet, it was his manager's rather astonishing statement following the game which really put the sticks in the spotlight.
'It is the same rationale about why Fábio [Vieira] played here or Eddie [Nketiah] ahead of Gabriel Jesus," Arteta said, on why Ramsdale was effectively dropped for the fixture.
'I haven't had a single question on why Gabriel Jesus didn't start. He has won more trophies than anybody else, including me, in that dressing room.
'It is something that historically is not done [rotating goalkeepers]. I cannot have two players in each position and not play them. David has tremendous qualities, like Aaron has, like Karl [Hein] has and we have to use them.
'I am a really young manager and I have only been in the job for three and a half years and I have few regrets in what we have done. One of them is that on two occasions I felt after 60 minutes and 85 minutes in two games in this period to change the keeper in that moment and I didn't do it.
'I didn't have the courage to do it but I am able to take [off] a winger or a striker and put a central defender back and go to a back five to hold that result. And we drew those games and I was so unhappy and someone is going to do it and maybe it [the reaction] will be: 'That is strange. Why?' Why not? Tell me why not. You have all the qualities in another goalkeeper and you want to do something to change the momentum, do it.
'It is a regret that I have and my feeling is to get everyone engaged in the team. They have to play regardless of the competition. Do it. That is my message.'
It's fair to say that Arteta's omission was quite the statement.
Rotation is a necessity in football's never-ending story of matchdays but with goalkeepers there's always a feeling that it can cause more issues than it solves. As Thomas Tuchel said, before he was jettisoned through Stamford Bridge's turnstiles: "It's [goalkeeper] like I say, a very sensitive position in football in general.
The man in possession holds all the cards unless there's a chain of events that completely upturns the odds. See Kepa and Mendy. The former is suddenly everything that Chelsea invested in. That's not rotation, more like a chain of events that has led to a swap shop no one saw coming.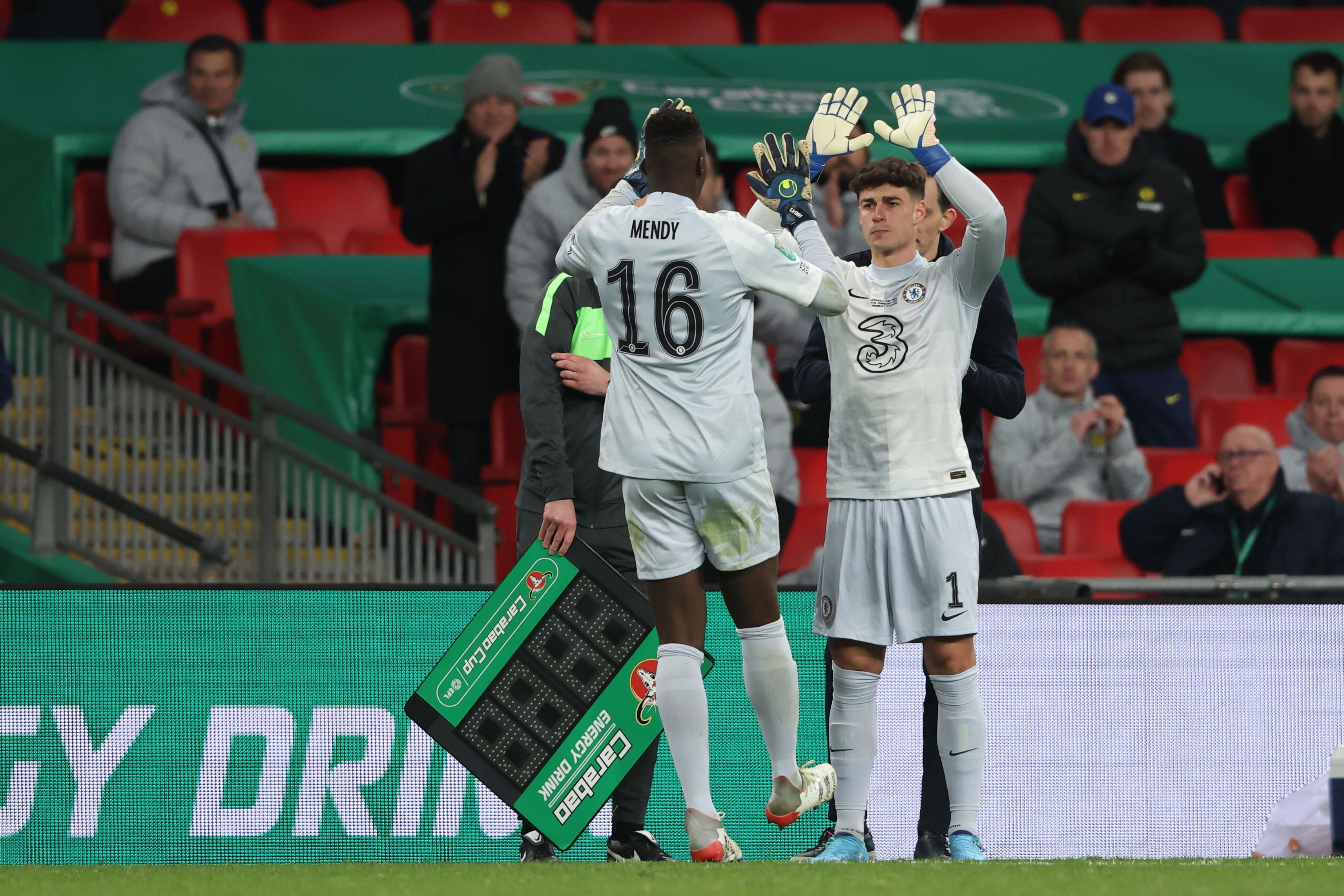 Tuchel questioned the exchange policy at Paris Saint Germain a couple of years ago: "We're perhaps the first club to always rotate our goalkeepers and it was made possible by two exceptional lads like Gigi and Alphonse, who have teamed up and supported each other. But we can't keep going like this." His successor did extend the policy and it didn't end well.
Mauricio Pochettino's version of PSG was well on their way to knocking Real Madrid out of the Champions League in years gone by when the normally reliable Gianluigi Donnarumma mis-controlled and Karim Benzema did the rest. So began Madrid's ridiculous series of great escapes.
The defeat also started up the engine on the merry-go-round in Paris. No one ends up happy. Keylor Navas was soon muttering about wanting to be on the pitch every game while the Italian said he could not "give his best" as he had only played half the matches. Christophe Galtier booted the idea into touch.
If there was ever a position where vacillation of personnel has the capacity to unnerve and erode rhythm and team dynamics, it is between the sticks. Trust and familiarity are the very essence of goalkeeping. Changing faces behind can confuse outfielders who see a different hue of colour and energy detached from their normal source of synchronicity.
Thus remains the question: is Arteta's unrelenting commitment to competition beneficial, or punishing a goalkeeper who has put few feet wrong? The Arsenal manager didn't name the two matches in which he wanted to make mid-game goalkeeper substitutions, but notes that they were two drawn games.
It does seem rather bizarre that Arteta would have considered a goalkeeper substitution most effective when searching for a winner in the last third of the game. Perhaps, tactically, you can see how switching a goalkeeper could add a threat in distribution, bringing something to the attack without risking a defensive concession, especially when the scores are level.
But, his logic has to be questioned. First, a goalkeeper is unlikely to be directly involved in the majority of attacking play towards the end of the game. If the intended effect is an Ederson-style sidewinder assist, then as late in the game as the 85th minute, the manager is essentially banking on one golden pass, or passes. If the goalkeeper is going to come on and play out from the back, rather than through or over, then it's difficult to see how they will directly change the pace of the game on the attack.
In either case, the chances of directly increasing the number of attempts on goal required to turn a draw into a win by making a goalkeeper substitution are quite low. Surely, bringing on a striker or attacking player leads to a more direct threat on goal, more often.
You could argue it depends on the balance of play. If the manager spots an opportunity to beat the press on the counter attack, but his team remains under pressure, then that added distributive quality and precision may be beneficial without risking a reduction in defensive contribution.
However, even if this is the case, there are more factors to take into account. A goalkeeper who has already been in the thick of the action for 60 or 85 minutes is fully 'in the game'. They're match-warmed. They're locked in with their defenders. Is upsetting a crucial balance when the game's in the balance really a good idea?
And, if a team has attacking momentum but just can't find that clinical edge, then what's substituting the really goalkeeper going to do, aside from knock confidence - or bruise an ego?
Arteta's omission was certainly unusual. He points out that substituting a goalkeeper has not the done thing historically. There's a reason for that. The most under-pressure player on the field doesn't need extra eyes on him or her. The most vilified position in the media is not helped by artificially created headlines, perhaps calling into question their standing at the club. Since Arteta's press conference, the Ramsdale transfer rumours are already swirling.
Innovation in football is the lifeblood of the game, but Arteta's approach seems like it could cause more problems than it solves. Visionary or vanity? This may be an evolution best described as change for the sake of change.