Ex-Southampton First Team Goalkeeper Coach discusses his coaching pathway, the importance of networks, and adapting to new environments around the world…
"I still remember writing letters to my family back home, and trying to get a calling card from the local shop to call on a payphone", reminisces Andrew Sparkes, chuckling.
This was 2005, by the way. The first iPhone wasn't released until 2007.
Times have changed a lot - within football, and in the world more generally - since Sparkes moved to the United States to pursue his coaching career aged only 20.
The Welshman's journey to the top of the English footballing pyramid as a goalkeeper coach has been undertaken on a particularly global road. Since beginning his coaching career as an 18 year old with hometown club Swansea City, Sparkes has coached in six different countries, spanning three of the world's continents.
"When I first started coaching, there were hardly any full time jobs in youth football. You're talking in the early 2000s. The only full time coaching roles in football were in the Premier League and a few of the top leagues. A lot of League One or League Two clubs didn't even have full time goalkeeper coaches, nor some of the top academies", he explains.
"I began part-time coaching with Swansea City in their Centre of Excellence at the time. It was the opportunity to go to America that presented me with something on a full time basis. I never really had an opportunity then to go to America to kind of coach more on a full time basis. Being honest, I hadn't really thought about the US as an option until it came along. But, I think once you're on a coaching journey, or on any journey, things pop up along the way. And you have to make decisions, what's best for you at that particular time."
A lot is rightly made of the tribulations and dedication it takes to make it to the top as a footballer, but becoming a part of the supporting entourage also has its own unique set of challenges, costs, and demands.
"Not having close family or friends out there [in the US] was a bit of a struggle early on", he muses.
"From a personal standpoint, through the various countries it's about trying to adapt to different cultures, environments, languages, and ways of working. In New York, it was a rapid pace of life. You then go to Salzburg, where it was the most chilled place ever. When I went to Africa, culturally it was very different.
"Sometimes you think, is it the right move? Is it not? But it's all about being flexible and adapting. I've always tried to put the doubts to bed".
In football, travel brings more than just experience. It also brings networks. From the United States, Sparkes ventured further. First to Austria, continuing his association with the Red Bull setup with Salzburg, and then to South Africa, linking up with Orlando Pirates via spells back home in Swansea and then with the Sierra Leone National Team.
His varied CV is certainly geographically impressive, but Sparkes notes that few of the positions he gained at first team level came with public job adverts. Instead, it was the power of networking - that he'd built in his ventures across the globe - that proved fruitful. Arriving in the Premier League in 2019, Sparkes had his Red Bull connections to thank.
"On paper, I guess my appointment at Southampton seemed a bit of a left field appointment", the Welshman admits.
"The majority of jobs I've taken have come through recommendations. To be honest, I've hardly ever seen a first team job in the higher leagues be advertised. Southampton came through the Red Bull connection.
"I worked for Red Bull for seven years in total. The Southampton job was a result of Ralph Hasenhüttl being involved at Red Bull Leipzig. The group is really connected - you see someone like Jesse Marsch move from New York to Salzburg to Leipzig", he explains.
"In the off season, they had made a change where Dave Watson went to set pieces. Ralph needed to bring in a goalkeeper coach. So he had spoken to Thomas Schlieck, who is the Head of Global goalkeeping for Red Bull, looking for a goalkeeper coach who understood the game model of Red Bull and who could fit straight into this type of system. I think when it came down to it, it was like a goalkeeper coach following the manager who they worked with before or worked with in the same philosophy."
Sparkes clearly isn't a 'square pegs in round holes' coach. He speaks openly about the necessity of having principles that guide a coaching style, but, as proved pivotal in his appointment at Southampton, it is clear that adaptability is the buzzword with substance when it comes to being effective as a goalkeeper coach.
"I have a defined way of working. But in terms of having a 'philosophy', it's difficult because when you're in the First Team or a senior academy position, you have to align the philosophy of the football club to the goalkeeping philosophy, that's the only way", admits Sparkes.
"I could have a ball-playing philosophy as a goalkeeper coach, but if my team kicks long then those things just don't match up. Suddenly I'm not fit for purpose. So, I have a methodology of the way I work, but for me, it has to be flexible and adaptable. So for instance, at Swansea with their academy, they were (and still are) a possession-based club.
"However, when I first came to Southampton, they weren't a possession-based team. Then things changed, and we became a team that built up from the back. You have the same manager, the same team, the same environment, but then I have to adapt the way that I work on it."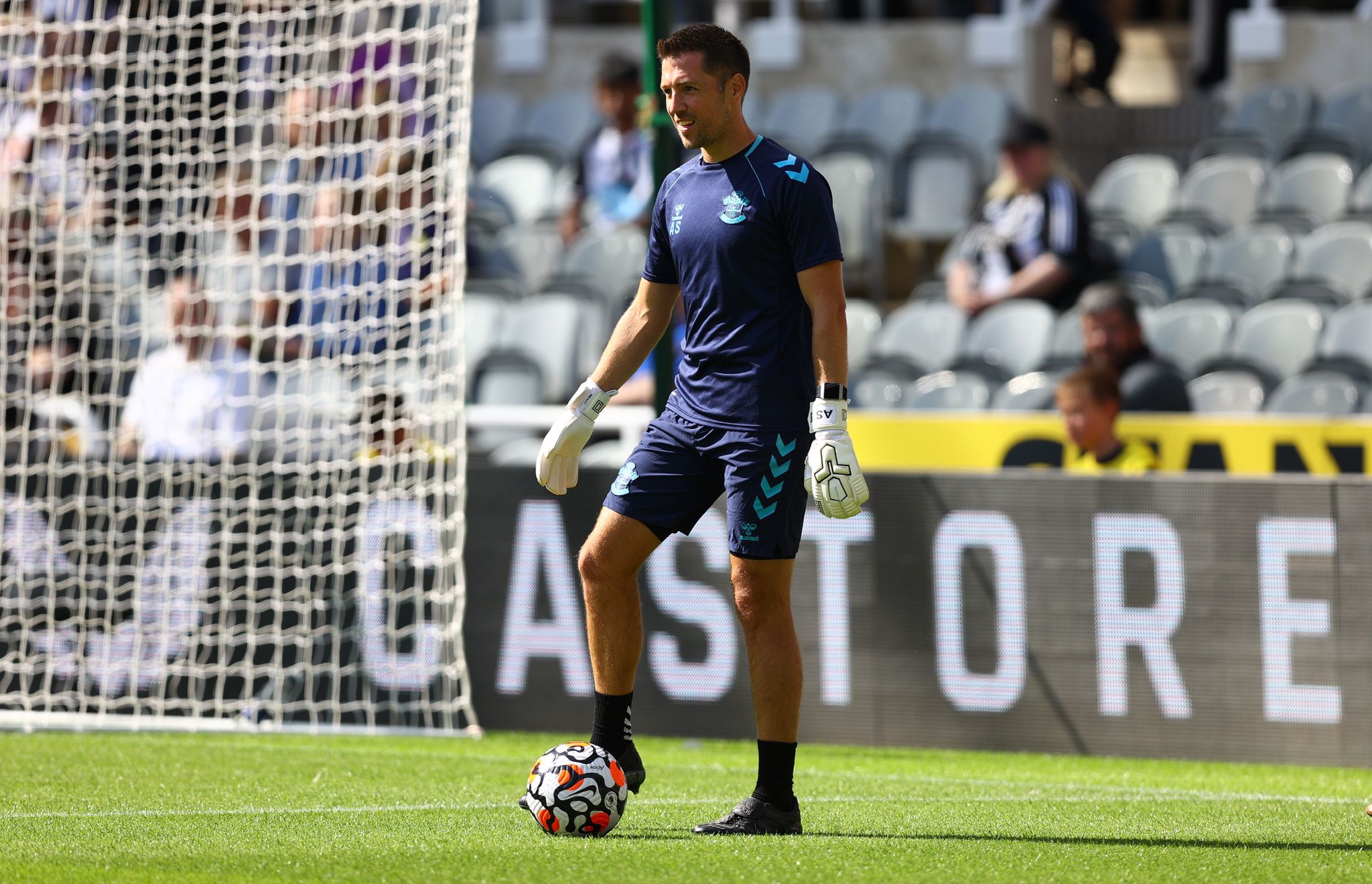 For many looking to climb the coaching ladder, the question of 'how?' can be perplexing. As Sparkes has noted, opportunities at the top are often not available publicly. Building a network takes time, and building experience has to be balanced with other work. But when a goalkeeper coach reaches the upper echelons of the coaching sphere, how do they ensure their name is the one signed on the dotted line?
Well, there's word of mouth, and agents can become involved too. The interview process can vary, as Sparkes describes, between a Zoom call, profiling a goalkeeper or doing a full formal interview. At Orlando Pirates, Swansea, and Southampton, there was no such "sit around the table and discuss" interview, as would be found in an 'ordinary' job.
The hiring process is undoubtedly one of the lesser known elements of the coaching world, as is the true reality of a day in the life of a Premier League goalkeeper coach. On-the-grass practices are a naturally important, but relatively small, part of a full day at the office.
"Long hours!", jokes Sparkes, describing a day at the training ground.
"On the surface of things, it can seem like the players turn up at nine and sometimes leave by one. Coaches are often in at seven and leaving at six o'clock in the evening. I split my days into two. From when I get in until lunchtime, it's all about the session in the morning. At Southampton I got in at seven or seven-thirty, and would plan some bits towards the day session.
"At eight o'clock we'd have a coaches' meeting to plan out literally everything about the day, from the outfield training session when the goalkeepers are needed, and how we juggle the different goalkeepers required for different sessions across the club. I'll then finalise my session based on the timings of what the outfield session is, and then go out to set all the pitches up.
There's also the holistic element of Sparkes' work.
"Next, I check in on all the goalkeepers. They might have woken up and they've slept awkwardly, or had an injury, or they're sick or whatever. So you're planning accordingly and adjusting the goalkeeper numbers to that. Then it's getting ready for the session. The goalkeepers do all their pre-activation in the gym, then it's the actual session."
Across a week entirely, "the early part is focused on the goalkeeper technically and any individual things they need to work on. For a Saturday game we had a four day lead up. Matchday minus three, we'd look at how the opposition scored. With an Arsenal or a Man City, there's lots of cutback aspects. With a team like Wolves, a lot of their attacking players shoot from outside the box, crosses, and headers, so we try to replicate those kinds of situations."
He continues: "Minus two would then be a crossing day. So again, looking at the opposition for Saturday and giving the goalkeepers the scenarios that they will see on the weekend. Obviously, you can't script everything, but all the teams have certain ways that they've scored or patterns of play.
Sparkes uses ex-Wolves winger Adama Traore as an interesting example of how a session might be tailored based on attacking threat. The planning is intricate; the detail, important.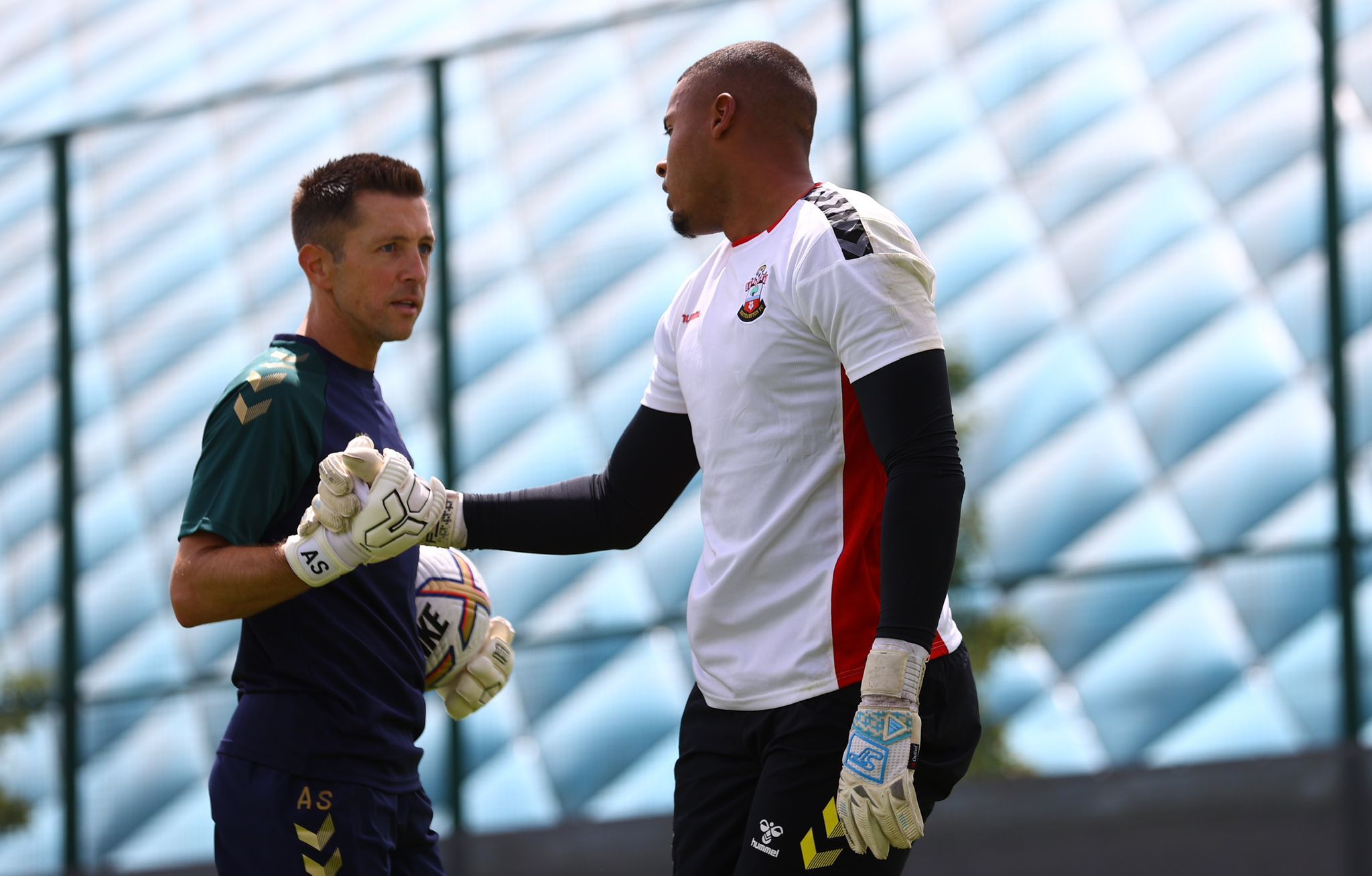 "Wolves used to do this thing with Adama where he played a massive touch from the top of the penalty area down towards the byline, and chip it back for Jimenez who would head it in. It was my job to simulate a situation where the goalkeepers can see the picture of when Adama takes the touch right tight to the touch line, and what positions they need to occupy following that", he explains.
"But, a lot of the time, especially in two or three game-per-week situations, sometimes the goalkeepers are only out for 20, 30 minutes. Most of it's about making sure they're ticking over for the next game.
Post-lunch work tends to be office or classroom based, but not just for the club's goalkeepers.
"Following the morning session, I'll analyse all the attacking players, I'll put videos together for the goalkeepers of the key attacking threat. For example, we know Haaland will always stay central for cutback finishes, and we know that he finishes on the back post.
"I also look at the opposition goalkeeper, and where their strengths and weaknesses are. This gets fed to the outfield coaches, and they can design their finishing practices. And also that video then goes on the iPads for our attacking players before the game."
*
It's no surprise that the privileges of working in the Premier League also come with pressures. Upon joining Southampton in 2019, Sparkes was entering an elite British footballing environment as the main man in the goalkeeping department. He points to the influence of coaches such as Adrian Tucker (the FA), Javi Garcia (Aston Villa), and Tony Roberts (AC Milan) as mentoring his entry into elite first team environments in the early stages of his career with Swansea City.
There was naturally some trepidation. He had joined an experienced goalkeeper department comprising Alex McCarthy, Fraser Forster, and Angus Gunn - all senior Premier League professionals. The human element of coaching can't be overlooked, and as in any other path of work, Sparkes recognises "there's always some kind of anxiety".
"It's natural. It's human", he continues.
"I went in with a mindset that I've been brought in specifically to the Premier League for a reason. When I met Alex, Fraser, and Angus, I'd done my technical and tactical research on them. But the part you can't really plan for is building relationships quickly. Yet, once I got going, it was just coaching. It's what I've done for the last ten years of my life."
Maintaining these relationships - whether with players or staff - can be challenging in times of uncertainty. Sparkes worked with three different managers during his time at Southampton, and the starting goalkeeper was rotated multiple times on the South Coast. Yet, as he notes, uncertain situations require calm and level heads, and periods of transition can't be allowed to affect the productivity of the goalkeeper department.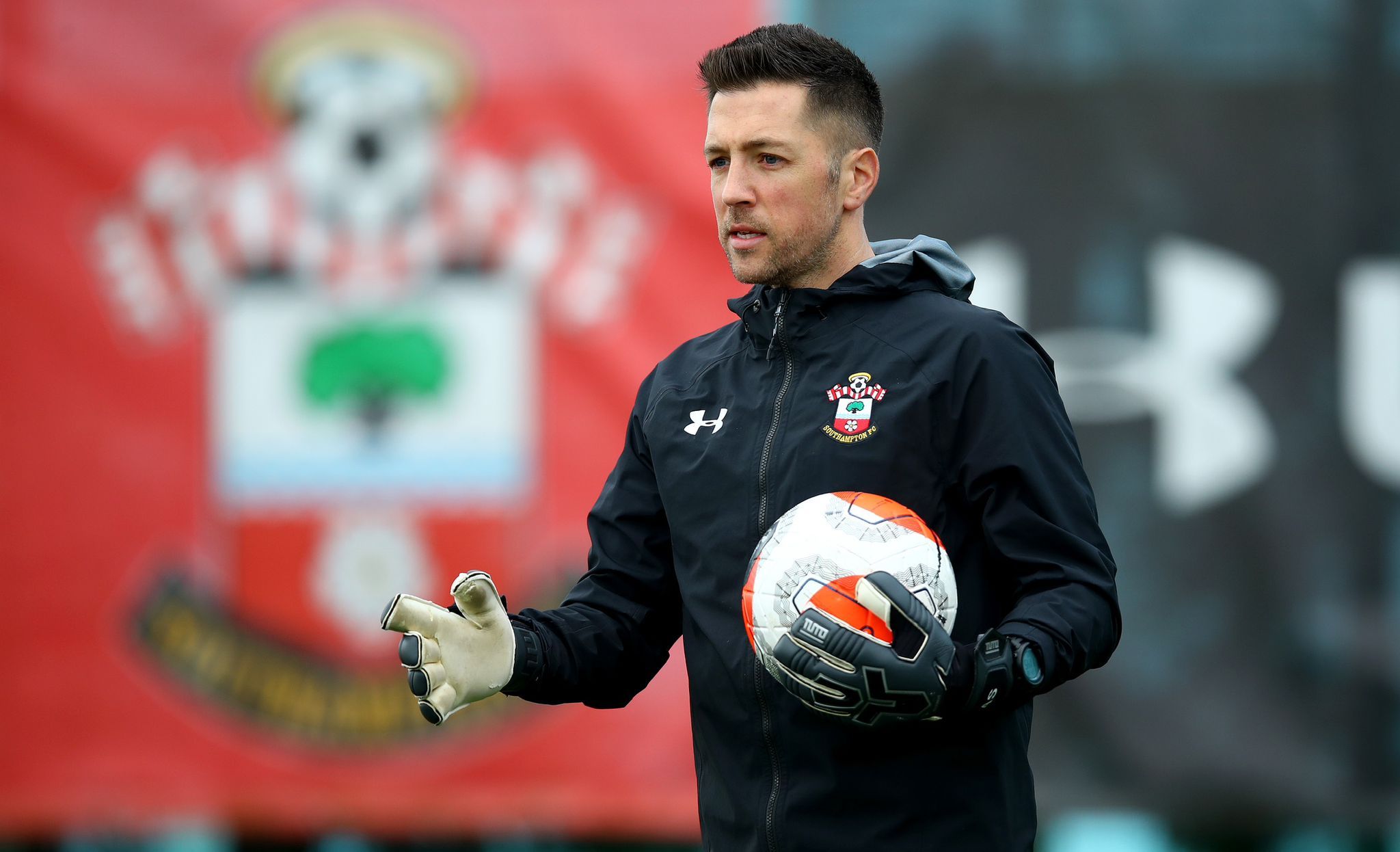 "Whenever there's a manager change, there's always that uncertainty of whether the next manager will bring in his own goalkeeping coach, for me, even though I was signed on a club contract at Southampton. But there's also the uncertainty of whether he may change the goalkeeper.
"There's always various reasons why change happens. It could literally be because of performance. It can be because of injury that literally no one from the outside knows about. The context is almost always a discussion between the coaching staff, the manager, and myself on questions of 'Is it the right time?'.
The unique nature of the goalkeeper position - its simultaneous stability and vulnerability - brings certain interest trends.
"I don't think I've known as many goalkeeper changes in a season as last season", notes the Welshman. "Brighton they changed. Leeds changed. Leicester had to change. Southampton changed. Chelsea changed. Crystal Palace changed. Everton changed because there was an injury. There's more rotation for me than ever.
"When it comes to teams down towards the bottom, sometimes you need to change something. You might have changed everything on the pitch, and you haven't changed the goalkeeper. Sometimes it can even be a case of 'well, we need to try something'. Maybe it could just be a more calming presence behind the defence, or somebody more vocal. It can work both ways", he continues.
"The year before last, we actually used three goalkeepers at Southampton. Alex started the season. Then he got injured and Fraser came in. He got injured in a small-sided game in training. So we had to bring Willy Caballero in to do two games. In that season, we used three first team goalkeepers in Premier League games."
On the coaching side, "when you sign up for this kind of role, you accept managerial changes can force a change to happen. So for me, you have to work very quickly to understand what the new manager wants. I think that's a conversation you have to have on the first day. What's your expectations from the goalkeeper? How do you want him to play? With the ball, without the ball? And then as I said, you have to adapt, and adapt your training, your philosophy to meet what the demands of the new manager are, because you can't keep doing what you've always done previously if the manager wants something else.
Through all, the dynamics of the goalkeeper group have to be kept stable.
"I've said it from day one. I've been at Southampton when we're top of the league after eight games, and also at the bottom of the league, so for me, I've always said it's about trying to keep our group feeling mutual respect and an understanding and communication between the group and myself".
Sparkes left Southampton after four years of highs, lows, and undoubted learning, upon their relegation to the Championship at the end of the 2022/23 season. He joined League One side Reading later in the summer as Assistant Manager to former Saints boss Ruben Selles.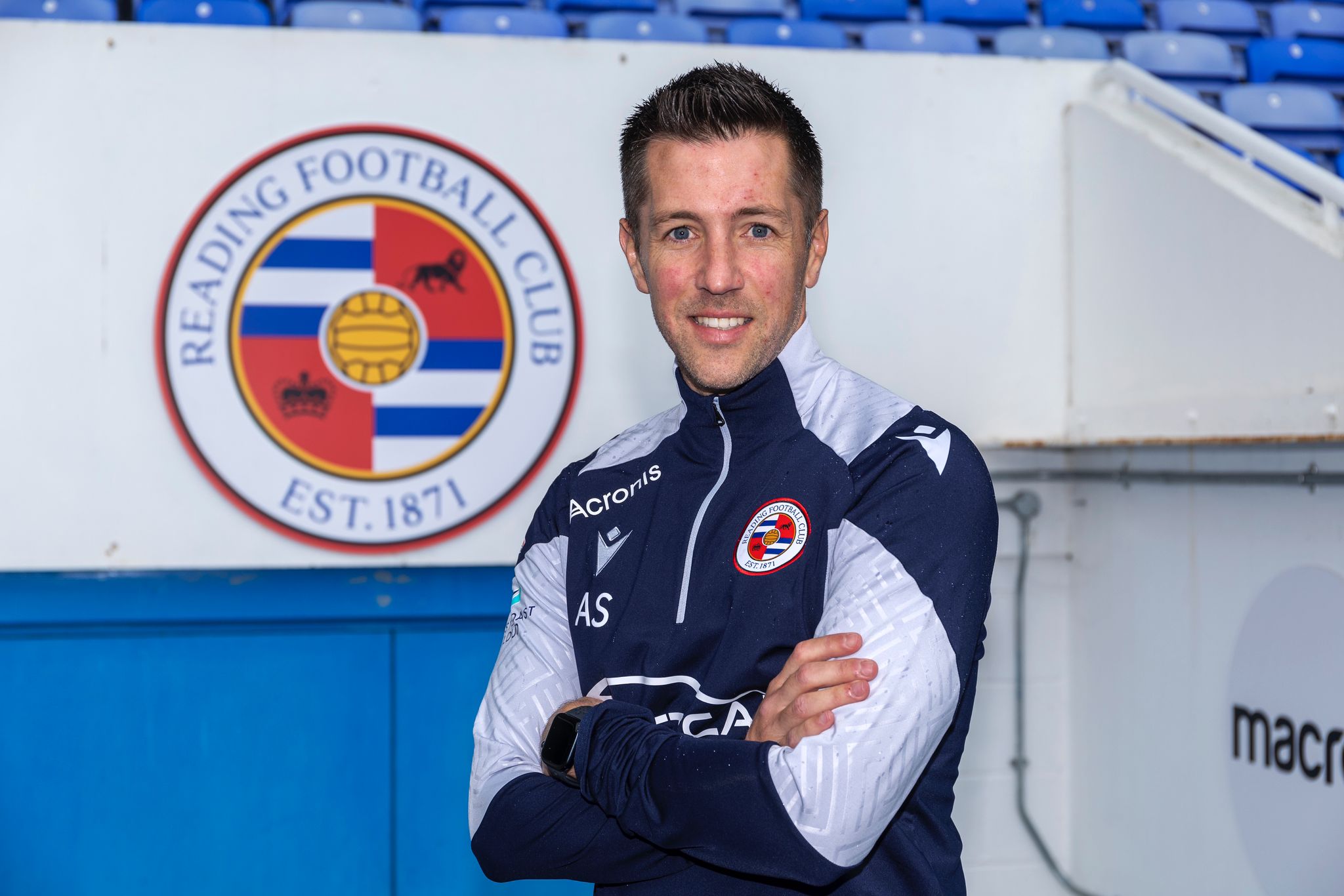 "Create your own journey", is his one piece of advice to aspiring goalkeeper coaches, as we come to the end of our conversation.
Reading may not be as landmark-laden as the Big Apple or as picturesque as Salzburg's baroque edifices, but it's the next step in what has definitely been quite a journey - both in footballing and geographical terms - for Andrew Sparkes over the last 18 years.
14 different variations of the iPhone later, that journey remains under way.