Which of the goalkeepers from the big six teams in the Premier League performed the best last season?
A great goalkeeper has always been a pivotal part of any top side and over the past decade one could argue that having a great goalkeeper has become more and more important to title challenging teams. Pep Guardiola has previously described the goalkeeper as 'the most important position on the pitch' and 'a fundamental part of the team'.

In order to answer the question of who the best goalkeeper of the big six Premier League teams was last season, we need to realise that all actions a goalkeeper performs on the pitch affect the probability of a goal occurring both against their team and for their team.

Whether that be a flying save to push the ball out of the top corner, a last minute interception to stop a striker getting a 1v1 shot away, or even glorious side volley on the counter attack to put their own sides striker through on goal, each of a goalkeeper's involvements in the game can impact its result.

By modelling every action each of the big six goalkeepers this season and how they effected the probability of a goal occurring, we can see how many goals each goalkeeper was worth to their respective sides.

In 6th place is David De Gea.

While his shot stopping was by far the best out of the six goalkeepers listed, saving 9.86 goals above what we be expected if an average goalkeeper faced those shots (for comparison the next highest GK in the top 6 had +4.59), his cross claiming, through ball sweeping, and distribution was by far the worst.

This meant that that his overall contribution to Manchester United was just +2.96 goals. By rarely coming off his line to claim crosses and sweep up, De Gea faced far more shots than an average goalkeeper would have if they had faced the same through balls and crosses. So, while his saves may have often been eye catching this year, on many occasions another keeper would likely have never even faced a shot as they theoretically would have intercepted the ball at an earlier stage

In 5th place comes Ederson.
Ederson's profile is almost the exact opposite of De Gea's. Ederson's distribution was by far the best and was worth nearly two additional goals to Manchester City over the course of the season compared to if they had an average Premier League distributor in goal.

Additionally, his sweeping was top class and saved Manchester City an additional 2.5 goals. It allowed them to comfortably play with a high defensive line. The reason Ederson is not higher on this list is because of his shot stopping. Unlike all of the other big six goalkeepers, Ederson performed to a below average standard when it came to shot stopping.

Given shot stopping actions are, in general, the actions which allow the goalkeeper to have the largest influence on the game, this severely hampered the influence he had on Manchester City. In the end, he was only worth +3.88 goals to them.

In 4th place sits Edouard Mendy.

Mendy displayed a far more balanced profile and, in fact was a net positive to Chelsea in all three major aspects of goalkeeping. While his sweeping, cross claiming and distribution were not the best of the bunch, they were all significantly above the Premier League average.

A interesting part of goalkeeping which is not often mentioned is handling. Mendy's ability to catch shots and parry shots away from danger meant that Chelsea faced fewer rebounds than the average goalkeeper would've been expected to give away. Thus, he conceded almost a goal less than expected which was the best handling score of any of the big six goalkeepers.
The reason Mendy isn't higher up on this list is because of his poor end to the season shot stopping wise. Mendy was comfortably in 2nd place for the majority of the season but a few uncharacteristically weak goals at the back end of the season dragged him down. Still, being worth +5.74 goals to Chelsea is not a bad score by any measure.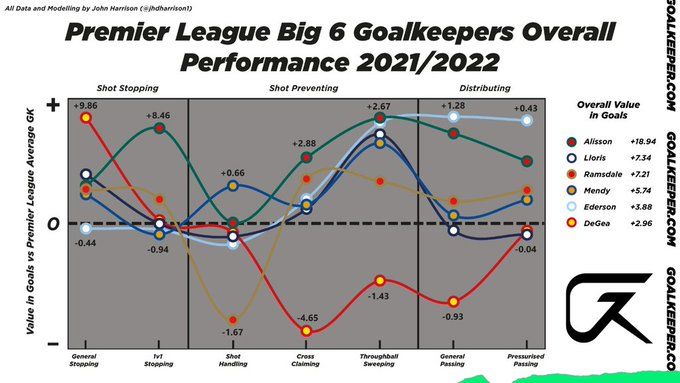 In 3rd place is Aaron Ramsdale.
Like Mendy, Ramsdale is also a net positive in all three major aspects of goalkeeping and, similar to Mendy, Ramsdale also started off the season in electric form before performance levels dropped off at the end.

Ramsdale's big strengths at the start of the season were his 1v1 stopping, his general shot stopping, and his cross claiming. By Christmas, he was worth almost eight additional goals to Arsenal. However, the second half of the season was not as impressive for Ramsdale. While his shot prevention remained solid, his shot stopping dropped off.

In fact, his general shot stopping was in line with the average Premier League goalkeeper while his 1v1 stopping actually cost Arsenal three goals! When looking at the season as a whole, the main issue in Ramsdale's game was his handling. His parries go back into the danger zone far more often than they should and this provides the opposition with more shooting opportunities than they would usually expect to get.

All in all, given this was Ramsdale's first season at Arsenal and he managed to be worth +7.21 goals to them, I don't think people can criticise him too much at all. However, Arsenal fans will be hoping that he can perform far more consistently next year.

In 2nd place sits Hugo Lloris.

Lloris was probably the most underrated and undervalued player in Tottenham's charge to fourth place this season. Lloris' profile is different to the other goalkeepers in the top portion of this list as his ability with his feet is below average and his 1v1 stopping is just about average.

However, he more than makes up for this with the 2nd highest shot stopping score at 4.59 goals and one of the highest sweeping scores at +2.25 goals. Lloris' amazing agility and speed off his line coupled with one of the tidiest and cleanest techniques around means he will always be an asset to any team.

His overall value of +7.34 goals to Tottenham was vital in them regaining Champions League football and I believe his excellent sweeping and shot stopping skills are often ignored due to his proclivity to drop a high profile error.

And in 1st place comes Alisson Becker.
Alisson was by far the goalkeeper of the year statistically. Not only was he above average in every aspect of goalkeeping, but he often was the outright best goalkeeper in each individual aspect! His distribution was second only to Ederson, his cross claiming and sweeping were the best of the group while his ability to stop 1v1s was out of this world, saving almost nine goals above what would be expected for an average Premier League goalkeeper.
Overall, Alisson was worth 18.94 goals to Liverpool which is basically the difference between challenging for the title and only challenging for the top four. I am still in disbelief that he didn't get a mention for the Player of the Year award, but for what it is worth, he does get my goalkeeper of the year award!

Keep up to date with the Astronomer Goalkeeper, Dr John Harrison, on Twitter @JhdHarrison1