Recounting the steps between Zoff's early years and his legendary 1982 World Cup campaign…
It's one of the most iconic World Cup images of the 20th century. Italy's triumphant captain Dino Zoff is playing cards with Italian Prime Minister Sandro Pertini, coach Enzo Bearzot, and team-mate Franco Causio, with the gleaming 1982 trophy sitting precariously on the edge of the table of a DC-9 aircraft taking the Azzurri back to Rome.
Just 24 hours earlier Zoff, at the ripe old age of 40, had become the oldest player to lift the famous Jules Rimet trophy after his Italy side had humbled West Germany 3-1 on a memorable night at the Santiago Bernabeu in Madrid.
Life could have been so different however, if the man many believe to be one of the finest goalkeepers to ever play the game, had followed his father's advice and become a mechanic rather than one of the world's most revered goalkeepers.
Born in Mariano del Friuli in North Eastern Italy, Zoff's early life was spent helping out on the family farm, but it was clear from an early age that he had the potential to become a great sportsman. Football was his first love and goalkeeping was his speciality, but when both Juventus and Internazionale rejected him at 14 for being too small, it seemed as though his father may have been right all along.
Fortunately for Zoff, Udinese were prepared to take a gamble and having grown 33cm thanks to his grandmother allegedly feeding him a daily diet of fresh eggs, he made his Serie A debut for the Friuliani in their relegation season of 1961. Zoff found himself a regular starter in the following campaign as Udinese swept straight back into the top-flight, but within a year he had departed for Mantova where his reputation continued to grow.
Zoff narrowly missed out on a place in the Italian squad on their notorious 1966 World Cup campaign where they would be humiliated by North Korea, but his club career continued to blossom after heading south to join Napoli. He made his international debut on familiar territory in 1968 as Italy beat Bulgaria in a European Championship quarter-final at the Stadio San Paolo and kept his place between the posts as the Azzurri went on to lift the crown on home soil.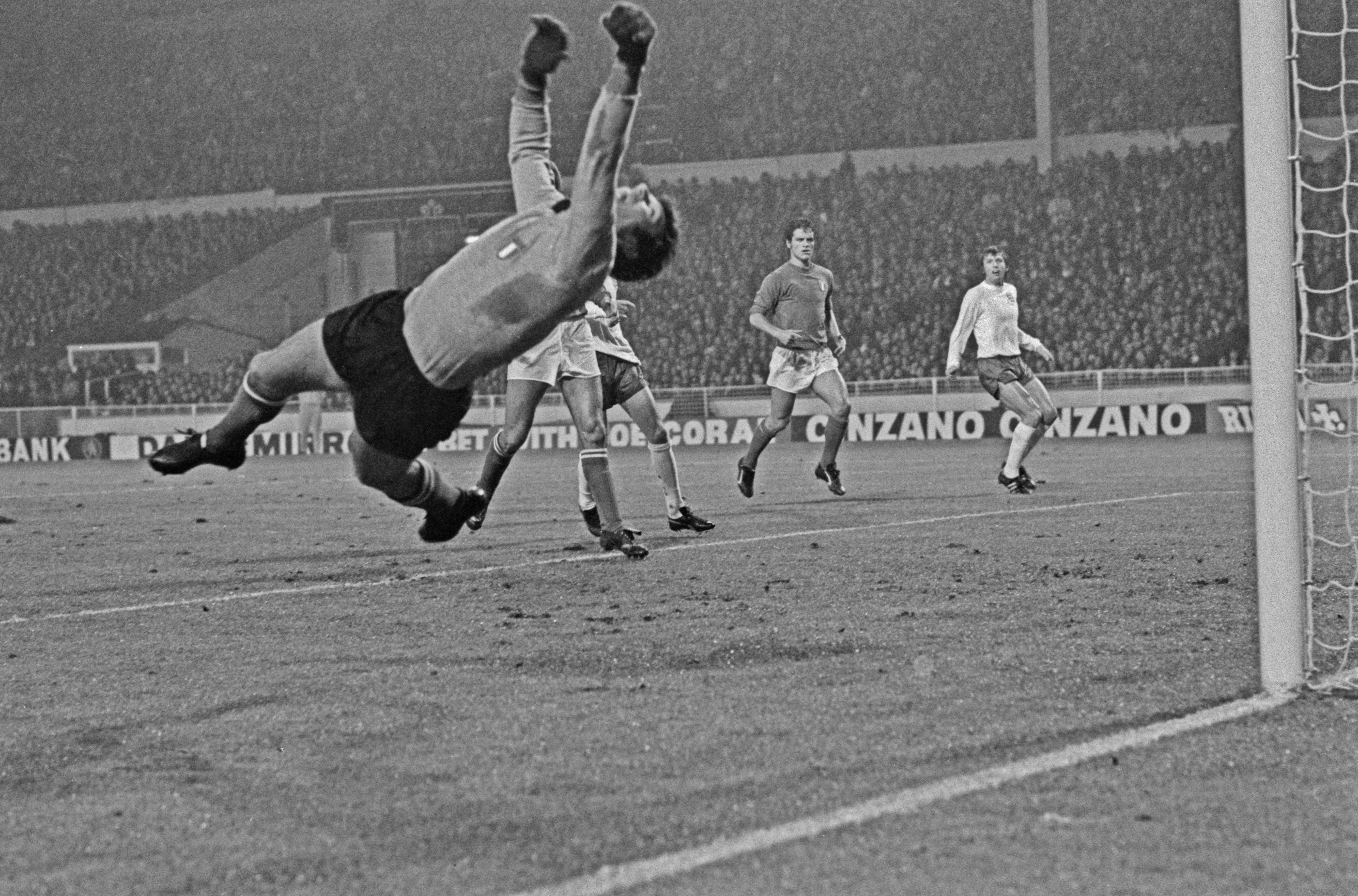 Having ousted Cagliari's Enrico Albertosi from the number one position and having won the award for goalkeeper of the tournament, Zoff was staggered to find out that coach Ferruccio Valcareggi, who had given him his international chance, had made Albertosi his number one for the Mexico World Cup of 1970 where the Italians would succumb 4-1 in the final to the famous Brazilian team of Pele, Carlos Alberto and Jarzinho.
At the 1974 tournament in West Germany, Zoff had reclaimed the number one jersey having had a successful couple of seasons with Juventus, which also saw him narrowly miss out on the Ballon d'Or. Yet, Valcarreggi's time on the bench was up as the Italians faltered at the group stage.
A new coach was in place by the time the Azzurri qualified for the 1978 World Cup in Argentina. Enzo Bearzot was tasked with rebuilding Italy's reputation on the world stage and in Zoff, fresh from celebrating his fourth league championship with the Old Lady, he now had one of football's most reliable shot-stoppers. Three clean sheets helped Italy to a fourth-place finish after exiting at the semi-final stage to the Netherlands.
There was more heartbreak two years later when as hosts, Italy fluffed their lines at the 1980 European Championships, finishing fourth for the second consecutive tournament. Zoff could take comfort in the fact that he was voted best goalkeeper as records tumbled. His participation in the 1968 edition and twelve years later had seen the Italian record the most minutes unbeaten at a European Championship - a feat that was finally surpassed by Spain's Iker Casillas in 2012.
Zoff was also in the record books for having gone 784 minutes unbeaten in European Championship qualifying. He handed that particular baton over to another legendary Italian goalkeeper, Gianluigi Buffon, in 2011.
As the 1982 World Cup in Spain came into view, Italian football had been rocked by a match fixing scandal, known as a 'Calciopoli'. It was an under pressure Azzurri, captained by the 40-year-old custodian, that touched down in Iberia ahead of their group opener against Poland.
Things went from bad to worse after a goalless draw against Poland before a collapse seemed on the cards following another woeful performance against Peru in a match that finished 1-1. A press embargo was in place by the time the Azzurri limped into the second round group phase, by virtue of goals scored after another 1-1 draw against rank outsiders Cameroon. When Zoff's team was paired with Argentina and Brazil, many Italians back home feared the worst.
What happened next has gone into Italian footballing folklore as Italy, led by Zoff and disgraced striker Paolo Rossi, ripped up the script to finish top of their section and secure a place in the semi-finals.
The 3-2 win against Brazil on July 5th at the Sarria Stadium in Barcelona is widely regarded as the best World Cup game of all-time. Rossi, having just returned from a two-year exile as part of the "Calciopoli" scandal, scored a hattrick, with Zoff making an incredible goal line save in the dying minutes to ensure Italy's passage. The Brazilians claimed that football "died that day", thanks to Zoff's heroics in goal. Yet, the party was only just getting started on the peninsula.
A brace for Rossi and another clean sheet at the Camp Nou against Poland in the semi-final, ensured that Zoff would have the chance to become the oldest player to lift the World Cup in an eagerly anticipated final against West Germany in Madrid.
In a largely one-sided encounter, Rossi secured the golden boot by opening the scoring on 57 minutes, before Marco Tardelli's iconic second all but made sure of the title 12 minutes later. Alessandro Altobelli extinguished any West German hopes on 81 minutes before Paul Breitner grabbed a consolation as the clock ticked towards full-time.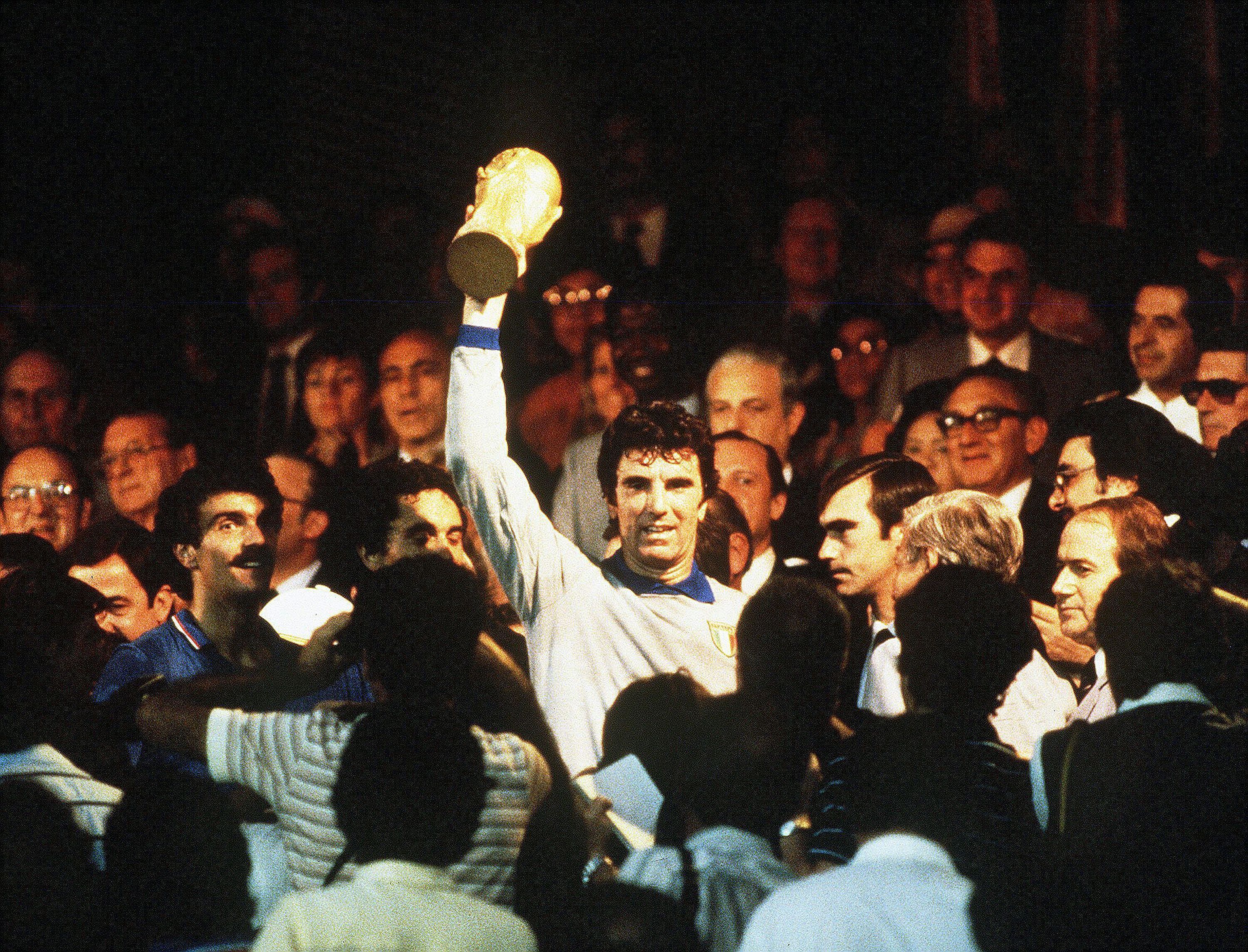 As well as the oldest player, Zoff became only the second goalkeeper to lift the trophy since his compatriot Gianpiero Combi in 1934, and was once again voted goalkeeper of the tournament. His boss and card school compatriot Enzo Bearzot described Zoff as a "level-headed goalkeeper, capable of staying calm during the toughest and the most exhilarating moments. He always held back both out of modesty and respect for his opponents".
When asked to recount his greatest memory of their 1982 triumph, Bearzot stated; "at the end of the Brazil match, he (Zoff) came over to give me a kiss on the cheek, without saying a single word. For me, that fleeting moment was the most intense of the entire World Cup".