Over 95% of teams in the top four tiers of English football and the top two in Wales and Scotland last season had male goalkeeper coaches coaching female players.
Jim Hepworth, goalkeeper coach at London Bees and the Women's Army team looked into the topic as part of his MSc Sports Performance dissertation at Stirling University.
He found that over 95% of teams in the top four tiers of English football and the top two in Wales and Scotland last season had male goalkeeper coaches coaching female players.
Research also suggests 11 of the 12 Women's Super League (WSL) clubs have a goalkeeper coach named* - all of whom are male.
As standards of the goalkeeper coach role in football rise, the need for female role models and gender role understanding in the sport is important for developing the women's game.
There are various explanations for why there are few female goalkeeper coaches at the top level.
First, negative stereotypes against female goalkeepers have been an issue. Goalkeeping errors in the women's game can face amplified criticism, which contributes to the stereotyping of physicality and footballing standards.
Such beliefs have also been expressed by high-reaching, influential figures in football. In 2020, former Football Association chairman, Greg Clarke, controversially said to the Digital, Culture, Media, Sports committee "young girls just don't like having the ball kicked at them hard."
Such conceptions have lasting effects. During his research, Hepworth also found that some goalkeepers had poor experiences on the training pitch.
He believes a whole generation of goalkeepers at the end of their careers are impacted by the context of harmful gender perceptions, which can lead them to step away from the game.
"The experience that some goalkeepers maybe have had may lead them to say I don't want to do that anymore", he explained.
In addition, the combination of poor perceptions of female goalkeepers and the lack of available roles in the women's game has arguably impacted the number of coaches.
Andy Elleray worked as a goalkeeper coach at Birmingham Women for ten years. He also worked alongside the English and Welsh FAs and wrote eight books on goalkeeping practices. Elleray believes there is a hunger for more goalkeepers to commit to a coaching career. but he also acknowledges that opportunities aren't as widely available like in the men's game.
"It's not the lack of people wanting to do it, it's maybe the accessibility for jobs and coaching courses.
"When I first started, there weren't many goalkeeper coaches at the senior or youth levels, so people haven't been brought up with this plethora of jobs available.
"It's kind of been a secondary role in recent years. When a club has a budget to employ staff, the goalkeeper coach role is often at the bottom end after the managers, assistants, fitness coaches, and strength and conditioning.
"Until we upskill the female goalkeeper coaches and give them the opportunities that the males have had I think there is still a bit of a way to go to bridge that gap."
Hepworth agrees that it's important to shape a new generation of committed female goalkeeper coaches to continue progress in the women's game.
"We want it to be a female-run sport, we want goalkeepers to come through to become coaches", says Hepworth.
Despite his findings last season on the lack of female goalkeeper coaches, he has noticed a slight upturn this season.
"Things have slightly changed with Nikita Runnacles at London City and Lorna Esson at Hearts in Scotland.
"If we take that from last season to this season, that's doubled in those that are visible, so if that continues in the next X amount of years we're going to see a greater number of female coaches who are coaching goalkeepers."
He pinpoints the changing context of the women's game as explanatory of this potential shift and highlights the growing need for more female coaches to enter the professional game to benefit players.
"We're getting more females coming through the game with more positive experiences, therefore the positive experiences are relating to them wanting to stay in the game a bit longer.
"When you've got coaches who are male transferring from the men's game into the female game, it's not the same. Coach education sessions try to make programme delivery gender neutral or say that content is not gender biased but the men's game and the women's game is different", opines Hepworth.
"Some of the male coaches I interviewed for my dissertation worked in the WSL, at international level and their feelings were the same; there is very little help for you to transition into the female game, you make errors but as you develop you make less because you are learning."
Bringing in new female coaches is important. But it's equally essential to retain the top talent that has the experience, knowledge and understanding of the club and international levels.
Many ex-professionals at club and international levels in the UK have moved away from football roles post-retirement. Elleray feels this must be addressed as professional players can have some of the biggest impacts on young female players.
"You've got Karen Bardsley, Siobhan Chamberlain, Rachel Brown-Finnis who have been prominent female goalkeepers who have retired over recent years and who aren't coaching. There are other avenues that people can go down in terms of being involved in football, like the media, and that's a really attractive proposition", he says.
Indeed, Chamberlain and Brown-Finnis have become regulars on our screens, with both called upon - especially the latter - to cover broadcasted football. Chamberlain spoke of how she preferred media work to coaching back in 2014, and wasn't necessarily keen on moving into that sphere post-retirement.
"We need to be smarter in the UK as to how we use those role models and how we give them the opportunity to coach.
"If I went back into the female game, there are a lot of things that I couldn't offer and there are certain things that you had to experience being from the social side and the psychological side and working your way up through the youth ranks and being a senior professional. That is valuable knowledge and insight that you can't learn on a coaching course."
In particular, Elleray points to the rise of Manchester United goalkeeper Mary Earps.
Earps was a central figure in the Lionesses' Euro 2022 winning squad. She started every game and was named women's goalkeeper of the year at the FIFA Best Awards in 2023.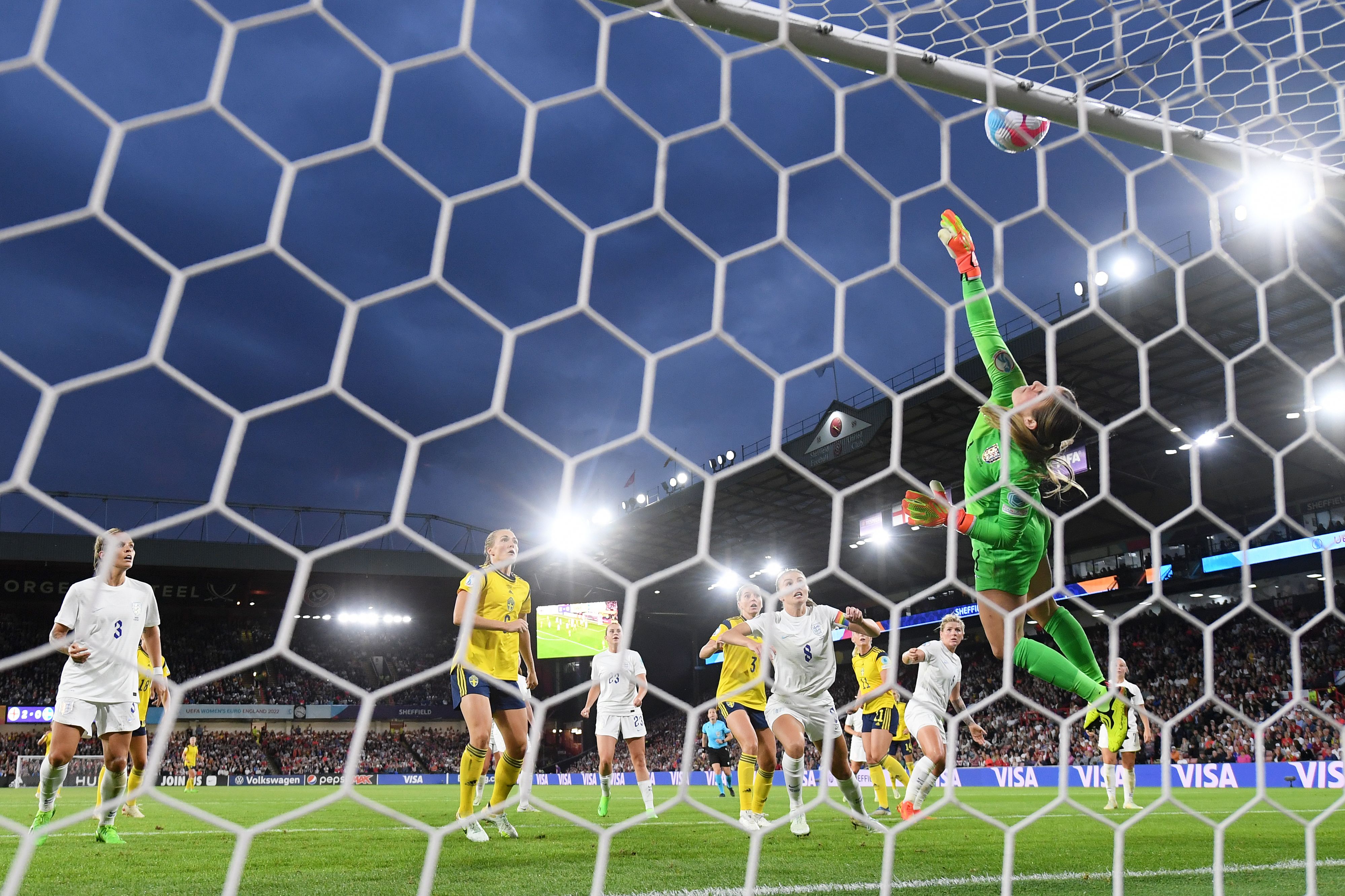 But the journey to the top was challenging. Earps was dropped by former England boss Phil Neville between 2019 and 2021, and she questioned her football career and standard. Improving form for Man United and support from family and men's goalkeeper David De Gea helped Earps focus on working her way back into the Lionesses' squad.
Elleray feels these experiences can provide essential learning points for aspiring female goalkeepers.
"If you're a young female goalkeeper of 11 or 12 who's been coached by Mary Earps, Mary could offer a lot more than I could in terms of coaching these young girls because she's been there and done it. She's been through the hardships, been through the tough times and come out the other end.
"You could be the best male coach in the world, but there are still areas where you can't fully impact a young female goalkeeper because of gender differences and different experiences."
As awareness increases, the importance of positive and top-quality training for young players is key. While many quality male coaches work at the top levels of women's football, female role models for young female players cannot be replicated.
Equally, as positivity around the women's game grows, the FA and clubs can use this momentum to inspire more young goalkeepers to move into coaching roles, driving participation further more broadly.
*Staff lists are not publicly available for every team in the Women's Super League. The research behind this statistic is based on online research, whether it be a self-declared position by the goalkeeper coach e.g. on LinkedIn, or named officially by the club. No named goalkeeper coach could be found for Brighton and Hove Albion Women. If we have made an error in this article, please email [email protected]