As La Roja enter a new goalkeeping era, Rahul Lakhani looks at Spain between the sticks now and then…
As soon as Andres Iniesta's shot found the back of the Netherlands' net in Johannesburg with just four minutes of the 2010 World Cup final remaining, Spain had cemented themselves at the pinnacle of world football. The winners of Euro 2008 had found success on the biggest stage, and wrote their names into the history books with an era of dominance over global football which would continue until their disastrous showing in Brazil four years later.
Domestic Spanish football thrived in that period as well, with La Liga and the 'big two' attracting some of the world's biggest names to play alongside Lionel Messi and Cristiano Ronaldo in the early 2010s. Wherever you looked in the Spain squad, stars from Europe's biggest clubs could be found, and this was reflected best in the goalkeeping roster that lifted the trophies.
Real Madrid captain Iker Casillas was the unquestioned number one; Barcelona's Victor Valdes and Liverpool's Pepe Reina could consider themselves unlucky that they had one of the greatest ever ahead of them in the pecking order. All three were playing for clubs with multiple European Cups to their name, and all three were stars in their own right, in a dressing room filled with the likes of Carles Puyol, Xabi Alonso and Sergio Ramos – Champions League winners playing for some of Europe's biggest teams.
As the Qatar World Cup looms, the Spanish national team is now a far cry from the golden era of 2008-2012. There is a lot more diversity in the squad, in terms of the teams in which Spain's best play domestically, and European leagues beyond La Liga are now more represented than before. Just 12 years after the triumph in South Africa, Spain's goalkeeping situation has evolved and changed dramatically in a number of different ways.
One obvious difference between now and 2010 is the diversity in the clubs that Luis Enrique picks his goalkeepers from. Iker Casillas was Real Madrid's captain, one of their greatest ever players and a 'Galactico' by status alone. Victor Valdes was Barcelona's number one for six of their La Liga triumphs and three of their Champions Leagues. Pepe Reina was a vastly experienced and popular goalkeeper at Villarreal and Liverpool, but his trophy cabinet paled in comparison to his colleagues.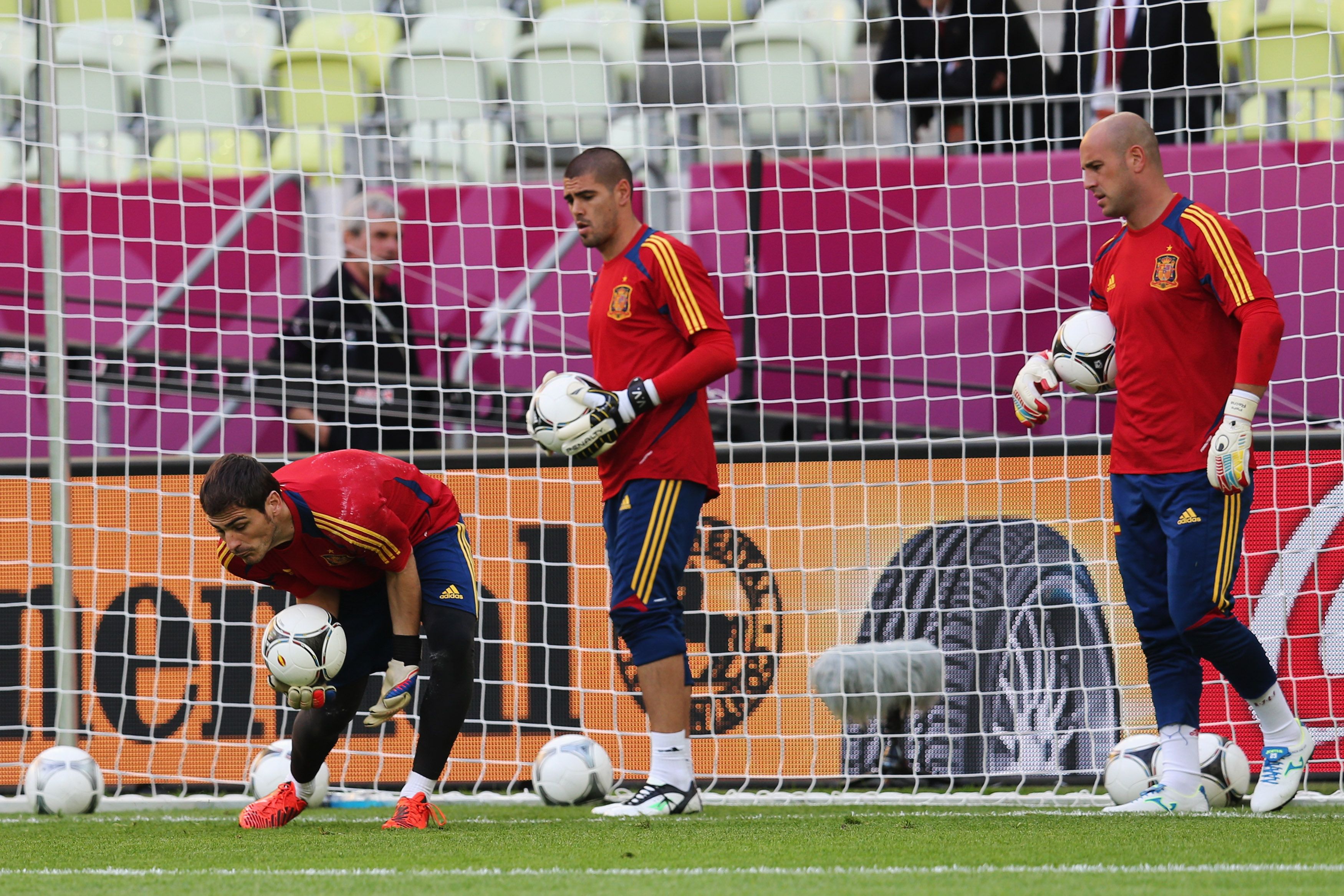 In fact, the 2018 World Cup was the first major tournament of the 21st century in which Spain had picked two out of three goalkeepers who, at the time, were playing their club football outside of Spain in David De Gea and Pepe Reina. This is a trend that has continued over the past four years, with De Gea, Robert Sanchez, and Unai Simon going to EURO 2020 and, this summer, Simon being joined once again by Brighton's Sanchez and Brentford's David Raya.
Factually speaking, the three have zero major trophies, and zero Champions League appearances between them, whilst their clubs have finished between the lower end of the top half and mid-table of their respective leagues in the last few seasons.
There are many explanations for this sudden and significant shift, but perhaps the most important difference is that the two biggest clubs in La Liga have moved away from a Spanish-centric transfer policy.
For years, Real Madrid were dead set on signing Manchester United's David de Gea as the successor to Casillas, and the expectation that De Gea would also be Spain's number one played some part in their interest. When a deadline day deal fell through at the last second in 2015, they ultimately gave up their dream. The forever underrated Keylor Navas continued to impress as Zinedine Zidane's trusted number one, whilst De Gea signed a long-term contract to stay at Old Trafford. Thibaut Courtois eventually joined from Chelsea and has now established himself in club folklore as a truly world-class Real Madrid goalkeeper.
Barcelona, meanwhile, signed both Chilean Claudio Bravo and German Marc Andre Ter-Stegen to close the Valdes era, with both initially being delegated different competitions as the Blaugrana won the treble in 2014-15 before the German took on the number one role which he still occupies to this day.
Sanchez and Raya have both impressed in the Premier League, and De Gea is no longer considered an option, whilst Chelsea's Kepa Arrizabalaga's late impressive form wasn't enough to mask four underwhelming years since his £71.6m move from Athletic Bilbao.
Goalkeeper-xG data found the following results regarding Sanchez and Raya's recent Premier League form. The numbers, positive or negative, correspond to the respective goalkeeper's value to their club against a mathematical 'average' Premier League goalkeeper:
Raya Overall Value = +3.86

Raya Shot Stopping = +3.26

Raya Shot Handling = +0.69

Raya Cross Claiming = +0.01

Raya Sweeping = -0.63

Raya Distribution = +0.53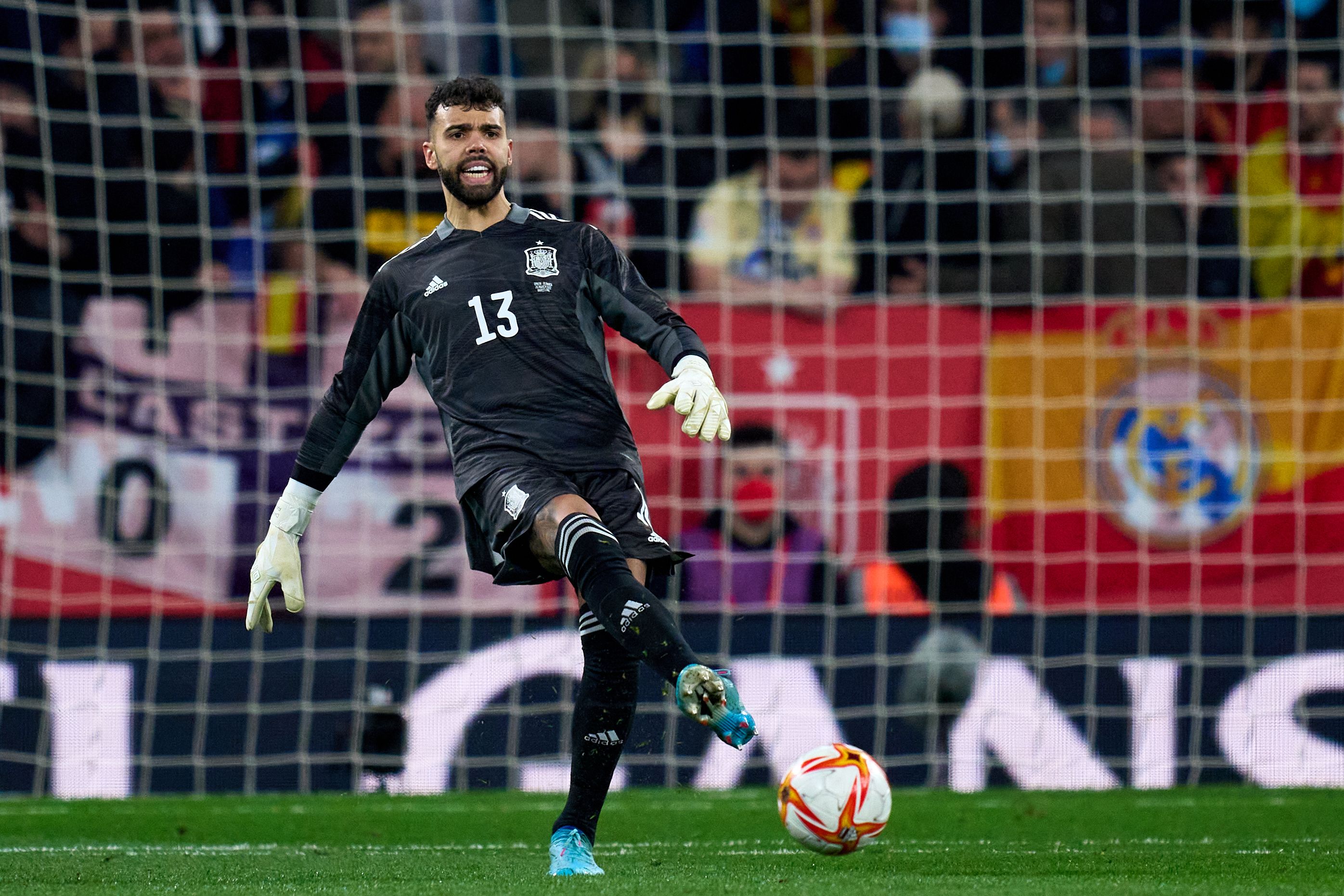 Sanchez Overall Value = -1.41

Sanchez Shot Stopping = -1.59

Sanchez Shot Handling = +0.10

Sanchez Cross Claiming = -0.08

Sanchez Sweeping = +0.07

Sanchez Distribution = +0.09
Raya has been in far better form this season, with Sanchez only improving on Raya's sweeping numbers.
Holistically, Spain's new-look goalkeeping department carries a different weight to the experience and influence of Casillas and Co. Enrique's dressing room will undoubtedly have a different balance of personalities when it comes to the goalkeepers' integration with the larger squad.
Casillas was Real Madrid's captain and carried an aura of leadership. A hero in many heated El Clásico and Champions League fixtures since his debut as a 16-year-old, the magnitude of playing in a World Cup hardly fazed 'San Iker,' a name he was given meaning 'saint' for his near superhuman ability to perform in the biggest fixtures.
In fact, given the large Clásico divide in the Spain dressing room, Casillas proved to be the most important figure as Spain chased down glory, helping some of the biggest names in football put aside their tense rivalry and work together. The likes of Sergio Ramos, Gerard Pique and Sergio Busquets would be at each other's throats when Barcelona would face Real, but here they were on the same side, gelled perfectly together.
The current Spanish goalkeeping crop will be coming in as, relatively speaking, inexperienced members of the squad. They will enter a dressing room filled with Barcelona's talent old and young, as well as experienced winners from Manchester City and Real Madrid.
On the topic of experience at the most elite level, perhaps the biggest question that has arisen recently is the notable absence of De Gea.
Still Manchester United's number one despite receiving scathing criticism from some quarters in recent years, the 32-year-old may look back on his international career with a few regrets.
Casillas ended his career with 167 Spain caps. De Gea is almost certain to end his with just 45. In fact, De Gea was surprised to hear that Spain had announced his retirement from international football - unverified by the player himself.
When he was at his best, he was arguably the best shot-stopper in the world, but what currently holds the former Atletico Madrid keeper back is his inability to really fit into a possession-based style.
Luis Enrique didn't even remotely consider De Gea for Qatar and hinted that it was purely a tactical decision.
"It is part of the tracing we do with the goalkeepers," Enrique stated when asked about Raya's first call-up in March 2022 ahead of De Gea. "He is a player who is doing very well.
"I really want to see it in the context of the selection. He has the necessary profile to play with us."
The key word here is "profile." Enrique's Spain system requires outstanding ability on the ball as they dominate the ball – they recorded 65% possession against Italy in the Euro 2020 semi-final, and this extends to the goalkeeper as well as outfielders.
The former Barcelona manager clearly prioritises the ability to play from the back, and given his weakness in this area, the Spain team has moved past the need for a goalkeeper like De Gea.
The likes of Cesar Azpilicueta, Dani Carvajal and Busquets will step up as leaders now the rest of the old guard are gone, and there will no longer be a reliance on the keeper to be the glue between an El Clasico divide.
Unlike Casillas, Unai Simon can simply focus on his on-pitch performances, and there will be less emphasis on any Hollywood saves he makes, but his overall contribution to the performance in distribution as well as shot-stopping.
Spain may no longer need a Casillas-like leader between the sticks, and if Simon offers enough in possession that the rest of the team thrives, then he will have justified the trust placed in him. However, Simon's place is not necessarily cemented. Raya and Sanchez are matching his level domestically, and bring a fresh dynamic to a Spanish goalkeeping department going through change.
Simon faces an international career defining tournament in Qatar. De Gea was afforded two major international tournaments before swiftly being relegated down the pecking order. Although Simon is working off a more solid base after a net-positive EUROs, Raya and Sanchez will be hungry to capitalise on Spain's goalkeeping fluidity.
Spain's current goalkeeping department still has a long way to go to command the same respect that the legendary trio of Casillas, Reina, and Valdes did.