We myth-bust what a 'camera save' really is, and how the media naturally panders to perception bias in goalkeeping…
'That's one for the cameras' is a go-to phrase in the ill-informed pundit's goalkeeping almanack.
Infuriatingly naïve, the typical pundit will then go ahead and begin to break down how the save could have been made easier, or why - even worse - it was not as hard as it looked. One recalls the incredible top hand save that Keylor Navas made in the 2016 Champions League Final, to which the BT Sport commentary team lamented him for going with the 'wrong hand'…and making the save more difficult for himself.
It doesn't take a seasoned top flight goalkeeper to know that the assessment was entirely wrong, and going with what they deemed to be the 'right hand' would have actually been somewhat counter-productive. Furthermore, where was their technical justification of what the 'right hand' would have been to use?
Yet, it is the 'camera saves' that make goalkeeping entertaining. The question is, what really qualifies as a camera save, and why is it that those outside goalkeeping place importance upon them?
It is true that the media enjoying portraying dramatisations of events. If football is the great show, then the goalkeeper is the master of ceremonies. Shot-stoppers, quite literally, defy gravity, and it is portraying this that leads to clicks and hits.
The irony is the best pieces of goalkeeping in a shot-stopping save sometimes fail to 'qualify' as 'camera saves', or worthy of places in highlight reels. Most likely through lack of proper information, mainstream providers provide a key contradiction in their oversimplification of goalkeeping on the punditry side, but continue to push the seemingly most complicated of goalkeeping to consumers through video compilations and short clips.
This leads to a conundrum; what really is a 'good save'? Is it a piece of goalkeeping that is perceived as the most difficult to execute due to a defiance of 'normal' human physical boundaries, a save that looks clean and aesthetically pleasing, or a save that statistically defies the odds of a goalkeeper making it?
In other words, the media love showing camera saves, but take a dislike to goalkeepers making them. They want a show, but pundits fail to recognise what's really show-worthy.
Goalkeeper.com's Data King Dr John Harrison proved this reaction to the Premier League's chosen saves for their 'Save of the Month' competition for August.

The saves included in the video all look good, admittedly. They are camera-worthy saves. According to Dr Harrison's model, their expected save probabilities - how likely it is that the mathematically 'average' Premier League goalkeeper would have made the save - are as follows:
Meslier vs Wolves 53%

Sa vs Leeds 46%

Pope vs Brighton 28%

Lloris vs Chelsea 51%

Martinez vs Crystal Palace 47%

Raya vs Fulham 45%

Ward vs Chelsea (1v1) 50%

Henderson vs Kane 10%



Therefore, the statistical ranking is as follows:
Henderson vs Kane 10%

Pope vs Brighton 28%

Raya vs Fulham 45%

Sa vs Leeds 46%

Martinez vs Palace 47%

Ward vs Chelsea 50%

Lloris vs Chelsea 51%

Meslier vs Wolves 53%



Saves 5-8 would have been saved near-half of the time by an average Premier League goalkeeper. The actual winner of the save of the month was Nick Pope, whose denial of Adam Lallana's bouncing header was a brilliant example of judgement, movement and technical execution. However, statistically speaking, the best save was actually Dean Henderson's penalty shutout from Harry Kane.
Naturally, all of the saves in the video looked good. They were all worthy 'camera saves', in the sense that they were entertaining to watch. Each goalkeeper pulled off an example of the physically unusual - what makes goalkeeping such a spectacle in itself. But, when we consider the connotations of the phrase 'camera save', they are often negative.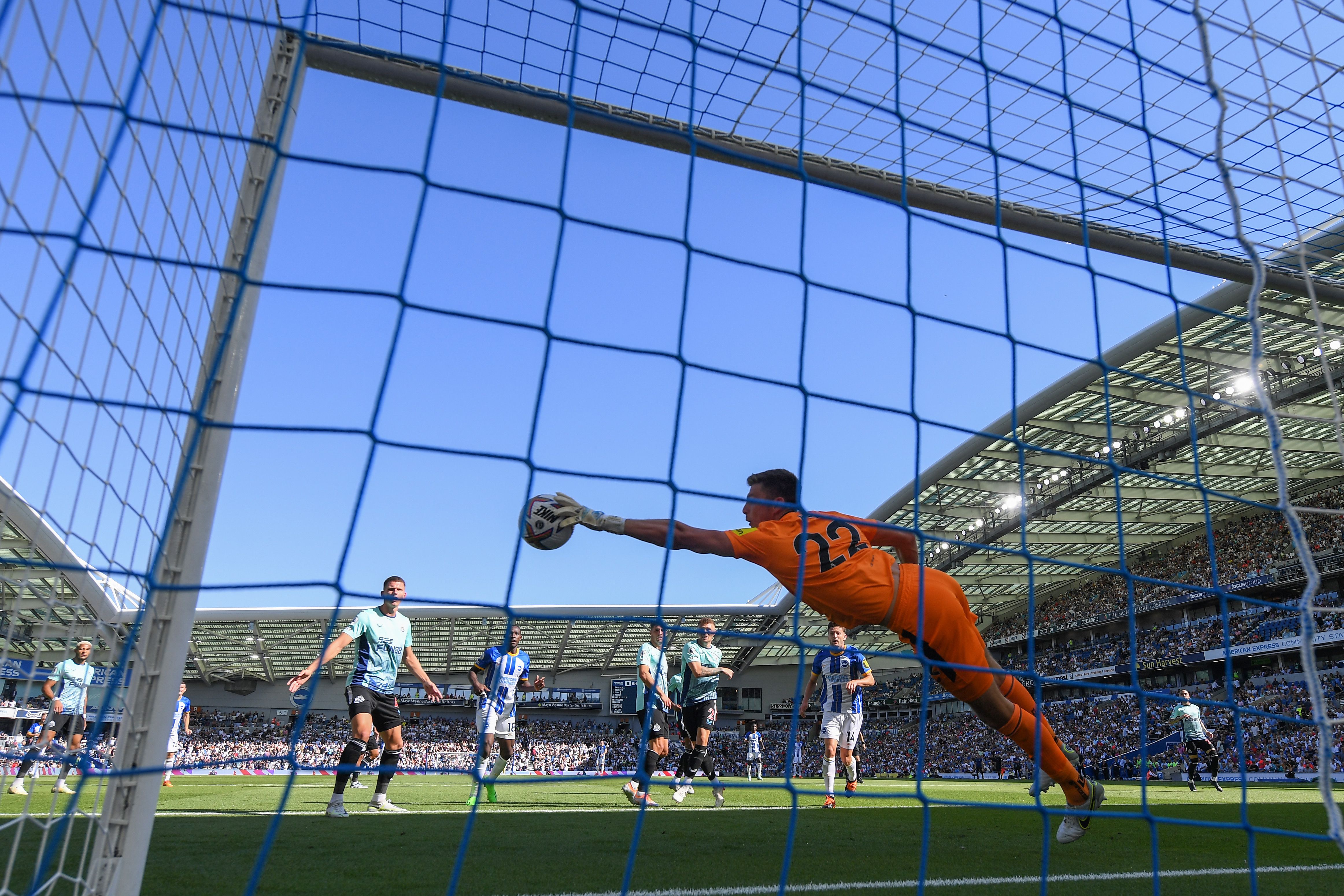 Judging by their statistical save percentages, most of the saves fit the mould of a 'camera save' in the sense that some looked good, but were theoretically not particularly unlikely to have been conceded. Yet, they were no less important to their team - and can't be said to have been overcomplicated in anyway. See the loophole?
We have to also consider the context of each save to help give the numbers weighting. For example, Nick Pope's winning save helped give Newcastle their second clean sheet in two games. Dean Henderson became the first goalkeeper to save a Harry Kane penalty in the Premier League in four years. Meslier's save contributed to an opening day win for a Leeds side against whom the odds are stacked this season.
Most interesting, however, was the list of nominees.
Of the eight goalkeepers chosen, only two of them actually ranked in the statistical save of the month top eight based on Expected Save Probability.
Henderson vs Spurs (PK) 10%
Pope vs Brighton (Header) 28%

Interestingly, the 1v1 save Danny Ward made that the Premier League nominated was actually outshone by another 1v1 save Ward made in the same game.
Henderson, Martinez, and Sa's penalty saves may not have been included for two reasons. Firstly, they saturate the competition by all being penalty saves, and secondly, they perhaps don't qualify for 'camera save' status purely in their aesthetic.
Judging the quality of a save purely on paper doesn't tell the whole story of how important it is, but it does prove how perception bias towards 'camera saves' occurs in the mainstream media. Saves are based on their 'perception' - how well they play to a stereotype of a top 'camera save' piece of entertainment.
So, in summary, what this proves is that, once again, several vital goalkeeper actions go unrecognised by the mainstream media. As they say, don't believe everything you're told.
Especially by pundits.