From the rise of the Instagram goalkeeper to the professionals opening up a closed coaching book, how is social media used for better and for worse in goalkeeping?
A go-to phrase in the pundits' goalkeeping almanac is 'camera save'.
'That's one for the cameras', they throw about on a regular basis. Is it disparaging? A by-product of continued 'goalkeeping disinformation'? A genuine belief? Either way, we're used to it. It's part and parcel of the job, and every goalkeeper has been told they've 'played to the camera' at least once.
In truth, it's an unsolicited phrase that is rarely accurate. In the professional football sphere, it simply doesn't hold very much weight. Through a variety of methods, including cutting-edge data analysis, sports science, and new practices on the grass itself, goalkeepers are becoming ever more efficient.
In fact, you'll see very few saves 'made for the camera' across the footballing world. Goalkeepers don't aim to make their life difficult, or do more than they need to. Often, saves that look overly dramatic are a by-product of a sudden gust of wind catching the ball or a blocked eyeline, forcing the goalkeeper into reacting.
Keeping things simple is arguably the most important shot-stopping mantra, especially at the top. However, we can't deny that goalkeeping doesn't have entertainment value. Defying gravity and pulling off saves and shapes that seem impossible to the untrained eye creates a certain degree of intrigue, naturally.
One day, somebody, somewhere, realised that intrigue is powerful. They did an experiment. Made a video. Shared it. It went viral. Monetised it.
And so, the social media goalkeeper was born.
As of October 2021, statistics tell us that around 4.6 billion people across the world use social media. This is 58.4% of the world's population. In 2021, the social media platforms that saw the biggest increase in users were YouTube, TikTok, and Instagram. Interestingly, these are all video-oriented sharing platforms, unlike Twitter, WhatsApp and Facebook which are arguably more text-based. Per month, the average social media user spends over 55 hours on YouTube, TikTok and Instagram.
Therefore, it comes no surprise that the 'social media goalkeeper' has boomed in popularity in recent years. Goalkeeping is unique - and it looks impressive on camera. It makes a pretty good show. Naturally, this is a recipe for virality.
But clicks and views come with entertainment - the 'camera saves' - and arguably, 'real life' goalkeeping fades into the background. It's undeniable that 'goalkeeping influencers' are clickable and watchable, and the flashy saves, perfect hair and latest gloves (or, more accurately, their own brand of gloves) play perfectly into the on-demand conditioning of the human mind. It's a quick fix of something cool, to put it blatantly.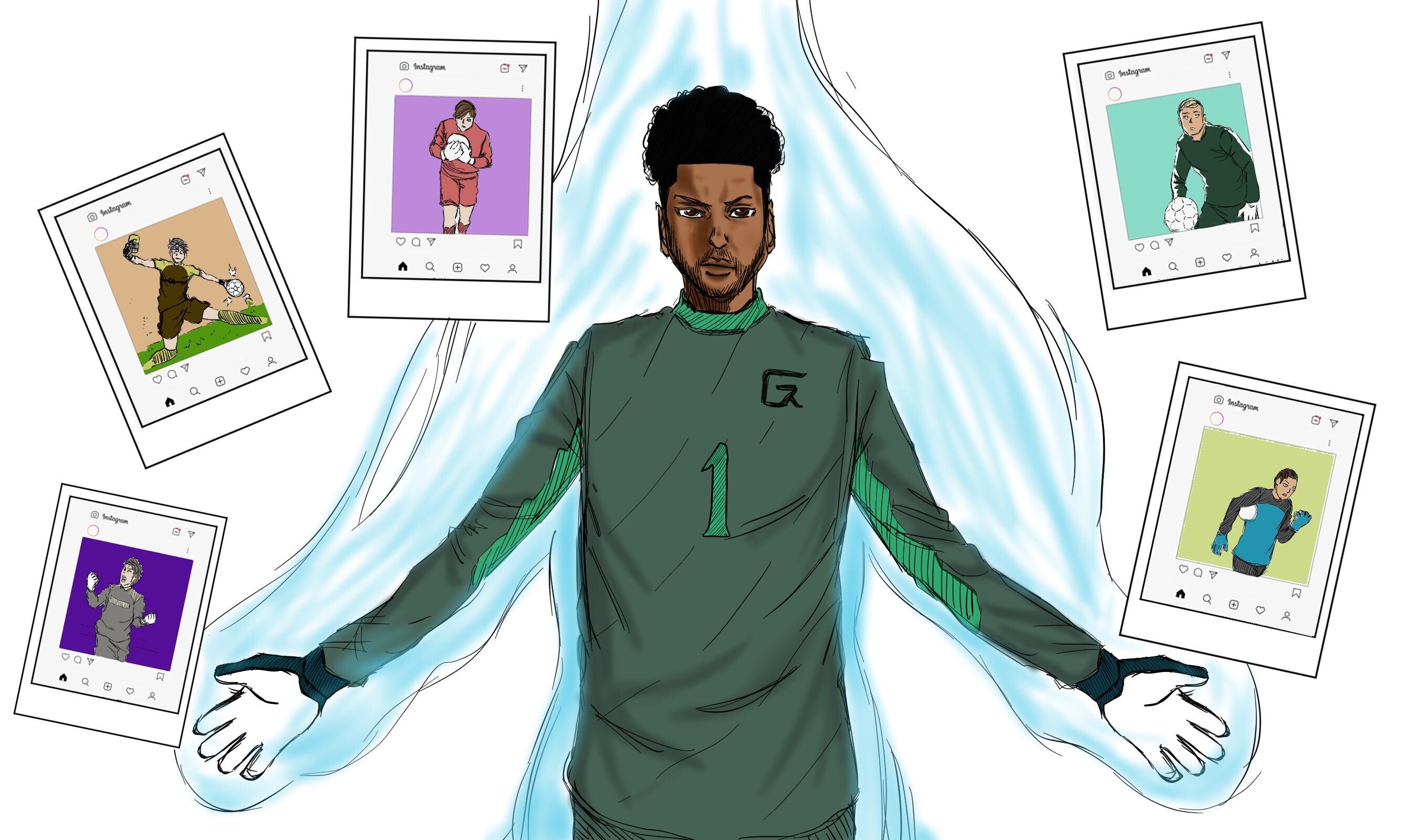 Yet, are goalkeeping influencers doing more harm than good? Many are quick to criticise them on social media. Could it be that we are too quick to judge their motivations?
"This is something I've struggled with since I started making content", says Koen Geven, better known as the Dutch Goalkeeper, talking to Goalkeeper.com.
"It is true that what I do is mainly entertainment, and that is purely because I'm not a professional goalkeeper. I don't portray to be one. I've never been one. And I'm not a professional goalkeeper coach. I don't feel like it's my position to educate people.
"Of course, I can tell people how I do certain things. For example, I've made side volley tutorials in the past, and I can tell others about my experiences and tips that have helped me, but I feel like that information would be way more valuable coming from either a professional goalkeeper or an actual goalkeeper coach", he explains.
Geven's tone is quite refreshing. Speaking further of how he refers those who message him for technical and tactical advice onto qualified coaches, the Dutchman makes it clear that his social media channels exist primarily - and hopefully explicitly - to entertain others. To put on a show.
However, as Geven goes on to explain, there may be a more educational element - on an implicit level - to the entertainment-oriented approach of the social media goalkeeper.
"I do think social media is a good thing in goalkeeping, because it has brought the positive side of goalkeeping to a bigger audience. People who don't know a lot about goalkeeping get to see what it's all about, to an extent. I also think it can help motivate and inspire young goalkeepers. I used to watch YouTube videos to motivate me for a match.
However, Geven also admitted that he can see why brands such as his own can be problematic for some.
"Some people might say it sketches a 'wrong' image of what goalkeeping actually is. You have the spectacular saves and all the awesome stuff, which is definitely a huge part of goalkeeping, but there's so much more to it than just that".
*
Those who criticise the social media goalkeeper point to a variety of different alleged problems with it. The principle argument tends to follow the line of selling 'education' to impressionable young goalkeepers, who could come to view top-corner saves and complicated training as 'the norm' with goalkeeping.
Then, when they realise that there's a lot more to goalkeeping than solely this, there's a potential to lose interest.
The education vs entertainment debate is interesting. Entertainment branded as education for commercial purposes can create bad feelings, if for no other reason than the fact that those who do provide 'real' goalkeeping education are devalued or forced into the 'boring corner' by influencers. That being said, not all social media goalkeeping users are looking for education.
Some people do want to be entertained, and that's okay - as long as the entertainment content is not being branded as educational. In the last few years, however, more and more professional goalkeeper coaches have been using social media to platform their teachings and bring a more experienced level of information to the masses.
For example, Borussia Monchengladbach goalkeeper coach Fabian Otte has extensively been using Twitter and LinkedIn to share snippets into his doctoral-level research into skill development and acquisition. The FA's own 'Inside Training' series has turned into a slightly more educational content model, with goalkeeping-focused videos now including snippets of insight from National Goalkeeper Coach Martyn Margetson.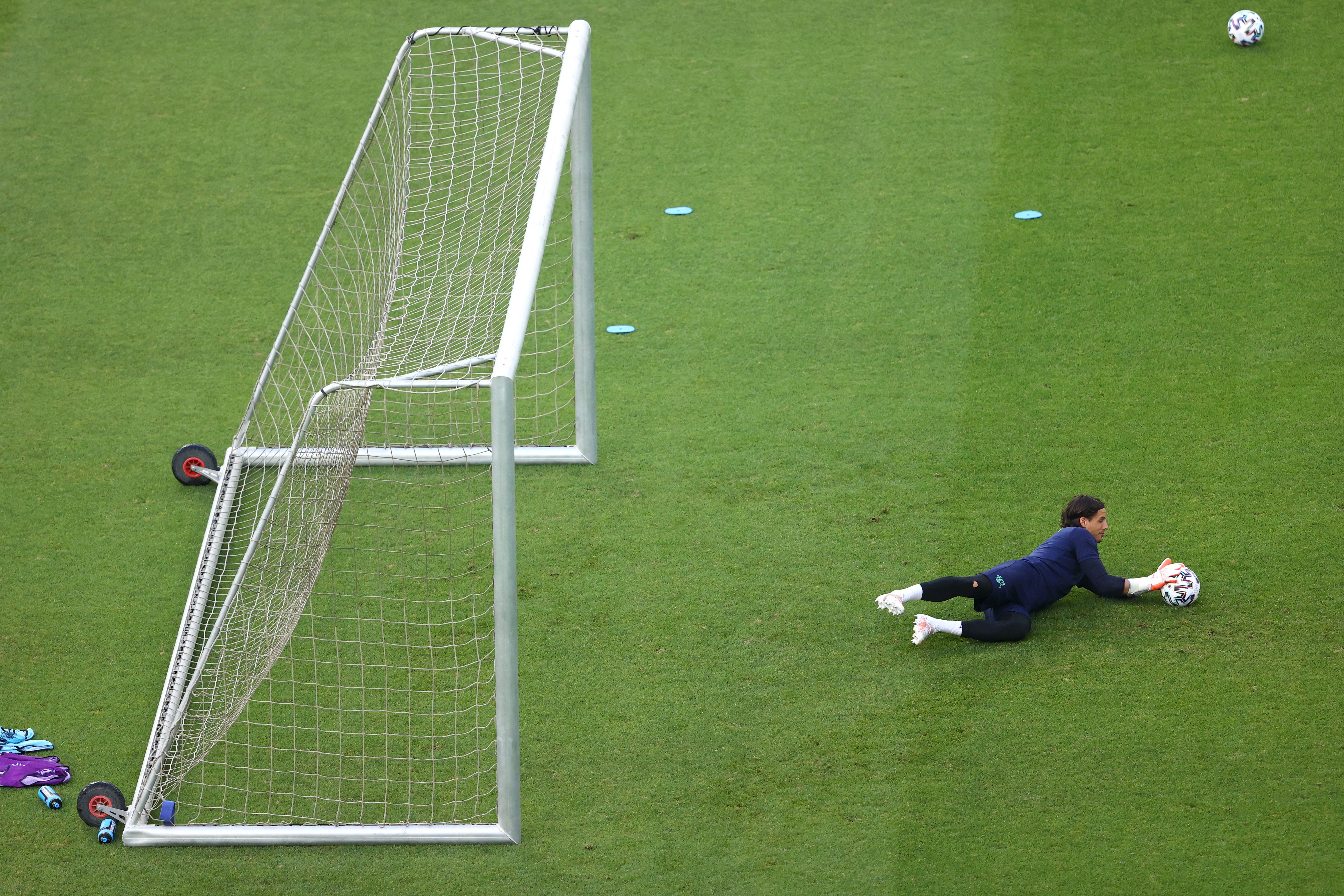 Another who has been prominently using social media, almost fusing education and brand together, is the 'Bearded GK Coach' - also known as Oxford United Head of Goalkeeping, Wayne Brown.
"Is social media a good or bad tool for goalkeepers? It all depends on what you're watching. There's some good stuff and some bad stuff", says Brown.
The 44-year-old coach documents snippets of his sessions with Oxford's First Team goalkeepers on his Instagram page, with videos frequently reaching upwards of 5000 likes.
"The thing is, when we put our sessions on, you only see around 15 seconds of it. In that respect, I just wanted to allow people to see the sort of stuff we do as professional goalkeepers. Nobody else had really done that in short form before".
Given the lengths of the videos on Brown's Instagram page, it makes sense that - as he recognises - entertainment is the primary purpose of the account.
"All of our videos are based on or are from professional sessions, but we do the real 'educational philosophy' type stuff on our 'Future Goalkeeper' academy page [run by Brown and Oxford United goalkeeper Simon Eastwood].
"We do have mistakes on the account, too - when the goalkeepers don't catch the ball, and so on and so forth. But the reality is that, with the Bearded GK Coach, we do show a lot of top hand saves and the like. It's a neat trick that kids love because it looks good. However, if one of my goalkeepers decided to do that when they could make a simpler save, we wouldn't have that".
"Similarly, when we go to our academy training sessions, we stay away from that sort of stuff", he explains.
*
The education vs entertainment debate is not the only matter of concern for the critics of the social media goalkeeper, however. Users have begun to notice the increasing level of commercialisation, product wise, from these influencers.
Take McCarthy himself, for example. Having created 1YNX Goalkeeper Gloves off the back of his social media success, the 34-year-old has in recent months been featured heavily in Wayne Brown's own training videos with the Oxford United first team goalkeepers. The U's goalkeepers' union has recently started wearing 1YNX gloves, with the brand being increasingly tagged and promoted on both Brown's and 1YNX's social media accounts.
"We're from the same part of the country", explains Brown.
"There's a family friend relationship there through his dad. Dec asked me if I wanted to wear his gloves, and to be honest, they're a good line of products at a decent price. As a coach, they really just keep my hands warm!".
As Brown implies, the product-related relationship between McCarthy and Oxford United is purely personal, not driven out of profit. As with so many things in the social media realm when it comes to goalkeeping, however, the question is whether the user sees a difference.
Michael Bolvin, the slicked-back blond haired star of ModernGoalkeeping heavily promotes his brand, GRIPMODEGK on his social media and in YouTube videos. Like McCarthy, Bolvin's brand has also been adopted by a number of youth goalkeepers across the German professional academies and beyond.
Talking to Goalkeeper.com, Bolvin described himself as a 'demo goalkeeper', simply doing what coaches and his fans ask of him, rather than trying to portray a certain reality.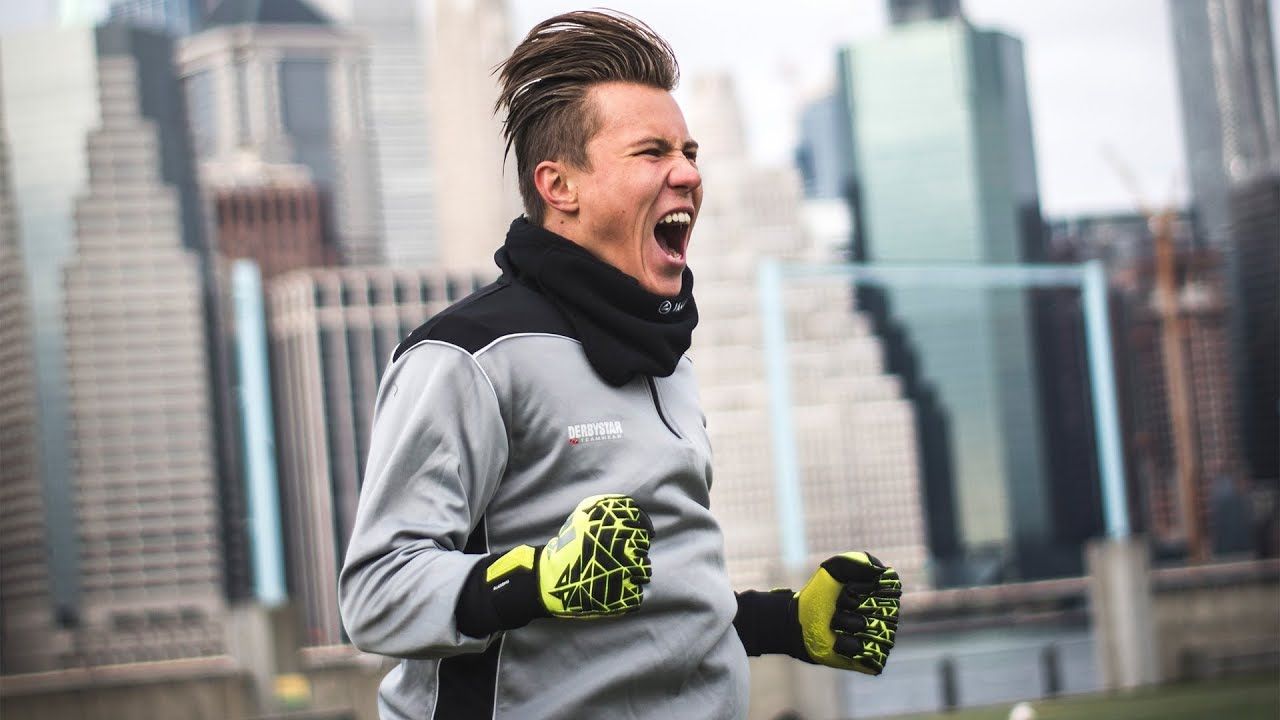 However, he did believe that, in a way, he is providing both education and entertainment. By training and connecting with "lots of experienced goalkeeper coaches from all over the world [he can] showcase their goalkeeping philosophy" to his followers.
When it comes to GRIPMODEGK, Bolvin spoke of his venture coming out of a "passion for goalkeeping".
"A couple of years ago, I was always struggling to find good goalkeeper gloves.. As a result I created them myself and started a business out of passion. It was never about the money or the fame; I just wanted to make other goalkeepers happy and help them fulfil their goals with gloves", he explained.
"My background in goalkeeping started in Germany where I was in the academy of Fortuna Düsseldorf (currently 2. Bundesliga). We had an amazing goalkeeper school and I played at the best level in my age group. After becoming a full time YouTuber, a lot of people doubt my ability in goalkeeping and can criticise me. The thing is, I'm just learning something new everyday and trying to show that on my social media accounts".
Further talking about how he aims to inspire other goalkeepers, Bolvin made his first appearance for a professional Russian side FC Ural. The club promoted Bolvin's involvement with them across their social media platforms, and upon making his debut, they captioned an Instagram post 'so proud'.
It's hardly surprising that these influencers have taken advantage of their social media prominence. Arguably, you can't blame them for this. After all, the numbers behind their accounts make quick promotions and advertising a no-brainer. .
Bolvin, McCarthy, and Geven all have a glove sponsorship or brand advertised their social media 'bios'. On Instagram alone, they've amassed over 800,000 followers in total. Add Lee Robinson and the team at 'The Modern Day GK' - who themselves sell non-grip goalkeeper gloves and a range of other teamwear - into the mix and that number rises to over a million. And that's not even to mention the nine million-plus followers that Geven and Bolvin have on TikTok.
Bolvin, Brown and Geven were more than happy to discuss the intentions behind their brands and their commercial activity. Despite reaching out to all contributors at the same time, the Modern-Day GK declined to comment.
Where some may begin to see a problem is in the sharing of products themselves. Questions surrounding the brands owned by these social media stars have centred on the quality of the products themselves, and the gravitas that they may come to hold in the market. Is it possible that the gloves created are inflated in value due to the persona of those behind them?
This is where - even if these influencers wish to keep the principles separate - the ideas of education and entertainment can fuse together. If a vital goalkeeping product is being heavily pushed by the 'star effect' that their promoters portray, then it's entirely possible that the quality of the product becomes a secondary concern.
This concept is even more relevant when we consider the target audiences of such influencers: impressionable young people or children who, much like with football boots, the FIFA games, or even the teams they support, can be swayed by those who endorse the products rather than how good they really are.
In turn - and especially when it comes to goalkeepers and parents or coaches that may not fully understand the intricacies of the position and know what to look for in a good goalkeeper glove - these influencers begin to be seen as authorities in the goalkeeping space. In other words, they, perhaps unintentionally, become influencers.
It's this conundrum that epitomises the principles of the criticisms these social media goalkeepers often face.
*
But is there a limit to the social media goalkeeper? Will their popularity and followings continue to grow, or will they be suppressed by more accessible 'true' goalkeeping education?
There are problems with the current state of goalkeeping education. Much of it is, first and foremost, paywalled. Other forms can be low in quality, or so high in quality that they can alienate the ordinary goalkeeping user.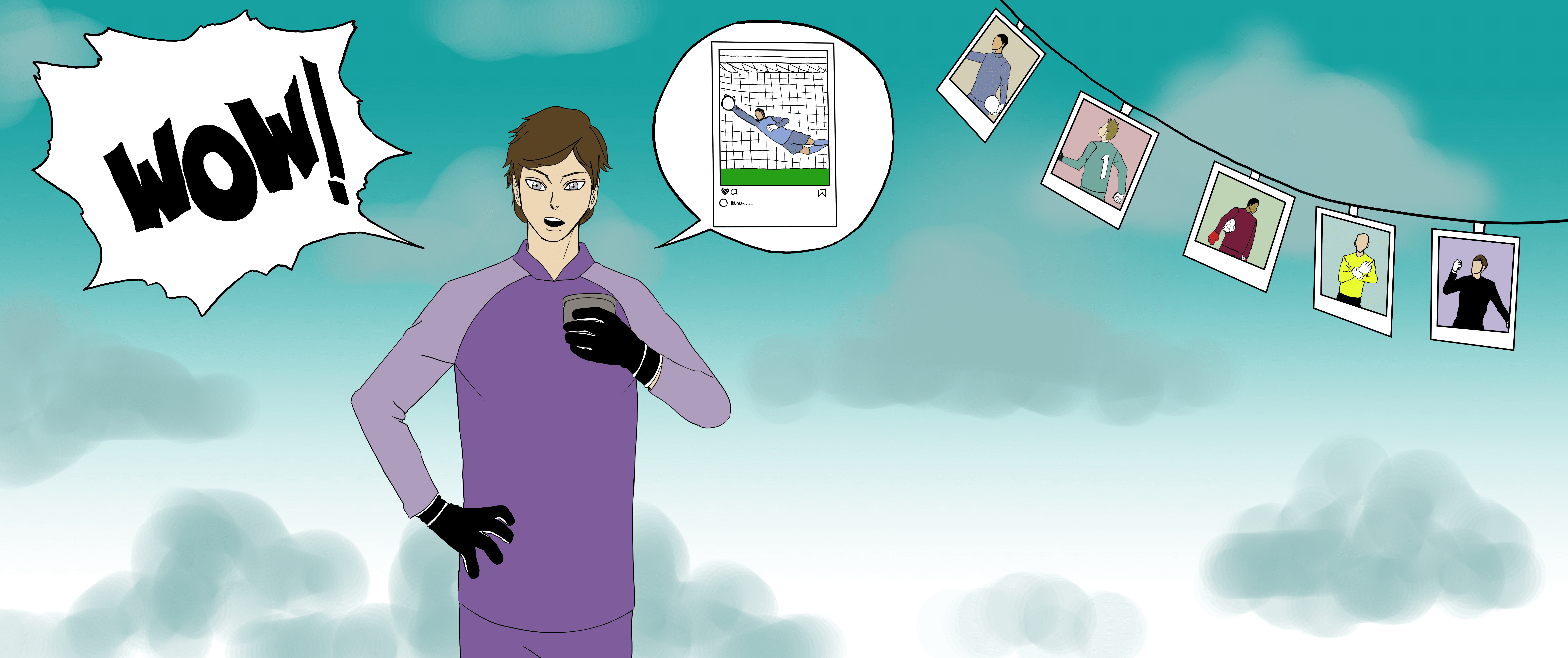 Naturally, all content is created with a target audience in mind. Not everything is created with the goal of reaching and influencing everyone. However, when it comes to challenging the incorrect stereotypes of goalkeepers in the media, information can run the risk of becoming overly technical and intricate.
It's important that goalkeeping education and entertainment is clearly labelled. If you're aiming to entertain, make it obvious. Don't make claims that you're training like a professional, or are a professional. Many of these goalkeepers are clearly talented, but the fact stands that they are not within the day-to-day professional sphere and therefore the insight they can provide is, inevitably, limited.
If you're aiming to educate, it perhaps would be wise to keep it open and accessible, if even on a lower level. The last thing that would be good for the goalkeepers' union is for it to become a closed shop where misunderstandings are stigmatised. It will only deter those who want to learn.
As a niche, goalkeeping can be extremely polarising. Some are in it for the wrong reasons, and others seem to be in conflicting relationships when it comes to goalkeeping and social media. Others use social media as a positive tool for expanding goalkeeping and opening it up to the masses.
And, ultimately, there is good entertainment value in watching a goalkeeper make a 'big' save.
So, is there a limit to the social media goalkeeper?
Well, if goalkeeping education adapts to modern content-consumption habits (visualised, short, tailored clearly for different audiences, personalised and consumable), then perhaps the concept will begin to fade. With goalkeepers increasingly assimilated into the wider team picture, an interest in the position may begin to grow amongst younger generations. Goalkeeping, perhaps, could just be the next 'cool', with a more novel group of footballers pushing the boundaries of the position.
Naturally, this presents opportunities for education and entertainment together.
At the same time, with attention spans and, especially, youth-oriented social media habits and trends, we could equally see a continuous boom in the popularity of the social media goalkeeper both in its current form and in a more immersive environment, especially as VR and AR technologies continue to develop. Sitting on the fence is perhaps a weak answer, but it is the position most logical to take.
However, as of today, a huge gap exists in goalkeeping to formally combine education and entertainment, at least on an explicit level.
The gap exists, and it's up for grabs.