Big bucks have propelled Saudi Arabia into the world footballing spotlight. On the women's side of the game, life-changing developments are taking place for goalkeepers and coaches.
Dan Smith didn't think a move to Saudi Arabia would have been on the cards when he won promotion to the WSL with Bristol City Women last summer.
Now, six months on, the Essex-born goalkeeper coach is out in the scorching heat of the Middle East, leading the goalkeeper department at one of Saudi Arabia's biggest clubs - and more recently, one of the footballing world's most contentious talking points.
"Society and football are changing in Saudi Arabia", says Dan, speaking exclusively to Goalkeeper.com alongside Al-Ittihad Women's First Team goalkeeper Hessa Al Sudairi.
"Obviously a lot's happening in the men's game over here. It gets a lot of pushback, but in the case of the women's game, all that is happening is that the federation and the people want to grow the game".
At first, the idea of a women's football league in Saudi Arabia may come as a surprise to many onlookers outside of the Middle East. But attitudes are changing.
The Athletic recently ran a special report on the women's game in the country, entitled 'Women's Football's Next Frontier?', and the BBC have also given headlines to the 'revolution' occurring with respect to female football. Until 2014, women were not allowed to spectate in football stadiums. Under a decade later, Saudi Arabia has a FIFA registered women's national team, joining the rankings in March 2023.
"I think the players that are joining the league are seeing it as an opportunity, you know, to be almost trailblazers and shape the women's game. To bring that professionalism, and bring that quality, so that everyone else can learn from it", opines the Englishman.
"The league here is only really entering its second season of being fully professional. When I was presented with the opportunity in the summer, after giving it some proper thought, I realised that I'd been in this sort of position before. When I started working in the WSL, it was only in its second or third season. There was a lot that needed to change then, but it felt like being involved in something bigger than football. That's what it feels like now."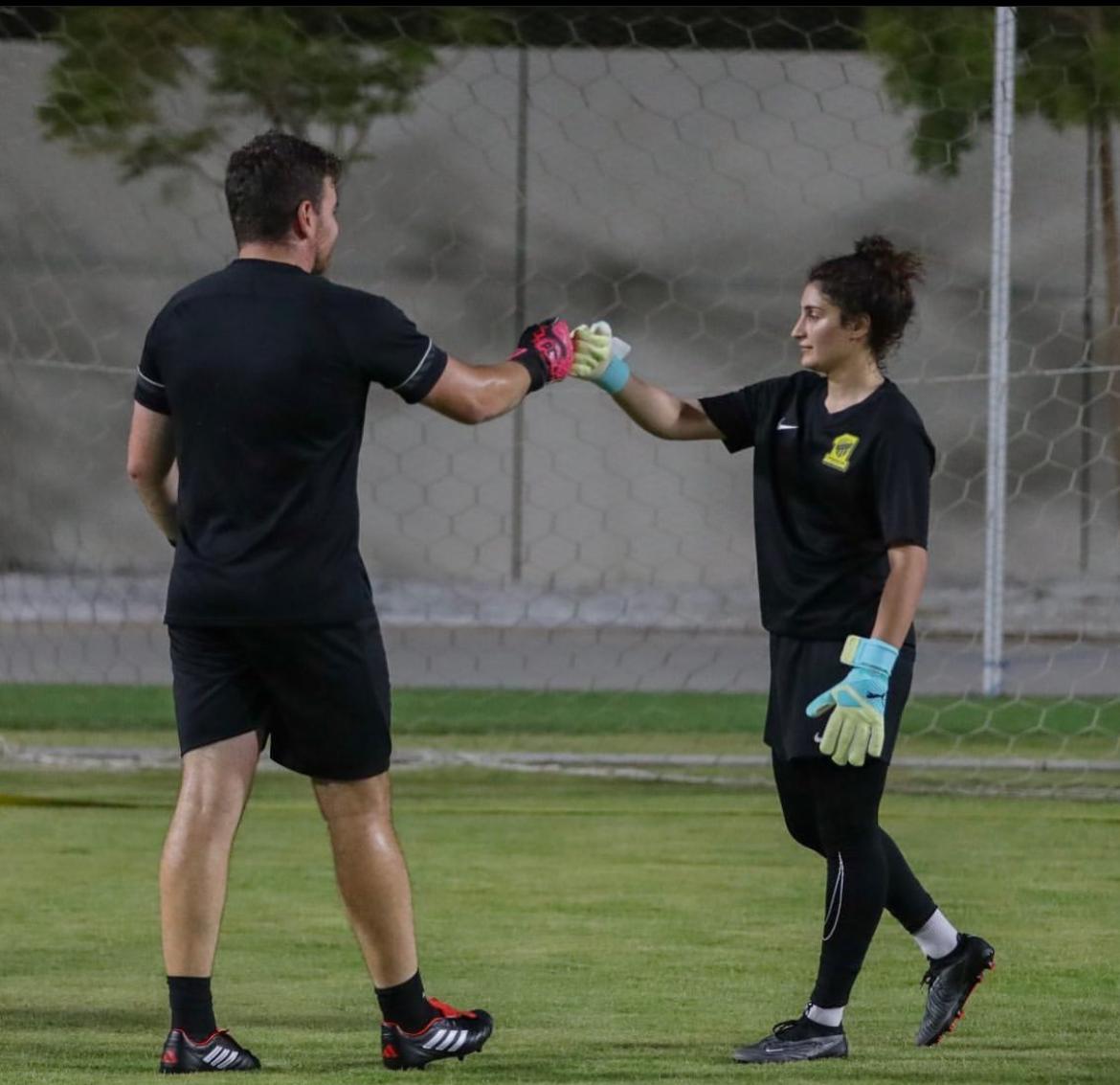 Smith describes how he considers his role to be one of 'more than just a coach' amid the social, political, and cultural challenges that accompany the establishment and promotion of the women's game. It's clear that his approach is appreciated by Al-Ittihad's goalkeepers, and an ethos that Al Sudairi echoes.
Alongside her football, she works part time with the Saudi Football Federation, coaching young girls and helping them get into football and goalkeeping.
"We started a Regional Training Centre to create awareness around all of Saudi. This is in Jeddah where I am, we'll be going into our second season in Jeddah, third season in Riyadh, the capital. We take girls from 6 to 17. Last year, as part of the Saudi Football Federation, we visited other regions to introduce football all over the country and to encourage schools because we never had football in schools. Sports did not exist for girls in school. But what was amazing last year, the Saudi government started football competitions for middle school and high school. They're also teaching the teachers, the coaches, PE teachers, because most of them don't have a football background."
Part of the reason why Smith is confident that the Saudi project's fortunes will be better than the failed Chinese attempt at promoting football growth is because of this focus on development from the ground up. It's something he's keen to be a part of. He described "the opportunity to potentially be one of a few people who have got this knowledge on women's goalkeeping, and to try and help shape what it looks like in the future" as a key motivator for his move to the Middle East.
And it begins by improving pathways at club level.
"Many goalkeepers have come in on trial. Sometimes some of them haven't made the cut. But what we don't want to do is tell them goodbye and never communicate again. That is a big thing for me and a big reason as to why I've come over is to try and improve the standard as a whole.
"These goalkeepers will have the opportunities to continue when they can, to potentially come in and still train if their schedule allows. Whenever I speak about what I want to try and achieve here it just brings me back to so many similarities that I had when I first started out with Bristol City. When I first went into Bristol there was no goalkeeping syllabus, there was no structure. The academy goalkeepers maybe had one training session every couple of weeks, and we ended up creating a pathway for goalkeepers there that has led to lots of them getting first team and international exposure."
There's little doubt that Smith views the move as an important one, but it was a big step to take. Culturally and career-wise, that's not lost on Al Sudairi. Anybody taking on the challenge of coming to work in, and better, an environment which has faced its fair share of public criticism and cultural unease immediately gains respect from goalkeepers who have spent their footballing lives on the periphery. It's people like Al Sudairi and Smith that want to make it mainstream.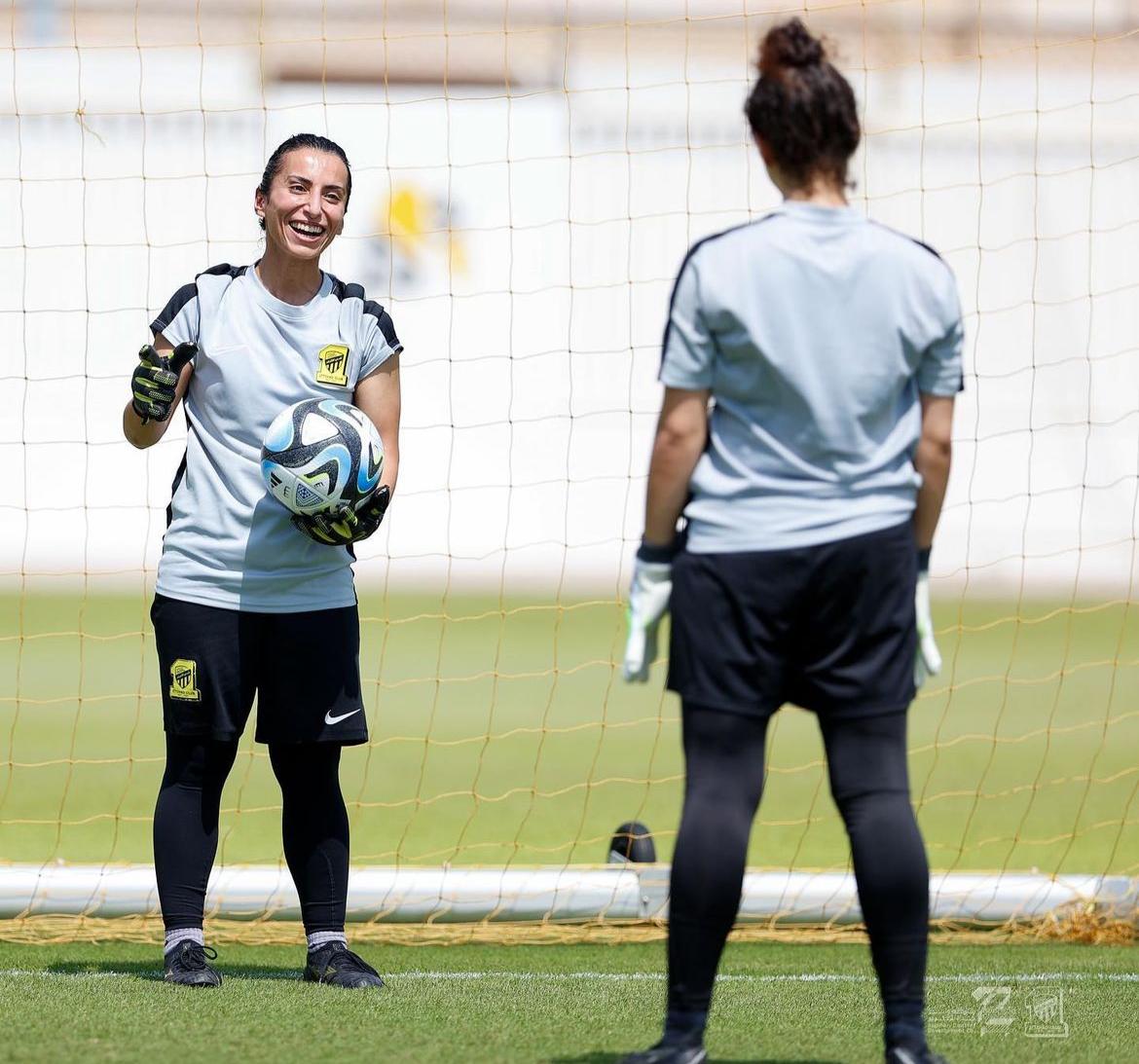 "There is a sense of risk, and a sense of challenge, with what we are doing here. Dan took a risk by coming here. We appreciate it so much, and as a goalkeeper department we are really happy he is here", Al Sudairi says.
"Change is important, but people from all over the world struggle with it. I feel like a lot of people are scared of change", she continues.
"I know girls from families whose parents are not making it easy to allow them to join in with football. But we're here, we're making that change, and we're all working together to do it. It will open doors for people".
It's a stigma that Al-Ittihad's number one knows well. In 2019, Al Sudairi was part of the Jeddah Eagles side who won the first Jeddah Women's Football League. She has witnessed - and been on - both sides of the radical transformation in the women's game over the last few years.
Having begun playing in Saudi Arabia in 2017, it was simply a 'love for the game' that motivated Al Sudairi to continue her playing career, despite the social and political pressures that existed around the women's game. Her story is a beautiful one, and the dedication and pure passion that underpins it has only recently begun to reap some reward. But, typically earnest, it isn't an arbitrary notion of sporting or financial gain that defines 'success' for her.
"Football is how I met a lot of girls in Saudi. I wasn't planning on living here. I was always travelling, and football kept me home, kept me in my own home where I was always leaving, not settling and it made me love my home. These girls who love the game were a huge part of that.
"We played together on a tiny field, but we didn't care, we kept going and we made a team. And more girls started doing the same. It's these small stories that have got us to where we are today. That's how we're here. This is how it started."
Al Sudairi points to early media coverage as integral to the football authorities taking notice of the support for the women's game. Saudi Arabia's Vision 2030, a nationwide modernisation plan, intending to 'create an ambitious nation committed to efficiency and accountability at all levels, including building a government that is effective, transparent, accountable, empowering, and high-performing', includes mass infrastructure spending in sport as one part of that, and it's not only women's football which is now receiving attention.
Martial arts, volleyball, basketball, and more sports are all opening up to female participation en-masse.
On the footballing side, the women's national team are looking to qualify for the 2027 Women's World Cup, a squad Al Sudairi recently won her first call-up to. The country is bidding to host the 2026 Women's Asia Cup. And, the 2023/24 season will be the first season that women's football in Saudi Arabia is televised nationwide.
Women's football is becoming very visible in the country, and, as Smith and Al Sudairi explain, it's this publicity that will be key in pushing the female footballing machine forward. DAZN have also recently secured the rights to broadcast the league on a worldwide platform.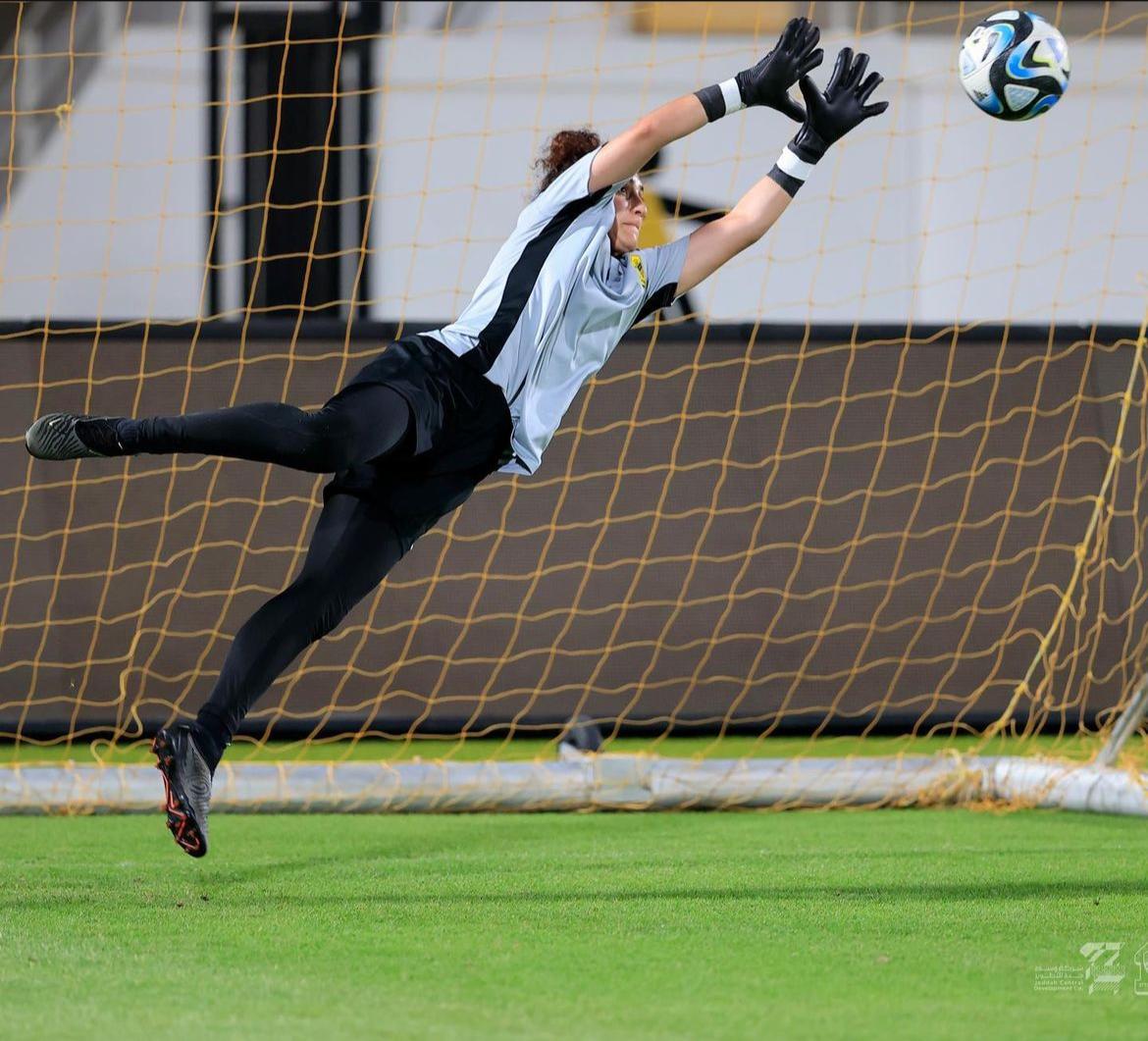 However, contrary to the old adage, not all press is good press.
The Saudi football project has come under intense scrutiny, amplified in the UK after Jordan Henderson's move from Liverpool to reunite with Steven Gerrard at Al-Ettifaq. Boos rang out at Wembley Stadium upon Henderson touching the ball during England's 1-0 win over Australia on the 13th October.
Whilst society-changing strides are being made on the women's side of the game, the Saudi project is somewhat stained by wider socio-political issues around LGBTQ+ rights, and the amount of money being poured into the game - and players' pockets, on the men's side especially.
Smith was naturally hesitant to make the move to the Middle East, but is clear that his perceptions of life in Saudi Arabia have changed.
"The one word I've used to describe living over here is that it's just a normal place. People have this perception of it being sort of in the middle of nowhere, with nothing to do. But there's quite a Western influence; the shops, the restaurants, and those sorts of things.
Jeddah especially as a city is amazing. Of course, I can understand and I know why people have second thoughts about visiting. But I think once you do your due diligence, and once you research about the place or come and see it for yourself, then your perception can change. When I was making my decision to come and work in Saudi, I thought, 'I can read all I want about it, but it could be completely different. I need to go and see it'.
He is by no means the only member of the new Saudi footballing scene that holds this opinion. In The Athletic's aforementioned special report, an unnamed player in the Saudi women's game echoed Smith's belief that there are lots of misconceptions around life in the country.
'When her boss floated the idea of her moving to Saudi permanently in 2019, she initially resisted', The Athletic wrote. The player then commented:
'I came and saw a whole other life that was not portrayed in the media. You probably don't see 80% of what is here in Saudi. When I first came, you'd have thought there are no human rights, a woman cannot walk next to a man, you can't be in mixed groups and you've got to enter different places segregated. Now, it's mixed everywhere.
"Seeing the way it has moved over the past four years, you feel like you're witnessing history change."
The influence of 'Western' culture is a polarising notion, and one that must be deployed with caution when describing the development of nations such as Saudi Arabia. However, in a footballing sense, it's vital for the progression of the women's game.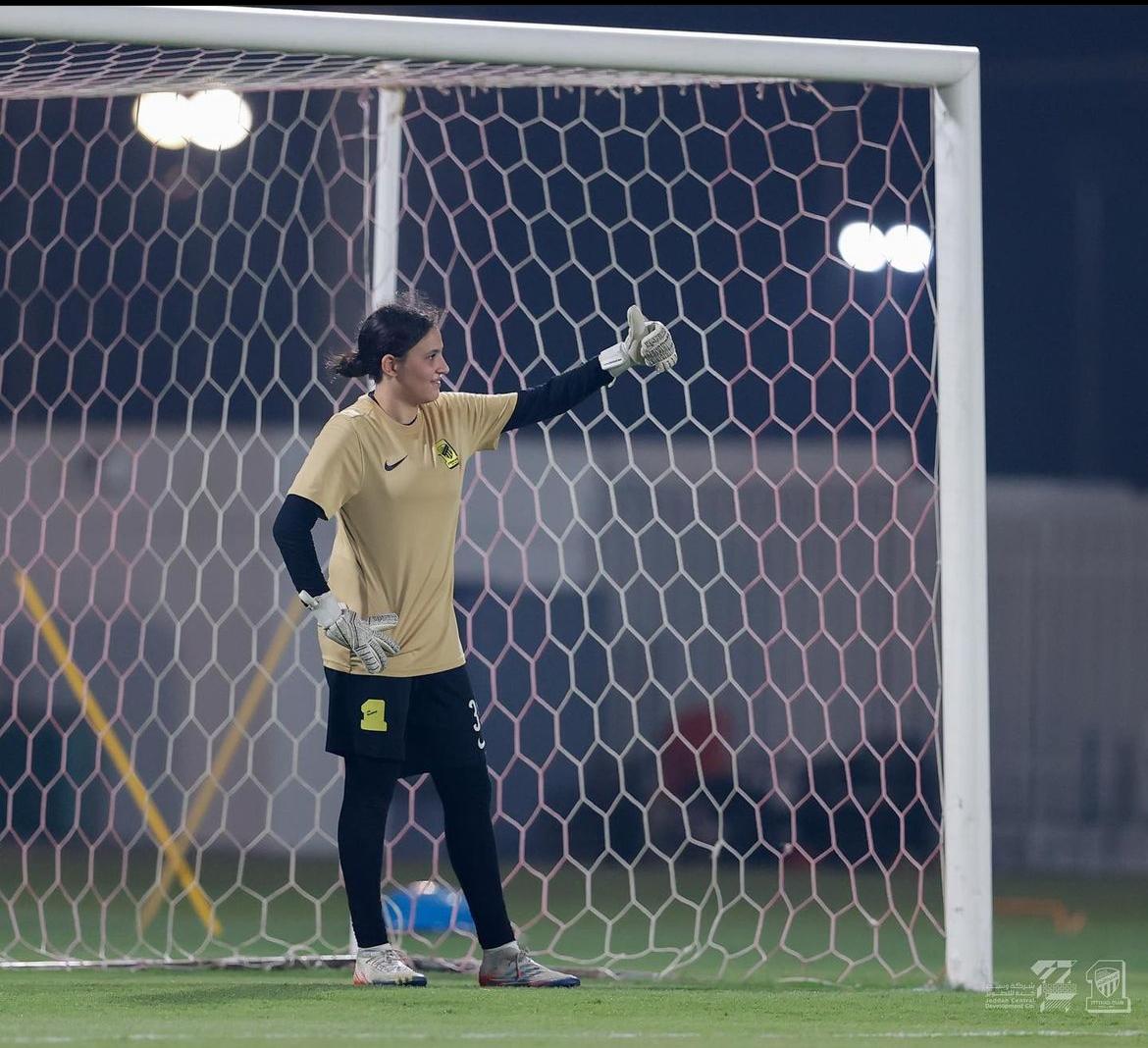 There's give and take. Smith stresses that he's also learnt a lot, personally and professionally, from his role and the inspirational women that he's working with day to day. Yet the insight that he brings from his own formative experiences as the WSL and women's game in England grew have been integral to Al-Ittihad's structural development.
"One thing we are all set on is that we wanted to improve the professionalism of what we were doing and what we were trying to achieve. We can do all of the work on the pitch, but if we don't have that professionalism in terms of nutrition, gym, psychology, all these sorts of things then, effectively, what we're doing on the pitch can become worthless", he explains.
"As a coaching staff we meet every day, before we head to training, The outfield coaches will always know what I'm working on and why I'm working on it And vice versa as well, so that we're all aligned when we go into training.
"But a huge thing has also been learning from Hessa and the other goalkeepers in terms of the professional and the cultural standards around the women's game, and understanding what is and isn't going to work at different points.
"Going all in as we'd do back home, where the goalkeepers may not be prepared, could potentially fracture the trust, so a key thing for me is ensuring that everything is planned out thoroughly with clear progressions and a really heavy technical focus."
It's that last part which has been a core element of the sessions that Smith puts on for his goalkeepers, going on to speak about the natural lack of goalkeeper-specific coaching infrastructure and experience in the women's game. Proper goalkeeper coaching has been difficult to achieve at the professional women's level in the UK, let alone in a country only a few years on from women's football becoming a professional reality.
"What I've noticed here is that there's things that maybe I've just taken for granted back home. Sometimes we need to strip things back and work really on the details of the basics.
"But there's a whole other thing to think about as well: communication", Smith continues.
"The language barrier exists, and it's something we've had to navigate. I'm fortunate in that Hessa is brilliant in terms of translating for me, but there's times where I might go off on a tangent. And then all of a sudden, I see another of our goalkeepers who's Jordanian - even with good English - looking at me like 'What is he saying?'.
Smith and Al Sudairi share a laugh. It's a natural challenge that brings out a better side to all.
"It's teaching me to become more precise, more to the point in my communication. Everyone learns differently, so I had to find out what worked for our goalkeepers, who I was working with every day."
It's all change in Dan Smith's life, and only the beginning of an exciting new venture. But for Hessa Al-Sudairi, a life spent embracing the beautiful game against all odds is coming to an end. The Egyptian-born goalkeeper is keen to pass the baton on to the next generation of girls who will bear the fruits from the mountain she and her intrepid teammates have summited.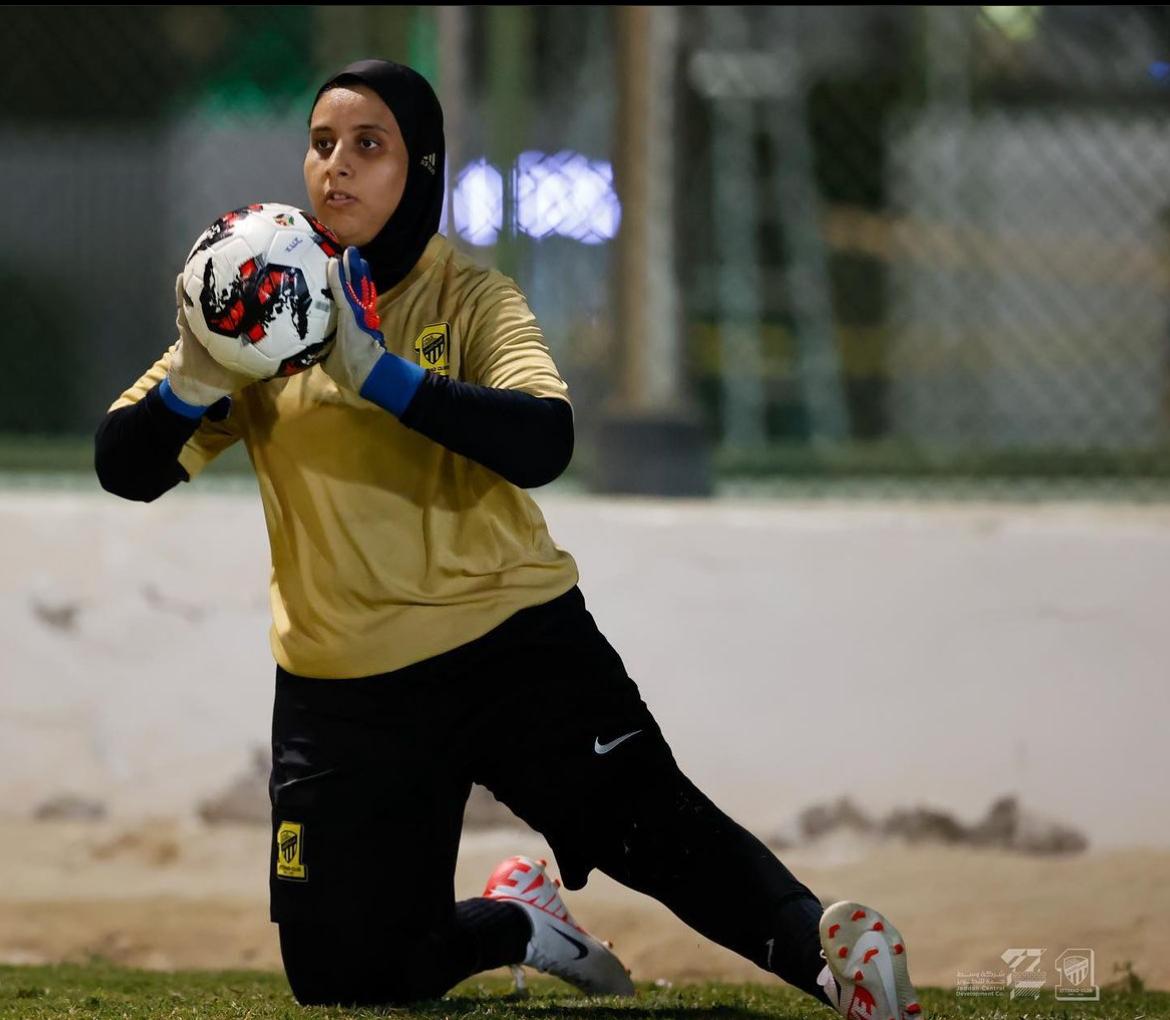 "I've got a year or two left of football, I think", she admits. "But I want to leave a mark. To inspire girls, especially in goalkeeping, because everyone wants to be an outfield player, to keep pushing for the right to play. To keep going, believing, and dreaming.
Now, when I work at the regional training centres, I have six-year-olds who would want to be a goalkeeper, and for me, that's amazing. They inspire me."
The next few years are set to turn women's sporting fortunes on their head in Saudi Arabia. It's a monumental shift for the nation's female footballers, and an even bigger evolution for society as a whole. But times are changing, and they're changing for the better. Dan Smith and Hessa Al-Sudairi may not be household names - yet - but they're playing their own unique roles in a process that will leave a significant mark on future generations' right to play the game they love.
It may be a long way from home for the Englishman, but comforts come in all different shapes and sizes. "On an evening walk down to the beach it's just like being back in Southend really!", he jokes. "Maybe the sea's a little bit bluer!"