Head of Data Science Dr. John Harrison analyses some of the best and worst goalkeeping actions over the past week…
Best Shot Stopping Moment of the Week: Bernd Leno vs Sven Botman
Botman's looping header was heading into the far top corner but Leno expertly flew across goal and clawed the ball onto the post.
Historically, shots like Botman's are only saved 16% of the time making it the most difficult shot to be saved this week!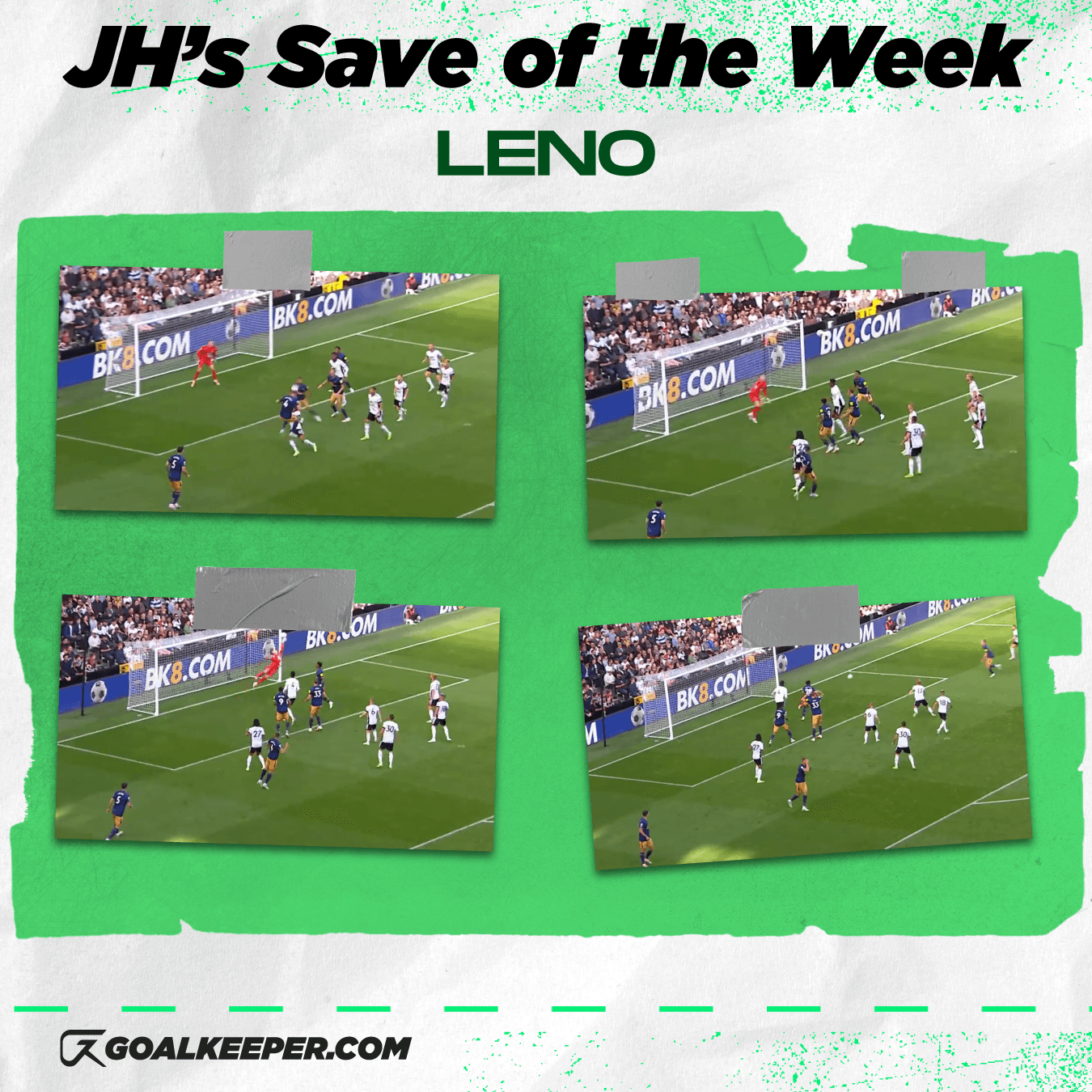 Leno's wonderful pre shot positioning adjustment and footwork made this save possible. By dropping off towards his goal line once he realised he could not come for the cross Leno gave himself valuable extra reaction time, if Leno was any further off his line I imagine this header would have beaten him as he simply would have not had enough time to get across goal.
The use of the crossover step was also crucial. By utilising the crossover step before his dive, rather than simply sidestepping across goal, Leno made up the distance in a far shorter time meaning when he then elected to start his power step dive motion he could reach the ball and tip it onto the post. If Leno had tried to sidestep across goal or dive from a standing start, there is no way he would have made it across to this shot. It's another top save which highlights just how important technical decision making is in top level goalkeeping.
Best 1v1 Moment of the Week: Alisson Becker vs Leandro Trossard
When Trossard found himself behind the Liverpool defence, he barely had time to get his head up before the imposing frame of Alisson Becker was on top of him. Alisson's rush and spread was textbook and it allowed him to prevent a well struck Trossard shot from hitting the back of the net.
Historically, 1v1s like Trossard's are only saved 46% of the time, making it the most difficult 1v1 to be saved this week!
Alisson dealt with this 1v1 situation perfectly. As soon as he thought there may be a chance of Welbeck putting Trossard through on goal, he was ready to set off and engage the ball. If he was any deeper he would have struggled to get close enough to Trossard to snuff out the shot. If Alisson had tried holding his position and waiting deep and trusting his reactions would have given himself a save probability of just 29%.
However, by rushing out quickly and spreading himself as he did, he gave himself a 58% chance of making the save! Not only did this save require excellent flexibility and technique to pull off such a tidy spread shape, it also required lightning fast decision making. Many Premier League goalkeepers would not have been able to get off their line quick enough in this situation to effectively perform the engage and spread technique, but Alisson was and that is what made this save so impressive. As we saw last week with Henderson's top class 1v1 save, during 1v1s it is often the goalkeeper's decision making that dictates if the save can be made rather than their reflexes, agility, or athleticism.
Best Handling Moment of the Week: Jordan Pickford vs Adam Armstrong
Armstrong smashed a powerful effort towards the top corner of Everton's goal but Pickford flung himself to his left to make a huge save. Pickford managed to not only save the shot but guide it expertly out for a corner.
Historically, this shot would be expected to grant a rebound with an expected goals value of 0.15. Yet, Pickford managed to parry it out for a corner which has an expected goals value of just 0.03 making it the best handling moment of the week!
The reason Pickford controlled this parry so well was because he made an educated guess of where the ball was going. Pickford pre-emptively dived to his left as Armstrong stuck the shot meaning when other goalkeepers would have to concentrate on just getting a hand to the ball, Pickford could focus on using this time to guide the parry away from goal.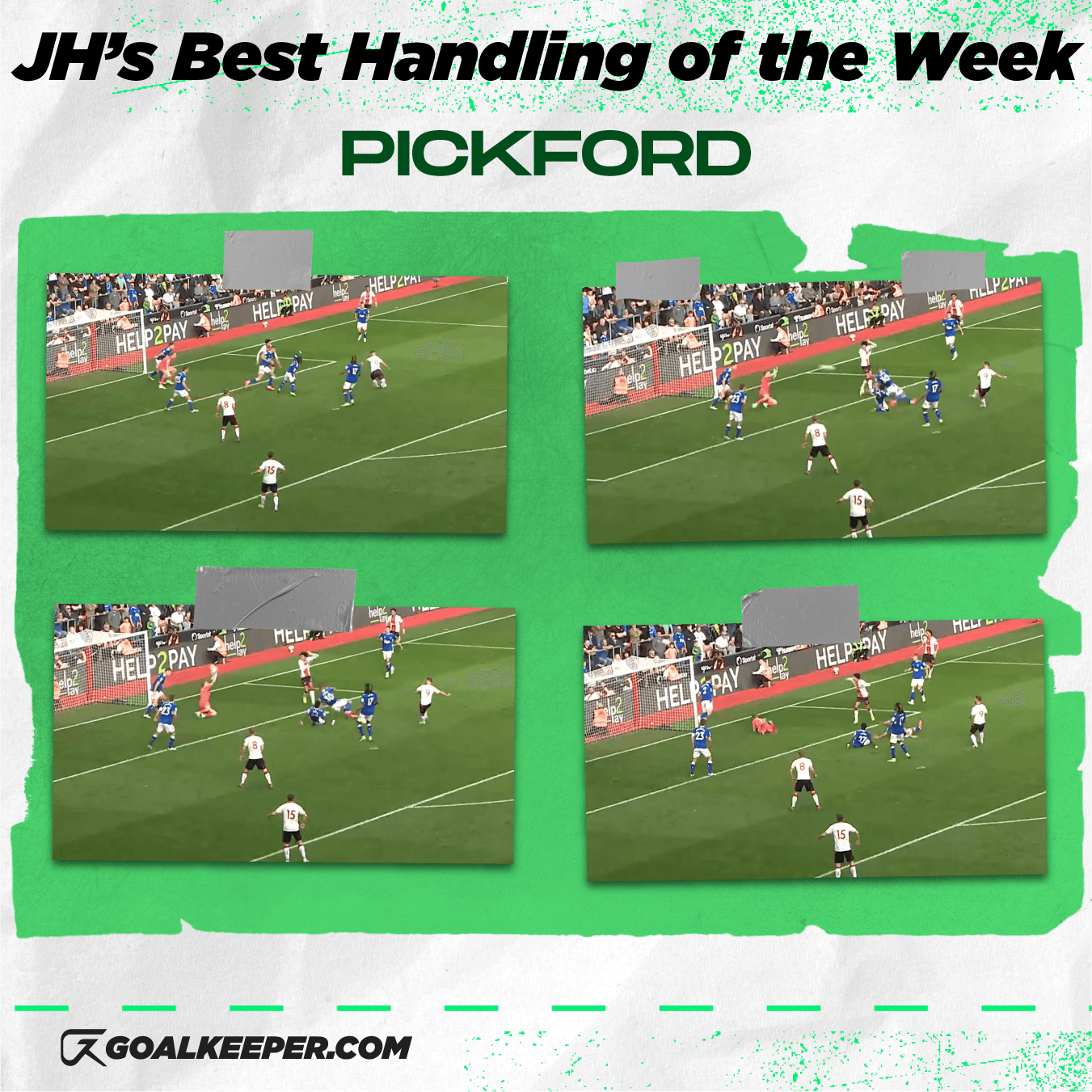 Making educated guesses is something goalkeepers have to do sometimes if they believe they are in a situation where their reaction time will simply not be enough to make the save. The crucial point is that gambling should only occur if there is not enough reaction time as otherwise goalkeepers could end up conceding very weak goals if they pre-empt the flight of the ball.
For me, it was a big gamble by Pickford here and it could have easily backfired. It does seem like everything is going Jordan Pickford's way this season as he is currently the Premier League goalkeeper who has contributed the most value in goals to their team. When analysing every action Pickford has made he has been worth 3.65 goals to Everton versus if they had an average Premier League goalkeeper between the sticks, so lets see if he can keep it up!
Worst Shot Stopping Moment of the Week: Dean Henderson vs Patson Daka
After a low cross, Daka flicked the ball back across Henderson and while Henderson got a full palm onto the ball, it was not enough to keep the ball out of the goal.
Historically, shots like Daka's are saved 63% of the time making it the easiest shot not to be saved this week!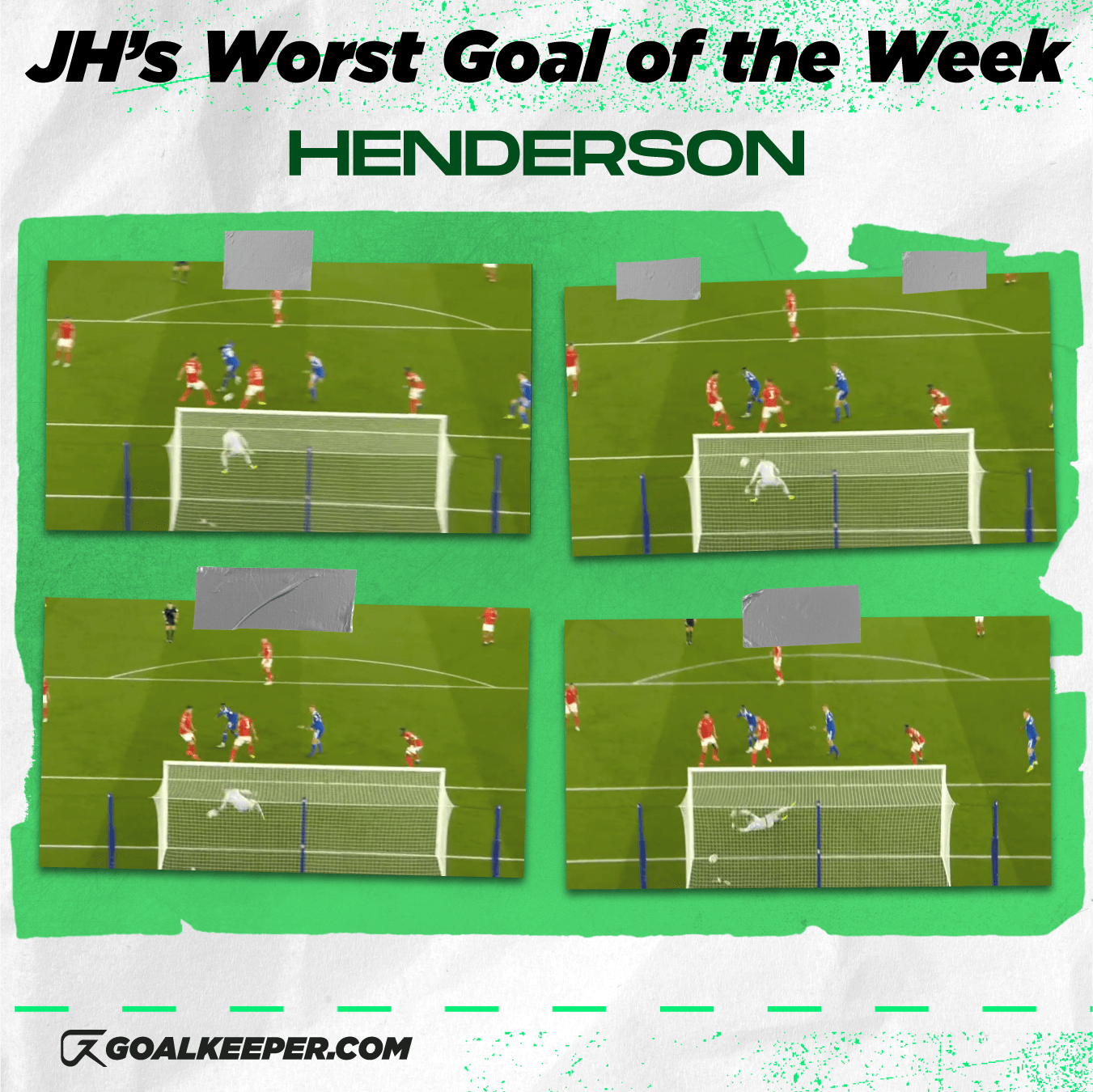 Henderson's big issue here was shot stopping technique decision making. Henderson is in a great position to deal with Daka's flick, but his decision to attempt a collapse dive and try to get his palm on the ball is what allows him to concede this goal. The top right photo above shows how if Henderson had attempted a lateral split foot save with his left foot, he could have comfortably made the save as the ball's trajectory passed so close to his left foot.
By sweeping this foot away and going for the ball with his hand, Henderson made this save far more difficult for himself than it needed to be. This goal highlights how top class shot stopping decision making makes difficult saves much easier to make while poor shot stopping decision making makes straightforward saves much harder to make.
Worst 1v1 Moment of the Week: Alisson Becker vs Leandro Trossard
Alisson has managed to claim the best and worst 1v1 performances this week. After a through ball, Trossard was yet again in the clear behind the Liverpool defence. Alisson initially decided to wait deep and trust his reactions but then at the last second changed his mind and pre-emptively dived across goal to his left, meaning a mid-height central shot beat him and nestled into the back of his net.
Historically, 1v1s like Trossard's are saved 67% of the time making it the easiest 1v1 not to be saved this week!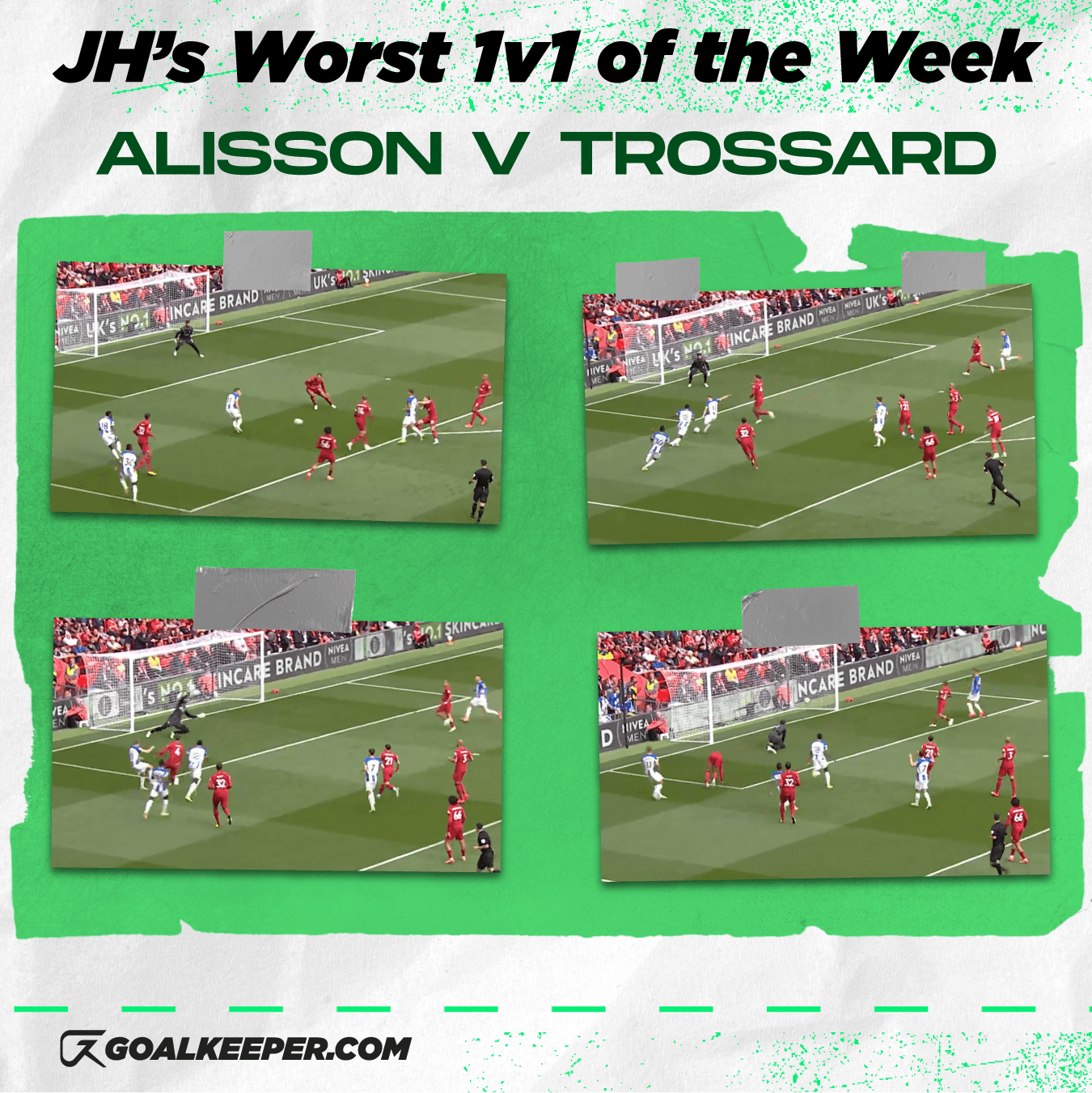 Alisson's initial decision to hold his position and wait deep rather than engaging the ball was a solid one. Historically, rushing out and engaging the ball here would give him a 62% chance of making the save while holding deep gives him a 70% chance of making the save. The problem is that Alisson then second guesses his decision and panics, starting to dive to his left before he has actually evaluated the trajectory of the shot.
This means he essentially ends up diving out of the way of the shot and conceding a fairly weak finish. If Alisson had trusted his initial decision and tried to react to the shot I am sure he would have palmed it away with ease. This is a very uncharacteristic mistake from Alisson who is known for holding his nerve when facing 1v1 situations, but it shows that even the best do not get it correct every time. Liverpool will be hopeful that this is indeed just a one off for their Brazilian shot stopper.
Worst Handling Moment of the Week: Jose Sa vs Jarrod Bowen
After dribbling down the wing, Bowen cut back inside and curled a shot right down Sa's throat. Sa attempted to scoop the shot up but he mistimed his attempt and ended up spilling the ball back into the danger zone. Sa's blushes were only spared when his defender managed to do enough to force the West Ham striker to blaze the ball over the bar.
Historically, this shot would be expected to grant a rebound with an expected goals value of 0.01. However, Sa spilled it out centrally into an area behind the defence with an expected goals value of 0.65, making it the worst handling moment of the week!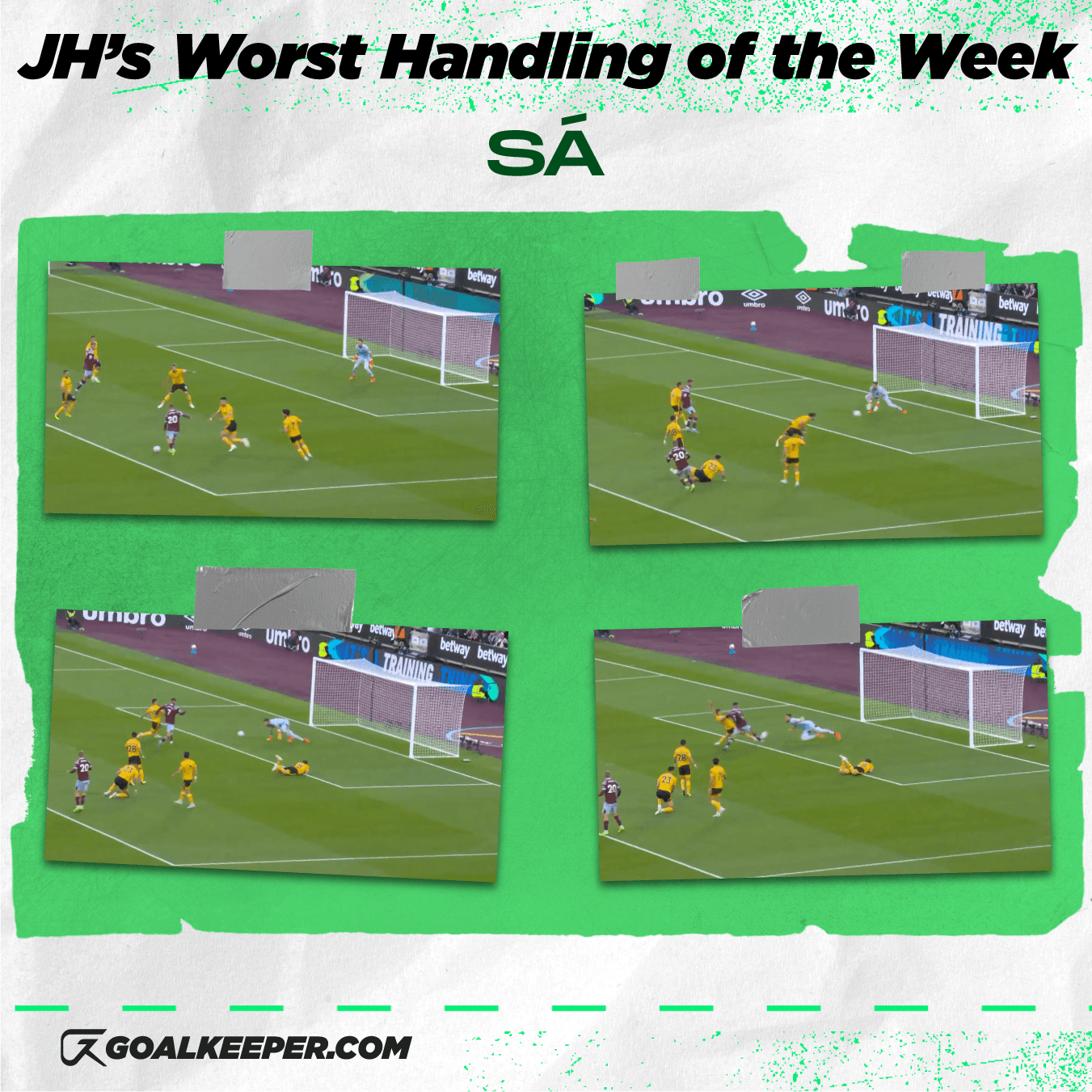 This mistake from Sa is simply down to a lack of concentration rather than any technical or tactical issue. When facing low shots, if the scoop technique is mistimed, there is always a danger of spilling the ball. This is why repetition is important in goalkeeper training; goalkeepers do thousands of repetitions in training in order to make sure their muscle memory gets the timing right the majority of the time.
One thing this spill does highlight is that, when analysing goalkeepers, we should not just concentrate on metrics like 'saves leading to goals' or 'parries leading to shots' as given they are very outcome based measurements, we would unfairly penalise parries into good areas which just happened to be punished while unfairly praising parries into poor areas which just happened to not be punished.