Head of Data Science Dr. John Harrison has a look at some of the best and worst goalkeeping actions over Matchweek 14…
Best Shot Stopping Moment of the Week: Robert Sanchez vs Adama Traore
Traore's powerful drive was heading into the roof of the net but Sanchez's tidy footwork and set position meant he could flick the ball over the bar to safety. Historically, shots like Traore's are saved 74% of the time, making it the most difficult shot to be saved this week!
This save highlights how if, as a goalkeeper, you can get your positioning and footwork correct, it makes saving shots so much easier. Yes, Sanchez showed top class reflexes to palm the ball away from danger. But the real hero moment of this save was Sanchez's set position.
By remaining upright but with his knees slightly bent and his body weight forwards, Sanchez gave himself the best possible chance of saving the shot regardless of its trajectory. If he had been set just slightly lower and wider, I imagine the ball would have flown over his head and into the top of the net.
Best 1v1 Moment of the Week: Danny Ward vs Dominic Calvert-Lewin
When Iwobi slipped Calvert-Lewin through on goal, Danny Ward knew that the striker's shot would be from such close range that his best chance of saving it would be to rush out and form a premeditated barrier to try to make sure he forced Calvert-Lewin into smashing the ball at his frame. Ward managed to do exactly that and kept Leicester 1-0 up, allowing them to grab their 3rd win in four games.
Historically, 1v1s like Calvert-Lewin's are only saved 51% of the time making it the most difficult 1v1 to be saved this week!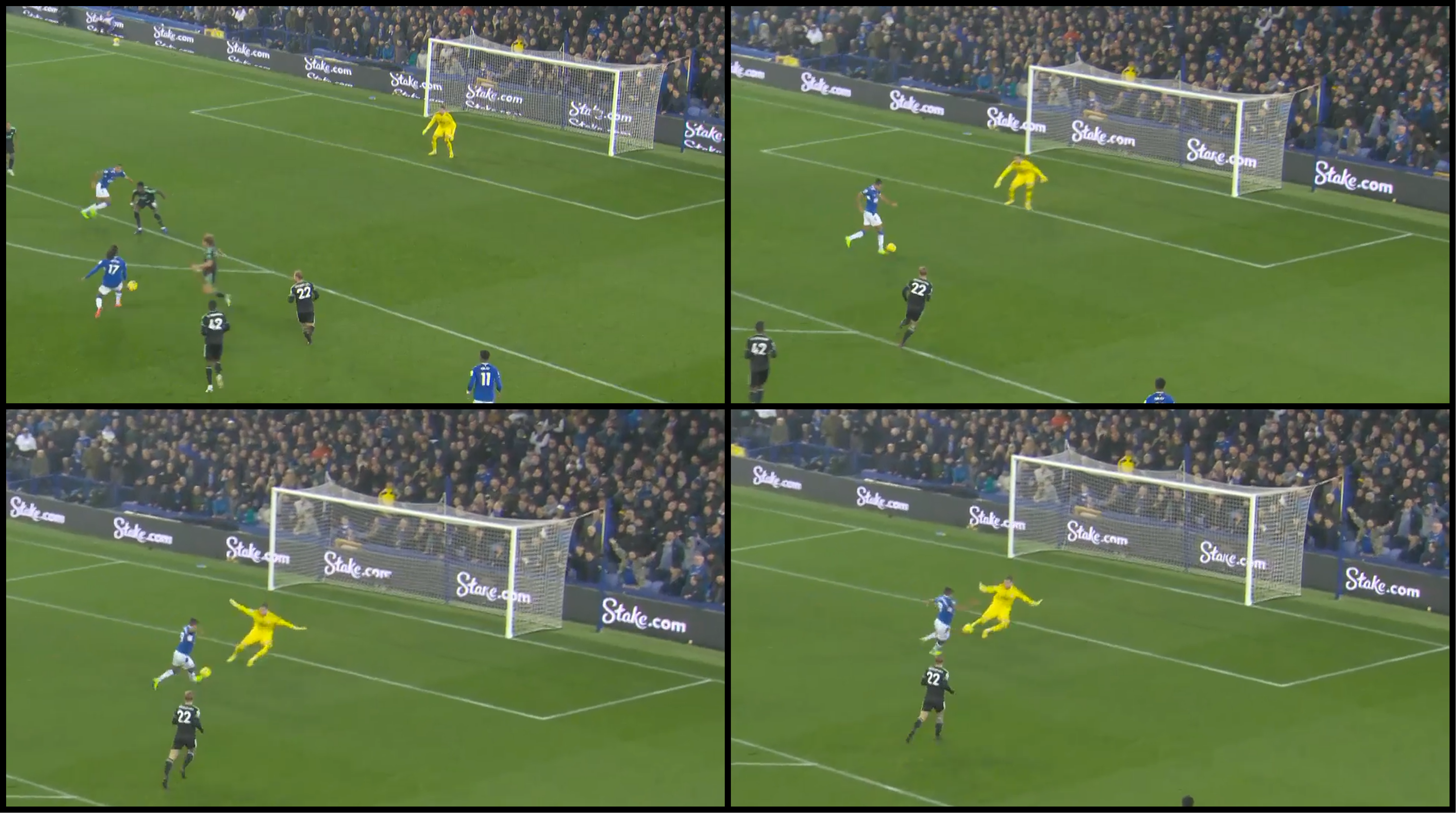 Ward dealt with this 1v1 situation perfectly. Many goalkeepers may have hesitated and frozen when the ball was played through and thus would not have been able to get close enough to Calvert-Lewin when the shot was hit to make a decisive defensive action. Ward's half smother half spread shape is very reminiscent of 1v1 master Alisson's and offers a great alternative to the traditional spread for goalkeepers who are not as flexible.
While it does not make the goalkeeper as big as the traditional spread, it does stay more upright than the traditional smother meaning the shape is not as vulnerable to a chipped shot. After a tough start to the season,Ward is now showing that he has the ability to win Leicester points in the Premier League.
Best Handling Moment of the Week: Alisson Becker vs Eric Dier
When Dier's glancing header zipped across goal, it looked very promising for Tottenham. Alas, Alisson remained calm and confidently plucked the ball out of the air meaning not only did he save the shot, but he prevented Kane and company from getting a second effort at goal.
Historically, this shot would be expected to grant a rebound with an expected goals value of 0.19 but incredibly Alisson caught it, meaning it actually granted no rebound making it the best handling moment of the week!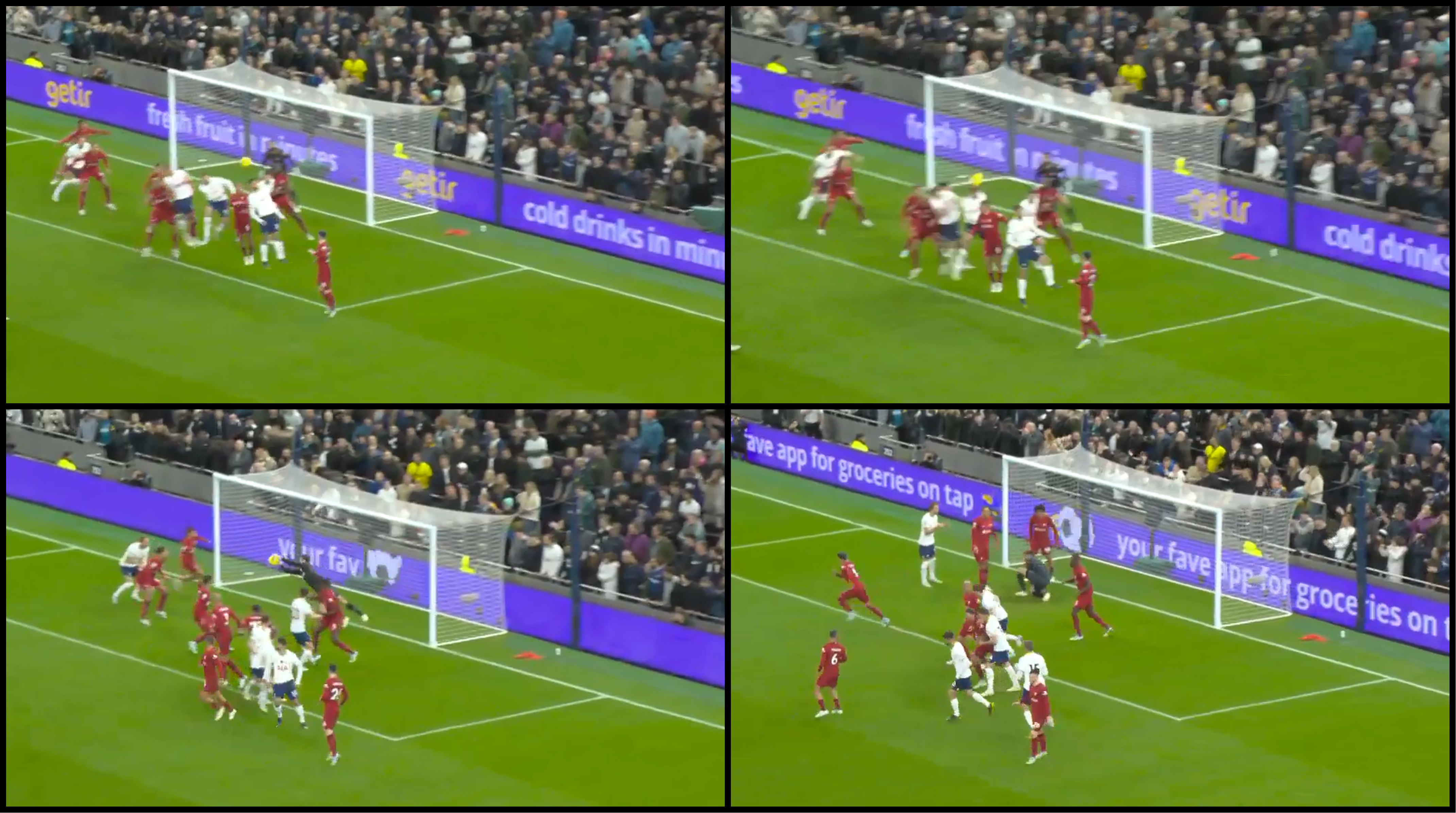 As with many handling moments, this moment got very little attention this week but it really should not be forgotten! Alisson's tidy set position, with his weight forwards, his back slightly bent, and his hands in a neutral position, gave him the best possible chance to not only save Dier's header but to get two hands on the ball and make the catch. The crucial advantage of a solid set position is that it gives you an extra split-second when making the save. This means that, rather than just getting something on the ball, you can actively guide the parry or attempt a clean catch. Alisson did just that and turned a very dangerous situation into a counter attacking opportunity for Liverpool.
So often, headers like this are palmed back into danger or spilled forwards into a melee of players and the goalkeeper would concede a rebound. Commentators would undoubtedly be quick to question the goalkeeper in such a situation. Given this is the case, I find it odd that when goalkeepers pull off catches like this, pundits very rarely give them the praise they deserve.
Worst Shot Stopping Moment of the Week: Mark Travers vs Liam Cooper
AFC Bournemouth squandered a 3-1 lead to lose 4-3 at Elland Road at the weekend and the equalising goal occurred when Cooper rose highest at a corner then headed the ball through Travers' legs into the centre of the Bournemouth goal.
Historically, headers like Cooper's are saved 78% of the time, making it the easiest shot not to be saved this week!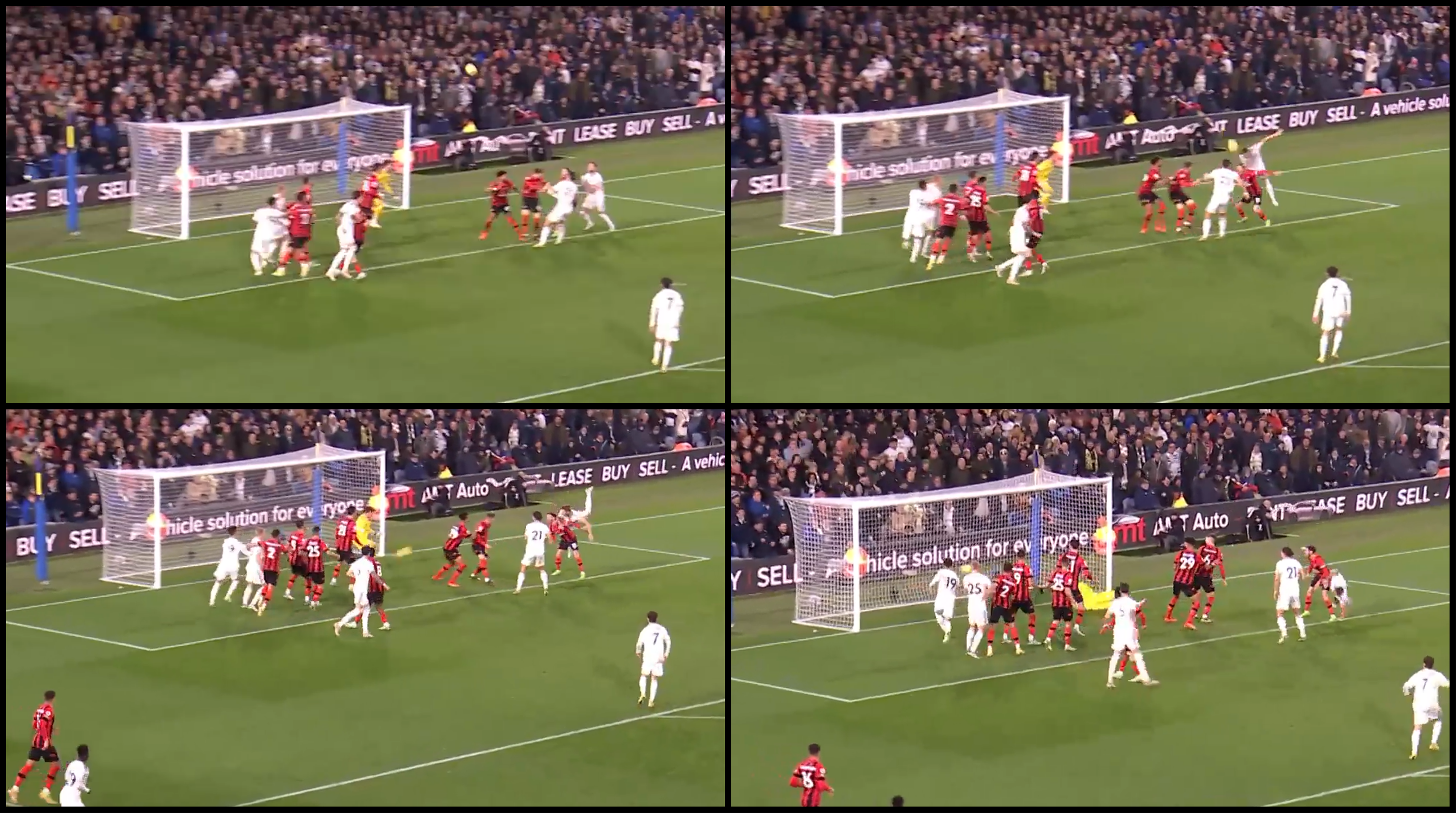 Travers' issue here was his anxiety to affect the ball and make the save. Travers flung his legs forwards towards the ball too aggressively and therefore failed to make any contact with it. He basically tries a bit too hard to make the save and loses control of his body.
If Travers had remained calm and executed the kick-through foot save in a more controlled manner, I am sure he could have swept Cooper's goalbound header away from goal. This goal highlights just how important shot-stopping technique is as well as the ability to calmly perform certain techniques under high pressure. At the highest level, even the slightest issues in technique and technical execution will get punished.
Worst 1v1 Moment of the Week: Bernd Leno vs Julian Alvarez
From a through ball by Gundogan, Alvarez was through on goal. Leno correctly decided to hold his position deep in his six yard box in order to not give Alvarez an easy chipped or side footed finish, and also to allow his defenders to get back and pressure the ball. However, Leno then gambled and pre-emptively started to move across to his right predicting that Alvarez would hit a low shot across him, Thus, when Alvarez struck a high shot straight down the middle of goal, Leno had no chance of making the save.
Historically, 1v1s like Alvarez's are saved 66% of the time, making it the easiest 1v1 not to be saved this week!
Leno has been in great form for Fulham this season but this moment was not one of his finest. Initially he makes a great decision as, historically, rushing out and engaging here would give the goalkeeper a 43% chance of making the save while holding deep gives him an 86% chance of making the save. However, by setting himself so low and gambling that the shot will be low and across him he all but cancels out the great decision he initially made. Leno shows exactly why Sanchez's save highlighted at the start of this article was so good.
If Leno had similarly remained in an upright set position and not gambled, I'm sure he could've tipped the ball over the bar for a corner. As I have often mentioned, the best goalkeepers do not gamble during 1v1s. Instead, they dictate the 1v1s to the striker and make sure if they are beaten, it's by a world class finish. Fulham fans will be hoping that if Leno faces a similar situation this weekend he will keep his nerve and trust his reactions rather than gambling on what he thinks the striker is going to do.
Worst Handling Moment of the Week: Jose Sa vs Alexis MacAllister
As MacAllister was lining up his free kick, Jose Sa elected to stand to the left of centre meaning he was somewhat behind his own wall and thus was offering his side to the free kick taker. MacAllister indeed tried to curl it around the wall and beat the goalkeeper on his side, but failed to get the accuracy and purchase on the ball that would have caused Sa real trouble. Sa sidestepped across goal and rather than parrying the ball out wide and away from danger, he palmed the ball forwards out of the top of the six yard box and it luckily fell right between two onrushing Brighton attackers.
Historically, Mac Allister's shot would be expected to grant a rebound with an expected goals value of 0.07. However, Sa's central parry put the ball into an area with an expected goals value of 0.25 making it the worst handling moment of the week!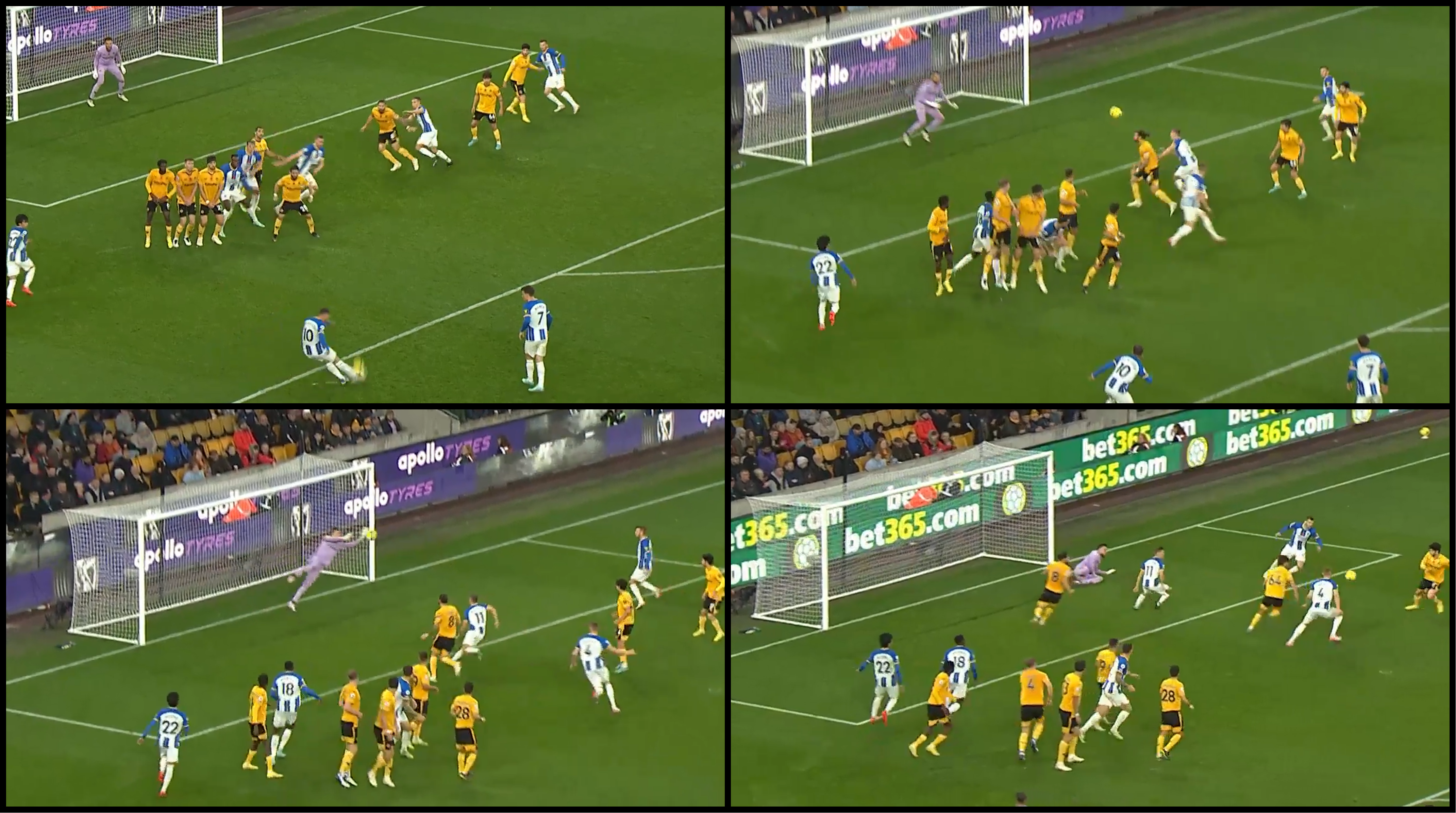 This handling error from Sa is actually mainly down to his poor positioning from the free kick. Yes, is is important to cover both sides of the goal during free kicks but the goalkeeper should not give up too much of the far side as the free kick taker doesn't need to guide the ball over a wall to this side. Therefore, it's far easier for them to get a good strike on goal to this section of the goal.
Ideally, Sa would be around a yard further to his left meaning he has great coverage of his side while also not giving up too much of the wall's side if MacAllister does decide to try to get the ball up and over the wall. By being so far to his right, Sa has to be at full stretch to save a shot which is not particularly powerful and is not right in the corner.
Being at full stretch means he cannot actively control or guide the parry as he is just doing his best to get something on the ball. If he was better positioned, I'm sure Sa would've been able to comfortably parry the ball out for a throw in or corner rather than back into danger. Luckily for Sa, though, the Brighton attackers were not in the right place at the right time and thus could not punish his sloppy handling.