The Merseyside Derby is one of the world's most passion-filled games, and has been the setting of some memorable goalkeeping moments…
When BBC reporter Stuart Flinders, in a rather comical fashion, unintentionally came across ex-Liverpool goalkeeper Tommy Lawrence on a Liverpool city centre high street in 2015, he had no idea who the man he was interviewing was.
Ahead of that week's Merseyside derby - which would finish goalless at Goodison Park - the BBC had been out on Merseyside conducting 'vox pop' interviews, where members of the public are interviewed at random. Flinders, unsuspecting, asked Lawrence whether he remembered the 1967 FA Cup 5th round tie between Everton and Liverpool, to which the now elderly Lawrence replied:
"Yeah I do, I played in it. I was the goalkeeper for Liverpool".

Everton ran out 1-0 winners that day, denying Lawrence a clean sheet. Whilst it may not have been a memorable match goalkeeping-wise, the Merseyside Derby has, over the decades, thrown up several standout goalkeeping moments.
Take the 1999/2000 season's game at Goodison Park, for example. A string of saves from Everton's Paul Gerrard had generally been matched by several good stops by his opposing number in the Liverpool goal, Sander Westerveld. Come the dying seconds, Westerveld lined up to punt a long ball down field from a free kick just outside his box. He put his laces through it, but Everton midfielder Don Hutchinson - back to Westerveld - unsuspectingly walked in front of the ball.
Westerveld's kick bounced off Hutchinson's back, looping back over his head and into the Liverpool goal, just as referee Graham Poll blew his whistle for full time. Despite protests from the Toffees, Poll stood by his decision, that is until he later admitted to the official Everton website that the decision was incorrect and the goal should have stood.
A red face had been spared for Westerveld, whose own career at Anfield ended abruptly upon the signings of Jerzy Dudek and Chris Kirkland in 2001. However, seven years later, Dudek's own replacement Pepe Reina wouldn't be in for quite the same luck at Westerveld was.
With the Reds already 2-0 in stoppage time at the end of the second half, a driven shot from Andy Johnson could only be parried upwards by Reina who, retreating towards his goal, seemed to drop the resulting catch back onto Johnson's head who rounded off a day to forget for Rafa Benitez's side at Goodison.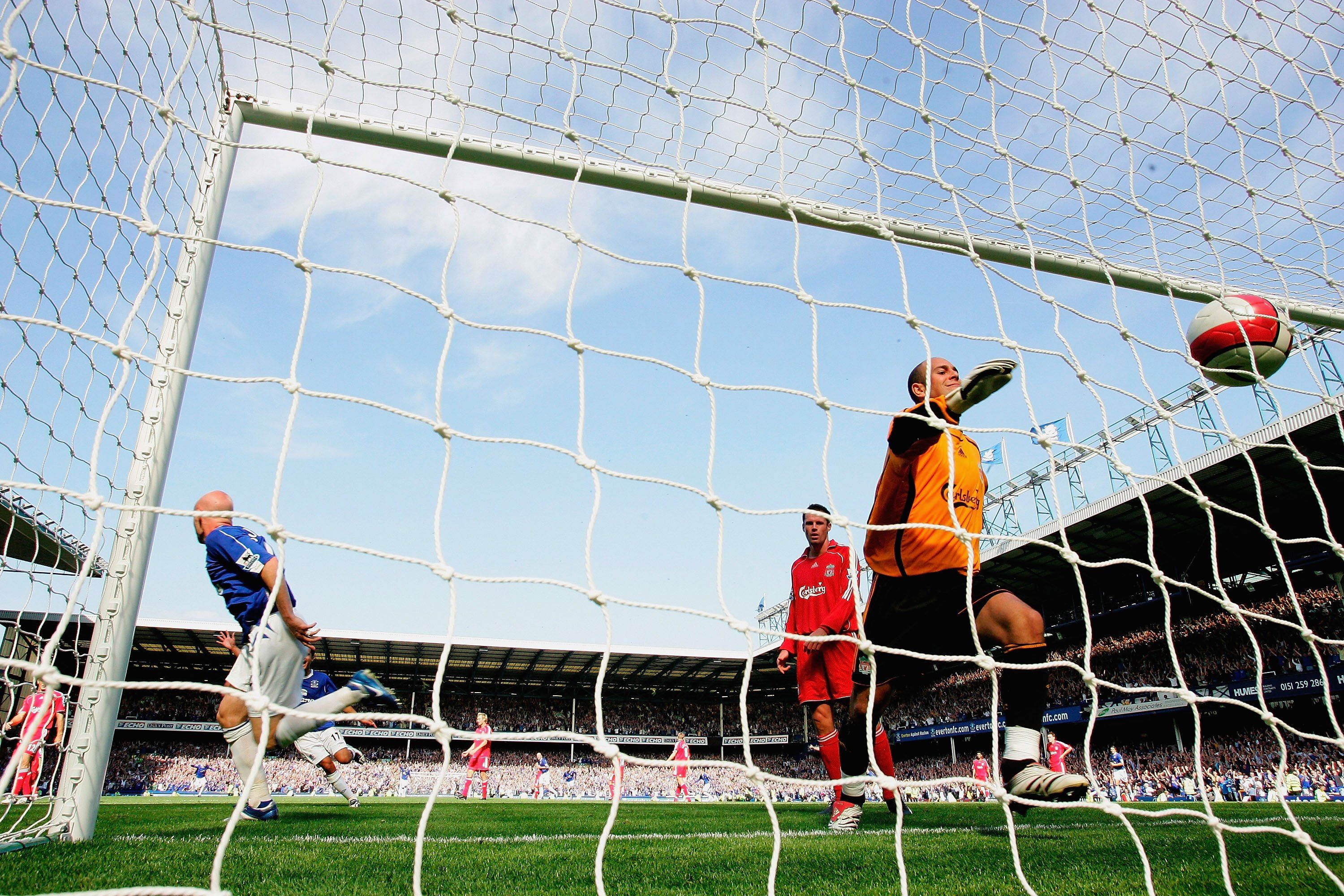 Benitez spoke after the match about how the mistake was spur Reina on. The Spaniard was only two seasons into his Liverpool career, and had won the hearts of the Liverpool fans during that time. Nonetheless, a derby day mistake is seldom forgotten easily.
"Pepe will remember this mistake as important so for him it was a test and he showed that he can come through difficult situations and be really good", stated Benitez after the humbling defeat.
"He has a lot of character. One of the keys to being a top professional and a top class player is to be able to show character in difficult situations. If you are always playing well and without difficulties you cannot test the character of the player. Pepe made some mistakes but after this he showed quality and character".
Reina would go on to be a mainstay in the Liverpool goal for most of their Merseyside derbies until 2013, when new manager Brendan Rodgers called time on Reina's Anfield career, opting to bring in Simon Mignolet as number one. By this time, Tim Howard was well established in the Everton goal, and the two faced off against each other in a 3-3 thriller at Goodison Park in the first half of the 2013/14 season.
Interestingly, in 2011 Howard actually became the first goalkeeper to save a penalty in a Merseyside Derby match for 109 years. Up until October of that year, the last time a goalkeeper had come out on top in a penalty situation on derby day had been on January 25th, 1902. George Kitchen had saved for Everton that day, but his celebrations were short-lived (if not non-existent) as Liverpool's Tom Robertson smashed home the rebound.
"It will always be the biggest game. The Merseyside derby is the greatest game I've ever played in. It's a thousand times better than the Manchester derby. Anyone who tells you differently is just pulling your leg", said Howard talking to TalkSport in 2019.
Echoing Howard's sentiment, ex-Liverpool goalkeeper Chris Kirkland, talking to Goalkeeper.com, spoke of his memories of one of the world's most intense rivalries.
"You do not want to lose!", reminisced Kirkland, who played for the Reds between 2001 and 2006.

"There's a tangible build-up in the city beforehand; everybody knows there are even families split by it. Sometimes I actually didn't enjoy playing in them too much, because everything else that went on around it meant it wasn't just about focusing on the football. It was a very tough game to play with high pressure, and massive stakes".
The unique atmosphere around Anfield is pressure-inducing at the best of times, let alone in a game where there is so much on the line. Merseyside Derbies have, over the years, seen some of the best goalkeepers to grace the Premier League, and some of the best of Premier League goalkeeping to go with it. Jurgen Klopp's energetic gegenpressing style has powered Liverpool back into Europe's footballing elite over the last few years, whilst their Evertonian neighbours have been singing the blues (if you'll pardon the pun).
Jordan Pickford - the undisputed England number one in Kirkland's eyes - has likewise had a turbulent few years as Everton number one. With displays of brilliance intertwined with periods of criticism, Pickford's form has settled down off the back of his brilliant EURO 2020 campaign.
It was December 2018 when Pickford's time at Everton hit a low, with a mistake in the dying minutes of the Merseyside Derby leading to Liverpool's winner. Later describing it in an interview as 'the Everton luck when we come to Anfield', a sliced volley from Virgil Van Dijk had spun onto the crossbar, which Pickford tried to tip over the bar. His hands struck the bar, rather than the ball, with the latter falling into the path of poacher Origi who tapped it home to give Liverpool the win.
During the 2020-21 season behind-closed-doors 2-2 draw at Goodison, Pickford was again thrust into the spotlight with a dangerous tackle on Liverpool defender Virgin Van Dijk which went unpunished.
But, "his performances this season for Everton have been steady", explains Kirkland.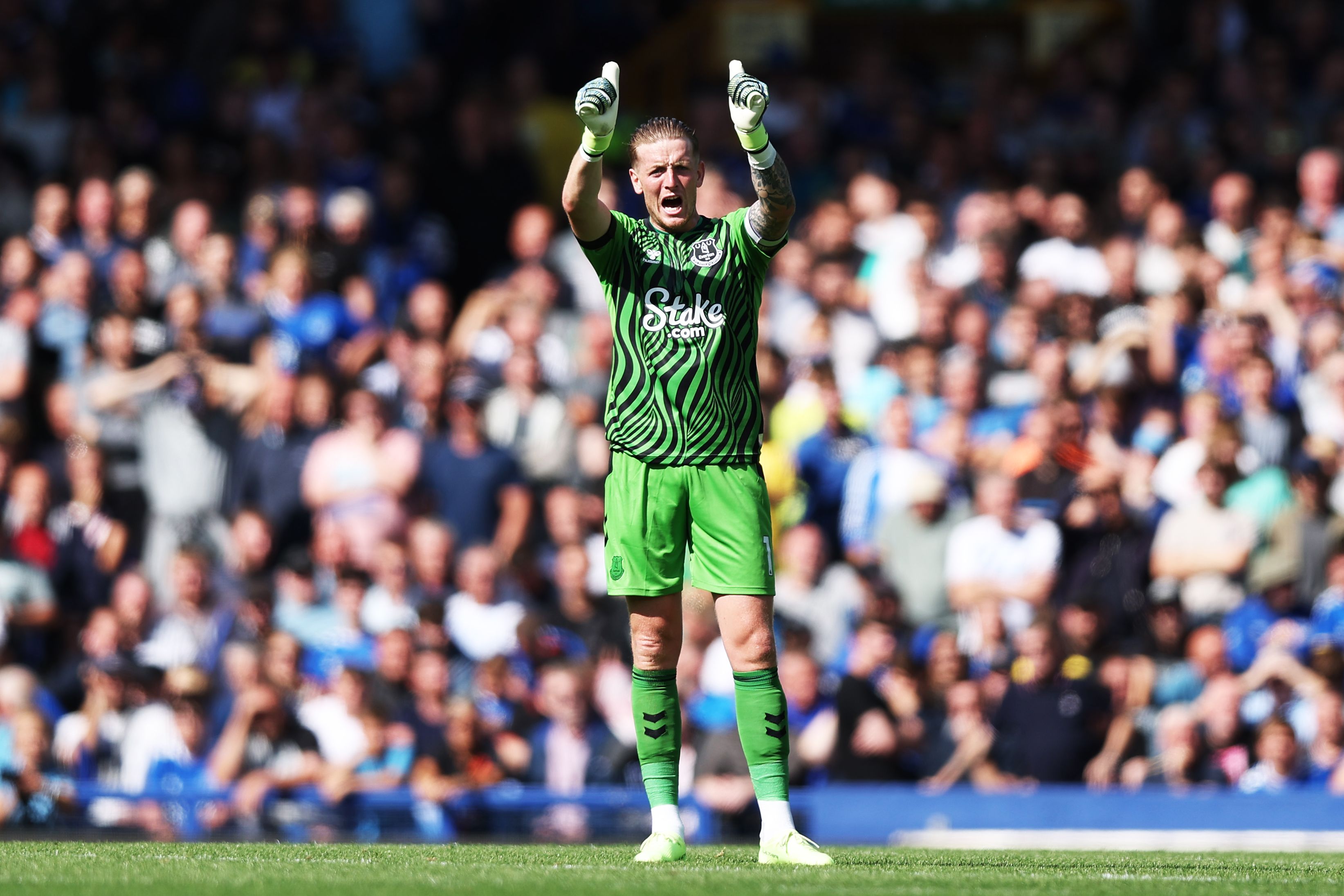 "I like that he's calmed down a little bit. I think he used to get involved too much with the crowd at times and things going on around him. On Alisson, I think he's the best in the world. He's improved massively at the club and that's testament to the goalkeeper coaches - particularly John Achterberg. He's an exceptional goalkeeper", said the 41 year old further.
Pickford's performances have certainly matured, and there are similarities between his game and Alisson's. The pair are fairly distinct in demeanour on the pitch, but both portray an intrinsic goalkeeping flair that shines through in their different styles. Likewise, with the ball at their feet, Alisson and Pickford are a cut above the majority of the Premier League goalkeeping crop.
Although you'd be forgiven for thinking that the Merseyside Derby weekend would add a little something more to training in the run up to the game, Pickford's current goalkeeping partner at Everton, Asmir Begovic explained otherwise.
"Part of the beauty of it is that you work in a continuous way, almost in cycles. First and foremost, when you start a week, you dust off the previous game. There's work, especially in the middle part of the week, about your general goalkeeping, but the focus shifts very quickly onto your opponent", said Begovic, speaking to Goalkeeper.com.
With the World Cup quickly approaching and both Pickford and Alisson locked in number one spot battles for their respective countries, there's a little something added to the gravitas of this weekend's fixture. Last time the Englishman and the Brazilian faced off at Anfield, footage of Alisson mocking Pickford's time wasting antics went viral on social media.

But, there has been much more to Merseyside Derby goalkeeping than that. Over the years, some of goalkeeping's titans have stood between opposing sticks in one of England's biggest matches, if not the biggest match in the Premier League each season. The 1989 FA Cup Final, played in the wake of the Hillsborough Disaster, saw the larger-than-life characters of Neville Southall and Bruce Grobbelaar in goal for each side, with Liverpool lifting the trophy as 3-2 winners.
Some say that the beauty of derby day means that form goes out of the window. Others would disagree. One thing is for certain, however; the Merseyside Derby has seen some great goalkeepers put in some memorable performances, for better or for worse. Kirkland reckons it will be a 2-0 win for the red half of Merseyside on the weekend, although Liverpool's performances so far this season have been unpredictable.
Either way, the Merseyside Derby is a script meant for rewriting, and Alisson and Pickford will be the masterful antagonists that every great drama needs.