Senior Designer Luis Silva takes us through the ins and outs of how a world leading sports brand makes its goalkeeper gloves…
Curkovic. Schumacher. Burridge. Barthez. Kahn. Cech. Casillas. Neuer. De Gea. The name 'Adidas' can't be dissociated from goalkeeping stardom.
Whether it be in kit manufacturing, football boot production, or the crafting of goalkeeper gloves, the German giants are one of the most iconic sportswear brands of all time.
A bastion of manufacturing quality in the corporate battle between the old world and the new, between the sticks, Adidas had their fair share of success. At the 2022 World Cup, Adidas had by far the most representation by goalkeepers.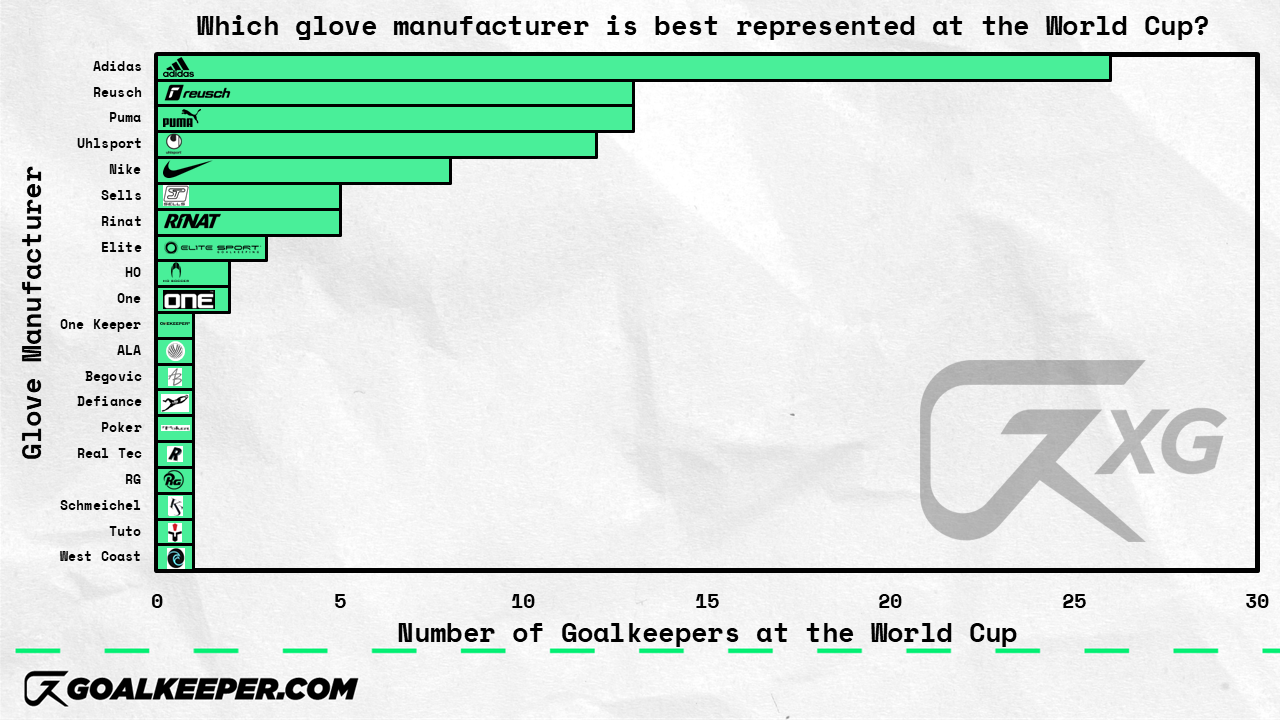 "At Adidas, we work on the mantra that we are leading and others are following", begins Luis Silva, Senior Product Designer on the football side at Adidas.
His role is to lead the design process across Adidas' goalkeeper glove and shin pad ranges, as part of the 'hardware' team. Boot design and manufacture comes under a different team - 'footwear' - but Silva describes the two teams as being closely intertwined.
"It's still one team. So we have feedback sessions together, milestone presentations where everybody is listening in. It's a sharing and feedback mentality of course."

Whereas Nike have refocused their efforts predominantly away from goalkeeper products, Adidas continue to service goalkeepers from grassroots to the elite level, setting industry-leading standards along the way.
"We usually start the creation process for a new goalkeeper glove around two and a half years before retail introduction. That means currently we're working on Predator 25, and we're starting 26 soon", he explains.
"So, two years in total from the first concept phase. At that time, we have different design ideas, try different materials, and create raw samples - just constructional samples - as to how we can actually design our gloves so they do the job. We go over everything from how the gussets are looking to what cut we use. The strap, the backhand…the viability of every detail is looked into".
He points to the Predator 2020 'Mutator' model as being a good example of the different types of work that go into each glove. On a brand new design, it can take a high number of iterations to move the prospective product from design to manufacture. Meanwhile, on a colourway 'upseason' (Adidas gloves tend to be themed to Spring/Summer and Fall/Winter colourways), the process is a lot shorter.
And, the importance of 'combos' - which every goalkeeper loves - is also a carefully considered part of the process.
"When it comes to colourways, we do want to create that head to toe look", says Silva.
"Goalkeepers like the uniform look. For example, Aaron Ramsdale and Marc-Andre Ter Stegen both like that they have gloves fitting to their boots. So we do try to get the design language from the boots into the glove ranges. We have seasonal creative direction also from the brand, but we work closely with the footwear team as well, to make sure that everything is aligned.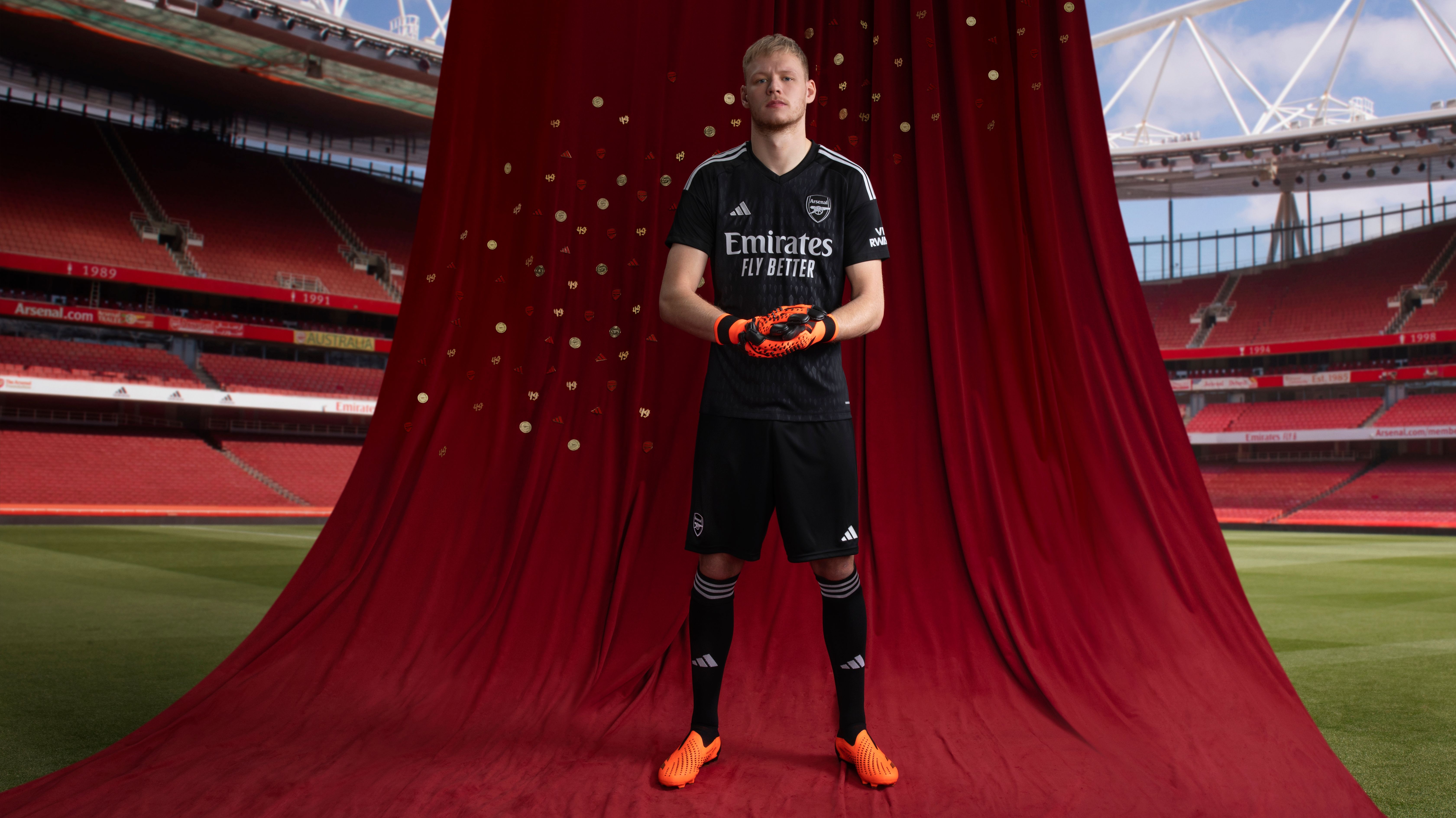 Silva is keen to add that "of course, we know that gloves are also entirely different products". Similarly, the creative direction on new lines isn't one dimensional.
"It's hard to say what the main source of inspiration is", he admits. "It could be anything; a walk in the park, playing video games, reading a book, or whatever gets your brain and imagination working."
Either way, there's no doubt that the novelty of goalkeeper-specific products is ingrained into Adidas' design process.

"When we started Predator 2020, Mutator was the very first fully knitted (i.e. non-latex backhand) strapless glove with the fine silicone elements on the backhand [the little raised bumps on the back of the glove], nailing this one took a lot more planning. We flew out to the factory to have meetings, and made a ton of sample rounds. It was a newer area we were moving into. The new Copa range is a more traditional construction, so fewer iterations are needed".
"The innovation of the new line stems back to 2020, with the development of the 'X' model. We wanted to achieve a super lightweight glove, strapless as well, but it didn't work out as well as we hoped it would, because it got closer and closer to the Predator and we basically wanted to have two different glove ranges", continues Silva.
"So at that point, we realised it didn't really make much sense to continue that line. But then also having a line like a boot range basically with the Copa - traditional boot, leather, good touch and feel - we wanted to have something similar as well with a glove. We listened to the consumer; some people still need a strap, same as footwear, some people still need laces.
"We basically took the ingredients of the Copa to make a traditional glove with a modern twist."
Much like the Copa, Silva also points out that the Mutator's knitted backhand was another example of the symbiosis of the footwear and hardware teams.
"Knit was a big thing also for footwear. The very first knitted laceless boot was the Samba PrimeKnit (2014) and that actually came from further afield in the footwear department - we had knit on the Ultraboost NMDs (running trainers).
"It was not a lightbulb thing. It was a smooth transition thing, saying okay, we have knit, what can we do with the knit? From that point onwards we innovated trying to get the knit better, the fit better. And so it was like a smooth continuous process." he says.
"The first design I took from start to finish was the Predator Mutator in 2020, but the first goalkeeper glove I worked on was a limited edition for the ACE Trans Pro in 2017.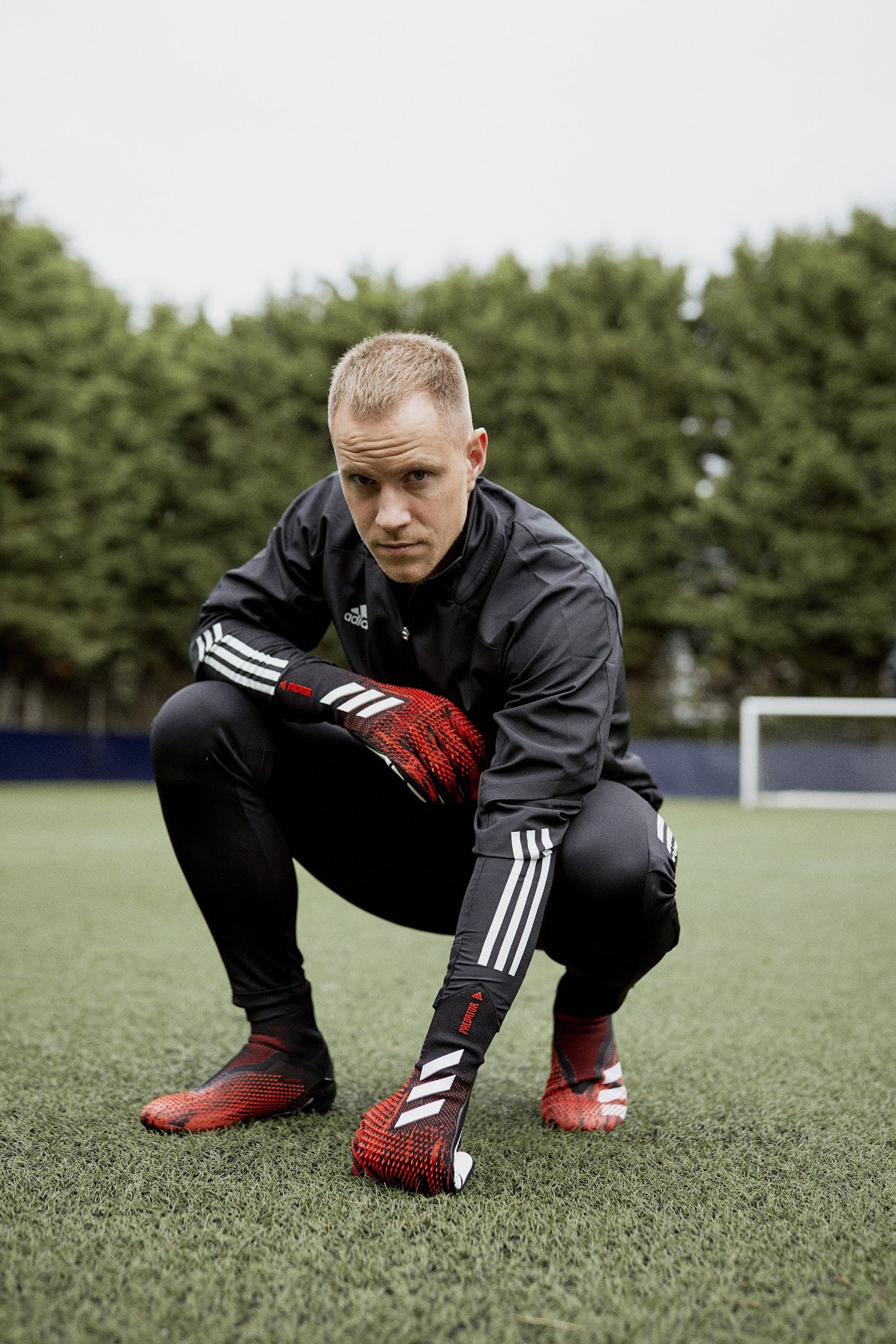 "It had an asymmetrical strap and was similarly linked to the NEMEZIZ boot at that point. We did a colour wheel as activation, and wove a storytelling project around that with the 'Next-Gen bonding' branding. Next-Gen goalkeepers got their own colourways, resulting in a colourwheel for activation". Those goalkeepers were Loris Karius, Luca Zidane, Christian Fruchtl, Mile Svilar, Inaki Pena, and Arthur Okonkwo.
In the latex market, Adidas' extensive research and relationships with Latico and Zahonero (both European suppliers of premium quality latex) has allowed it a strong stake in the market with their production of the URG 1.0, 2.0, and 3.0 latexes.
The exact science behind the production of different latexes is, naturally, Adidas' secret recipe, but Silva speaks of an analogy used within the company to describe how it works.
"They describe the three different types by comparing them to Formula One tires. So the softer the tire, the grippier it is but also the higher abrasion it has. So the higher grip for the URG1 means that it's softer and super sticky. It's a faster deceleration of the ball. And then leads to higher forces between palm, foam and ball, and therefore it gets worn down faster. But it also means that it's more controlled for catching.
"The URG 2.0, is still super grippy, but not as grippy as the URG 1.0 and therefore has a higher durability because it's not as soft and not as moist. And then the URG 3.0 as I mentioned is less grippy but has higher durability."
Fingersave technology is also an Adidas creation, though Silva notes that the data suggests the market isn't quite as interested in gloves with fingersave at the moment. Nonetheless, pioneered in the 1990s and used prominently by goalkeepers such as Shay Given, it is widely considered one of the greatest innovations in goalkeeper glove technology.
The brand is attuned not only to what its customers are saying, but also to what its goalkeepers want. To this day, Adidas goalkeepers remain involved in the creative process.
"We try to get them involved in the creative process as early as possible. For example, Aaron Ramsdale was recently at the headquarters, so we had a feedback session with him, on the new Predator 24 gloves. All our professionals get their own specifications and things like finger width, finger length, and so on and so forth. We try to show the first concepts as soon as possible, and not only to the professionals but also at an amateur or academy level.
Adidas' creativity, at times, has been more spontaneous. In 2013, the brand made an SMU for Manuel Neuer with only two fingers on the right hand, with the middle and index fingers, and pinkie and third finger combined to help protect an injury sustained in training. Though mostly only spotted by the most ardent of glove geeks, on other occasions, innovation has gone viral. The Predator Pros that Gianluigi Donnarumma wore in the EURO 2020 Final began to trend as one of the most popular Google retail search terms in the world the night of Italy's victory.
"That one was special because it took a lot of time to get everything right", reminisces Silva.
"Predator Freak, as the successor of the Mutator, we took one step further, super animalistic, and watching Donnarumma saving the penalty in the EURO 21 wearing those gloves was like a special moment, it was sensational."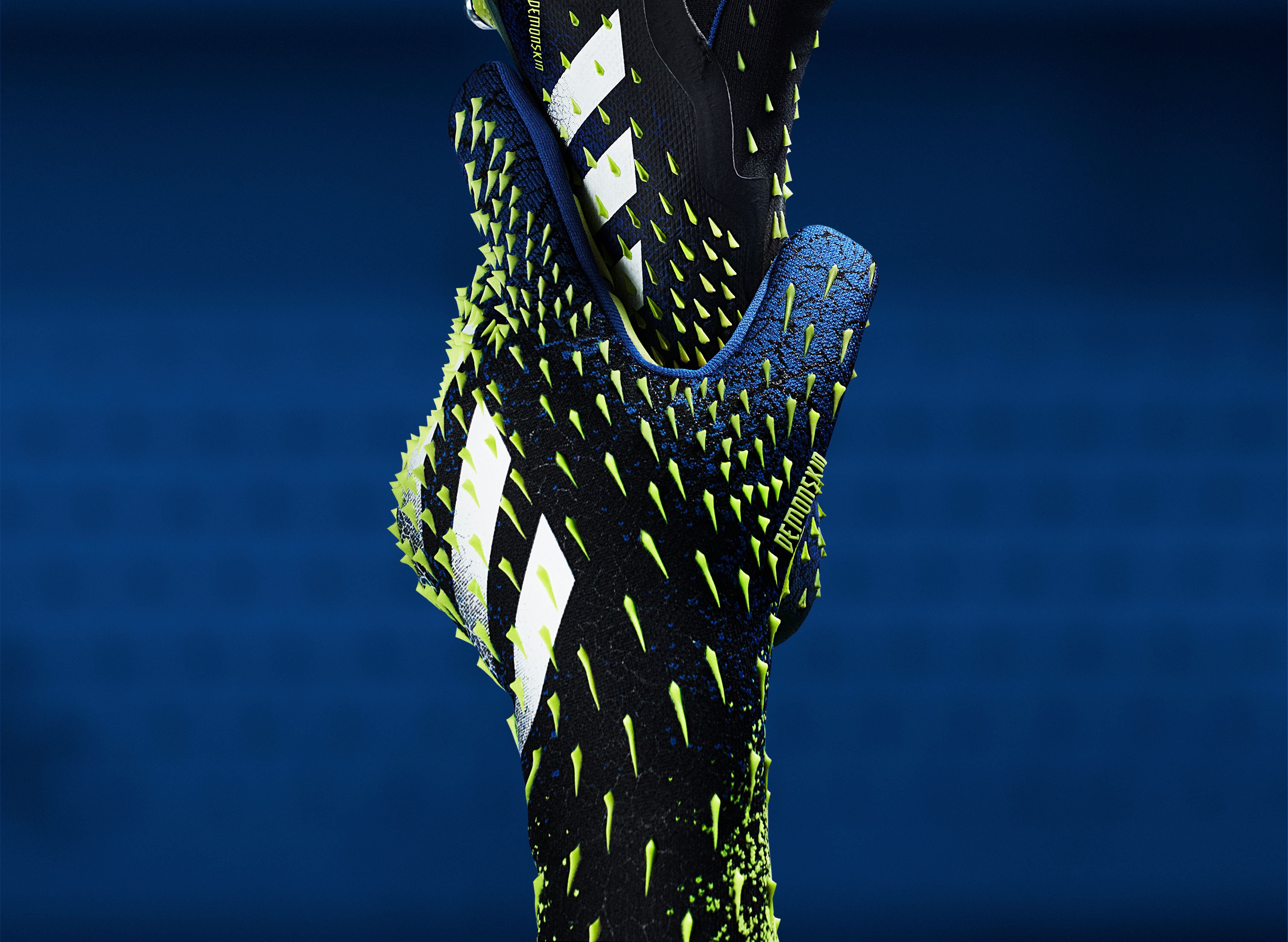 And although Adidas have always been quick to react to trends, their ability to adapt to market needs rapidly has been by virtue of strong manufacturing relations.
"Manufacturing in Europe only has advantages. We've never had a different supplier, and that has been important. They're always delivering on the highest level."
The brand with the three stripes has for so long been at the forefront of goalkeeper glove production. Whilst newer challengers are gaining pace in the market, there is a certain iconography associated with Adidas that is unlikely to be truly rivalled on a global scale for decades at least.
Perhaps the real question is how far Adidas can take goalkeeper glove innovation in the future. The market is waiting for the next BIG innovation, and Luis Silva and his team just may well be at the heart of that.