The 'alternative history' of the World Cup, as narrated by snippets over the tournament from Twitter, shows us just how misinformed popular perceptions of goalkeepers are…
Imagine a world where the World Cup wasn't televised. Where no highlights were published to YouTube. Where our perception of the tournament was filtered through tunnel vision. Where we couldn't make judgements for ourselves, and were disempowered by poorly articulated, clickbait 'easy' rhetoric.
What would we have made of World Cup goalkeeping? A good standard of goalkeeping, in reality, would have been reduced to…nothing, right? In reality, we saw one of the best tournaments goalkeeping-wise in modern World Cup history. Fantastic underdog stories concerning the likes of Yassine Bounou, Dominik Livakovic, Andries Noppert, and Shuichi Gonda, as well as match-defining performances from the likes of Hugo Lloris and Emiliano Martinez marked the 2022 edition of the tournament.
The good more than outweighed the bad - and, like with any football tournament - there were goalkeeping mistakes at times. But if we didn't have the chance to see it for ourselves, what would we have picked up from social media?
*
This article is satire.
We've reached the end of the Qatar World Cup, and the goalkeeping on display has been poor. There's no making up for the number of blunders from the supposed 'world's best' goalkeepers in Qatar. None at all. No positives. The expected celebration of wonderful shot-stopping, tips around the post and penalty saves has been overplayed; most of the 'great saves' were for the camera, after all. And it didn't take long to set the scene for goalkeeping at the rest of the tournament.
Minutes into the World Cup, Saad Al Sheeb was the first to lay down the marker for lowering goalkeeping standards. The Qatar goalkeeper should have fared better in the opener - it wasn't like he was playing in his first ever World Cup, nor that his error was uncharacteristic of one of Asia's best goalkeepers for over a decade. He left his expectant home crowd with little to cheer.
Luckily for Al Sheeb, he had company for the worst opening goalkeeping display of the World Cup. During Senegal's defeat against the Netherlands in game three, it was a 'poor save' that meant Édouard Mendy single-handedly gifted Oranje an opening match win. That was it; a poor save.
Mendy's disappointing tournament was expertly broken down in an article by Goal, who dedicated an entire article to more than 30 Tweets that passed judgement on his tournament. Subheadings ranged from 'Mendy is overrated' to 'Mendy is finished for Senegal'. Finished for Senegal indeed, it's not like Mendy is, by far, the most accomplished player in the entire Senegal squad aside from Sadio Mane (when fit) and one of the most accomplished of all time, winning the African Cup of Nations only last year and being named the tournament's best goalkeeper after saving a penalty in the final shootout.
The Daily Mail were in similarly fine form, counting on a range of goalkeeping Twitter experts to analyse Mendy's performance at the tournament.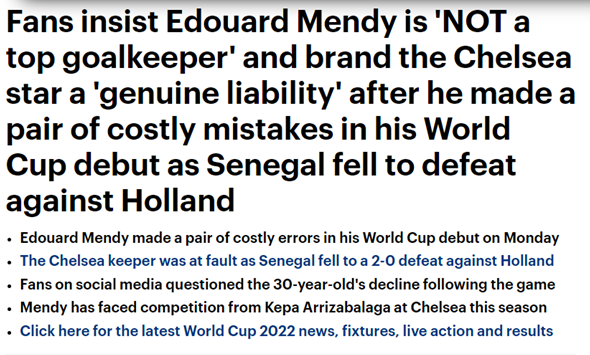 A mistake from Japan's Shūichi Gonda soon gave fans a new target. The tamest of efforts from Costa Rica's Keysher Fuller gently drifted through Gonda's hands like a feather in the wind before nestling into the top corner.
Gonda nearly damaged the reputation of the Japanese team and fans during the competition for this sub-par effort. After all, everyone had expected Japan to go all the way and Gonda to be a contender for the Golden Glove. Forget his match-winning performance against one of the world's best footballing nations, Germany, and the fact that he'd been a huge part of why they got through to the Round of 16. Oh no, that didn't matter any more. Midfielder Joe Cole was particularly inspired by the blunder, with a pun that made perfect sense.
As for Wayne Hennessey, what was he thinking? The Welsh number one looked more at home taking on Tim Wiese in the WWE ring rather than on the biggest stage in world football after colliding with Iran's Mehdi Taremi. On the plus side, Hennessey wrote himself into the World Cup history books, joining a selective goalkeeping club after his homage to kung-fu.
Then, the opportunity came knocking for Wales' second-choice goalkeeper, Danny Ward. Gloves on, boots laced and training bib flung to the ground, Ward looked like a man ready to step up and help his depleted side battle the odds in Group B.
But 17 minutes later, the Leicester man extinguished any flames the Dragons had of World Cup progress. It was Wales' goalkeepers who were in the press' spotlight, given that the Welsh defence carried no equal blame. Likewise, the two goals that Wales conceded were entirely Ward's fault. No explanation needed. Clearly, he was worse than Hennessey. There was plenty of evidence for that against Iran. Plenty. Loads. Maybe?
And, as Alan Shearer pointed out, it was Ward's fault that Marcus Rashford blasted a free kick right into the top corner when Wales met England.
The next two Tweets portray the tournament of Thibaut Courtois; one only of mistakes and anger. Not of a goalkeeper who left the World Cup with a penalty save - the first Belgian goalkeeper to do so since 1966 - and one of the highest shot-stopping ratings of the tournament.
It has been a World Cup for experienced goalkeepers to forget as they showed the up-and-comers how not to perform. Keylor Navas was another who seemingly downed tools with Courtois.
Navas is a hero, leader and icon in Costa Rica. The 36-year-old thought he'd seen it all with the national team through previous upsets and over-achievements in tournaments gone by. A 7-0 loss to Spain may be what marks the end of Navas' international career, because remember; in a 7-0 loss, every single goal is always the goalkeepers fault, and the goalkeeper is undisputedly the worst player.
What numbers are WhoScored using to calculate their ratings, by the way?
If England needed one player to save them from major tournament heartbreak yet again, it was Jordan Pickford. The Three Lions' number one has been a hero in recent tournaments. Penalty saves in Russia in 2018 and the EURO 2020 final, the Everton stopper is seen as THE man for a big occasion.
But, despite all his technical brilliance and shot-stopping excellence, Pickford's arms remain too short at this level. This showed in his questionable attempt to keep out Aurélien Tchouaméni's long-range effort in a quarter-final clash with France.
As Paul Merson noted, he doesn't know a Premier League goalkeeper who doesn't save that shot. He could have caught it, actually.
'I don't know a goalkeeper who doesn't save France's first goal. Why Jordan Pickford was on his goal line when the ball was 25, 30 yards out I do not know. If Pickford was on the edge of his six-yard box, he probably catches Aurelien Tchouameni's shot' - Paul Merson.
Likewise, Roy Keane's ever-impressive goalkeeping analysis made the headlines.
Eventually, the 2022 World Cup boiled down to an Argentina vs France final. Two gargantuan forces in international football going head to head for the sport's biggest prize.
In the net for France was the experienced, cool head of Hugo Lloris - Les Blues' record cap holder and a dependable pair of hands to clasp the trophy and cradle it back to Paris.
Unfortunately for Lloris and France, the final went to penalties after an enthralling 3-3 draw. Head in hands, the French fans already knew they had little chance. For all his greatness, Les Blues number one has a reputation as a bystander in shoot-outs.
Yet the stage was set for him to rewrite history. Could Lloris overcome his record to become the saviour of France? Of course not. Get French Football News had the facts to back this narrative up. Oh wait. Lloris did save a penalty in a major tournament that happened less than a year ago, at the EUROs against Switzerland.
Let's hope for a mass improvement from these mediocre efforts in four years' time.
*
Now, of course, we did all have access to the tournament via television and everyone is entitled to their own opinion. We are able to take learning points from the mistakes goalkeepers made, and use any ill-fortune to improve. And that's the thing: goalkeepers do make mistakes, and this was no different at the World Cup. But it doesn't mean that they are the only players on the pitch to do so, or must be questioned every time a goal goes in. Nowadays, a goalkeeper will concede a perfectly decent goal, and immediately be questioned, seemingly just for the sake of it.
Another thing that this article purposely demonstrates is the danger of picking and portraying selective evidence. There was praise for goalkeepers at the World Cup across social media; the article just doesn't choose to show it. We don't get a fully accurate picture by solely conforming to one narrative, and this happens in all walks of media.
Many of the outlets quoted and featured in this article are large entities, with huge followings. They have reach, and they influence popular perception. Some also have the resources to go and source more accurate analysis, but seldom does this occur. In recent years, we've seen the likes of Rob Green make more appearances on Sky Sports' panels, but the lack of proper goalkeeping insight is still sorely apparent.
The narrative portrayed in this article portrays the pitfalls of negative, biting narratives on social media in football today. And, as we all know too well, it is goalkeepers that often face the brunt of them.