Elijah Sofoluke looks at the meteoric rise of Thibaut Courtois, his difficult start to life at Real Madrid, and reclaiming his world class status…
Within the realms of football, the idea of development is looked at in a rather lineal and myopic fashion. There will be peaks and troughs, but the expectations placed on youth fail to relent in intensity. The development of goalkeepers is even stranger, with the demands placed upon them physically and mentally from an early age never fading.
It's no secret that goalkeepers go on for years beyond that of an outfield player. However, the longevity of a goalkeeper's career means that it has been rare in years gone by to see a shot-stopper in their formative years playing as regularly as outfield players might at the same age. The further you go back on the pitch, the more experience is relied upon.
At the end of the last decade, only one goalkeeper was under the age of 25 and starting regularly for their team – Joe Hart. Fast forward 10 years, this number went up by five. Not just that, half the goalkeepers in the league who got regular minutes were under the age 30. The Premier League saw goalkeepers like Petr Cech, Pepe Reina, the aforementioned Joe Hart and David de Gea buck the trend.
Another was Thibaut Courtois. His story is ever more interesting; having had a meteoric breakthrough in the early years of his career, his 'lull' came in the middle of his career to date. Where you would perhaps expect the combination of age and experience to see him through this, Courtois' move to Spain in 2018 started slowly, with his price tag and slightly sour departure from Chelsea putting excess pressure on him to perform in the Spanish capital.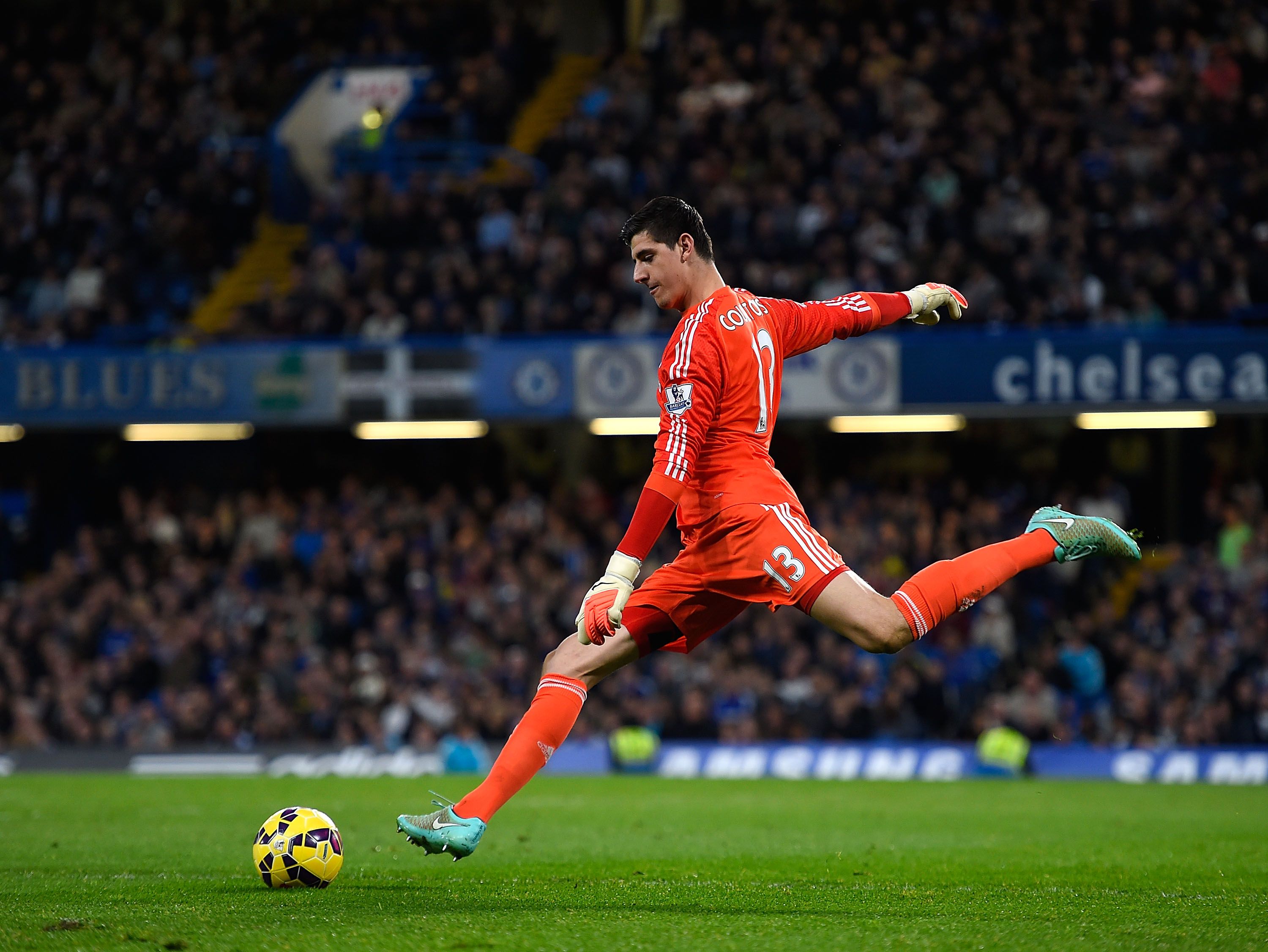 Yet, fast forward four years, and Courtois was the main reason behind Real Madrid crowning themselves European Champions for the 13th time. Outfield players can go through these lulls and come through the other side but for goalkeepers, it can be difficult to reimagine yourself. So, how has the Belgian managed to establish himself once again at the zenith of goalkeeping?
*
Few grow up wanting to be a goalkeeper, and Courtois was no different. Coming through the academy system in Belgium, he was initially a left back for his hometown club Bilzen V.V., turning to a career between the sticks upon joining Racing Genk.
Courtois was known to be a 'clumsy' child, who, in an article by the Guardian, was described as 'absent-minded'.
'He once admitted that he was thinking "too much" during a forward roll at gymnastics, and ended up completely taking out his teacher. "I've never been a hero at gymnastics," he said', detailed the article.
That was in 1999. Almost 9 years later, after an inordinate growth spurt that would have Courtois spring close to the 6ft 7 height he is now, he would be starting games for the first team. It came, as things do for youngsters that age, with injuries ahead of him. It would still take a brave manager to put a then-16 year old in the net for a league game. His debut was described a 'nerveless display' and he was involved in the first team from then on.
Courtois was an attraction as a goalkeeper, and not just his height. Despite his wing back origins, his technical capabilities in goalkeeping were vast beyond his years. His calmness, a characteristic that pervades his life and not just the football pitch, was noted early on by coaches. He rarely elucidated the air of jitters despite his goalkeeping infancy.
He could come through crowds to claim crosses, with his big frame making him an imposing figure. He also maintained great agility and reflexes around the goal despite his height. Voted the goalkeeper of the year in Genk's title winning season of 2010-11, the youngest goalkeeper to ever play for the Belgian national team, and deemed to be worth €9 million in 2011 by Chelsea, Courtois had made a distinct impression in goalkeeping circles by the age of 19.
To make a financial comparison, nine million euros was considerable fee for a goalkeeper - let alone one so young - at at a time when the world record fee for a goalkeeper was Gianluigi Buffon's £32.6 million move to Juventus in 2001. In the summer of 2011, two other then-big money goalkeeper transfers occurred: David De Gea to Manchester United for £19 million and a certain Manuel Neuer to Bayern Munich for a similar fee. for him to bring him to the Stamford Bridge.
Chelsea would immediately make him cut his teeth at Atletico Madrid. It was in Spain that the Belgian first forced the footballing world to sit up and notice Courtois. Even Chelsea, a graveyard for young talent, couldn't deny it. Upon his return from Atletico in 2014, with a Champions League final, a Europa League trophy and a Copa Del Rey winner's medal under his belt aged only 23, he returned to Stamford Bridge to supplant veteran Petr Cech as number one. A Premier League title marked the end of his first season as the Blues' number one.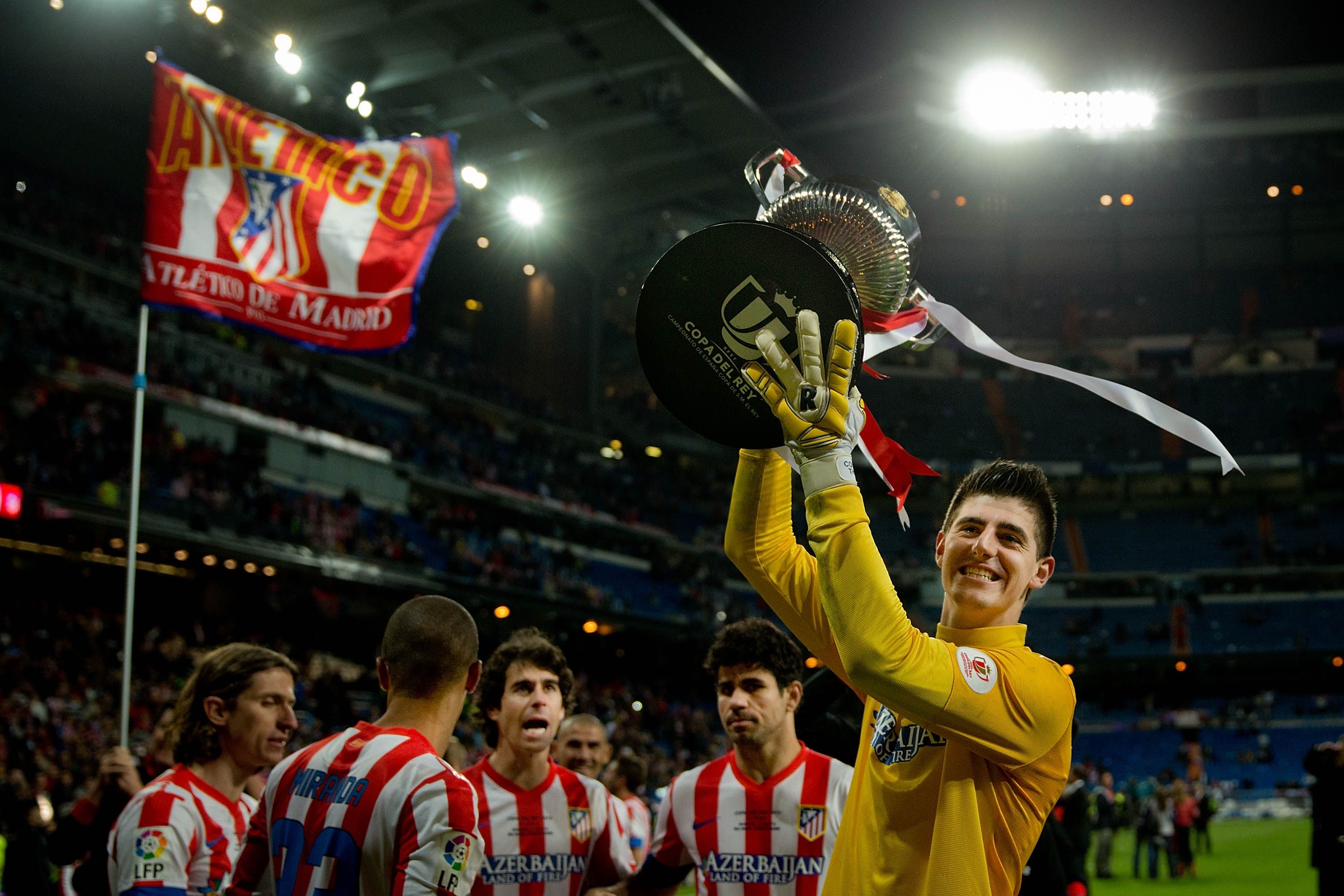 It all fell apart for Chelsea the following season and Courtois wasn't exclusive to blame. He looked a far cry from the imposing and assured goalkeeper that we had become used to, with a reduced save percentage (measures such as PSxG were not available during the 2015-16 season) testament to this. Over his time at Chelsea, Courtois never consistently ranked amongst the top goalkeepers in the league for his shot stopping ability (even when PSxG figures became available from 2017/18).
Technical analysis of Courtois' shortcomings in those seasons at Chelsea present an interesting debate around the benefits and drawbacks of being so tall as a goalkeeper. His reflex ability to collapse low became a weakness by-eye.
But it was shots to his feet that presented more consistent issues. He was unable to shift his feet quickly enough to get to shots, with his 1v1 shot stopping ability reduced because of a failure to utilise his frame to his advantage - something that the Belgian has majorly improved upon in recent years.
The two goals he conceded from Lionel Messi in the 2017/18 Champions League Round of 16 second leg tie against Barcelona epitomised this. Courtois displayed similar tendencies to those that David De Gea has been criticised for in recent seasons - a poor save choice (whether to block or spread) and falling backwards upon the release of the shot. The Argentine arrowed two between Courtois' legs and it enshrined this weakness in Courtois to many pundits and fans.
In the Premier League that season, he was not much better. Courtois ranked 31st out of the 38 keepers with regards to post-shot expected goals. He conceded 3.3 more goals than an average Premier League goalkeeper would if faced with those quality of shots. Per 90, out of the 14 goalkeepers that played more than 30 games, Courtois was the 3rd worst (PSxG -0.09). The very concerning thing is that on average, he was facing a shot quality that was the second worst in the league compared to his counterparts (0.27). He was not facing difficult shots yet he was still letting shots in.
*
This, coupled with a generally poor ball distribution ability, made it odd that Real Madrid were so keen on Courtois, in retrospect. Perhaps it was that they'd grown restless after failing to capture David De Gea from Manchester United, and needed a marquee goalkeeper signing. Either way, his below-average form would continue in the Spanish capital after his move to Real Madrid.
Over the 2018/19 season he recorded a -0.11 PSxG/90, 2.9 more conceded shots than the average La Liga goalkeeper. His performances were unsettling for Real fans and board members alike, having had £35m spent on Courtois in his last year of contract.
| | | | |
| --- | --- | --- | --- |
| La Liga Adv GK Stats | PSxG/SoT | PSxG+/- | PSxG/90 |
| 2019/20 | 0.25 | +2.8 | +0.08 |
| 2020/21 | 0.22 | +2.8 | +0.07 |
| 2021/22 | 0.27 | +4.4 | +0.12 |
But since his 'baptism of fire' season for Real, Courtois' improvement has been steady, yet clear to see. In the seasons that followed his debut campaign, Courtois was able to keep out at least ~3 goals more than the average La Liga goalkeeper in the last three seasons. His form was rocketing towards the green, and culminated not only Courtois' best performance of all time, but probably the best goalkeeping performance ever in a Champions League final.
The memorable saves from Mohamed Salah and Sadio Mane displayed an antithesis to the deficiencies he'd portrayed at Chelsea and early on with Real Madrid. Two of the key saves were low, and Courtois adjusted well to make what turned out to be two of the greatest saves of his career. Courtois' 1v1 save in the dying embers of the final from Salah represented a textbook spread save; chest square, not falling low too soon, and immense bravery.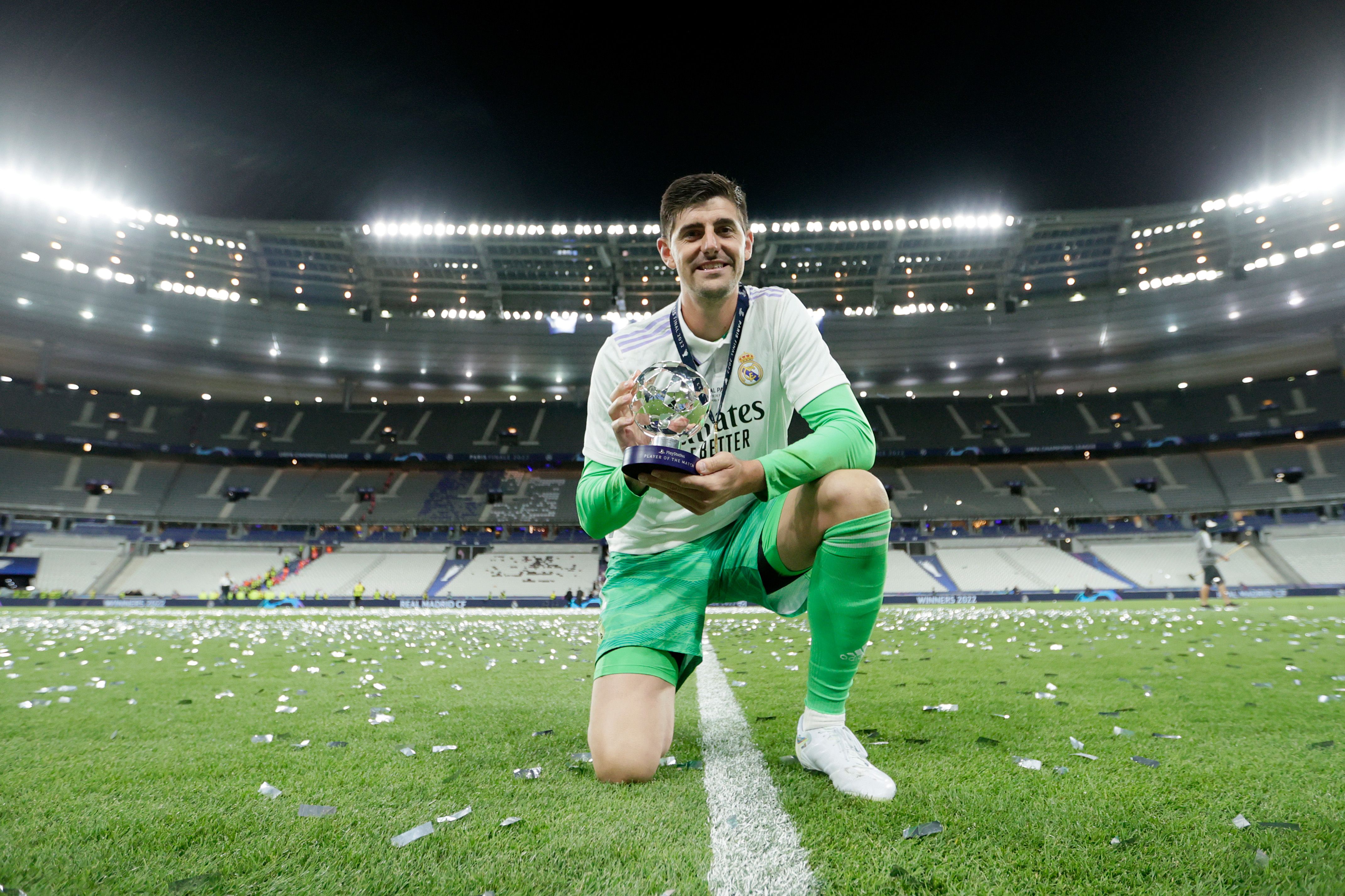 We could think of Courtois' malaise between 2015 and 2019 as something that an outfield player would perhaps go through in their younger years and come out of relatively unscathed. Courtois had to turn his form around fast at Real, and so he did. In 2015, the former Genk man was only 23 years old. He will be turning 31 in May.
With another several years likely to go between the sticks, Courtois' story shows how development comes differently to different goalkeepers and should be judged on a case-by-case basis. If there is a more perfect example of goalkeepers hitting their prime in their thirties, we'd like to see it.