Astronomer-Goalkeeper Dr. John Harrison takes a deep dive into how every goalkeeper has performed thus far at the 2022 World Cup…
There have been some incredible goalkeeping performances thus far at the World Cup 2022 and this hasn't gone unnoticed by the FIFA technical study group who have given a goalkeeper the player of the match award in four games out of 16. This number could have been even higher when you consider both Kasper Schmeichel and Thibaut Courtois were not awarded the player of the match award in their respective first fixtures, even though they played vital roles in both their sides keeping clean sheets.
Goalkeepers have been stealing the show so far in Qatar. But just how well has each goalkeeper played so far?
The best shot stopping performance of the first round of group stage fixtures was by Japan's Shuichi Gonda who thwarted Germany's attack on eight occasions in Japan's shock 2-1 win over the 2014 World Cup winners. The Goalkeeper-xG shot stopping model finds that, given the quality of the finishes Gonda faced, he would be expected to make 6.16 saves meaning he saved Japan almost two goals. This, in a 2-1 win, means he turned a defeat into a victory for his side!
Gonda smartly saved two close range 1v1s by rushing off his line and snuffing out the shots. But, by far his most difficult save was from Serge Gnabry's header. Gnabry powered a header low into the bottom corner from close range and Gonda managed to adjust his feet and make it down to his left to claw the ball away from goal. Historically, shots like this are only saved 24% of the time!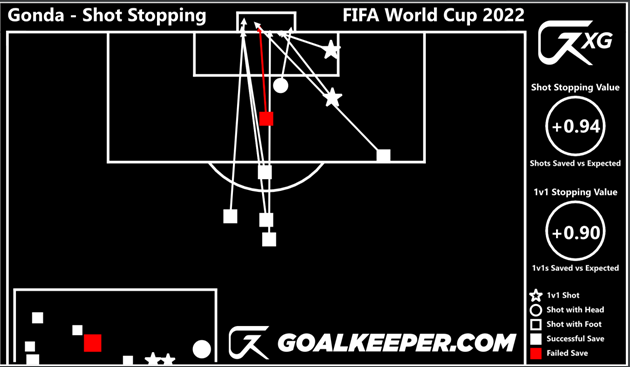 The worst shot stopping performance so far is unsurprisingly Keylor Navas against Spain. Navas made just one save in a game where an average goalkeeper at World Cup level would have been expected to make 3.98 saves. The consolation for Navas is that even if he had performed as expected for a goalkeeper at an equivalent top flight level, his side would have still fallen to a 4-0 defeat to Spain so he certainly should not feel that the loss was due to any sole fault of his own.
The weakest goals Navas conceded were Marcos Asensio's 21st minute effort and Ferran Torres' 54th minute strike. Asensio's shot was struck well, but was heading straight down the centre of goal thus it would be expected to be saved 86% of the time based on historically similar shots. The reason Navas failed to keep the shot out of the net was due to him failing to adjust his footwork, and shifting his weight over to his right hand side.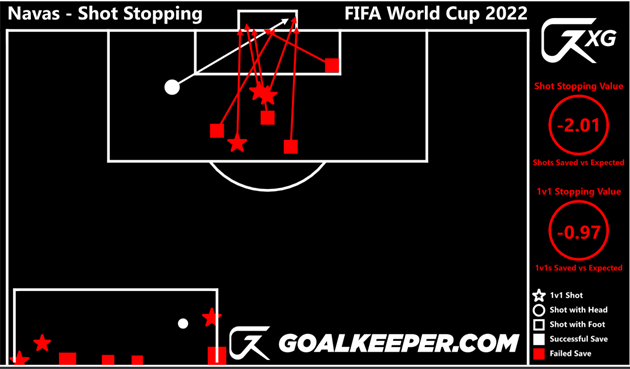 This meant that when he was required to drop down to his left hand side, his body weight distribution wasn't quite right and he could only palm the ball into the side netting. Torres' goal had an expected save probability of 75% and, again, whilst it was pretty well struck, it again had a trajectory heading straight down the throat of the goal.
This time, Navas became unstuck due to poor decision making. Even though he had a defender covering, the Costa Rican number one decided to rush out and try to engage Torres as if the chance were a 1v1. This meant when Torres hit the shot Navas had massively reduced his reaction time. Thus, the shot squirmed under his body and into the back of the net.
So far, 15 goalkeepers have saved more shots than expected while 13 have saved fewer shots than expected. This indicates that overall the quality of goalkeeping at the tournament has been pretty great. The top shot stoppers thus far have been Guillermo Ochoa, Thibaut Courtois, Mohammed Al-Owais, and Shuichi Gonda whilst Emi Martinez, Mathew Ryan, Hossein Hosseini, and Keylor Navas will be hoping they can improve their shot stopping performance levels and help their respective countries out in the second round of fixtures.
The World Cup 2022 has already had a plethora of goalkeeping talking points both positive and negative. I'm sure the second round of group stage matches will be no different so look out for the next statistical round up once those games are completed.