Standing between the sticks comes with a unique set of risks, but have the dangers increased from the stands?
Historically, hooliganism has been interwoven into the cultural fabric of football. Given advancements in police surveillance techniques and the potential punishments involved, the nature of supporter unrest has changed dramatically in recent decades, as illicit actors pursue more discreet methods to engage in unsavoury conduct.
The terrace warfare of the '70s and '80s has given way to a menacing underground movement of violence in certain footballing realms.
Nevertheless, such is the appetite to avoid the ugly scenes witnessed in hooliganism's heyday, the authorities have a vice-like grip of the situation, and therefore undoubtedly have the upper hand – those intent on associating themselves with this type of activity are more likely to be found discussing Stone Island jumpers than trading punches with a rival 'firm'.
However, this change in circumstance has also served to re-calibrate the typical characteristics of contemporary hooliganism. The comprehensive clampdown has left far fewer realistic opportunities for unruly 'fans' to cause substantial trouble, pushing many towards committing sporadic, unplanned, and often cowardly acts of criminality. Of course, this unpredictable and innately senseless behaviour materialises in different ways.
However, spectator attacks on goalkeepers appears to be a profoundly concerning, current trend, with evidence to imply an increase in such attacks in recent months.
Given the typical architecture of football stadiums and a goalkeeper's territorial space, those between the sticks will often be in closer proximity to spectators than other players. Therefore, goalkeepers are naturally more vulnerable to interactivity – whether positive or negative – with supporters, specifically those located behind their goal. Traditionally, the more hardcore elements of a fanbase, or indeed those following the away side, are positioned in these areas.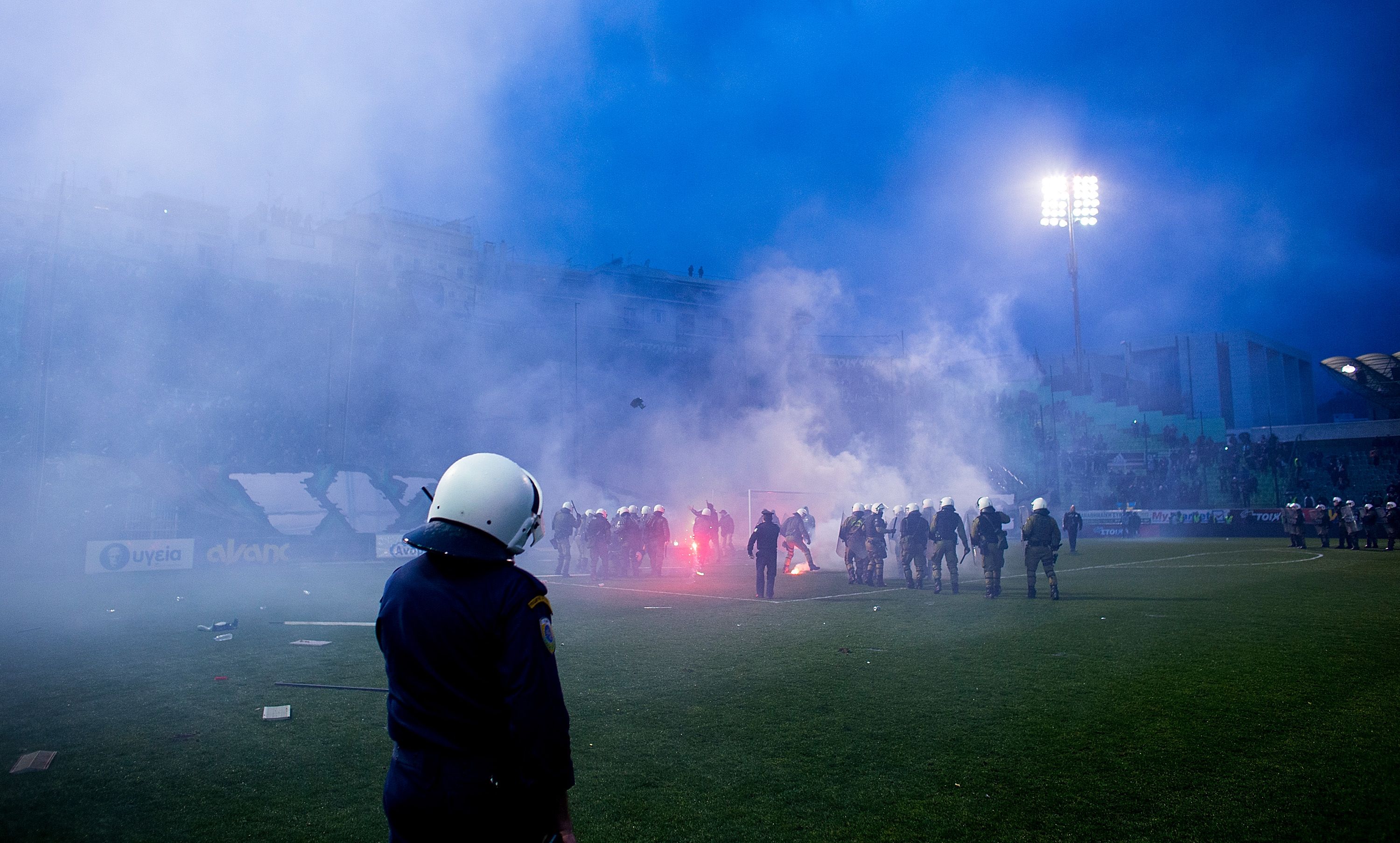 Consequently, often the most hostile section of a crowd, which harbours the greatest potential for disorder to erupt, is located within metres of a goalkeeper's operational zone. Clearly, we must avoid sweeping stereotypes regarding the probability of a disturbance brewing from these parts of the stadium, but the reality is that these locations are more likely to be a hotbed for malefaction. Whilst this perhaps explains why players in this position are an easier target, it does not offer us much insight into the reasons behind this apparent endemic.
Perhaps unsurprisingly, there is an absence of raw data on the volume or viciousness of assaults on goalkeepers. True, unless a significant injury has been inflicted, or a formal accusation or report lodged, there is little chance of capturing each time such an event occurs; for this reason, it would be impossible to compile an accurate set of statistics on the issue. Nevertheless, the abundance of recent anecdotal evidence would suggest there is merit in our hypothesis.
In fact, using keyword research, Goalkeeper.com news source records indicate that there was at least one attack on a goalkeeper, or fan-led action that led to a goalkeeper injury, every month (apart from December) between November 2022 and April 2023. Four of these were high-profile, with multiple other incidents undoubtedly lingering under the radar of the mainstream media.
In November last year, a derby clash between Göztepe and Altay, who both hail from the Turkish coastal city of İzmir, spiralled out of control. When scuffles broke out in the stands, emergency services were dispatched to attend to casualties, with play halted whilst an ambulance made its way across the pitch. During the delay, a home supporter decided to jump the barricades, arm themselves with a nearby corner flag, and proceed to continually beat Altay stopper Ozan Evrim Özenç with their improvised weapon - such was the force behind each strike, the flag quickly shattered.
The game was promptly abandoned.
Less than a month later, another derby fixture would stage a barbaric attack on a goalkeeper, as Melbourne City's Tom Glover felt the full wrath of an angry horde of Melbourne Victory supporters. In response to the Australian Professional League's decision to sell hosting rights for the next three A-League Grand Finals to the city of Sydney (the hosts have traditionally been determined by performance, not spending power), there were rumours that a unified protest would take place, with both sets of fans mobilised to exit City's AAMI stadium on the 20-minute mark.

However, when the planned moment for the gesture of discontent arrived, a small cross-section of Victory's away support, located behind Glover's goal, instead entered the field of play. With the game temporarily paused in order to clear flares which had been thrown onto the pitch, and Glover locked in discussion with referee Alex King on the edge of his six-yard box, spectators commenced their advance.
As they approached the pair, a chalk-filled metal bucket (presumably used to extinguish discarded flares) was thrown directly at the Aussie stopper, cutting Glover's face and casting powder over the nearby official. It took until early April to replay the cancelled contest, which had been brought to a premature end with City a goal up against their closest adversaries.
However, justice was served in the re-scheduled tie, with Glover's side running out 2-1 winners. As well as slapping long-term stadium bans on a slew of Melbourne Victory fans, Football Australia also took action against the club itself, meting out a suspended 10-point deduction, which will automatically activate should any other 'serious supporter misconduct' occur prior to the end of the 2025/26 campaign, and a A$450,000 fine.
For the third time in the space of 50 days, a local rivalry would attract yet more goalkeeper-related controversy, after Aaron Ramsdale was accosted by a Tottenham Hotspur supporter in the aftermath of a typically heated North London derby. Moments after the full time-whistle, which confirmed an Arsenal victory and a Ramsdale clean sheet, the Englishman was kicked in the back whilst retrieving his personal effects from the pitch side.
Although Ramsdale was not seriously hurt, he was fortunate that the scale of his injury was determined more by the poor technique of the aggressor, rather than their intention to inflict pain.
Immediately after his crazed swipe, the fan hastily fled the scene of the crime – with television cameras showing full footage of the incident during a live broadcast, the attacker would be efficiently identified. The following month, 35-year-old Joseph Watts was issued with a four-year ban from attending football matches and a 12-month community service order, and made to pay his victim £100 in compensation.
In early March, a much tougher sentence was wielded in relation to an assault on Sevilla goalkeeper Marko Dmitrović. In the closing minutes of his side's Europa League knockout tie with PSV Eindhoven, with the Spanish outfit leading 3-1 on aggregate, the Serbian stopper was inexplicably punched by a home supporter, who had managed to evade security personnel.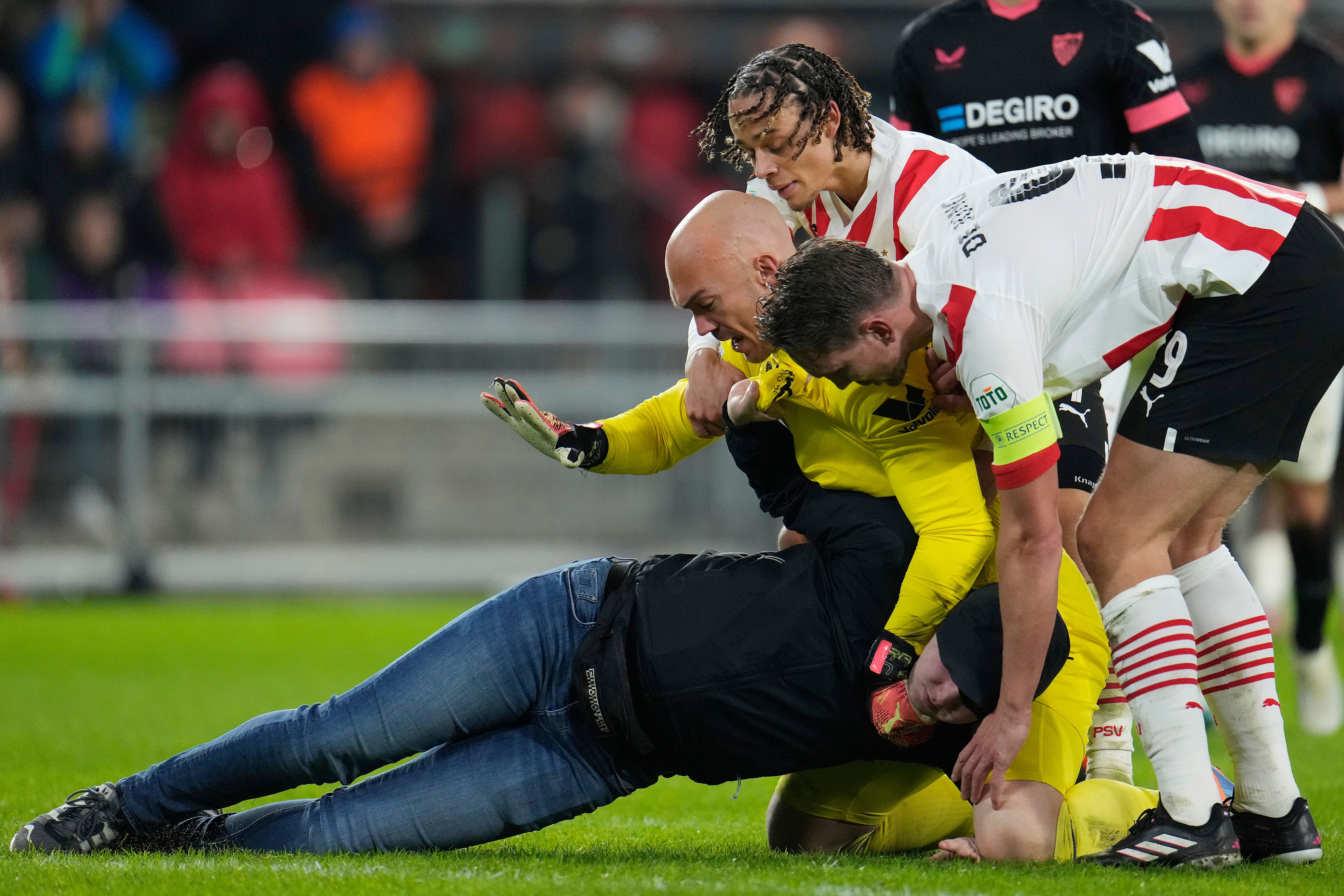 Unphased, Dmitrović wrestled the antagonist to the ground, preventing him from administering a second blow. The offender was subsequently handed a three-month custodial sentence, and informed he will be unable to gain entry to the Philips Stadion for the next 40 years. At the time of the attack, the same individual was subject to a KNVB-sanctioned nationwide stadium ban, whilst local law enforcement had already prohibited him from visiting the area surrounding PSV's home ground – unfortunately, he managed to circumnavigate both restrictions.
In this shameful landscape, it is difficult to judge which pattern is most disconcerting; is it the new regularity of goalkeeper attacks, or the level of brutality unleashed by the culprit? Clearly, both realities sit uncomfortably with the overwhelming majority of the game's stakeholders.
Banning orders, points deductions, and financial penalties are all good and well, but do they serve to compel clubs into implementing suitable preventative measures, or provide a sufficient deterrent to the mindless thugs who indulge in this behaviour? The evidence suggests current sanctions are not delivering the required improvements.
Hopefully, in months to come, this mounting issue will be appropriately addressed. If not, goalkeepers may have to quickly learn how to defend themselves – as well as their goals.