"At 34 years old, people were saying well, he's just spare pair of gloves. But that wasn't my mentality or my thinking. I wasn't going to be just a spare pair of gloves"
Let me set the scene.
It's 2016, the last ten seconds of eight minutes of added time on the last day of the 2015/16 Championship season, Middlesbrough vs Brighton, winner goes up, a draw would be enough for Boro. The scoreline is 1-1.
Brighton have a man down - goalscorer Stephens having been sent off for a horror challenge on Gaston Ramirez. But they also have the ball in the dying embers. They have time for one last roll of the dice. Seagulls' full back Bruno lofts a beautifully weighted punt into the Boro penalty area.
Against any other team in the Championship that year, that would have been a worry. That much on the line, that late in the game. It should have been a big chance, but that wasn't the case against Middlesbrough that day. Because Middlesbrough had Dimitrios Konstantopoulos in goal.
Dimitrios Konstantopoulos, better known as Dimi, is a Greek goalkeeper. He has played for teams across England and Wales, as well as in his homeland, but never with greater success than the times he was in the north east of England.
Of course, what is sometimes overlooked is that his time at Middlesbrough was actually his second spell in the north east, with Hartlepool serving as his initial landing place when he came to the UK, playing for the club from 2003 all the way until 2007. Speaking exclusively to Goalkeeper.com, Dimi spoke of his move to England, explaining that "It was a very strange situation [signing for Hartlepool United]. At the time, I was trialling for a club in Spain and it was going pretty well. I was about to earn a contract and I was very happy with the place as well".
"It was Malaga, in the Second Division in Spain. They had built a brand new stadium and things that were looking alright but I always had this desire, this bug, to try myself in England, and out of the blue an agent called me and said "there's this club called Hartlepool that want to take a look at you, not a contract, just take a look at you." And I just dropped everything and I left Spain."
"The people from Malaga were looking for me! I didn't notify anyone; I just jumped on a plane and left. I landed at Teesside airport, they picked me up, and put me in a bed and breakfast. It was a bit of a shock, because I was coming from Spain, and a five star hotel, to the B&Bs in Seaton Carew and Hartlepool. But I was there, in England, where I wanted to be", describes Dimi.
The Greek goalkeeper's spell at Hartlepool could be described as a precursor for things to come when he returned to the north east later in his career, as he produced the sort of form that he would eventually make his trademark at Middlesbrough. Particularly impressive was his 2005/06 season with Hartlepool, in which he kept a staggering 25 clean sheets.
This scintillating run of nigh-on goalkeeping perfectionism was to become a trademark of his two most successful spells in the English game.
"I think he's got to be [about] self belief. To get to those [successful] periods, you have to control yourself, and keep level headed the rest of the time. When you're not playing and you're not the number one or you're not in a situation that you really enjoy, you hope for these times. These are the times you have to handle properly, and not lose your head, and keep working, and keep believing in yourself to get to the good stuff.
"So that's what I did. I had a knack of being able to almost 'restart' my career as a professional. In both cases: in Hartlepool, I came as a trialist, no one knew me, I knew no one. And I end up doing really well. In Middlesbrough, I came as a number three or four, with a six month contract. At 34 years old, people were saying well, just spare pair of gloves. But that wasn't my mentality or my thinking, I wasn't a spare pair of gloves. I was someone who just joined a club - a big club - waiting for an opportunity. And that's what I did", he affirms.
"It's different in our position. It's not a position that you can come on as a sub or keep constantly getting minutes in games. It's hard to get in the team. And it's hard to get out of the team if you do well. So you have to have a lot of patience. I think that's something that helped me personally as well; having that patience. And I think it will help me as a coach in the future."
As his initial period in the north east drew to a close, Dimi decided he needed to test himself in a higher division. He chose to make the move to Coventry - a move that propelled him two divisions higher into the Championship - where things unfortunately didn't go quite as well as he would have liked. Dimi found himself moving out on three loan moves and only making 34 appearances across four years for the Sky Blues.
"I was at a point in my career that I needed to make that jump to a higher division if I wanted to test myself. I got promoted with Hartlepool back to League One and they'd made me an offer. It was a five year contract and they wanted to keep me but I had offers from the Championship. One of them was Coventry.
"You live by your choices. And it didn't work out as I would have liked, partly because I went to a club [where] it was a season with a lot of new players coming in. We started alright, then we had a massive dip, and I found myself out of the team.
"I wanted to play games, and Forest came in in the March of 2008. I signed for them until the end of the season, and on day one of training I snapped my Achilles tendon and I had to stay out for nine months. I left Forest, Coventry began to sign new goalkeepers and a lot of things changed.
"I had some loan moves to Swansea, and Cardiff as well. Swansea was pretty successful; I enjoyed it there. Cardiff was more difficult. But it was another spell in my career, three years that I learned a lot. I didn't play as much as I would like to, but I went to three (four including Coventry) really big clubs. I met a lot of people and had a lot of experiences that prepared me for the future", he concludes.
Dimi had actually wanted to extend his contract with Swansea during the January of 2009, and the feeling was mutual, however the deal took time to complete and the clock began to tick a little too fast on deadline day.
"I was really happy there [at Swansea] and Roberto Martinez made it very clear that he wanted me to sign permanently. That was the goal, but unfortunately, we actually got snowed in because of the snowstorm around the Midlands! A distance that would take 20 minutes normally took me three and a half hours to do. And I missed the deadline by about 5-10 minutes, I think. So it wasn't meant to be.
"But as I said, I always try to remain positive. You might get disappointed, but then again, another door might open. And that's how I saw it. I didn't want to dwell on it or let my head drop".
After seven turbulent (for better and for worse) years in the English game, filled with both successes and disappointments, the end had come - for now, at least. Dimi returned home to Greece, first with Kerkyra, then later with AEK Athens. He fought for and won the number one shirt in the Greek capital over two seasons. But after their relegation in 2013, and with his contract up, he was let go.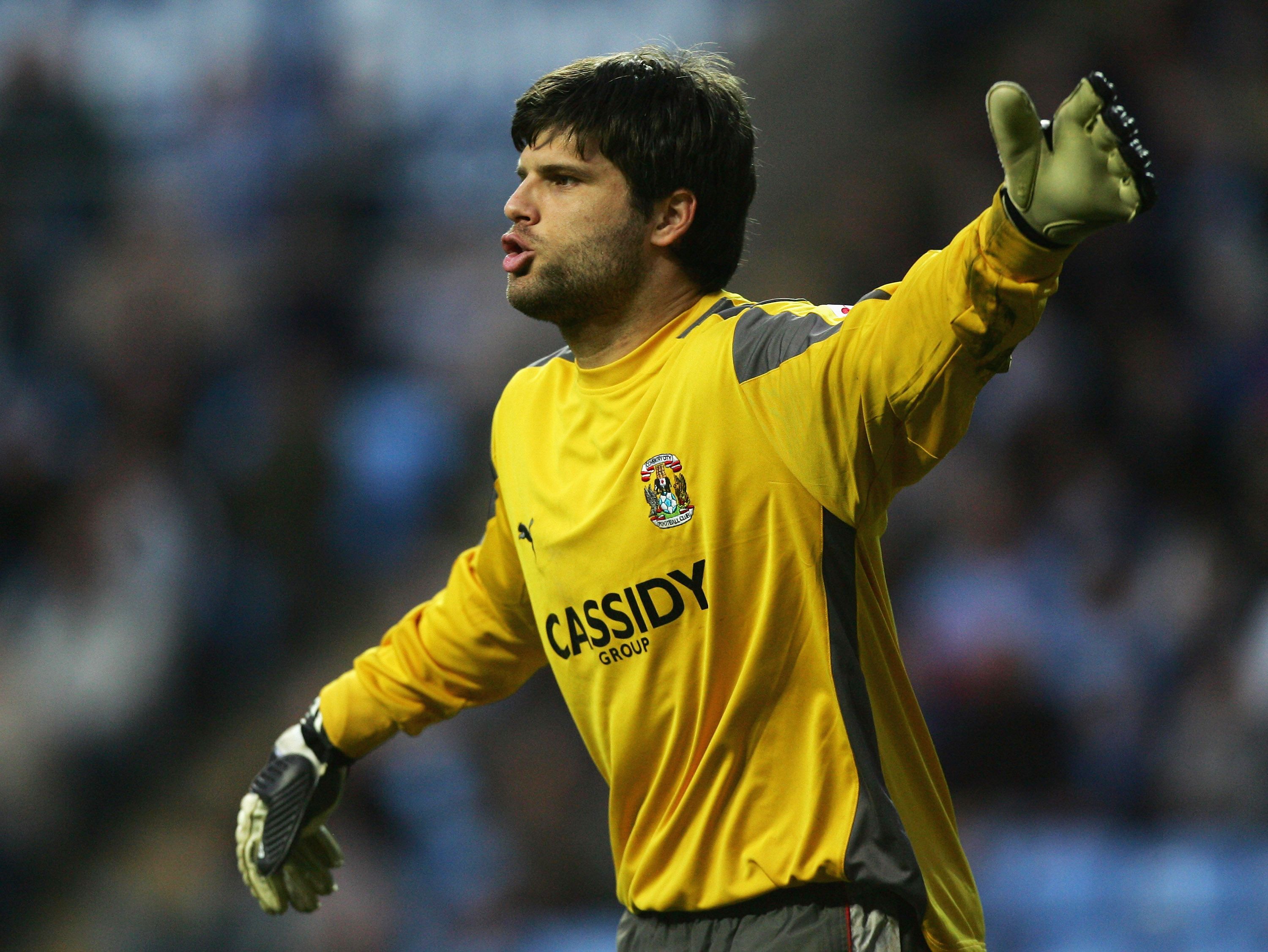 Fortunately however, what looked like misfortune would free the Greek goalkeeper up to make the move to the club where he would become a legend.
"Tony Mowbray was the manager", he begins.
"I was actually in Hartlepool at the time because my wife is from Hartlepool. I had finished at AEK Athens. Stephen Pears, who was the goalkeeping coach at Middlesbrough at the time, knew me from the past. There was an injury to Jason Steele and they needed cover. So he rang me up, asked if I fancied it, and I said "of course!".
"Steven explained that it was only going to be a short term deal, but I met with Tony Mowbray and his quote was "if you take your crosses, and if you make saves, you could be here for the next five years". So I said yes and ended up being there for six!
"Tony was joking when he said it because I was 34 at the time. So he thought, you know, I'll just put a number to press him. That's how it started and I was determined to make it work.
Dimi certainly took his crosses and made saves on Teesside, particularly once Aitor Karanka took over as manager. Boro found themselves with promotion ambitions, driven by Dimi's resilience in goal as well as a tough backline in front of him.
Middlesbrough recorded the lowest number of goals conceded across all four Football League divisions for two consecutive seasons with Dimi in between the sticks. On top of this, he set the record for most clean sheets in a championship season (22) during the club's promotion campaign in 2015/16.
Once the club gained promotion, one could have been forgiven for assuming that Dimi would retain the number one shirt for the Premier League season, seeing as he was a major part of the club getting there in the first place. However, the club made the decision to bring in both Victor Valdes and Brad Guzan, relegating Dimi back to the club's third choice spot. This was the status quo for the season, with Boro fans, as well as Dimi himself, feeling he was never given a fair crack of the whip. At the final game of the season, Boro faithful made something of a point of it.
The average age of Middlesbrough's goalkeeping department in the 2016/17 Premier League season was 33.5, and 35 if you don't count Thomas Meijas who left Boro on loan in the January of 2017 for Rayo Vallecano on loan. Some pointed to Dimi's age - 38 when Middlesbrough went up - as the reason for his lack of game time, but marquee signing Victor Valdes already 35 at the time, and Brad Guzan 32.
Few can perhaps refute Dimi's statement that "I felt I was getting better with age. I felt more complete as a goalkeeper than when I was in my 20s. Of course I wanted to play, but I was never a character that would create a scene or give ultimatums to chief executives or managers - especially to a club that I cared about. Having that tough period without game time, overall, I think it made my connection to the club even stronger.
"I will not forget the Liverpool game at the end of that Premier League season. I was on the bench. And for a full 45 minutes our fans were singing my name. They'd forgotten about the game - we were actually 3-0 down - but they were singing my name to get me on the pitch to make a Premier League appearance.
"These are moments that you can't really put into words. These moments will stay with you forever, because it's a special thing, however-many thousands of fans focusing on one player, that shows the relationship, and the respect they have for you. And obviously the respect is mutual", states Dimi affectionately.
"I love Middlesbrough, and I had six of the best years of my career [there]. The togetherness and the support I felt made it even more special for me."
So let's go back to that moment, in the last 10 seconds of the last day of the season at the Riverside, with that ball hanging tantalisingly in the air in his box. It should be the last big chance of the game. But Dimi has other ideas. He leaps into the air, with arms to the sky, the ball's trajectory plotted perfectly in his mind. He plucks it out of the sky, cradles it to his chest. And sinks to his knees, then to his chest. The ball was his, and he was going to hold onto it for as long as it took to hear the referee's whistle.
No one should ever really have been surprised. He had an almost perfect record for catching pretty much anything that came into his box that season. It was never going to end up anywhere else.
As he holds the ball tight, the seconds tick away. As each passed the Boro fans, many of whom were already taking up prime positions to begin a pitch invasion became restless. Begging for the whistle, Dimi rises up, boots the ball as far away as he possibly could and waits for the beautiful screeching sound of the final whistle. It comes before the ball even hits the ground, and the stadium erupts.
Middlesbrough were up. They had done it, and it was built on the simple principle of conceding as few goals as possible. It was built upon Dimitrios Konstantopoulos.