Head of Data Science Dr. John Harrison analyses some of the best and worst goalkeeping actions over the past week…
Best Shot Stopping Moment of the Week: David Raya vs Miguel Almiron
Almiron's curling strike was heading into the far top corner but Raya's tidy footwork allowed him to fly across goal and tip the ball over the bar to safety.
Historically, shots like Almiron's are only saved 31% of the time, making it the most difficult shot to be saved this week!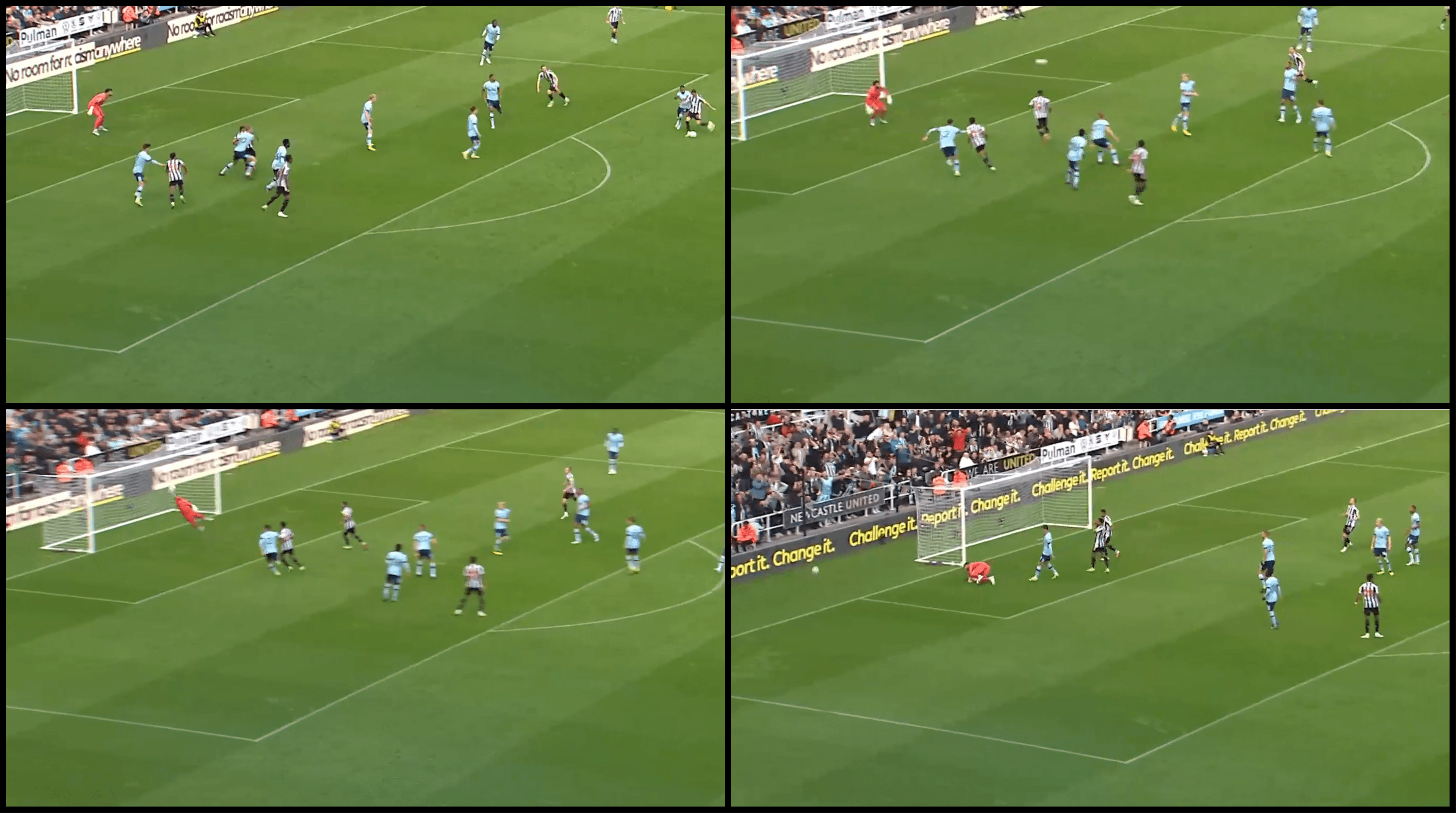 Raya's top class pre-shot positioning and footwork made this save possible. By positioning himself around two yards off his goal line, Raya gave himself valuable extra reaction time whilst also somewhat narrowing the angle. If Raya was any further off his line I imagine he would simply have not had time to get across goal and make the save, while if he was any closer to his line I imagine the distance he would have had to travel horizontally would have been too large to make up in the time he had.
Next, we must discuss Raya's footwork. Before making his dive, Raya got a full horizontal side step in and then a power step which allowed him to cover a tremendous amount of ground and add extra power into his dive. This meant he could easily deflect the ball up and over the bar. This save highlights how if, as a goalkeeper, you can get your positioning and footwork correct, it makes the final part of the save so much easier.
Best 1v1 Moment of the Week: Gavin Bazunu vs Jack Grealish
When Haaland found space in the middle of the pitch and slid Grealish in 1v1 between the Southampton defenders, Bazunu did not panic and rush out but instead held his position deep inside his six yard box. This allowed his defenders to pressure Grealish from behind while not gifting the midfielder an easy side foot or dinked finish. Grealish therefore opted for power but given the extra reaction time Bazunu's positioning gave him Bazunu easily tipped the City man's thunderous strike over the bar.
Historically, 1v1s like Grealish's are only saved 59% of the time making it the most difficult 1v1 to be saved this week!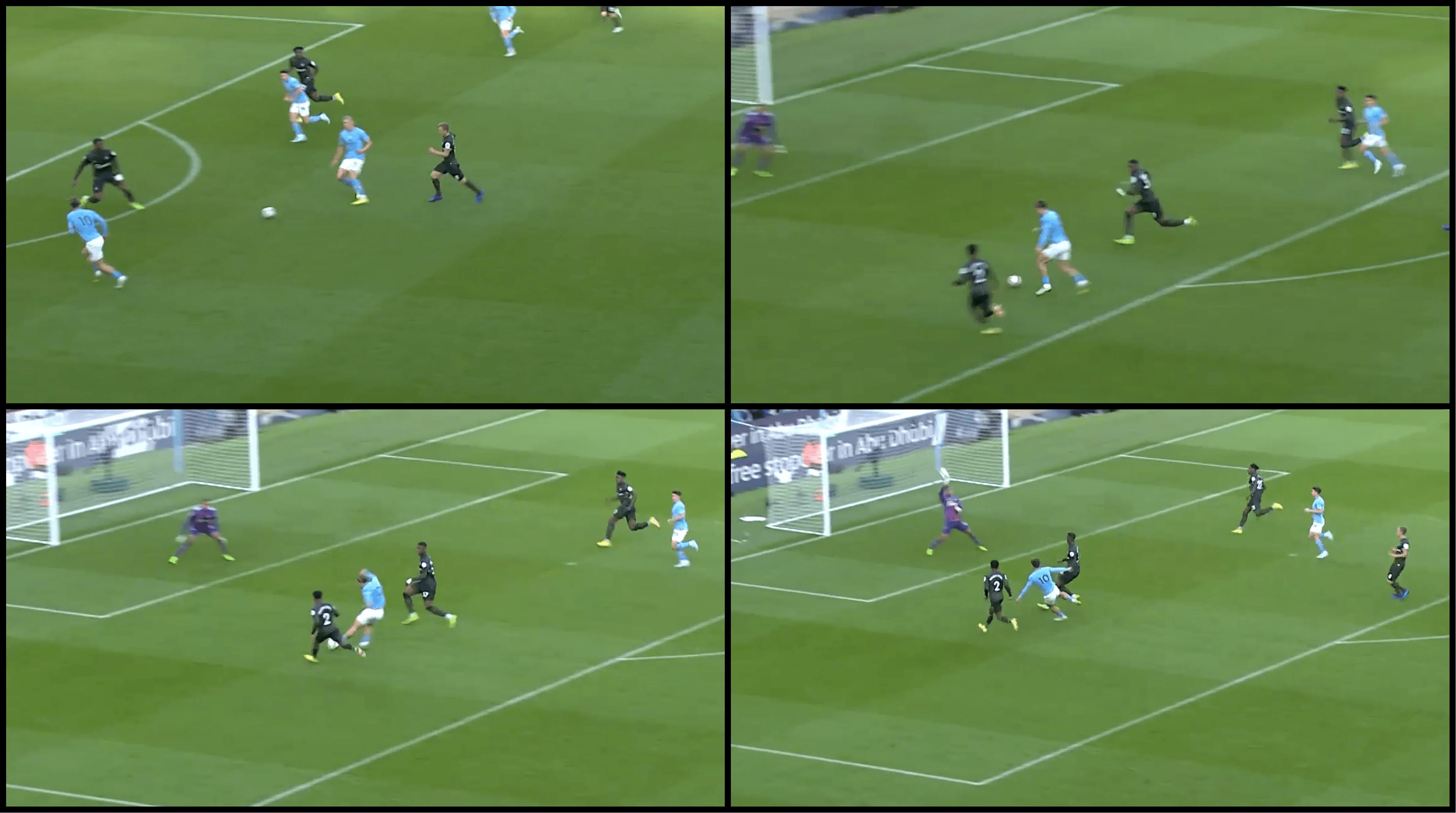 Bazunu dealt with this 1v1 situation perfectly. Many goalkeeper's first thought would have been to rush off their line as soon as Grealish was played through, but all this would have done is to cut his reaction time and give Grealish the possibility of rounding him or curling the ball round him or chipping the ball over him. By waiting deep, Bazunu gave himself a 78% chance of making the save.
If Bazunu had rushed out and attacked the ball, this save probability would have dropped to just 47%. This save is just another example to add to the collection we have discussed in recent weeks in these articles which highlight how the outcomes of 1v1s are often defined by the goalkeeper's decision making, rather than their reflexes, agility, or athleticism.
Best Handling Moment of the Week: Nick Pope vs Bryan Mbeumo
Mbeumo smashed a powerful effort towards the bottom corner of Newcastle's goal, but Pope got down quickly and not only saved the shot but expertly guided it away from two onrushing Brentford attackers hungry for a rebound.
Historically, this shot would be expected to grant a rebound with an expected goals value of 0.10, but Pope parried it out of the side of the six yard box to an area which has an expected goals value of just 0.01. This makes it the best handling moment of the week!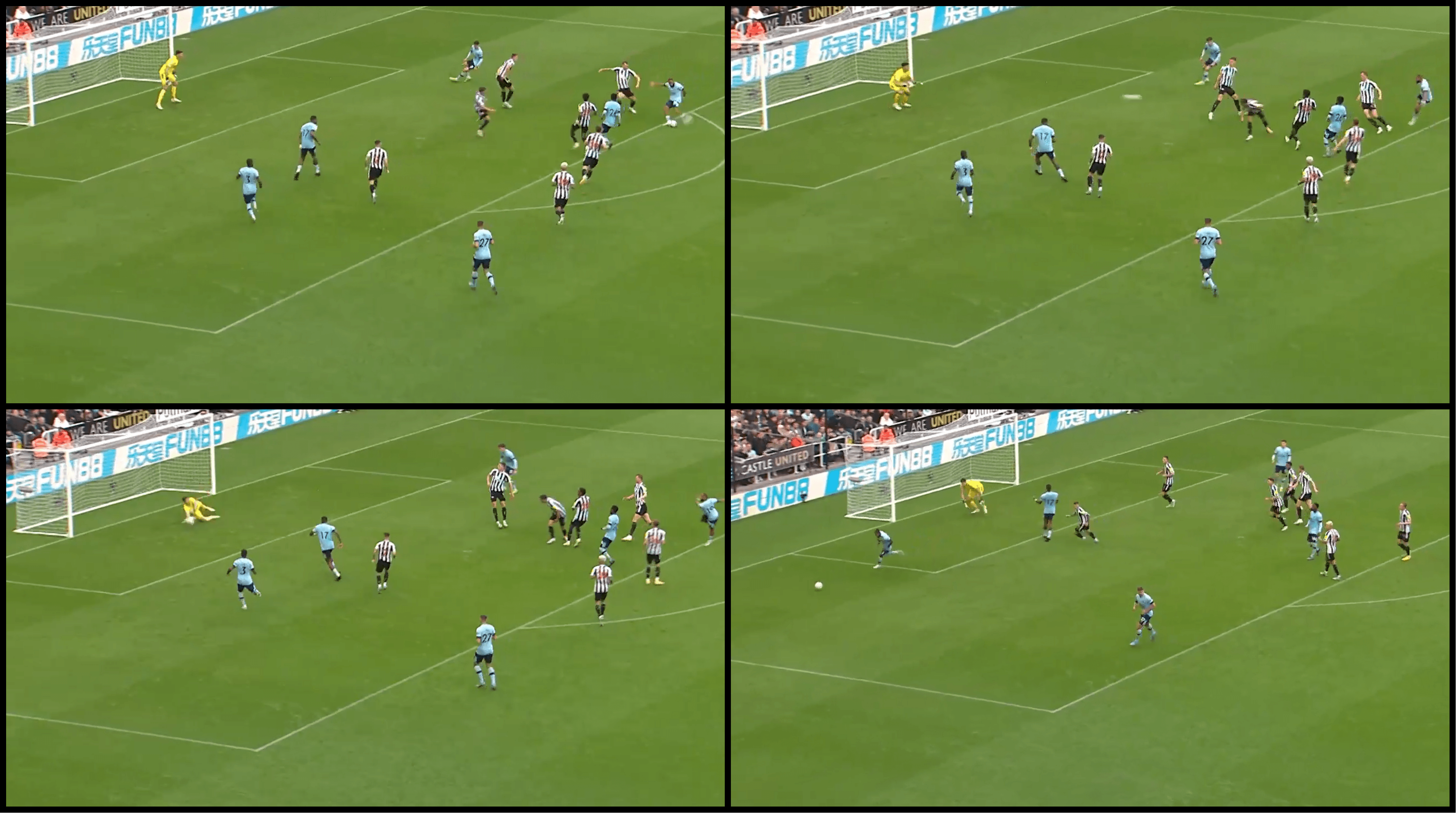 This moment in the game got very little attention over the weekend, but for me it was one of the highlights. Pope's tidy set position, with his weight forwards, his back slightly bent, and his hands in a neutral position, gave him the best possible chance to get down to Mbeumo's shot as quickly as possible. Crucially, this allowed him to get down that split second earlier so that rather than just getting something on the ball, he could actively guide the parry with what goalkeeper coaches like to call "soft hands".
Pope's final parry location was perfect. The ball flew out of the side of the six yard box giving both onrushing Brentford attackers nothing to follow up on. Moments like this prevent high scoring opportunity shots from ever occurring but the praise such clean parries get from pundits very rarely matches the praise they give to double saves. It's something I have always found very odd.
Worst Shot Stopping Moment of the Week: Gavin Bazunu vs Joao Cancelo
After a mazy run, Cancelo smashed a left footed drive towards the centre of Southampton's goal. Bazunu attempted to get a hand and a foot to the ball simultaneously but due to the power on the shot it flew past him before he could get a body part down and across.
Historically, shots like Cancelo's are saved 87% of the time making it the easiest shot not to be saved this week!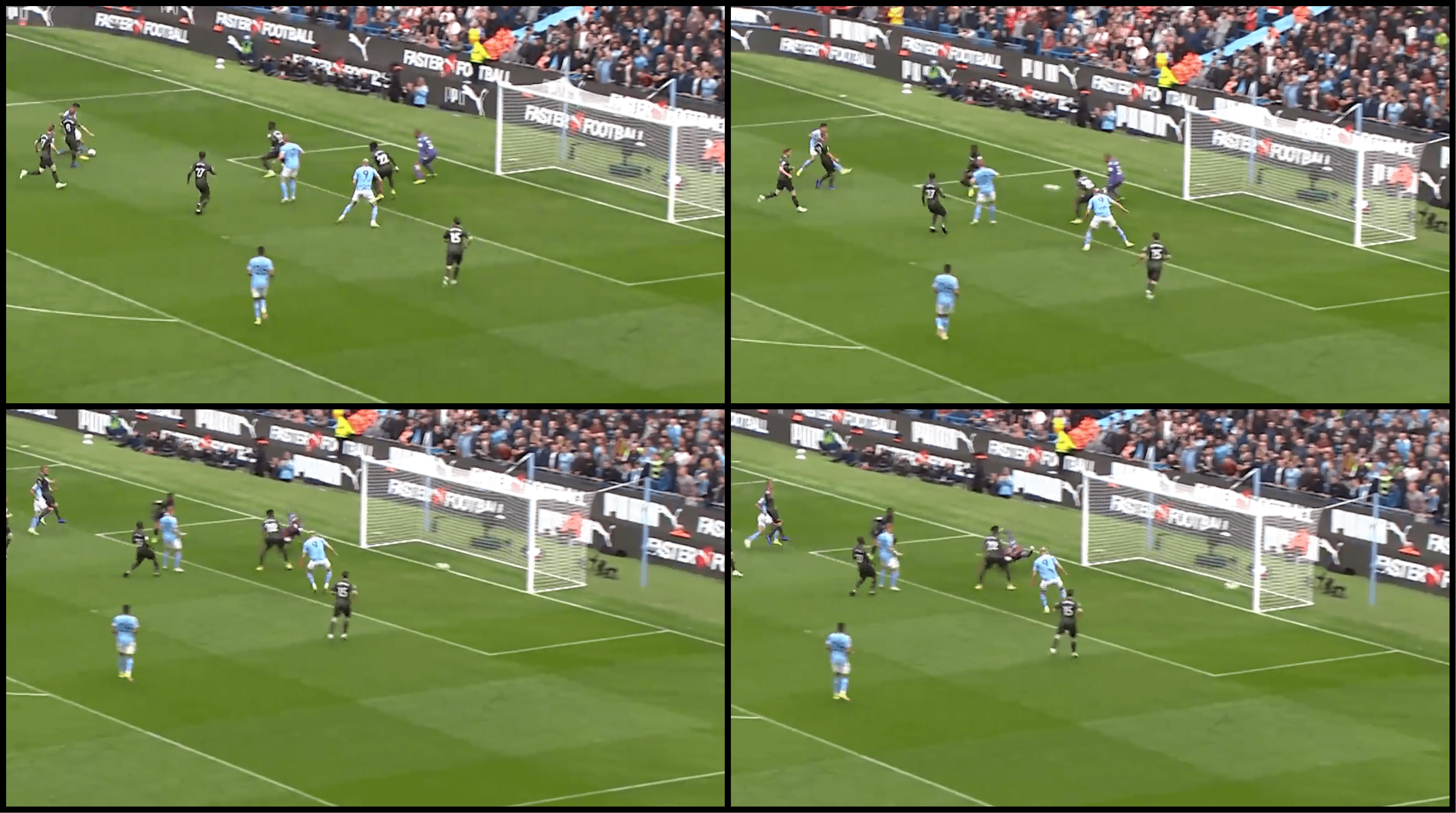 Bazunu's issue here was his delay in his shot-stopping technique selection choice. Bazunu is in a decent position to deal with the shot, but he is clearly unsure of whether to go for the ball with his foot or his hand. He attempts a sort of half-and-half approach with both his foot and hand going for the ball and it is this that allows him to concede a shot that, whilst fast, goes straight down the middle of the goal.
If Bazunu had quickly made up his mind to use a lateral split foot save with his left foot, I'm sure he could have made the save as the ball's trajectory passed so close to his left foot. This goal highlights how important quick stopping decision making is and how any hesitation can be punished at the highest level.
Worst 1v1 Moment of the Week: Jordan Pickford vs Cristiano Ronaldo
After a through ball by Casemiro, Ronaldo charged through on goal with only a single Everton defender in close pursuit. Pickford rushed out of his six yard box then held his position just outside of it. Ronaldo then hammered a low shot past Pickford's foot and into the near post.
Historically, 1v1s like Ronaldo's are saved 69% of the time making it the easiest 1v1 not to be saved this week!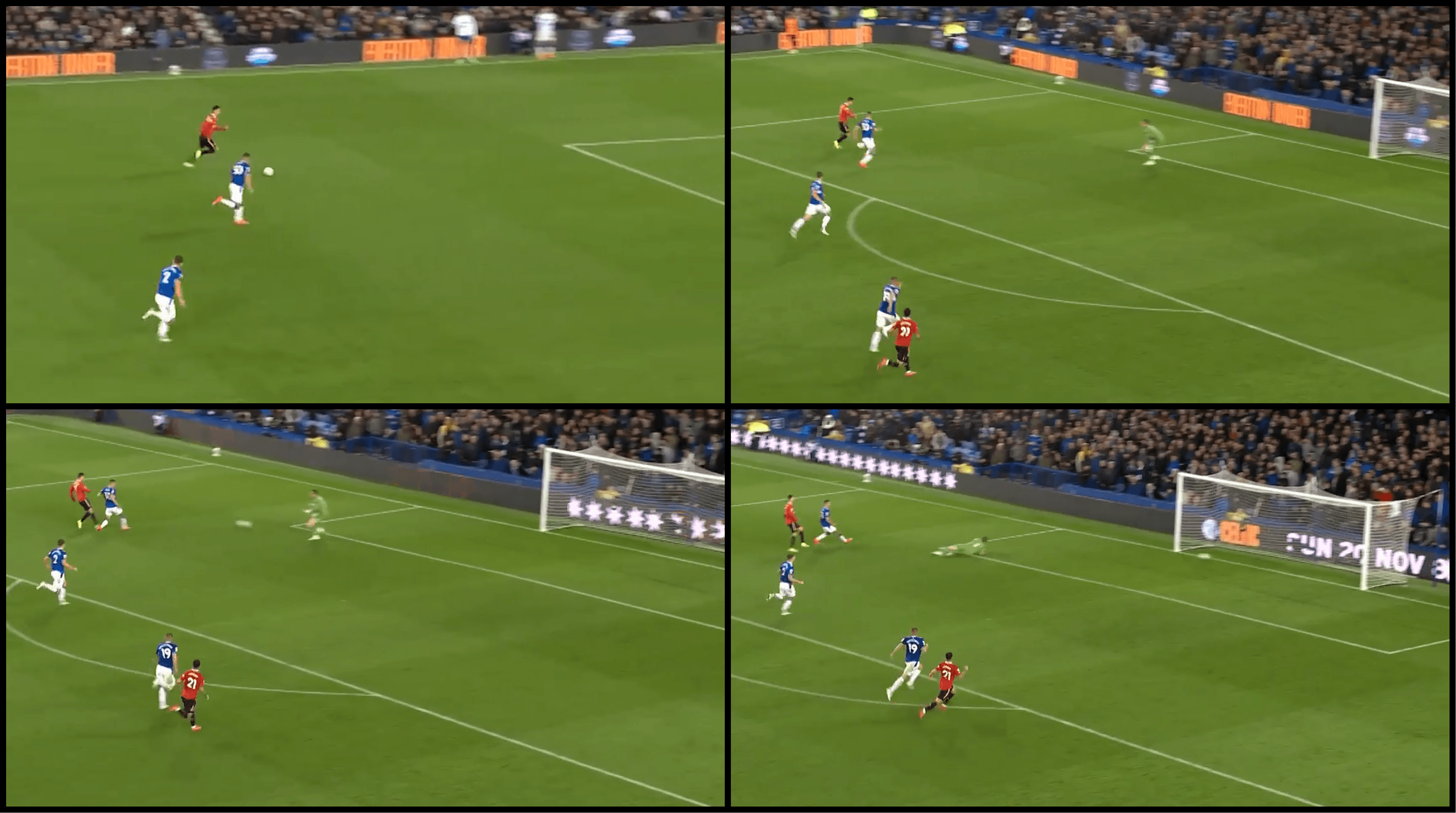 Pickford has historically had issues with engaging the striker too soon during 1v1s and this weekend was no exception. Historically, rushing out and engaging here would give the goalkeeper a 33% chance of making the save, whilst holding deep gives him a 89% chance of making the save. By engaging here, all Pickford does is cut his reaction time in half. Given he ends up nowhere near the ball, he certainly doesn't pressure Ronaldo or make the striker's life more difficult.
If Pickford had remained in his six yard box, I doubt very much that Ronaldo would have been able to beat him from that angle and potentially he wouldn't have even tried and would have maybe cut back instead. Pickford has been in incredible form this year and he and the Everton fans will be hoping that he can quickly bounce back from this and be Everton's star man again next week.
Worst Handling Moment of the Week: Alisson Becker vs Buyako Saka
After a low cut back caused chaos in the Liverpool box, the ball fell to Saka. Alisson then rushed off his line to cut down the angle even though Liverpool had plenty of defenders around the ball. Saka's low drive was then saved by Alisson's outstretched left boot but due to his poor positioning Alisson lost vital reaction time meaning he could only direct the ball back towards the centre of the box, gifting Jesus a huge chance. However, Alisson redeemed himself with a huge save when he leapt off the ground and smothered Jesus' goalbound rebound.
Historically, Saka's shot would be expected to grant a rebound with an expected goals value of 0.04, but Alisson's weak parry put the ball into an area with an expected goals value of 0.72, making it the worst handling moment of the week!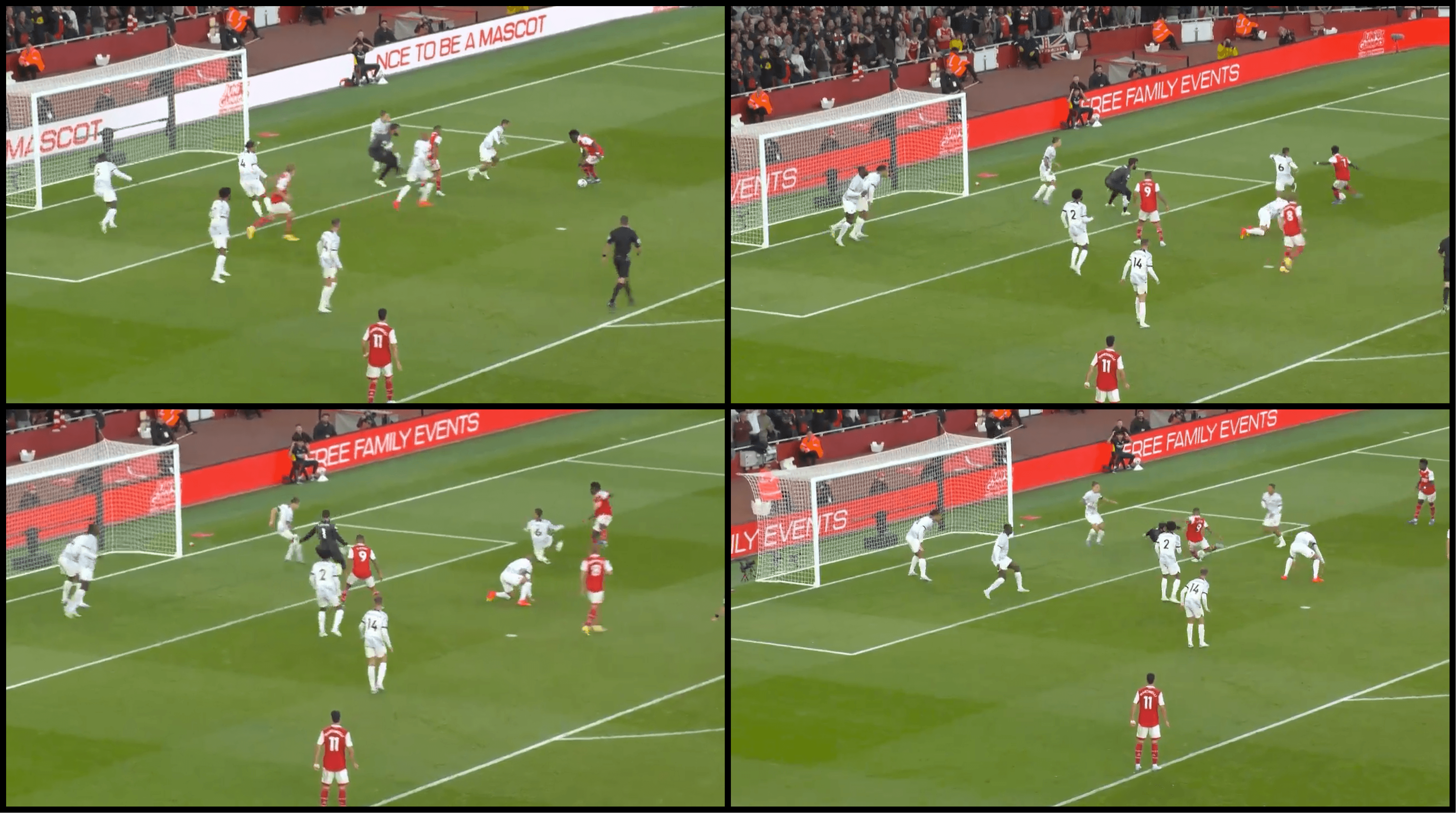 This mistake from Alisson is due to his poor positioning. By rushing off his line, Alisson ends up in no man's land when Saka takes the shot. If Saka was 1v1 in that position, it would have been the correct call to rush out and pressure him. Yet, given the number of Liverpool defenders around the ball, all it does it make the save more difficult for Alisson. The lack of reaction time his positioning gives him means he has no time to make sure he guides his parry away from goal. If he had been a few yards further back, I'm sure he could have parried the ball out for a corner or maybe even caught the shot.
It should not be dismissed that Alisson does then make an excellent recovery and saves Jesus' rebound. Alisson quickly gets up off the ground and bravely dives at Jesus' feet to smother his goalbound shot which should quite rightly be praised but we should also note that this shot would never have occurred if his handling of the first effort was better. This situation perfectly highlights how simply looking at a goalkeeper's shot-stopping performance is not always indicative of their worth to a team as quite often they could simply be bailing their side out of situations they caused! Using a handling model in conjunction with a shot stopping model, as we have done here, provides far more valuable insight.