How impactful was Lunin's performance in the most recent Real Madrid/Barcelona clash?
When it was announced that recent Yashin trophy winner Thibaut Courtois was set to miss a short period of matches with sciatica, Andriy Lunin probably didn't consider that the period would include the highly anticipated El Clasico match between Real Madrid and Barcelona.
Only when Carlo Ancelotti confirmed that the Belgian would not be fit in time for the top-of-the-table clash could reality set in. After five years of waiting in the shadows, it was time for Lunin to play on the biggest stage.
Born in the Krasnohrad province of Ukraine, the 23-year-old came through the ranks at FC Dnipro and was fast-tracked into the starting eleven as the club declared bankruptcy and had to sell their senior stars. In a manner similar to his selection in El Clasico, Lunin had found himself in the lineup unexpectedly due to circumstances beyond his control.
Then an inexperienced teenager, Lunin exceeded all expectations, quickly rising to prominence as one of Europe's brightest goalkeeping prospects with his confident performances in difficult circumstances, before eventually moving to Zorya Luhansk. He picked up where he left off, quickly becoming the first choice between the sticks and impressing in Zorya's Europa league matches at just 18 years of age. The likes of Liverpool, Napoli and Inter Milan were all watching with keen interest, but it was the Champions of Europe who won the battle for his signature in 2018.
It has not been plain sailing at all for Lunin during his time at the Santiago Bernabeu. He embarked on three different loan spells, two of which were unsuccessful, before returning to Madrid to play backup to Courtois. The Ukrainian is in perhaps the most optimal environment in world football to develop, training alongside one of the best goalkeepers in the world. However, match minutes have been hard to come by, and a chance to grab the number one spot has looked slim.
Despite his lack of game time, those within the club have described him as one of the "hardest-working" members of the squad and that he pushes himself to train even during rest days, as reported by Marca.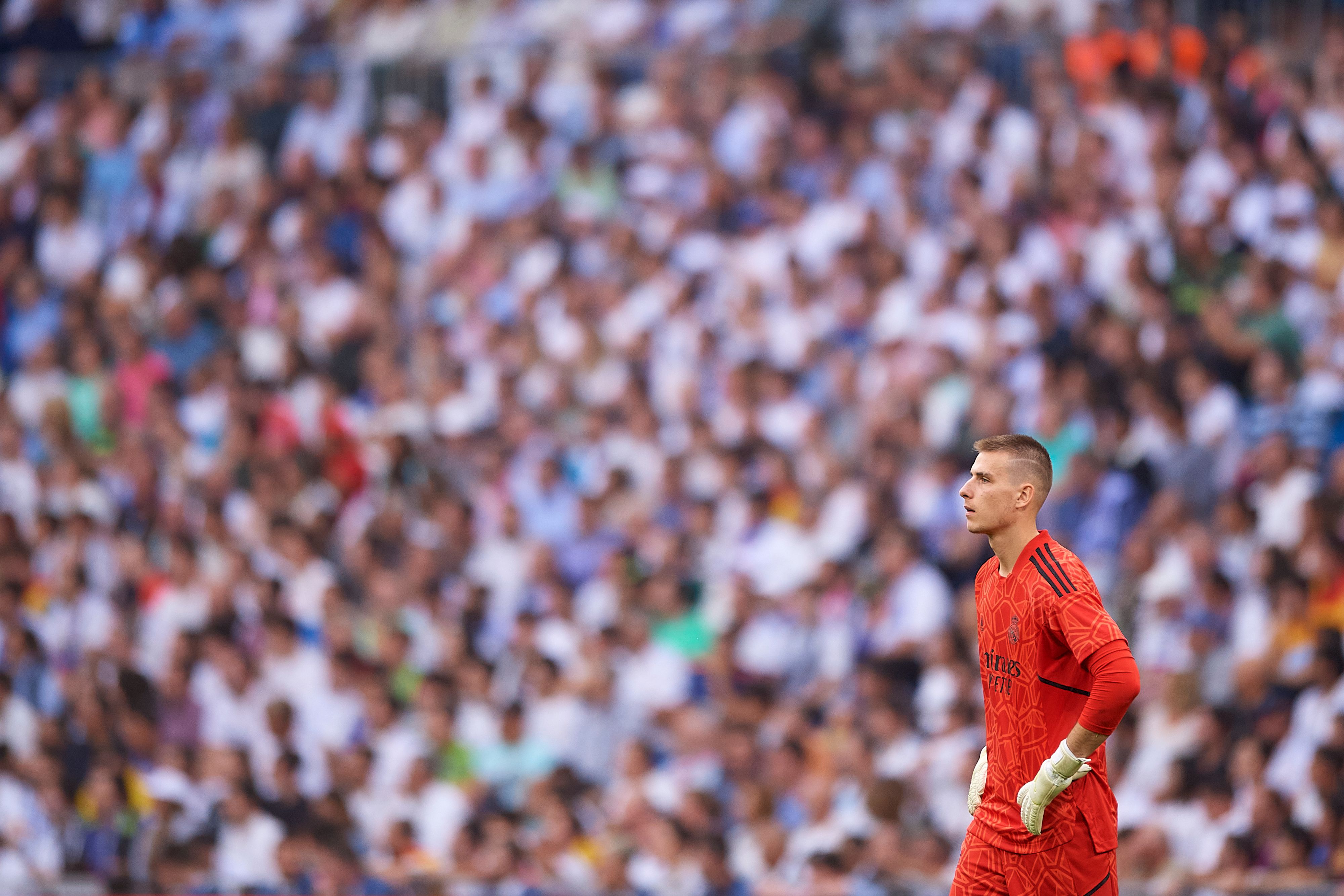 "I constantly talk with Lunin. He is fine. He is young and has good qualities. He really has the qualities of an excellent goalkeeper. And these games help him gain experience and knowledge, which he lacks now," Ancelotti stated ahead of Real Madrid's game against Shakhtar Donetsk.
At 6"3, Lunin is a physically imposing goalkeeper who is adept with his feet. With Barcelona and Real Madrid neck and neck at the top of La Liga, and Courtois still unavailable, he finally had the chance to perform on the biggest stage in Spanish football, in just his fifth La Liga match for Real Madrid.
Whilst his side secured a 3-1 victory, the scoreline did not tell the whole story as Barcelona were the more dominant side on the day, racking up a considerably higher xG than the hosts. They fired in 18 shots, five of which were on target, and Lunin was called into constant action, saving four of them before Ferran Torres pulled a goal back in the 83rd minute.
Although Lunin put in a good performance, it was not a flawless one, and the game could have been very different as a direct result of his failure to stop a cross. It wasn't a 'mistake', per se, but did highlight a recurring point for improvement in his game.
Not long after Benzema opened the scoring for the hosts, Barcelona could and should have equalised, as Raphinha placed a superb ball across for Robert Lewandowski to tap in, who inexplicably missed with the goal at his mercy. Lunin dived in an attempt to cut the ball out of live play, but failed to get a hand to it. The Goalkeeper-xG model finds that this action cost Madrid 0.18 expected goals, and increased Barcelona's goal probability by 18%.
Although a small sample size, in his four La Liga games this season, Lunin has only successfully claimed one cross of the 15 claimable crosses he has faced. This means that Lunin has allowed Real Madrid to face 0.34 more xG from crosses than would be expected if Real Madrid had had a statistically average La Liga goalkeeper between the sticks.
Courtois, by comparison, is renowned for his cross claiming ability and is consistently in the top bracket of European keepers in this regard. Although it may be unfair to compare the two given the difference in their experience, it is one area in which Real Madrid will look to work on with Lunin, when he steps in for the 30-year-old.
Finishing the game with a post-shot xG against of 0.91 meant that having conceded one goal, Lunin overall had an average shot stopping performance, and looked assured with the ball, completing 70% of his passes into Barcelona's half & 83% of his passes into the wings of his own half. It was a tough test for an inexperienced player, and he passed it confidently, whilst also being aware of his room to improve.
"Since I was a child I dreamed of playing El Clásico, it is something inexplicable. Right now I'm the happiest person in the world," Lunin beamed after the game.
"I would very much have liked to keep a clean sheet, but the most important thing is the result and the three points," he added.
Whilst there are issues to be ironed out in his positioning for crosses, the Ukrainian number one showed that he is capable of developing his skills whilst being a safe pair of hands when needed at one of the biggest clubs in the world.