Pelé was a player who could do it all – even between the sticks…
'Inspiration and love marked the journey of King Pelé, who peacefully passed away today. Love, love, and love forever', read Pele's official Twitter account when the Brazilian legend's death was announced around 7:20PM on 29th December 2022.
Pelé was many things. Arguably the world's greatest footballer of all time. The holder of the Guinness World Record for the most goals scored as a professional footballer (1279 in 1363 games, almost a goal a game in a career that lasted 21 years). Brazil's first Minister of Sports, and an advocate of political reform against corruption in football. The only footballer to win three World Cups.
And, Pelé – by all accounts – was also a fantastic goalkeeper.
His exploits between the sticks are no historical myth. In fact, several ex-Santos players have, in various sources, testified to Pelé's ability in goal. Ex-Santos right back Lima, in his memoirs, dedicated an entire chapter to 'Pelé the Goalkeeper', whilst ex-goalkeeper Lalá spoke of how Pelé would have undoubtedly been Brazil's starting goalkeeper had he chosen to stay in goal.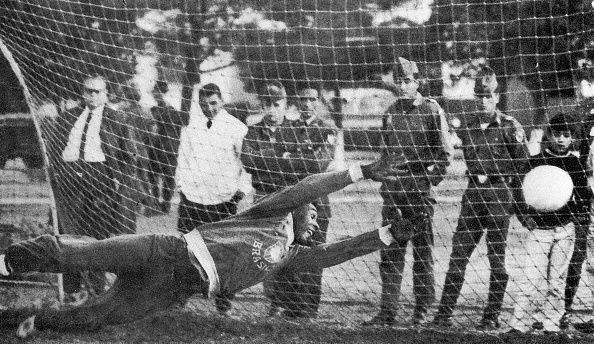 It's safe to say that, had he been an even better goalkeeper than he was goalscorer, Pelé would have also been the greatest goalkeeper of all time. According to AS, Pelé only ever played four professional games in goal over his career, but nonetheless impressed in both boxes.
His standout moment came against Grêmio in the semi-finals of the Taça Brasil in 1964. With Grêmio drawing level on aggregate, leading 3-1, Pelé duly scored a hat-trick to put Santos back in front. A red card in the 84th minute for Santos' goalkeeper Gilmar saw Pelé don the gloves (substitutions were not introduced in Brazilian football until 1970), putting in a performance worthy of a headline in the next day's Gazeta Esportiva: 'Pelé, a superstar with the ball at his feet and in his hands'.
One outlet spoke of how he 'threw himself cat-like' at the feet of a Grêmio attacker, and another praised two further great saves.
Italian legend Gianni Rivera – whose Italy side lost the 1970 World Cup Final against Brazil – also spoke of Pelé's shot-stopping prowess.
'[José] Altafini once told me that Pelé was good even in goal! One day, before training with Santos, he arranged with the coach to pretend to be a new goalkeeper who he [the coach] wanted to sign', explained Rivera. 'No one noticed it was him, and he saved all the shots from the edge of the box'.
In his 2006 autobiography, Pelé himself commented on his goalkeeping ability. He spoke of how 'although I'm not that tall…I was always a good goalkeeper because of my leap'. Pelé was the reserve goalkeeper for Santos for a number of seasons and deputised once in a friendly for Brazil.
Goalkeeping talent seems to run in the family. Edinho, Pelé's son, played in goal for his father's Santos in two different spells, making nearly 150 appearances between the sticks for the club. He was appointed as Santos' goalkeeping coach in 2007, and remained on the coaching staff until 2015.
It has even been suggested that the name 'Pelé' has goalkeeping connections. When he was young, Pelé allegedly couldn't pronounce the name of famous goalkeeper 'Bilé', who played with his father, Fluminense footballer 'Dondinho' (Joao Ramos de Nascimento). The way the young Brazilian pronounced the name was as beginning with a 'P', therefore sounding like 'Pelé'.
Whilst it was Pelé's goalscoring prowess that marked many of his career's most memorable moments, it was Gordon Banks' denial of Pelé at the 1970 World Cup that has written the Brazilian into goalkeeping's history books. Perhaps it is only fitting that the greatest player of all time was also instrumental in what's commonly deemed to be the greatest save of all time.
Despite playing in a deeper role by the latter years of his career – at the 1970 tournament especially – a cross from Jairzinho was met in the penalty area by a leaping Pelé (the same leap he attributed to his goalkeeping flair), nodding the ball into the ground, seemingly destined for Banks' bottom right corner.
The sight of Banks' flying back towards his goal line, and meeting the header before turning it up and away from the net, is perhaps the most iconic goalkeeping photo of the 20th century – rivalled only by Rene Higuita's scorpion kick save.
But the goalkeeping narrative is not one we have to funnel Pelé's career into. Brazil's trailblazing number ten was a symbol of excellence, of flair, of national unity, and of love for 'the beautiful game' – a phrase he helped coin in footballing circles. He was the golden player in Brazil's golden age.
Pelé lives on in memory through Brazil as a nation, and through football as a family.
To O Rei. The King.