One hundred and forty-one years ago, on a Spring morning in Edinburgh's Hibernian Park, a football match took place that would lay the foundation for the future of women's football.
In the following years, numerous games were played that have been documented in Scotland and England's footballing records, some of international degree. As the momentum behind the sport grew, so did its popularity, peaking in 1920 when 53,000 spectators showed up to a boxing day match in Liverpool. However, on the brink of women's "golden age" of football, a decision was made that would alter its place in history forever.
The First World War changed the course of women's history in many ways, with women in both the UK and USA getting the right to vote following their contribution to the war effort. With the war and the increase in employment amongst women in heavy industry it spurred, the game blossomed in popularity. On Boxing Day 1917, whilst war raged on on the Western Front, an Irish women's team faced an English women's team (made up most of players from Tyneside, and referred to as 'Tyneside Girls') faced off in Belfast in front of a 20,000 strong crowd.
The line-ups, whilst listed, make it difficult to decipher who was listed as the goalkeeper.
In 1921, the FA decided to place a ban that would stop any women's teams from competing on club grounds, under the guise that football was not a suitable sport for women and should not be encouraged. Despite this major setback, they continued to play private matches, even forming their own Football Association - albeit a much less popular one - dubbed 'The English Ladies Football Association'.
The games continued, and towards late twentieth-century a national interest began to gather around it once again, with the FA finally lifting their ban in 1971. Although much of this rediscovered admiration for women's football was spurred by England's success at the 1966 World Cup, it still gave them a long-overdue opportunity to get back into the spotlight.
Now of course, throughout the turbulent history of women's football, there have been many players who have shone in terms of skill and performance that have not had nearly as much media coverage compared to some from the men's teams. Nevertheless, these players notched out a place for themselves amongst the highly skilled, earning them respect and admiration from followers of the sport. Within this class of players are some exceptional goalkeepers, whose identities require a bit more digging out to find. From historical teams stretching back to World War 1, to international teams, the past century has seen some truly spectacular characters spring from the goalposts of women's football.

With roots going as far back as 1917, the Dick, Kerr Ladies FC was one of the best women's teams in the country during early to mid-twentieth century. They were the first team in the Women's Football Association to play internationally, winning against a French team in a match that drew over 20,000 spectators. Throughout their prime days, they had a run of several different goalkeepers who played for the team, with E Clayton being the first to kick off the list.
As women's football reached its peak, Annie Hastie was the woman between the sticks, taking part in both the famous Liverpool boxing day match of 1920 and the first international game. Hastie played through some of the most popular games of women's football at the time, being one of the players restricted by the FA's ban amid her promising career.
Stepping out on the rainy fields of England, another great goalkeeper to grace women's football in mid-twentieth century was Wilma Seghetti. Just fourteen years old at the time, Seghetti was the goalkeeper for Italy's national women's team during the 1970 Women's world cup, organised by the FIEFF (Federation of Independent European Female Football).
With Italy coming second-place to Denmark, Seghetti's debut into the professional football world was fixed and her career sky-rocketed. The following year, Italy achieved another impressive result in the 1971 World Cup, once again featuring Seghetti as goalkeeper. Over the next ten years, the young Italian player would go onto play in multiple cups and tournaments, earning her a place amongst the top female goalkeepers of all time.
Post-FA ban saw a surge in women's football that had been absent from the nation for fifty years, with the ban officially being lifted in conjunction with the 1970 World Cup. Upon lifting the ban, the world had its eyes opened once again to the exceptional talents that had developed within women's football over the past few decades. An English goalkeeper who rode the wave of the movement was Sue Buckett, goalkeeper for Southampton.
Buckett solidified her status as a top-class shot-stopper with her unexpected agility between the posts, carrying Southampton through eight victories out of the first eleven FA cups. Now considered one of the greatest female goalkeepers of the twentieth century, Buckett was the first ever goalkeeper to play for England's national team, the Lionesses.
The next goalkeeper to shine within England's national team was Theresa Wiseman, successor to Sue Buckett. Towards the end of the twentieth century, women's football began to reach new heights of popularity, racking up attendance numbers that hadn't been seen since the early 1920's. Wiseman, nicknamed the 'Female Shilton', carried out impressive performances in the Euros between 1979-1991. The best of these was the 1984 tournament, which saw England come second place to Sweden in an intense penalty shootout.
During her career, Wiseman also won the FA Cup two years running, with a different team each time (Howbury Grange and Friends of Fulham).
*
Around the turn of the century, Women's football began to escape the era of FA bans and gender-based constrictions, enabling new talent to come forth and shine.
One figure who sprung out from the southern corner of the world was Leslie King, who actually started off her athletic career in a sport other than football. King was a champion of softball in her prime days, playing the sport for fourteen years in her national team. Fancying a change in direction, King joined her national football team as goalkeeper in 1987, proving to be highly-skilled in the position.
Despite being born in the United States, it was for New Zealand that King made her 28 international appearances for. Most known for her performance at the 1991 World Cup; King was credited for her talent by many and was even made captain of the team, before retiring in the late 1990s.
Another goalkeeper who appeared between the late 1990s and early 2000s was Chinese football star Gao Hong, who ironically is best known for her defeat at a major tournament. Hong's career spanned a short but sweet period of five years, where she dedicated her life to the progression of the Chinese national team. Notably, the team faced more success in those five years than it has since, with Gao Hong being an integral factor in that.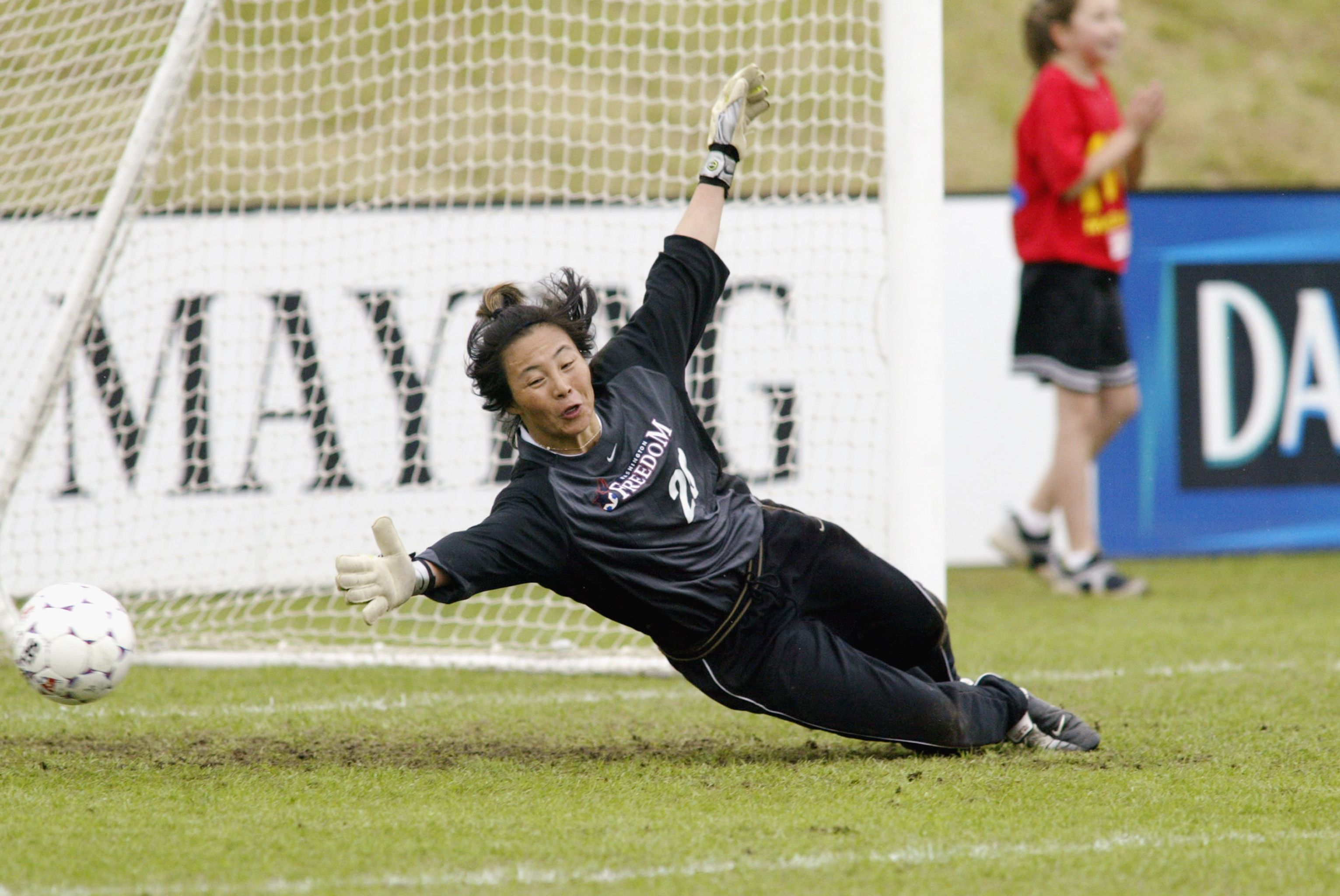 During Hong's first year with the team, China qualified for the 1995 World Cup, impressively making it to the semi-finals. The quarter-finals of that year's tournament saw Hong face another of the pre-2000 female goalkeeping greats, too. As China faced Sweden, Elisabeth Leidinge stood in the opposition goal - herself making over 100 appearances for the Swedish women's side.
Pressure fell on Hong as the match concluded in a penalty shootout, foreshadowing the manner in which the main event of her career would play out. Four years later, China lost to Norway in the finals of the 1999 World Cup, after a tantalizing penalty shootout that would mark the peak of Hong's football career.
As the modern women's football era evolved, one of the most eminent goalkeepers in English women's football of the last decade has undoubtedly been Karen Bardsley. Bardsley, now 37, represented the Lionesses in five consecutive major international tournaments under a selection of different manager, becoming the joint-highest capped England women's goalkeeper in the process (82 appearances).
'I certainly hope the shirt is in a better place now', said Bardsley in conversation with Manchester City.

'I can honestly say I have no regrets and I've tried my absolute hardest to make sure that happens…And to see the young girls that are coming to our games… The fans have been amazing and they've grown and grown. I remember when I first came over and there were just a couple of hundred people following us across the country… Now, we've topped out at 6,000-7,000 people and that's pretty incredible'
Bardsley, who succeeded Rachel Brown-Finnis as England number one in 2011 (Brown-Finnis was the original record-setter in terms of England women's goalkeeper caps), has left a legacy on the pitch, too. Working with the young Ellie Roebuck - likely to be England's number one at the upcoming EURO 2022 Championships - in her final years at Manchester City, Bardsley has acted as something of a mentor for not only Roebuck, but for the wider new generation of younger female goalkeeping talent in the England set up, alongside the likes of Carly Telford and Siobhan Chamberlain.
But, unlike Brown-Finnis, Bardsley was not confined to the single option of playing for England. With dual citizenship for the United Kingdom and the USA, she was also eligible to play for the Stars and Stripes - being born in Santa Monica, California. However, due to family connections in Stockport, and her subsequent move to Lincoln Ladies in the early 2010s, it was England who Bardsley chose to play for.
*
It was Bardsley's place of birth that the greatest women's goalkeeper of all time hailed from. Hope Solo, goalkeeper for the United States Women's National Soccer Team from the early 2000's to 2016, has gained more global recognition than any twentieth-century shot-stopper could have imagined, currently holding the US record for the most clean sheets. A goalkeeper great, Solo provided a strong backbone for her team in the 2015 FIFA World Cup, beating Japan 5-2 in the finals and achieving victory. As well as having an outstanding track-record in national and international tournaments, Solo is also a two-times Olympic gold medallist, setting the bar high for all that have come after her.
In fact, it wasn't just the record for the most clean sheets that Solo holds. As of August 2016, she held the US women's record for appearances (202), starts (190), wins (153), clean sheets (102), wins in a season (26), consecutive minutes played (1,256), and the longest undefeated streak in US women's football history (55 games).
Sadly, Solo's legacy has been marred with controversies on an off the pitch, being suspended from the US national team twice as well as facing media scrutiny for a number of reported incidents off the pitch. In terms of her playing days, however, it will be her goalkeeping ability that is remembered first and foremost, including the 'greatest save ever' by a female goalkeeper in a 2012 match between the USA and Canada.
Another goalkeeper legend of recent times and notable winner of the 2021 Best Women's Goalkeeper award is Chilean wonder Christiane Endler. Showing talent in multiple sports throughout her youth, Endler began to explore the football route at the age of ten, when she joined a local club. By the age of eighteen, she was playing semi-professionally, deciding to branch off into education and pursue a college degree in business administration.
Following this academic pursuit, Endler directed her ambition onto an Olympic level, playing for Olympique Lyonnais Féminin as well as Chile's national women's team. She even ventured onto English soil for a while to expand her club career, playing for both Everton and Chelsea. Endler's talents even reach beyond the boundaries of sports, through her ability to speak five different languages.
So, more than a century on from where it all started, the best of women's football around the world will be coming together next year for the 2023 Women's FIFA World Cup. This will be the ninth of said competition, with the total number of viewers who tuned in to watch the 2019 World Cup amounting to over a colossal one billion people. Given these numbers, it's fair to say that women are growing towards gaining their rightful position within the football spotlight, with only bigger and better things to come.